31 Best Things to Do in Milos Greece
So you've seen Milos Island all over Instagram and Tiktok. Now you're visiting Milos and want to know some of the best things to do on the island.
Well, this volcanic island is known for its unique beaches and wonderfully blue waters. And the beaches are definitely a highlight. But there's much more to do than just laze around (if you want there to be!).
So here we go with the top things to do in Milos.
Go to the Beach
Heading to the beach is right at the top of this list since it's probably what you've seen of Milos on social media. Milos has over 70 beautiful beaches so if you want a breakdown of which to visit during your stop on the island then see this post about the best beaches in Milos.
In the meantime, here are some of the options to consider.
Sarakiniko Beach
Sarakiniko is one of the most popular beaches and it's known for the stunning lunar landscape. You'll have seen people cliff-jumping there on Instagram, no doubt. The water is a beautiful turquoise contrasting with the white rock formations.
There's a small sandy beach area but it's not that clean. Most people find a spot on the rocks. There's lots of on-road parking here and a small van selling refreshments.
Tsigrado Beach
Tsigardo is the other social media star because of its unusual access. Most people come to the beach by boat but if you're feeling intrepid then use the vertical wooden ladders and ropes to climb down.
Again there's a car park but no facilities. The beach is small so get there early for a spot. The water is beautifully clear and there are some little caves nearby you can swim to.
Firiplaka Beach
Firiplaka is next to Tsigardo. The road forks at the bus stop and takes you to either one. Firiplaka is a big sandy beach with calm, crystal-clear waters. There's plenty of space but not much shade so think about bringing a beach tent to create some.
If you want to hire a boat there's an opportunity to do that and the sea kayaking below starts from here too.
Firopotamos Beach
This is quite a small beach beside some fishermen's houses. It's a pretty chilled place and I liked this sandy beach because it has shade from the tamarisk trees. There's a pretty church and some ruins. You can park in the small car park through the settlement.
Papafragas Beach
Papafragas is another spot that I've seen on lots of social videos. The beach itself is just a small cove of sand. The water here wasn't the cleanest I've seen but people love to swim around and explore the caves and interesting rock formations.
The area is famous for the Papafragas Caves. Officially they're closed off as you can see in the picture. But it's actually possible to walk around the gate past the stop sign. Lots of people had done that and were on the sand below the cliffs and swimming through the area.
I'm a bit of a stickler for rules with things like this. I feel like if you get into difficulties you're putting someone else in danger when they have to come and rescue you from somewhere that's deemed unsafe. But as usual, you'll make your own decision about what to do.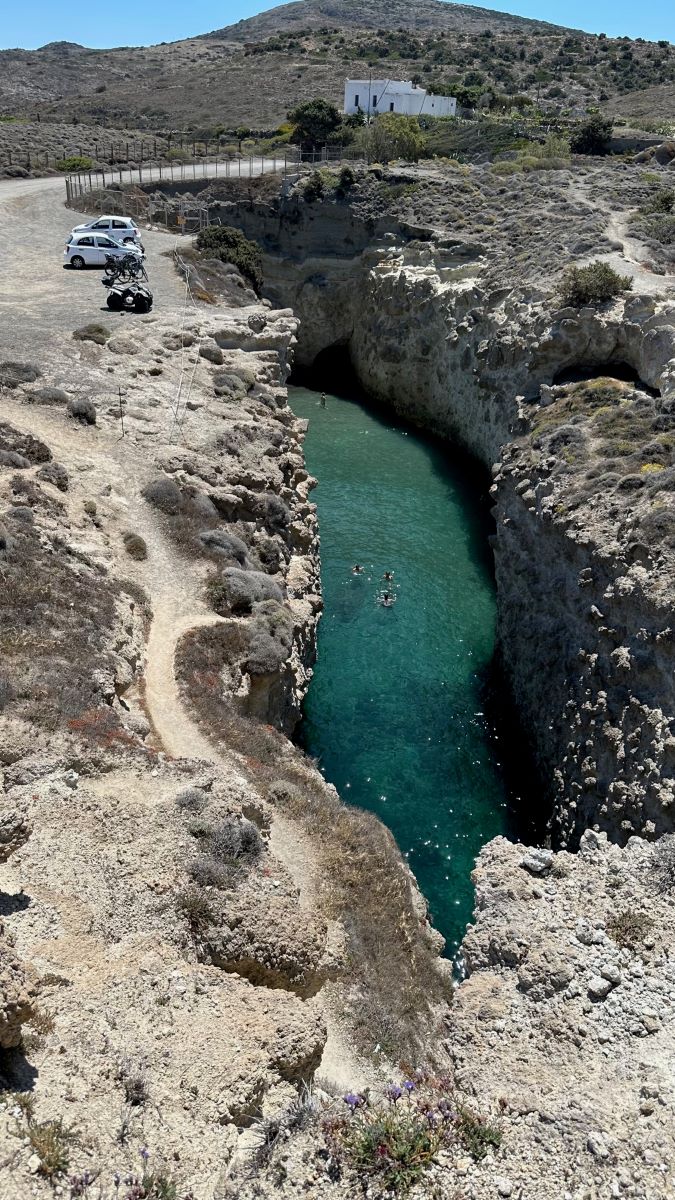 Papafragas is also next door to the Archaeological Site of Phylakope. I wouldn't make a special trip for that unless you're particularly interested in history.
There's not much of the ancient ruins left to see (they're mostly in the sea) and the gate's only open on Wednesdays. But if you're interested and there at the right time it's worth visiting for its historical importance.
Kleftiko Beach
Kleftiko is another of the favorite beaches. Lots of the island's boat trips take you to Kleftiko Cove for snorkelling. It's a really stunning rocky area with the clearest blue water.
You can't get to Kleftiko by car. Most people visit by boat and will tell you that's the only way. But there is actually a hiking trail to the beach if you'd prefer to explore that.
Take in the Panoramic Views from Kastro / Plaka Castle
Like on other islands, there's not much left here of the Venetian castle at the top of the hill. But a church has been built on the remains and if you head up there you'll get a stunning 360 view of the entire island.
It's popular at sunset and I imagine it's beautiful for the sunrise too. But go anytime for great views over the Aegean Sea. The morning's good before it gets too hot.
Stunning views of Milos from Plaka Castle on the island of Milos
Watch the Sunset
You know I love a sunset and the ones on Milos are magical. The colours remind me of beautiful Tinos and of course the Santorini sunsets so it's a must-see while on the island.
Here are the best places to watch the sun go down in Milos:
Plaka
There are a few good spots in the town of Plaka to enjoy the sunset:
Plaka Castle
I mention this spot above. It's a bit of a climb but you'll be rewarded for your efforts. Give yourself enough time to walk through the village and up the path to the top.
The path up isn't quite where it looks on Google Maps. If you use the map location, follow the signs from there to walk along to the end of Plaka village.
If you head for Piazza Castello cafe bar you'll find the path easily from there. There's a big arrow and a cross marked on the cliff to direct you.
As you can see, lots of people grab some food and drink to enjoy during the light show. Unfortunately, this litter is a pretty common sight in Greece although overall I have to say that Milos was pretty clean so it's a shame to see this.
The morning after the night before
It goes without saying that if the bin's full you should take your rubbish with you until you find one that's not. Milos is a windy island and the litter easily gets strewn everywhere.
Church of Panagia Korfiatissa at Plaka
The church here has a terrace with a beautiful vista at any time. But it's another great spot to watch the sunset, just expect it to be a bit busy in the peak months. Grab a cocktail and enjoy the show.
Cocktail Bars
Verina Cocktail Bar is right beside the church. They have a small seating area outside and a couple of seats at the side where you can see the sunset. The drinks are good and they'll do you a takeaway version it you want to have a better view of the sky.
Utopia Caffe has a lovely terrace area with a beautiful sea view that's perfect at sunset. It feels a bit more sophisticated than Verina and I think the prices reflect that. Get there in good time if you want to enjoy your cocktail and appetizers with the sunset view.
Pollonia
There's a lovely spot beside Rakomelo restaurant in Pollonia where you can watch the sun go right down into the sea. It's very beautiful.
Of course, you get the same view from the restaurant which is quite pretty and romantic with the little lanterns that come on when it starts to get dark. I did go there as it was recommended when I was looking for places to go on my list of best restaurants in Milos.
Unfortunately, although two of the servers were friendly, one was downright rude. I also thought the food was expensive for what it was so I didn't have a great experience there.
Klima
Klima fishing village is another great place on the island that you might have seen videos of. There are lots of colourful fishermen's houses right along the waterline. A lot of them have been converted into Airbnbs now.
It's the perfect place to watch the sun go right down into the sea so if you stay there you can just sit right on your terrace.
See this post about the best places to stay in Milos if you want to consider Klima.
If you're not staying there, you can either find a spot on the rocks or get a table at Astakas Cafe. Best to book in advance if you want a front-row table to enjoy your fresh fish dinner.
Profit Ilias Church
I've written a bit more about this place below but being on a hill it gives a great view. Give yourself enough time to climb up and watch your footing when you come back down.
Trypiti
Trypiti is above Klima and it's an alternative spot to watch the sunset at dinnertime. Ergina and Octo restaurants both have sunset views and as usual, it's a good idea to book in advance for the best view.
Whichever Spot You Choose…
Note that all of these will be pretty popular in the summer season so get there in plenty of time for a good spot.
Parking was hard to find in the car parks in Plaka when I went. I did see they were creating a new car park with quite a few extra spaces but it wasn't huge. So get there in good time if you're staying elsewhere.
Visit the Archaeological Museum
Closed on Tuesdays and Thursdays, this small museum's worth a little look if you're interested in history. There are three small rooms and some artefacts outside too.
It's also lovely and cool and has a toilet! The entrance is opposite the colourful Phatses restaurant and there's a giant chessboard in the grounds too.
Test the Acoustics at the Ancient Theatre of Milos
This is a well-preserved theatre and one of the most popular things to go and see in Milos. The theatre you see now was rebuilt on top of the original one that was destroyed during the Roman period. It's made from the beautiful white marble from Paros.
The theatre is an open-air museum and accessible 24/7 without a ticket. If you're up for a hike you can climb up the hill from Klima otherwise park at the Catacombs.
When you walk from the car park you'll also see an exact replica of the statue Aphrodite of Milos that was found in the spot marked nearby. The original statue is currently in the Louvre Museum in Paris.
Climb up to Profit Ilias
On your way to the Ancient Theatre from the car park the road forks. The left path takes you to the theatre and the right path takes you up to Profit Ilias Church
It's on a hill, not as high as the castle, but you can still get some great views out over the sea. The church itself has nothing ornate but it felt like a peaceful spot to me.
Profit Ilias is part of the hiking network on Milos, see below.
Go Into the Catacombs of Milos
It makes sense to visit the Catacombs at the same time as the Ancient Theatre. But I've marked this as a separate activity because the tombs have set opening hours and are closed on Tuesdays.
Like lots of other Greek museums, it closes mid-afternoon so be sure to get there early enough if you want to visit. But know that even if you miss these you can still go to the theatre.
I was a bit confused about what the Catacombs actually were until I visited. But they're basically underground tombs where early Christians were buried before Christianity was a recognised religion.
Once you've bought a ticket a guide will take you into the cave and give you a short explanation of what you're looking at.
To get to the ticket office and caves there are quite a lot of steps so it's not brilliantly accessible.
Car parking above the Catacombs and for the Ancient Theatre and Profit Ilias
Look at Art in the Ecclesiastical Museum
The Ecclesiastical Museum is housed in a small church at the Port of Adamas. It's right amongst all the tourist and souvenir shops so an easy visit.
It's free to go in and the space is packed with examples of religious artwork from all around the island.
The building itself is also interesting and unusual because the dome is in the shape of a church too.
Go Underground at the War Museum
This was closed when I visit Milos but I believe it's open in July and August. If you're interested in history then you might enjoy visiting this little museum.
It's an underground bunker from World War Two with memoirs and photos from both wars. It's signed from the road opposite the bus stop close to the free parking and the museum is just a short walk from there.
Learn About the Island at Milos Mining Museum
As you might expect the mining museum promotes the island's mining history but it's also a place to learn about the nature and geology of the island. I like crystal gemstones so I enjoyed going there and that's what you can see on the first floor.
On the ground floor, there's information about the cultural aspect of the island's mining and the regeneration of the areas around the mines. There was also a video playing with miners talking about their experiences.
The Mining Museum is in Adamas Port so it's easy to access. Note that it's closed on Mondays.
Visit the Churches
Like other islands in the Cyclades, Milos is teeming with churches of all sizes. If you're in Pollonia, the Chapels of Agios Nikolaos and Agia Paraskevi are pretty and pleasant to walk to. If the churches are of particular interest find more to visit from the Milos tourist information.
Go on a Kayaking Adventure
If you've read about my kayaking adventure in Santorini you know I love this type of thing. If you're the same and want to be active this could end up being one of your favorite things!
This company has hundreds of great reviews and will take you on a 3.5 hour kayaking trip. You can choose to join a semi-private tour or book your own private adventure.
Cycle the Island on an Ebike
After having a great experience e-biking on Thirassia by Santorini I was all set to have fun on another e-bike adventure in Milos. But the night before I was booked to go I found some young kittens beside the main road back from Pollonia. It turns out kittens take up a lot of time!
So I didn't get to go on this tour because I had too many other things to get through before leaving the island. Instead of a picture of the tour, here's a picture of the kitties I brought back to Athens.
Go Diving
It's on my bucket list to do my open-water diving and to dive a shipwreck. If you're a keen diver or it's on your list, then you can realise your dreams in Milos.
Dive in Milos comes highly recommended for PADI courses, open water dives and boat trips for snorkelling and/or diving. I think this is a great island to dive since the volcanic rock makes the coastline so stunning.
Take a Full or Half-Day Boat Trip Around Milos
Another one of the most popular things to do in Milos is to take a boat tour. Lots of the trips start from Adamas. But there are others starting from different places around the island if you're staying elsewhere.
Traditional fishing boat in Adamas Harbour
There are various options you can choose from, for example:
full-day boat tours that take you all the way around the island stopping at various beautiful beaches
Note that when it's windy the beaches along the north coast of the island can be difficult to access and you might be offered an alternative route.
Rent a Boat & Be Your Own Captain
There are several places on Milos where you can rent a boat and take it out yourself. Personally, I prefer the option they give of hiring a skipper with it because I really know nothing about boats.
But if you're confident and a bit more savvy then take the opportunity to see the best of the beaches and sea caves at your leisure.
Take one of the small boats and make your own tour of the beaches
Your options are normally a 4.5 half-day hire or you can take a boat out for the full day (eight hours). Companies with good reviews are:
Firiplaka Boat Rental and Summer Stories in the southern part of Milos
Island-Hop to Kimolos for the Day
If you want to take in another beautiful Greek island while you're in Milos then Kimolos is an easy option. You'll find some routes on Ferryhopper (my go-to for ferry bookings).
But there are a lot more via the local, open-deck ferry that goes to and from Pollonia several times a day. The ferry timetable for Milos to Kimolos changes through the seasons.
Visit the Villages
Adamas Port
The port town of Adamas is as you might expect a port town in the Cyclades to be. You'll have come in here if you arrived at Milos by ferry and there are endless boats in the port to take you on trips around the island.
The seafront is full of eateries, car hire places and tourist shops and there are a couple of museums and a decent beach too.
Pollonia
Pollonia is a fishing village in the north. It has an upmarket feel that reminds me of Naoussa in Paros. There are several good places to eat fish at tables on the beach and I highly recommend for baked items and locally produced items.
Plaka
Plaka is the island's capital and a really typical Cycladic village with whitewashed, narrow streets and lots of steps. It was built to protect the inhabitants from pirates and reminded me a lot of many of the villages on Tinos.
Plaka has a few museums and little boutiques as well as some nice restaurants and the cocktail bars I mentioned above.
Trypiti
The village of Trypiti is very close to Plaka. It's another traditional village, this time built on the ruins of ancient Klima. There's not a huge amount going on here but it's pretty in the evenings and has lovely sunset views.
Fishermen's Settlements
While these settlements aren't technically villages the quaint syrmata fishermen's dwellings on the seafront around the island have become one of Milos' most distinguishing features.
I already mentioned Klima above for sunsets, but you can also find these settlements at Mandrakia, Fyropotamos Fourkouvouni and Pachena amongst other places.
Mandrakia fishermen houses
Do a Wine Tasting
In the Cyclades, the island that perhaps first comes to mind for wine tasting is Santorini. But there's no reason why you can't enjoy the local products at Konstantakis Winery.
It's just outside Pollonia and they have olive grove tours which you need to prebook and wine tasting which you can just drop in for.
Have a Meal Cooked in the Volcanic Sand
This tip is courtesy of the taxi driver who took me to Rafina Port on my way to Milos via a swimming race in Andros. While there are lots of great restaurants in Milos, Sirocco Volcanic Restaurant at Paleochori Beach offers something a little bit different.
The sand by the restaurant reaches 102°C because of the island's volcanic activity. Sirocco uses that natural heat to create slow-cooked meals in clay pots that are baked in a pit in the sand.
Sample Local Products
Honey, tomatoes, wine, watermelon and various herbs are all good local products to try.
If you'd like to actually get involved with the food then see if you can sign yourself up for a cookery class with the Greek chef Vasilis Papikinos at Alevromilos restaurant.
Handcraft a Wooden Bag
I saw this on Airbnb Experiences and thought it was really cool. If you enjoy crafting and want to do something a little bit different during your trip then you could make yourself a wooden bag.
You can book this as a solo activity if you're travelling alone or the only one in your party who wants to do it.
Get Crafty at a Pottery Class
Home of Clay is just by the Ecclesiastical Museum in Adamas. They sell lots of lovely ceramics and they can also host a pottery class for you. Just pop in and organise it directly, the lady's really friendly.
The session lasts 2 hours and costs 50 euro plus the cost of shipping your creations back to you after they've been painted the colour of your choice.
Go Souvenir Shopping
There are small boutiques and shops in Adamas and Plaka and a few in Pollonia where you can buy gifts and souvenirs to take home from Greece. I noticed that Milos had a lot of lovely ceramics that were different to what I've seen elsewhere.
Join the Festivities
Milos is no different to other islands with their customs and festivities.
Over the summer they have all sorts of festivities as part of their mid-summer fairs. Ask your accommodation host or the tourist information when you visit. See if your stay coincides with any of the Greek Saint/Name Days you can join in with or themed festivals like the tomato, wine or sardine festivals.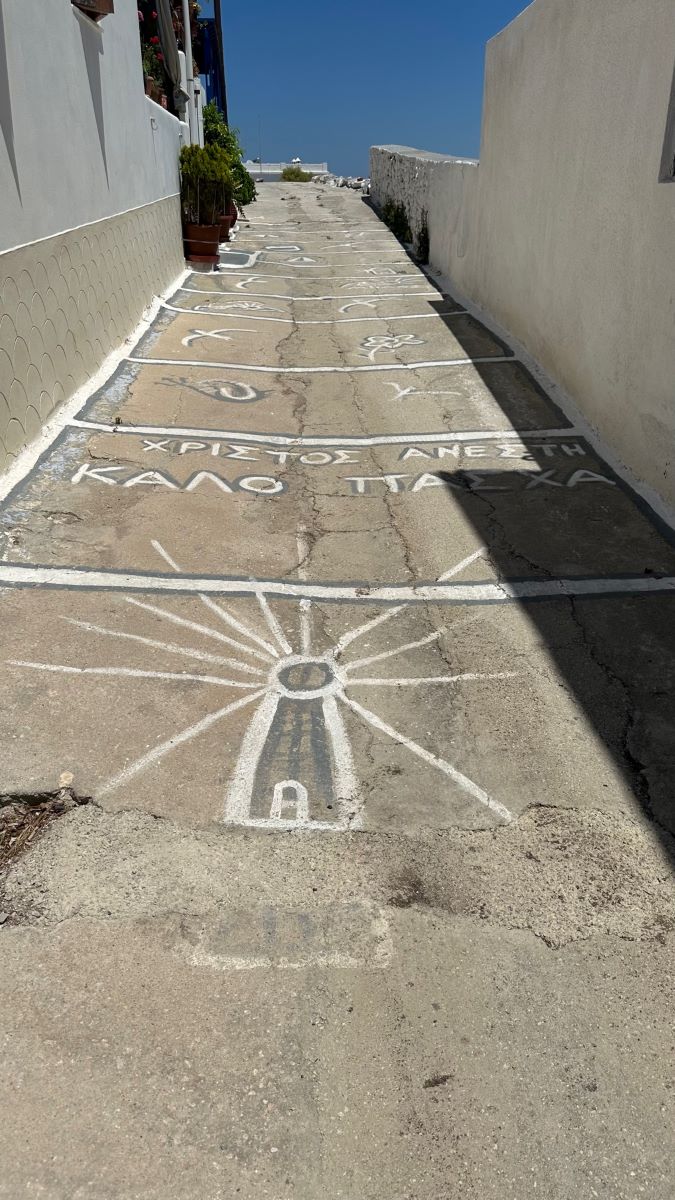 Easter celebrations on the paths in Plaka
If you're there in August join the celebrations at the Fifteenth of August holiday (it's literally called that) which is a big feast day across Orthodox Greece, celebrating Mother Mary.
Later in the month, you can watch the antics on 31st. It's Kyriavgoustos, Bonfire Night on Milos with a fair held in Trypiti village. Don't drink too much Ouzo though or you'll be jumping over bonfires with the locals!
Go to the Open Air Cinema
Cine Kalisperitis, the open-air cinema based next door on Kimolos is back in Milos in 2023. Their Kimolos Experience Festival involves some screenings in Milos so check the website for upcoming events over the summer.
Screenings are shown in pretty cool places like beaches or church walls.
Hike the Milosterranean Geo Experience
Experts from the island have put together six routes on Milos – and one on Kimolos – that you can hike or explore partly by 4×4. Big chunks of the island are part of the Natura 2000 network to protect them, like with the miniature cedar forest in Naxos so it's the best way to discover them.
One of the walks takes you to the volcano and another ends in Sarakiniko. The website has all the detailed information including maps with notes on if you want to discover Milos this way.
If you enjoy hiking the Greek islands you might also want to see this post about hiking in Naxos or discover Santorini with these walks including the stunning caldera walk from Fira to Oia.
If you prefer the less touristy islands I highly recommend hiking in Tinos and also the excellent hiking routes in Andros.
Have a Photoshoot
Again, Santorini is the island known for its flying dress photoshoots and stunning blue and white backdrops. But Milos is just as stunning with the white rocks, turquoise water and traditional villages.
Consider commemorating your visit with a photoshoot here and, at least for now, you won't have to battle crowds of others doing the same.
Relax With a Massage
If your intention is to relax on holiday then set the tone with a treatment at Milea Massage Milos. She has a 5-star Google Maps rating from over 500 reviews so you're in safe hands.
Save a Stray Cat
Like the rest of Greece, Milos has plenty of cats. After chatting with the lady who runs the Friends of the Animals animal welfare organisation I was disappointed to find out there's no trap, neuter, release programme on the island.
Apparently, the cost at the local vet is prohibitively expensive (like 100 euro more than usual) and so it all fell apart. Due to legalities, they can't get a visiting vet to do neutering days like what happens on other islands.
I do get frustrated. Sometimes it seems like Greeks would rather squabble amongst themselves for eternity than come to an agreement for the greater good. I'm not really sure why the Dimos/municipality isn't providing anything as the government has made a lot of money available in recent years.
Anyway, the animals aren't fed by the welfare group over the summer and only twice a week in winter. So give out some cat food or if you've fallen in love with a cat during your stay, find out how to give it a loving home.
Get Married!
While Santorini is popular for weddings, Milos is another stunning backdrop to consider.
There are several companies who can help organise your special day including Milos Events.
Milos FAQs
When's the Best Time to Visit Milos?
The best time to visit Milos depends on what you want to do. Some beach bars start opening around 31st May but others are still closed until about mid-June.
In the Cyclades, the sea generally stays comfortable for swimming until around mid-October although the weather can be changeable after September.
Some museums are closed in the winter. If they're open they have restricted opening hours. Summer opening times usually run from 1st April – 31st October.
Some boat trips will run in April but usually at high prices for private groups. From about mid-May you'll start seeing the group tours running and again they'll start to taper off from September.
How Many Days in Milos is Enough?
I'd recommend at least 3 because your travel time – if you come by boat – will probably cut into that time a bit. Milos isn't a huge island but there's quite a lot to do depending on what you're interested in.
If there are several tours you'd like to do they'll probably run at the same times as each other. So leave enough days to fit in those organised things if you don't want to be dashing from one thing in the morning to another in the afternoon.
I personally think I could find enough to do for two weeks. 6 hiking trails, 70-odd beaches, loads of great restaurants, plus boat trips, cycling, crafts and festivities…But yes, give yourself three days minimum, four would be a reasonable number.
What is Milos Best Known For?
Milos is known for its volcanic landscape and lunar-esque beaches, sea caves and clear blue water.
Is Milos Cheaper Than Santorini?
Overall I found more accommodation available on the lower end than in Santorini. Beach beds were about 20 euro for a pair with an umbrella (although a few places are more expensive.)
In my experience car hire was more expensive in Milos than I would have paid for the same period in Santorini. And I didn't find the food to be cheaper.
More on Milos
If you need more information to guide your stay, then see this post about where to stay in Milos, this one about the best beaches in Milos and this one about the best restaurants in Milos.
Heading to Other Islands?
If you're staying in the Cyclades then have a look at things to do in Paros and also this post about things to do in Naxos. These islands are both great choices to pair with a trip to Milos.
This page may contain affiliate links. Read through my privacy page for more information.
---
Suzie Young
Suzie writes informative posts for solo, nervous or first-time travellers to Greece, Turkey and other countries on her 50-before-50 bucket list. She became a Greek resident in 2020 and intends to visit every inhabited island (13 down!).