11 Hotels Near Athens Airport for a Convenient Stay
Surprisingly for an international airport in a capital city, there isn't a slew of hotels onsite at Athens International Airport (Eleftherios Venizelos). But worry not; we can still find you something convenient if you need to stay close to the airport.
Properties VERY close to the airport are limited, but other hotels are straightforward to reach from Athens airport, and I've included them too.
Sofitel Athens Airport Hotel
The Sofitel is the sum of Athens airport hotels. So if you want to stay at the airport, this 5-star option is the only hotel. The Sofitel is directly opposite arrivals, a 2-minute walk from the main terminal. And you'll pay for that convenience.
Prices at the hotel vary depending on the date, but as you'd expect, they include a premium for being on location. You won't pay less than 200 euro a night. But this is the best hotel if you want a super-convenient comfortable stay for a late arrival and/or an early flight.
It's a comfortable international chain with spacious rooms, friendly team members and excellent food.
Facilities here include:
free parking
fitness centre and spa with indoor pool, sauna and beauty/massage treatments
aircon
marble bathrooms
desk space in each room
accessible rooms and parking
conference rooms
pet-friendly accommodation, although restrictions apply
Search for dates, prices and rooms at Sofitel.
Holiday Inn Athens – Airport an IHG Hotel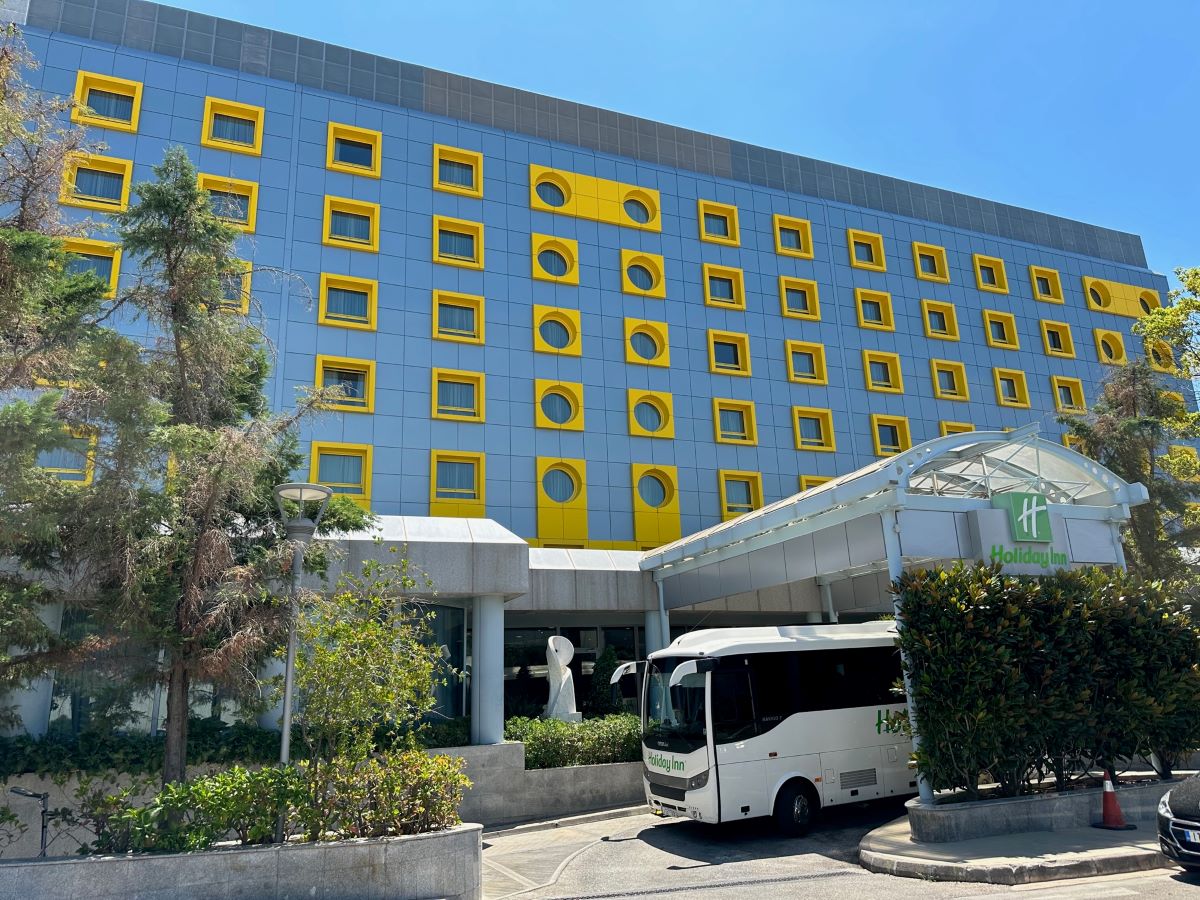 Another familiar international chain is the Holiday Inn Athens Attica Ave. Airport West. It's about a 15-minute drive from the airport within the rest area at the motorway services. They have a free shuttle service to and from the airport at set times between 04:30-noon and from 15:00-midnight.
If you opt for a taxi service, the journey normally costs around 25 euro. There's also free parking on site if you're renting a car in Greece.
Facilities at the Holiday Inn include:
room service
restaurant and bar
a fitness centre
indoor swimming pool and Jazucci
massage treatments
free wi-fi in guest rooms
accessible rooms
E-bar business centre with remote printing
meeting rooms, conference and banqueting services
Search for dates, prices and rooms at Holiday Inn.
Seasabelle The Hotel, Artemida
This is a lovely hotel by the sea in the east Athens suburb of Artemida. It's quite a bustling town area about 15 minutes from the airport (depending on traffic). But the hotel feels calm with its beachside location and sea views from the rooftop bar.
Seasabelle is alongside a stretch of sandy beach, and it also has a small section organised with sunbeds and umbrellas. The hotel restaurant food is good, the team is helpful, and the rooms are clean and comfortable. It's a nice option if you want somewhere to relax and rejuvenate after a long flight.
There's a taxi stand just in front of the hotel and public parking roundabout. There was lots of space when I went in August, but when the locals are back at other times of the year, you might have to park a bit further from the hotel.
Search for dates, prices and rooms at Seasabelle.
Airscape Hotel, Spata
Internal photos courtesy of Airscape Hotel and used with permission
This small hotel is newly opened and in such a peaceful spot amongst the olive trees, about 15-20 minutes drive from Athens Airport. You'll absolutely experience Greek hospitality from the thoughtful team, including a free shuttle to and from the airport. There's also onsite parking if you're driving.
Rooms here are spacious and clean, although note that breakfast isn't included. You can order food in from local restaurants, and there's also a good coffee place, bakery, and supermarkets about a 10-minute walk away.
Search for dates, prices and rooms at Airscape.
Comfort Stay, Spata
These two photos are courtesy of Comfort Stay and are used with permission
This boutique hotel with a peaceful garden to relax in is just a few minutes walk from Airscape, also in the quiet area of Artemis, Spata, around 15-20 minutes drive from the airport.
Comfort Stay offers an airport shuttle that collects and delivers you 24 hours a day. I think the shuttle is free from the airport, but you have to pay for it going back. I couldn't get an answer on this, so check when if you intend to use it.
The rooms here are all studios with kitchenettes. The hotel can provide items for you to make breakfast. You can also walk 10 minutes to the main road and access a highly-rated coffee shop and bakery as well as a couple of supermarkets. Again you can order food from local restaurants if you prefer.
Search for dates, prices and rooms at Comfort Stay.
Aethon Airport Project, Markopoulo
Aethon Airport Project is a functional option for a one-night layover. It's in Markopoulo, a town near to Eleftherios Venizelos Airport. The beds are comfortable and all rooms have a private bathroom, air conditioning and a balcony.
Although the rooms are well insulated from outside noise, some people might find the runnings of the hotel a bit noisy.
Coffee and snacks are available to buy at their little Mini Market, and there's a restaurant across the road for gyros, Greek salad and other traditional food.
The hotel offers a free airport shuttle at set times between 15:30 – 01:30 and 03:30 – 11:00. Taxis cost around 25 euro if you want to make your own way.
Search for dates, prices and rooms at Aethon Airport Project.
Dolce by Wyndham Athens Attica Riviera
For another beachfront stay, you can be at the Dolce Attica Riviera in around 15 minutes from the airport. It's a big hotel in a lovely spot with manicured gardens, sea views and kind team members. It's also about 15 minutes from Porto Rafti and 30 minutes from the Port of Rafina.
If you're heading to Rafina Port, the 304 bus runs just by the hotel. It goes to Nomismatokopeio Metro Station, an easy place to change for the bus that goes to the port.
This was probably a rather grand hotel in the past, but now it could do with a bit of money spent on reviving it. Reviews here are mixed, and some guests haven't felt they had value for money. If you have points to spend with the brand, it could be a good option.
The Dolce's extensive facilities include:
a variety of comfortable rooms, including suites, family rooms and bungalows, some with private pools
air conditioning
free parking
tennis courts
fitness centre and spa
1 indoor and 2 outdoor swimming pools
a mini soccer court, a petanque court and a water sports centre
Search for dates, prices and rooms at Dolce by Wyndham Athens Attica Riviera.
The Newel, Psychiko
Internal images courtesy of The Newel and used with permission
This 5-star hotel is another option if you don't want to head right into central Athens. Psychiko is a smart neighbourhood, mainly residential and aristocratic, popular with diplomats.
The Newel is a swanky spot with spacious rooms, fantastic breakfast and exceptional service from wonderfully friendly team members.
It's about a 25-minute drive from the airport, depending on traffic. The parking's not great, although while the locals were away in August, I managed to get parked up nearby.
They do have a (paid) shuttle service for the airport, though and Katehaki metro station is a short walk away. As well as the shuttle, the hotel has free wifi and air conditioning.
Search for dates, prices and rooms at The Newel.
COCO-MAT Hotel Nafsika, Kifisia
Like The Newel, this COCO-MAT location is in a residential neighbourhood away from the bustle of the city centre. It's about a 25-minute drive from the airport.
I stayed here the night before moving into my Athens flat and loved it. The place was really quiet and surrounded by leafy trees. The fact they gave me a big upgrade to one of the suites helped too!
It goes without saying COCO-MAT hotels have incredibly comfortable beds, but the room service food here is great too. Breakfast is a limited but tasty Greek selection, and the team is friendly and welcoming.
Facilities include:
COCO-MAT bike hire
pet-friendly accommodation with pet bowls
free public parking on surrounding streets (more availability here than The Newel, in my experience)
Search for dates, prices and rooms at COCO-MAT.
Hotel Avra, Rafina
If you're coming into Rafina Port and have an early flight or coming into the airport and heading to Rafina, the Avra Hotel could be the perfect hotel for you. (It's also good even if you're not transferring through Rafina).
This 4-star hotel is right at the port overlooking the water. Like the Sofitel, you'll pay for the location, so it's not the cheapest option. But it's clean and comfortable, and they have a complimentary airport shuttle service. It's about a 25-minute drive to the airport, depending on traffic.
I recall that all the rooms here are twin beds; doubles aren't an option. That's a little unusual, but I guess it maximises the booking opportunities. The rooms are big enough but not huge, and I remember the food in the restaurant here being very good.
Search for dates, prices and rooms at Hotel Avra.
Ramada by Wyndham, Athens Club Attica Riviera
Another of the luxury brand hotels along the Riviera is this 5-star Ramada property. Again, it's a little dated and run down, but I heard it's due to be refreshed going into 2024. It could be an option for you if you have points with this chain that you can use or top up.
This Ramanda is just up the coast from Rafina, about 10 minutes from the port and about a 25-minute drive from Athens airport. If you're not driving, you'll need to access the hotel by taxi.
As well as the usual air con and free wifi, there's also
an indoor heated pool within the (paid) spa and a seasonal outdoor pool
a small fitness centre
spa treatments
cycle rental
Search for dates, prices and rooms at Ramada by Wyndham.
Apartments Near Athens Airport
If you use this link to search, you'll see there are quite a few apartments and suites in Markopoulo, Spata and surrounding areas that are alternatives to cheap hotels near the airport.
Just put in the dates you need to search for what's available. Make sure to filter results for anything you find important, like pet-friendly or highly-rated accommodation.
I don't generally find apartments as convenient for a one-night stay/layover because of the arrival logistics. I prefer somewhere that has a 24-hour reception where I can turn up without having to go back and forth with lots of detailed communication about my arrival time.
However, if you're travelling as a large group, want to use the time to catch up on some laundry or need space to accomodate a pet, then look at the options.
A Note About Driving to Airscape or Comfort Stay
There are a couple of things I wanted to point out about driving to Artemida if you're going to be doing that.
1) The roads are decent paved roads, but when you turn off the main road, they're quite narrow, village-y roads to the property. If you're not used to that, have a read of my guide to driving in Greece for the first time. The area's quiet and you'll be fine, but just expect it.
Comfort Stay is down the road to the left here
2) If you use Google Maps to direct you to and from the airport, don't be alarmed if it sends you through what looks like a restricted area. If you think you've gone wrong and turn back, you'll end up driving the long way round.
The right way literally has signs saying restricted area, and it has checkpoints with barriers. But it's not manned, the checkpoints aren't in use, the barriers are permanently raised, and the road is for everyone.
More Useful Info for Athens
If you decide to head into Athens city centre after all, here are the best ways of getting from Athens International to central Athens (for Syntagma Square and the historic centre). Here are some of the best things to do in Athens at night.
As well as my guide above about driving in Athens, I also have information about renting a car in Greece for the first time.
If you're thinking about exploring more of Greece read about the best Greek airlines for island-hopping.
Aeroplane above Spata after taking off from Athens International Airport
This page may contain affiliate links. Read through my privacy page for more information.
---
Suzie Young
Suzie writes informative posts for solo, nervous or first-time travellers to Greece, Turkey and other countries on her 50-before-50 bucket list. She became a Greek resident in 2020 and intends to visit every inhabited island (13 down!).