Hiking on Tinos: Helpful Walking Guide to the "Hand-Made" Island
Like Andros, its neighbour next door, Tinos has a number of hiking trails that cover the island. I can't say enough about hiking on Andros, but Tinos gives you a more typically Cycladic experience. With countless villages of sugar-cube buildings, pretty tavernas and blooming bougainvillaea it's a stunning island to discover on foot.
See also:
Tinos Highlight: Walk Up Exomvourgo Hill For History & Fantastic Views
Hiking in Andros Greece – A Paradise for Walkers
Hiking in Naxos: Nature-Lover's Guide to Walking this Island
3 Short Hikes in Naxos to Hidden & Unusual Sites
Walking in Paros: 5 Short & Enjoyable Walks with Great Views
A Street in Chora and Cafe in Ysternia
The well-preserved and ornate dovecotes, numerous churches, unique geological phenomenon, an abundance of marble and ancient pathways makes it even more special.
And it was dubbed "the hand-made island" by the Greek philosopher Cornelius Castoriadis thanks to the abundance of marble artwork, folk art, basket weaving and natural products.
Highlights on the trails
More than 450km of footpaths have been recorded over Tinos. And as a hiking destination, the island pairs well with neighbouring Andros, Syros or Naxos.
One of the island's ornate dovecotes and granite rocks at Volax
The island presents 16 routes via the Anavasi map.12 slightly different main routes and branches routes are laid out on the Tinos Trails site. That was put together in collaboration with the Greek National Tourism Organisation and Tinos Municipality.
Most of the routes are circular walks which is great for transport logistics, particularly in the winter season. The hikes are from about 4km to over 14 km long and take between around 2 and 5 hours.
Best Ways to Discover the 16 Hiking Trails on Tinos
Self-Guided Walking
If you want to walk without a guide then there are a couple of resources to help you.
Firstly you could get a map of Tinos. I initially bought the Anavasi Map of Tinos at a news and bookshop near the port. The shop is tucked down one of the side streets and you can find it here on Google Maps.
Tinos Walking Map by Anavasi
Alternatively, what I found easiest was to look at the Tinos Trails website. (Or app which is quite handy as it shows where you are on the trail.)
As well as descriptions of their routes, the trail codes and names correspond with the wooden waymarkers across the island. The paths are well-marked so you don't really need a map to keep you right.
The only time I used the map was when there were a couple of sections cordoned off on the marked routes. I had to take a detour to pick up the trail again. Google maps or the Tinos app can be helpful for this though, as long as you're in an area with signal.
Tinos Trails App
Note that if you want to walk the M2Α Rock Formations – Georoute – which by all accounts is an exciting short trail that you probably should – you need permission from someone at the Falatados Cultural Society.
It took a bit of digging but the person I needed to speak with was the owner of the Lefkes taverna opposite the big church. I wanted to walk it when I visited in spring but because of the recent heavy rain and snow there was landfall and the path wasn't safe.
If you want to access the trail then either go to the taverna or perhaps ask the contact at your accommodation to help you track them down. Note the taverna is closed over the winter season.
Walk Tinos with a Guide
If you'd prefer to join a group then Tinos Outdoor Activities runs a variety of group treks across the island. They even have a unique Moonlight Hiking excursion.
If you're looking for full immersion then One Foot Forward offers a 7-day guided walking holiday on Tinos. And No Footprint Eco Walking runs walking holidays in Tinos combined with Andros or with Syros.
Route Waymarkers
As is common, the Tinos walking routes are marked in red and white. Wooden posts are used for signage instead of the larger wooden signs I've seen on other islands. Even though they're a lot smaller they do stand out so you shouldn't miss them.
Along the routes, you never go too far without seeing the red and white stripes on a rock, tree or path to keep you right anyway.
Waymarkers on Tinos
Where the route might be confusing the red and white stripes point in the direction you need to go or are curved to show you need to turn.
Directional Waymarkers
It's useful to know that most of the paths I walked were between two dry stone walls. So that's a tip that might steer you well if necessary. In spring the vegetation can be a bit overgrown so sometimes it's hard to tell there's a path.
Where is the Best Place to Stay for Hiking on Tinos?
Most of the trails are clustered in the south of the island. Staying in or near Chora (Tinos town) will give you easy access to routes that go through many of the villages.
Having said that, I stayed up in the north of the island on my first visit. There were three trails very close by and a fourth a little further, all of which were loops. If you're only visiting for a few days and want to enjoy a peaceful break staying in Pyrgos could work well for you.
Views in the north of the island
When Is The Best Time to Hike on Tinos?
Outside of the peak season (July and August) when it's really much too hot, you can walk in Tinos all year round. However, spring and autumn time are the best times with autumn having a couple of extra advantages.
Spring: March – June
March can still be on the cool side and the paths a bit muddy or waterlogged if there's been a lot of rain. But the blossom is pretty and the meadow flowers have started to emerge creating a pretty carpet of colour.
April is much milder but can still have cloudy days and showers. By May the weather is warmer. The bougainvillaea will be starting to bloom and the tavernas opening up with their colourful seating arrangements spread out in the streets.
Spring flowers
Note that Tinos will be incredibly busy during the Orthodox Easter. The date changes each year but it's around the end of April/beginning of May. Although it can be a wonderful cultural experience while in Greece, it's a particularly big event on Tinos due to the pilgrimage to Panagia Evangelistria church.
If you want to go at that time then book accommodation and car hire early. Otherwise, book either side of Easter and enjoy the festivities from a quieter neighbouring island.
Autumn: September – November
September – November are usually pleasant and pretty months to hike in Tinos although I personally can still find September a bit on the hot side.
Potentially the weather can be changeable in October and November. But it's generally quite mild and the bougainvillaea will likely still be in bloom.
Flowers and lemons through the villages
The Tinos trails go through many picturesque villages and you'll see them looking vibrant. Unless there's a lot of rain the trails will also be drier than winter/spring with less vegetation.
As a bonus, the seawater is still warm from summer so you can enjoy the beach en route.
Best Avoid Hiking in Winter
December – February – the weather is really changeable during these months. Although there are some stunningly clear days without a cloud in the sky the weather is often cold, cloudy, wet and windy (occasionally even snowy).
I've done some great hikes in the Cyclades during the winter but if you book a 7-day holiday you might find there's rain or gale-force winds for the entire week. January, in particular, gets a lot of rain and is definitely worth avoiding.
Granite rocks and formations
Also, a lot of accommodation on the islands isn't really set up for winter. You don't want to spend all day walking in the rain and cold wind to come home to a cold house with no hot water because there's only a solar-powered heater.
If you're already on the islands in winter you'll definitely get some good days for hiking. But if you're just visiting it's better to come when the weather's more likely to be suitable.
What to Wear While Hiking in Tinos
No matter which month you're hiking it's best to wear long trousers. Thanks to the winter rain the paths can be lusher in spring. Although pretty you won't be thinking about enjoying the flowers if you're legs are stinging from nettles.
Overgrown paths when hiking on Tinos
In the warmer months, you do need to keep an eye out for snakes so long trousers are an extra layer of protection.
Proper hiking boots are useful for keeping your feet dry when the weather's changeable. To that end, a cagoule is probably a good idea in the spring and in the autumn (after mid-September).
Suncream and a hat are probably a good idea too.
Snakes on Tinos
Like the rest of the Cyclades Tinos has snakes. (Perhaps I shouldn't tell you but the old name for Tinos was the Greek for the Island of Snakes). In the summer I did see a snake in Tinos but just a grass snake.
You don't need to worry about those but do keep half an eye out for vipers. They're much bigger and have brown triangular markings.
They won't attack you without provocation and they'll probably hiss a warning before taking any action. But they might not be too happy about you stepping on or close to it when it's sunning itself on the path.
Be careful around grassy areas and rocks. The snake I saw slithered into a gap in the dry stone wall so I'd not get too close to them or sit on them at any time of year.
Anything Else to Know About Walking in Tinos?
If you come across any gates along the way it's fine to go through them, just close them behind you. If you come across a gate or barrier that's not simple to pass through then someone doesn't want you to walk there.
None of the marked routes should be blocked but in my experience they sometimes are. Check the app or map for a detour.
Take your mobile phone and maybe a battery charger too if you're going to take a lot of pictures. Have enough water to last you in case some of the tavernas en route are closed.
Tinos Trails advises you to take a first aid kit and to never walk alone. (But I can't advise you on that since I did all my hiking on Tinos alone.)
A Glimpse of the Tinos Trails
E2a The Alley of the Mills
This branch route takes you to two beaches, a pretty church and an interesting rock carving.
E3 Road of Marble
I started this trail in Marlas where I was staying and headed down to Pyrgos. I missed out the bit that went to Mamados since I'd already been there on the E4 route. (And because I was only really doing a groceries run!)
E4 Heading to the Quarries
I also walked some of this route from Marlas. I didn't the whole thing as it was a sunset walk after I'd finished work for the day. But it was a rugged route with lots of little churches along the way. I had time to wander through Mamados and the abandoned village of Ismael.
T3 The Hidden Valley
I love this walk, it feels like such a remote part of the island. I think in summer a couple of the nearby beaches are quite popular so I'm not sure it would feel quite as isolated.
But it's a lush valley thanks to the river filled with traditional villages lots of churches, watermills, farmland, a pebble beach and fantastic views of Mykonos.
The farmland presents lots of animals. On my walk, I saw horses and donkeys, goats, sheep, various types of cows and a hostile gaggle of geese!
M2 The Georoute
Remember if you want to do the really cool branch version of this you need to get permission from the Falatados Cultural Association (see above for info). I wasn't able to do that thanks to the weather but here are some other parts of the main route.
M3a Nature in Antithesis
I didn't have time to do the full route and back (it's not a loop and getting a taxi from the beach wasn't possible) so I did the branch route here. I wanted to see the beach and walk to the lighthouse so that was the best option for me.
Livada Beach
Don't do this part of the walk on a windy day. I didn't think there was that much wind when I started. And to be fair, it was south-easterly and the rock sheltered me most of the way. But there were a couple of exposed points and then at the lighthouse itself was incredibly blustery.
M4 The Road of the Water and the Castle
This is a lovely trail around a number of villages. It includes the castle which can also be done as a separate short hike. Passing through Loutra, the museums were closed when I went. But it was still nice to look around at the old buildings in the village.
On the route, you'll go through the abandoned village of Monastiria. This place was one of the reasons I wanted to do some walking in the winter. (Although I ended up being back in Tinos in March. So technically, that's spring, albeit a very cold one.)
Monastiria Ruins
I read something that said Monastiria wasn't a great place to go in summer because it can be a bit overrun with snakes. And I can see it would be a place they'd like with all the hiding places amongst the rocks.
But I braved it and my anxiety was unfounded. I went on a freezing cold day when no self-respecting snake would be out and about. And the only other living creature I saw was a pure white dove.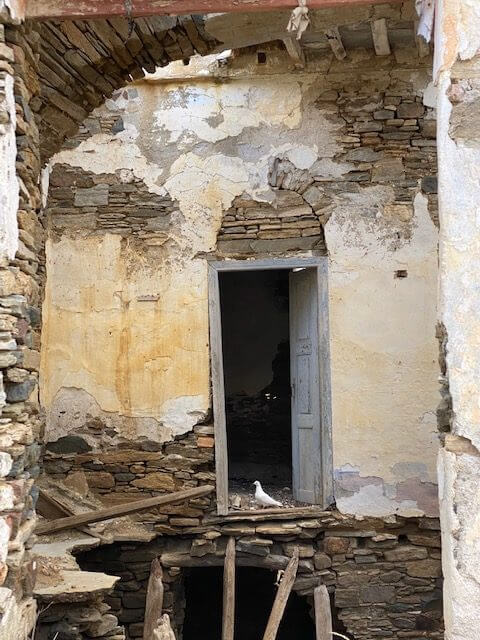 Abandoned Village
If you do the route when it's warmer just watch your step. Don't get too close to the rocks or drystone wall, same as on any other route. When I went, the official path was very overgrown in places. However, you can see where people have detoured and created other paths so just take one of those.
M5 Above The Valley
This was a nice, relatively short jaunt. I loved the section where the path climbs up from the valley. There was a lone church on a rock precipice that just seemed in another world.
Down below there was a dovecote and together the picture was stunning. My camera didn't pick up the depth well so doesn't look so dramatic here!
As I came up to the top of the hill just before Aetofolia I had to take a detour. Someone had cordoned off the path by putting branches in front of a flimsy gate. I could see that the intention was for people not to pass.
But I was on the marked trail so I climbed over the makeshift gate. About 100 meters further along there was another barrier and this one was impassible.
So I had to trace my steps back and then carry on the dirt track that then became a road. If the same section is blocked then go down the hairpin bend road. Once you get to the main road turn right and walk along it until you can pick up the trail.
Your Hiking Adventure
If you choose to go hiking in Tinos I hope this has given you some insight into the walking routes. It really is a great island to choose and not just for the walking.
This page may contain affiliate links. Read through my privacy page for more information.
---
Suzie Young
Suzie writes informative posts for solo, nervous or first-time travellers to Greece, Turkey and other countries on her 50-before-50 bucket list. She became a Greek resident in 2020 and intends to visit every inhabited island (13 down!).