Naxos Greece Beaches: Best Quiet, Popular and Family
Naxos Greece beaches are tremendous, and Naxos is one of my favourite Greek islands. It's the first island I stayed when I came to live in Greece in 2020. And as we went into lockdown two, it was one of the best places to be.
I spent much of that time getting out in nature and walking the sandy beaches on the western side of the island. I lived in Mikri Vigla and got to enjoy the beautiful beaches of Mikri Vigla, Orkos, Kastraki and Alyko away from the peak season.
And when Easter rolled around the calm waters were finally a bearable temperature for swimming
The best Naxos beaches are on the island's southwest coast and they're just beautiful. Almost the whole of the west coast is golden sand, with one gorgeous long beach running into the next. The sunsets from there are stunning too.
Some of the island beaches are popular beaches for families and others are windy surfing beaches. If you want a more secluded beach, you'll definitely find that, and some of Naxos' beaches are only accessible by boat.
I really love the beaches towards the southwest of Naxos and was lucky to spend lockdown 2.0 in .
Although the island got much busier as lockdown lifted and the tourism season started, each of these remained a fairly quiet beach. Certainly much more than the ones closer to Naxos Town (Chora).
Best Beaches in Naxos
Plaka, a Favourite Sandy Beach
Some would say Plaka Beach is the best beach in Naxos. It's a beautiful golden beach, kilometers long and an absolute favourite beach for many. At the end closest to Chora, there are some hotels, villas and restaurants.
But as you head closer to Migri Vigla the sand and sea stretch blissfully on with no amenities. It's what the Greeks call an unorganized beach. For me, it's just nature.
Anyway, drive here and park up on the road or hire a bike and cycle from Chora. If you're driving, take care as the sand dunes can blow across the road. Take it slowly and be ready to steer the opposite way if you start sliding.
Agios Georgios Beach at Naxos Town
Right in Chora is this huge long stretch of sand. It's close to hotels, taverns and facilities. There are organised parts with sunbeds and umbrellas. But there's plenty of space in between where you can set down your towel and have your own bit of space.
The gentle, shallow waters make it a good beach for families, along with the music and the facilities nearby. Water sports are available at the end of the beach furthest from Naxos. It's a windier spot and there are a couple of places to borrow kit for windsurfing.
You can easily walk here from town. But if you're staying outside of Chora, there's loads of parking behind the beach towards the Spar Kouteilieris supermarket.
Agios Prokopios
Agios Prokopios beach is a long, wide stretch of sand in a touristy part of the island. Because of this, it's popular with families and youngsters.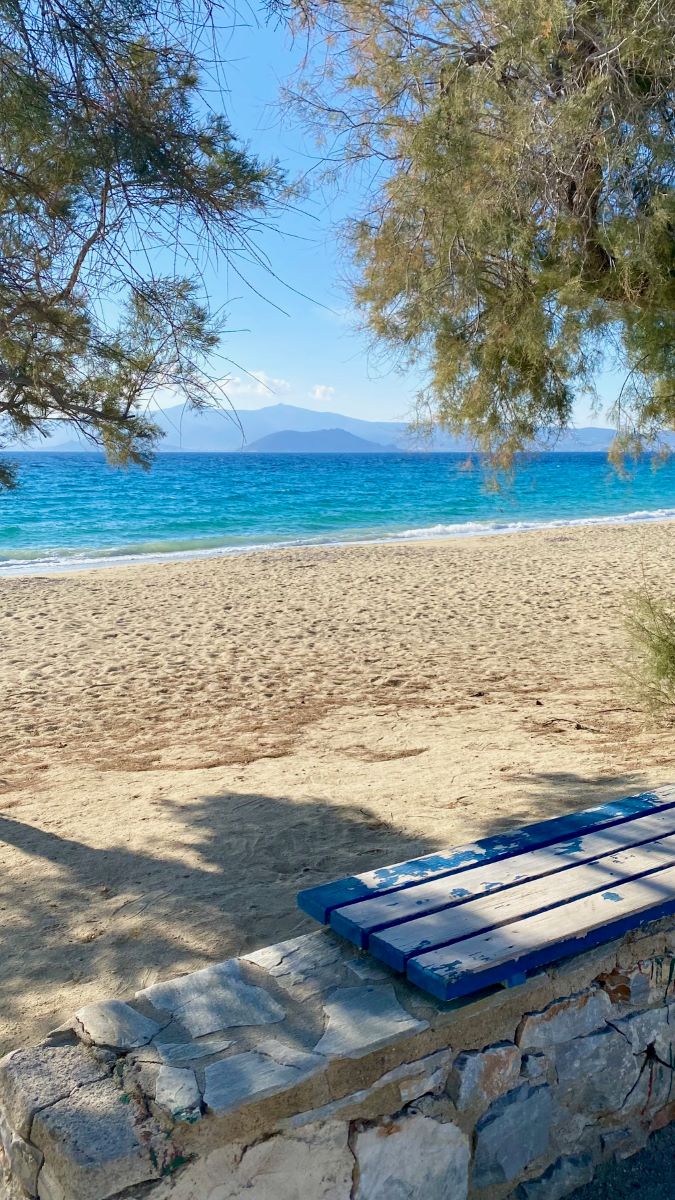 There are a lot of facilities in the area, but most aren't directly on the beach. The end closest to Chora is the quietest, and you might find nude bathers there.
It's easy to get Agios Prokopios from Chora with public transport.
Agia Anna Beach
Agia Anna is the next beach along from Prokopios. It's classed as an organised beach with sun loungers and umbrellas. It's quite lively, with more bars and tavernas directly on the beach in the section nearest Prokopios.
There's a lovely little harbour where the beach comes up to the main road. Boats stop here for day trips to the more southern beaches and Smaller Cyclades.
On the other side of that is a cove. If you walk around it and then clamber over the rocks, you'll get to a little nudist beach if that's what you'd prefer. Say hi to the shark on the rock as you pass.
After Agias Anna the beach turns into the wide stretch of Maragkas Beach which becomes Plaka beach that I talked about above.
Petrino Beach restaurant at Maragkas Beach Naxos
Orkos and Mikri Vigla Beaches
Orkos is the next beach after Plaka. It runs into Mikri Vigla Beach which is a wind and kite surfing haven. In the off-season, there are calm days with no surfers around. I enjoyed swimming here as it was near home but be aware that the water does get deep quickly, and there can be strong winds.
There's also a little cove just before you get to Orkos Beach. It's a nice, private space if you can get it to yourself. Sometimes there's no sand because the tide is right in. But if it's not, then you can make your way down there from the road.
Kastraki Beach
Mikri Vigla Beach continues on the other side of the rocks. There's a taverna on the beach. And nearby in the village there's a nice bakery and some little supermarkets. This long stretch of sand then turns into Kastraki Beach. This whole section is nice for families as the water is shallow.
At the end of Kastraki Beach, furthest from Mikri Vigla, there are also a couple of bars and tavernas.
Glyfada Beach
We're heading even further south, and Glyfada is another wide stretch of sand. You'll find it's pretty quiet at any time of year but it can get windy. Turn off the main road on the way to Alyko and park up for some space to yourself. Nearby is the lovely Faros Restaurant.
Alyko Beach (aliko Beach)
Around Alyko Cedar Forest, with its miniature cedar trees, is a protected area. There are four beaches and a ruined hotel with street art. Park up on the road and then make your way to find the one you'd like to spend your time on.
Make sure you have a wander around the abandoned hotel, too, although watch your footing.
When you reach the Alyki area the first beach is the nudist beach. It's pretty, quiet and secluded. Hawaii Beach is the next one and although it's a bit of a scramble down the rocks, it can get quite busy in summer.
The main Alyko beach is beyond the hotel around the coast. It's a nice stretch of white sand and probably quieter than Hawaii.
On the other side of the hotel is Mikro Alyko (Little Alyko), which is a sheltered cove.
None of the beaches has umbrellas, so bring your own. You might get lucky with a spot next to a rock that offers some shade but don't count on it. There are no facilities on these beaches either. There's a mini-market near Pyrgaki Beach and some tavernas that way, too but bring drinks with you.
Pyrgaki
I have to say I don't love this beach, but a lot of people do. It's wide and quiet even in the height of summer. It can get windy, and the water is deep. It's a bit rocky, too so not perfect for swimming, but people manage it.
There's a water sports centre here as well as some umbrellas. There is a mini-market and some tavernas off the road. Note that it's a dirt track as you turn off the road instead of heading straight to Alyko. It's not a bad road for a normal car, but the sand goes right over the road, so be aware.
Apollonas Bay
Apollonas is about an hour's drive from Chora. The beach isn't as stunning as those in the south (in my opinion), but it's a nice spot to enjoy if you're driving around the island. Kouros is nearby, so if you're going to see that, you might like to come for lunch and a quick dip.
(If you want to know about the Kouros and other things on the island, see this post about things to do in Naxos.)
There's a sandy section near the tavernas. It's family-friendly but can get busy in summer. Further round it's quieter, but it's a pebbly beach, so obviously not as comfortable unless you come prepared.
On the other side of the village is the wild beach, which is quieter again. None of these is ideal for swimming when there's a northerly wind.
Naxos Beaches by Boat
If you do a boat day trip, you can visit Rina Beach with the nearby Rina Cave. They're good for snorkelling around and you get a fun barbeque on the boat.
FAQs about The Best Beaches in Naxos
Where is the best beach in Naxos when it's windy?
Agios Georgios beach is generally a good beach when it's windy on Naxos. Agios Prokopios, Agia Anna and Maragkas Beach are sheltered from the north winds as is Alyko.
Is the sea warm in Naxos?
I find the sea bearable for swimming from the end of April (around 18°C / 64°F max) and through May (around 20°C/ 68°F max). But it's not warm until later in the season. From the beginning of June through to about the middle of October are the best times to swim.
The average maximum temperatures for the sea in Naxos are:
June – 23°C/73.5°F
July – 26°C/77.8°F
August – 27°C/79°F
September – 24°C/75°F
October – 24°C/73°F
November – 20°/67°F
Which has the best beaches, Paros or Naxos?
Both have lovely beaches. My favourites are the long stretches of sand on Naxos. The beaches on Paros are generally smaller but they are quite interesting.
Agios Giorgos Beach Naxos
At Kalogeros Beach you can take clay off the rocks and make a skin mask. And at Kolympethres there are interesting rock formations.
See this post about things to do in Paros which includes some of the beaches to visit.
Your Favourite Naxos Beach?
So now you get to choose which to visit and decide which of the beaches on Naxos island is YOUR favourite. It's gonna be tough!
Want more beach suggestions in Greece? Discover the black sand beaches in Santorini and Santorini's beach clubs for a luxe day. Anafi is a small, quiet island near Santorini with gorgeous golden beaches you could visit too.
And if you're going further afield, discover Turkey's turquoise coast and all the beach activities there.
This page may contain affiliate links. Read through my privacy page for more information.
---
Suzie Young
Suzie writes informative posts for solo, nervous or first-time travellers to Greece, Turkey and other countries on her 50-before-50 bucket list. She became a Greek resident in 2020 and intends to visit every inhabited island (13 down!).