Where to Stay in Milos: The Best Options For You
You've heard Milos is a nice alternative to some of the busier Greek islands like Santorini and Mykonos and now you're wondering where to stay.
The island is a horseshoe shape, and although it's a small island, to me, it feels a bit more spread out than other islands. So I'm going to help you decide the best locations to stay based on your circumstances.
At the bottom of the page, I've also listed some of the best hotels and accommodations by area. Whether you're looking for family boutique hotels, luxury or a budget hotel, you'll find something on the list.
At a Glance
Best for:
a traditional stay: Thalassitra Village Hotel
those without a car: Santa Maria Village Resort & Spa
luxury: Domes White Coast Milos
private pools: Cave Suites Milos
honeymoon: Melian Boutique Hotel & Spa
families: Miland Suites
nature: Noma
a fisherman's experience: The Colourful Land Klima
Adamas
Good for: families and those without a car
Adamas also known as Adamantas is the main port of Milos. If you come to the island by ferry, this is where you'll arrive. The airport is only about 10 minutes away too. It's a fairly central location, and if you do have transport then it's easy a great spot to base yourself in to get around.
Staying at Adamas Port is a good choice if you don't have a car. Everything you could need is a short walk away.
A number of the best restaurants in Milos are at the port. There are also shops, the Ecclesiastical Museum, Milos Mining Museum and a couple of sandy beaches. Plus the majority of the boat trips to Milos' best beaches go from here.
See also this post about things to do in Milos for ideas on what to do when you're there.
The main Adamas beach is Papikinou Beach which is good for families. It's a long narrow stretch of sand with shady trees and calm, shallow water.
It's not one of the island's most beautiful beaches but it would suit young children. There's also Lagada Beach at the opposite end of the port which is small, quiet and also quite shallow.
Although the public transport on Milos isn't amazing, there's a frequent bus running between Adamas and Plaka, the island's capital.
Adamas Port on the Greek island of Milos
Plaka
Good for: an authentic Greek stay, those without a car
Plaka is the capital of Milos and another popular place to stay. It's a very typical traditional village with narrow, whitewashed streets, lots of steps and not so much space.
Plaka Milos
If you're into picturesque villages with the quintessential sugar-cubed Cycladic houses then this is a great place to stay. The village has good restaurants, souvenir shops, the Archaeological Museum, the War Museum and a couple of other small museums.
It's also the perfect location to take in some beautiful views.
Plaka Castle is the highest point on the island. If you climb up the steps you'll get stunning panoramic views at any time of day. One of the best things to do in Plaka is watch the sunset though and the castle is the perfect place.
There are also some good cocktail bars in the village centre where you can watch the sun go down too.
Incredible island views in Milos Greece
If you're renting a car, check with your accommodation what the parking situation is. The main part of the village is pedestrianised, so see how close you can keep your vehicle.
The good news is that if you don't have a car, you're within walking distance of some of the historic sites like the Catacombs and the Ancient Theatre. You can also walk down to Klima to see the fishermen's houses. In the summer months, I'd definitely organise a taxi back up the hill, though.
Catacombs of Milos
If you want to take a day trip or two, many offer hotel pick-up for people who don't have a car. And it's less than a five-minute walk from the centre of the village down to the bus stop that takes you to Adamas.
Trypiti
Trypiti is a small village very close to Plaka. There's not so much going on there, but again there are some nice restaurants with sunset views over the Aegean Sea. It's a pretty and quiet alternative to Plaka.
Pollonia
Good for: families, quiet location, accessibility
Pollonia is a lovely traditional fishing village on the north coast. Ideally, you'll want a car to explore the rest of the island. But it's another of the best areas for families because there's a bit more space than the inland villages. Lots of accommodation options have easy access to the beach or private jetty.
Generally speaking, the local restaurants are excellent with lots of great seafood options. There are a few little boutique shops and the wonderful Kivotos ton Gefseon bakery and coffee shop that has all sorts of Greek products of designated origins.
(I recommend getting a coffee and some lemon tart and then stocking up on herbs, Greek alcohol and jars of spoon sweets.)
There's not much else going on here but there's a spacious playground by Pollonia beach and the water is wheelchair accessible. The area's also much flatter. It's not a historic village with loads of steps so you can drive right up to things if you need to.
From Pollinia, you can get the frequent ferry over to Kimolos, and a few other boat day trips leave from here too. You're also close to the winery if you'd like to take a tour or a tasting. And I liked the beach club too but you'll need a car for both of those.
Fishing Settlements
Good for: a quiet place to stay in a picturesque location
Klima
Thanks to social media Milos island has become known for its colourful fishermen's retreats. Klima is a popular destination for these.
It's down the hill from the catacombs, about 10 minutes drive from Plaka. People have turned the fishermen's shelters into Airbnbs so you can stay right on the water.
There's not much to do in Klima, although it has one of the best sunsets you'll see on the island. There is a pretty good restaurant there, and if you're feeling energetic, you can climb up the hill to the ancient theatre and catacombs.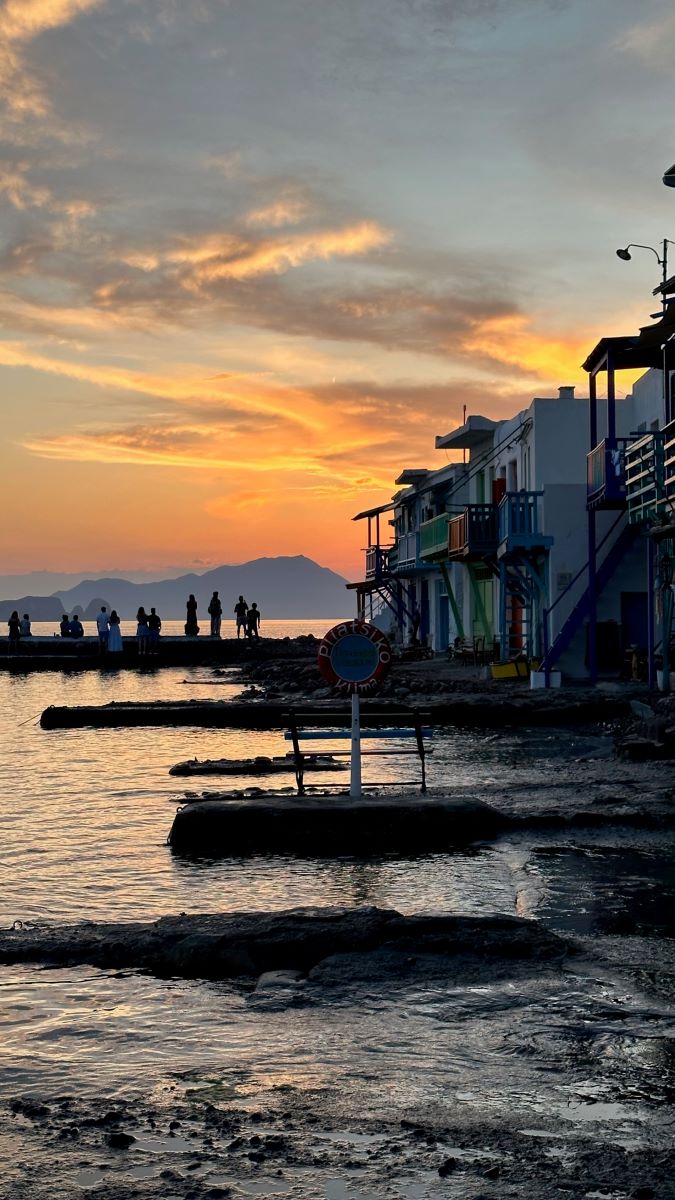 Klima, Milos, Greece
Other Options
Klima's the place that seems to be the best well-known, but there are other similar spots around the island.
Mandrakia
Madrakia is a small fishing village with one restaurant and a rocky beach. It's about 10 minutes from both Plaka and the famous Sarakiniko beach with its lunar rock formations.
Fyropotamos
Fyropotamos is a quiet cove with a lovely sandy beach, a church and some ruins. It's about 10 minutes' drive from Plaka and about 15 from Adamas.
Fishermens' Houses and Boat at Firopotamos Beach
Agios Konstantinos
There are just a few of the Syrma boathouses here but it's a peaceful place to stay and only around 7 minutes from Pollonia by car.
Fourkouvouni
As with Agios Konstantinos, it's the tiniest of settlements and perfect for a peaceful stay right on the water.
Accommodation in Milos
Here are the best Milos hotels, suites and apartments.
Adamas
Santa Maria Village Resort & Spa
For luxury accommodation within walking distance of Adamas take a look at Santa Maria Village. It's a beautiful hotel with a lovely pool terrace (with hot tub) and great views. The service is excellent
Hotel Milos Sea Resort
If you're looking for a rejuvenating vacation experience this hotel outside of Adamas is a dream. It's got comfort, tranquillity, and stunning sea views along with wonderful service and access to a private beach.
Portiani Hotel
This is a great, basic hotel right at the port. The location is excellent for everything you need in Adamas and it's right by the bus stop too.
Thalassitra Village Hotel
This is a beautifully minimal hotel built in a traditional Cycladic way. As the name suggests, it's made up of independent buildings like a little village. You can enjoy the lush courtyard and excellent breakfast. Some rooms here have private pools and pets are allowed upon request.
Cavo Milos
Two good-sized apartments each accommodating up to five adults (maximum occupancy is 6 people.) They're located on a hill in a tranquil location above the port. Both have a lovely panoramic view from above Lagada Beach.
Milos Bay Suites
The suites are neat and simple with a relaxing minimalist feel close to the beach and centre of Adamas. Some rooms have sea views but be sure to check when booking that yours does. Milos Bay offers an airport shuttle service too.
Villa Zampeta
Stay in one of the rooms at Villa Zampeta to experience Cycladic hospitality. The rooms are tasteful and the villa is right by the sea at the far end of Adamas.
Tsakanos House
Another clean and quiet accommodation with easy access to Adamas Port is Tsakanos House. conveniently, it has free parking and some rooms have a terrace or balcony with views of the garden.
Fantasy Rooms
On the outskirts of the town, adults-only, pet-friendly Fantasy Rooms is a peaceful oasis. It's a friendly, family-run spot with a lovely quiet pool in an olive grove
Korfos Near Adamas
Miland Suites
The Miland Suites is family-friendly accommodation with a children's pool and play area. It's a lovely hilltop location about 2.5km outside of Adamas Port.
Thanks to the setting, you get outstanding sunset views from here and excellent views in general. This is another spot to expect an excellent breakfast and wonderful service.
Pollonia
Milos Breeze Boutique Hotel
Milos Breeze Hotel is a 4-star hotel that combines traditional architecture with luxury in a beautiful location overlooking the sea. You can enjoy panoramic views and spot the neighbouring islands of Kimolos, Sifnos, Serifos.
It's a tranquil location with a fantastic pool area. Some rooms have private plunge pools.
Melian Boutique Hotel & Spa
Melian is another 4-star hotel right by the sea. It offers exquisite service, stunning views, beautiful breakfasts and a quiet location.
As the name suggests there are wellness services you can enjoy and a number of rooms have jacuzzis. Melian Boutique Hotel is popular for honeymoons.
The Del Mare Collection
Delmar Apartments & Suites Milos, Villa Del Mar and Perla Suites along with Noma in Kipos below make up the Del Mare collection. The first three are beautiful properties located in Pollonia
Delmar Apartments and Suites are "comfortable, functional, ergonomic, and stylish" Cycladic style spaces great for couples and families.
Villa Del Mar is about 400 meters away from the main hotel. I'd describe it as barefoot luxury perfect for family or friends.
The Perla Suites are in a modern Cycladic design and all the rooms open onto a terrace or balcony that overlooks the Aegean.
White Pebble Suites
The friendly and attentive here will make your stay at this well-thought-out hotel. You can relax in the serene and stylish surroundings and enjoy the captivating views around you.
En Milo
3-star hotel in a quiet part of Pollonia with lovely views of the sea. You can expect a warm welcome and friendly service.
Plaka
Grandpa's House
A modernised, traditional village dwelling with Cycladic features and air conditioning.
Vira Vivere Houses
Cycladic complex with a variety of accommodations from studios to two-storey apartments just on the edge of Plaka. There is parking and some of the spaces have a private pool.
Trypiti
Comfortable, clean and compact family-run rooms with stunning panoramic views. In a good location with access to the village's restaurants and a bus stop for the beaches.
White-washed Cycladic suites close to the village center with excellent service.
Stay in Milos' Converted Fisherman's Houses
Klima
These ones are all Airbnbs. Click through to view, the bottom two are cheaper options.
Agios Konstantinos
Gorgeous Boathouse by Ageri Milos
Fourkouvouni
Firopotamos
Blue Mare Apartments on the Beach
Vilos Suites A lovely Cycladic little house with natural vibes, right on the sand.
Vilos Suites
Madrakia
Although Mandrakia is known for the Syrma boathouse, these accommodation options are traditional houses.
Stay slightly up from the water with a charming view of the boats, close to the restaurant.
A beautiful new holiday home with a boho vibe and excellent views.
Other Accommodation Around the Island
Noma at Kipos
Noma is a peaceful paradise, a wellness hideaway that feels like nature's all around you. The property's been built with tranquillity and a gentle footprint in mind. The electricity is 100% renewable, the hot water is solar powered and thought has gone into making other processes ecofriendly too.
Echoes Milos near Areti Fishing village
If privacy and exclusivity are important then Echoes could be a good alternative to a luxury hotel. Simple and elegant with stunning sunset views this place is a dream.
Domes White Coast
Domes White Coast is a secluded adults-only gem that blends contemporary luxury and Cycladic charm. The service is impeccable. So that along with a serene infinity pool and a mesmerising view of the sea, it's an idyllic spot for an indulgent escape.
Where to Stay in Milos FAQs
Is it better to stay in Pollonia or Adamas?
Where to stay in Milos depends on what you're looking for. Pollonia is a quiet fishing village. There are lots of good restaurants along the waterfront, there are spacious rooms and suites for families and boat trips to Kimolos leave from here.
In Adamas, you're amongst the hustle and bustle of a busy port. There are more shops and amenities and lots of the daily boat trips depart from here.
What is the main town of Milos?
Plaka village is the capital of Milos.
What is the difference between Adamas and Plaka?
Adamas is a lively port and Plaka is a traditional Cycladic village with narrow streets lots of steps and pedestrianised areas. Both areas have museums, good restaurants and several shops and boutiques.
Adamas is better connected to the rest of the island and places like Tsigrado Beach and Sarakiniko Beach. Many of the daily boat trips also go from there whereas Plaka is inland.
How many days in Milos is enough?
I wouldn't stay less than three full days but you could definitely fill a lot more days. Consider how many boat/day trips you want to take. How much downtime do you want to spend time just chilling at the beach? What are the other things you want to do while you're there?
Also, think about how many days you have total for your island-hopping adventure. If you're going to other islands or places in Greece think about how's best to split your time. As usual, my advice is less is more.
Is Milos better than Paros?
I always find these questions hard to answer. Each island is different so it depends what you're looking for them to be better for.
I think the beaches on Milos are nicer but that Paros is friendlier. If you're not hiring a car Paros is probably a bit easier to get around.
Although you'll find quiet spots in Paros and there are certainly secluded villas, you might find more quiet locations in Milos.
Overall Paros is a bit busier than Milos. Pollonia in Milos has a feel of Paros' Naoussa about it and both Paroikia and Adamas are port towns where the ferry comes in.
Both islands have airports and both islands have other islands nearby that you can visit in the same trip. (Kimolos is a short hop from Milos and Antiparos and Naxos are both accessible from Paros.
Is Pollonia Milos worth visiting?
Pollonia is quiet and there's not too much to explore. But it's worth going at sunset for a lovely seafood meal or to visit the winery. I also liked Hitana, the small beach bar cub just outside the village.
How far is Pollonia from Plaka?
It takes about 20 minutes to drive between Pollonia and Plaka.
How do you get around Milos without a car?
Buses run between Adamas and the villages plus some of the island's most popular and pristine beaches. However, they're not desperately frequent. There are taxis available in Adamas but not unlimited numbers.
Some people hire ATVs or scooters although I never really recommend that option. I've seen and read about too many issues and accidents since I've been in Greece.
Another option is to hire a boat that you can skipper yourself. You can use it to navigate around the island and visit the beaches. Of course, there are organised and skippered options too.
Why is Milos so popular?
Milos is popular mainly because of its beautiful and unusual beaches.
Is Milos a party island?
Not really. There is nightlife to enjoy but it's not a party island like Mykonos or Ios.
What is the best time of year for Milos?
Again it depends what you're looking for. Most group boat trips don't run until at least mid-May. Beach clubs start opening around the last day of May and a lot don't run until July. So July and August could be the best months for you.
It's always quieter around the shoulder months like May and September but you should expect some services and facilities to be unavailable.
You could also enjoy Milos in April and October, even into November. The weather will be changeable but if you want to do some hiking on the island and are happy with the sea being a bit cooler then you can still get some good days.
I've been invited back for Easter on the island (around end of April/May) which is supposed to be a great time to go.
Is Milos cheaper than Santorini?
Overall I'd say yes, although Milos isn't a cheap island. Both have their share of luxury hotels and accommodation. But in Milos you can find more accommodation options on the lower end of the scale. Car hire isn't cheap and neither is most of the food. Taxis are also expensive in both places.
I'd look into the types of activities and day trips you want to do too and compare the prices for each island.
More about Milos
Have a read of this if you want to know more about visiting the most famous beaches in Milos. There's more to do than just go to the beach so here's a guide of what to do in Milos.
Although the smaller settlements don't all have places to eat, the villages all have good restaurants. So here are the best places to eat in Milos.
Most of the roads are pretty good on Milos. Depending on what route you go, some of the villages are quite narrow to navigate. Read my post for first-timers driving in Greece if that's new to you. And you might find this one about renting a car in Greece helpful too.
For general tips about your first visit to the country have a read of my top tips for travelling in Greece. If you're after ideas for what to wear, my advice is basically the same as what I'd suggest as outfits for Santorini.
Getting to Milos
As usual, the Greekest experience is to get the ferry to Milos. I love Ferryhopper, and you can track your ship with the app (as well as keep your e-tickets there.)
If time is of the essence and you want to fly then use Skyscanner to find flights from Athens. For interisland flights, Milos is on the schedule with the Cycladic Project by ifly.
This page may contain affiliate links. Read through my privacy page for more information.
---
Suzie Young
Suzie writes informative posts for solo, nervous or first-time travellers to Greece, Turkey and other countries on her 50-before-50 bucket list. She became a Greek resident in 2020 and intends to visit every inhabited island (13 down!).