Thirasia Greece: The Hidden Gem Next To Santorini
The small, inhabited island opposite Santorini is called Thirasia (sometimes also spelt Thirassia or Therasia). If you want to do a little bit of island hopping from Santorini then Thirasia is worth seeing on a day trip, for sure.
But it's also worth considering as a location of its own. If you'd like to enjoy Santorini in small doses then you could base yourself on this calm island instead.
What's Thirasia like?
The island is less than 10km long and under 3km wide at its widest point. Thiriasia's population is under 250 and I've heard it said it's nearer 150 permanent inhabitants. More people come back to their summer houses in August when the whole of Greece likes to take a holiday.
The island is under a mile from Santorini, just under 10 minutes on the boat. But it's a whole world away from cosmopolitan Santorini with her Insta influencers, flying dress shoots and cruise ship crowds. People told me that Thirasia is what Santorini was like years ago before it became so shaped by tourism.
There is an exclusive hideaway on the island, frequented by celebrities. It's very private and only accessible by helipad or private jetty. So perhaps there's a little corner of the new Santorini tucked away in Thirasia, after all.
View of Santorini from Thirassia
Thirasia used to be part of the same landmass as Santorini. These two islands along with Aspronisi islet used to be a circular area of land. But during one of the volcanic eruptions, the areas became separated.
From Thirasia you get an amazing view of Santorini's caldera. But Thirasia has its own dramatic caldera wall with the main town of Manolas perched on top.
There are a number of churches on the island, about 1 for every 10 inhabitants! I thought it was interesting that most are privately owned and these families are responsible for their upkeep and running.
Some of them look quite unusual with ornate decorations, like the one above. No one is quite sure what the markings represent. Although, since the island has a tradition of seafarers, it's thought the sailors brought back inspiration from their travels to faraway lands.
Manolas is the biggest village and the capital of Thirasia.
Church and cat in Manolas
It has traditional Cycladic houses, narrow streets and THE most amazing view of the caldera.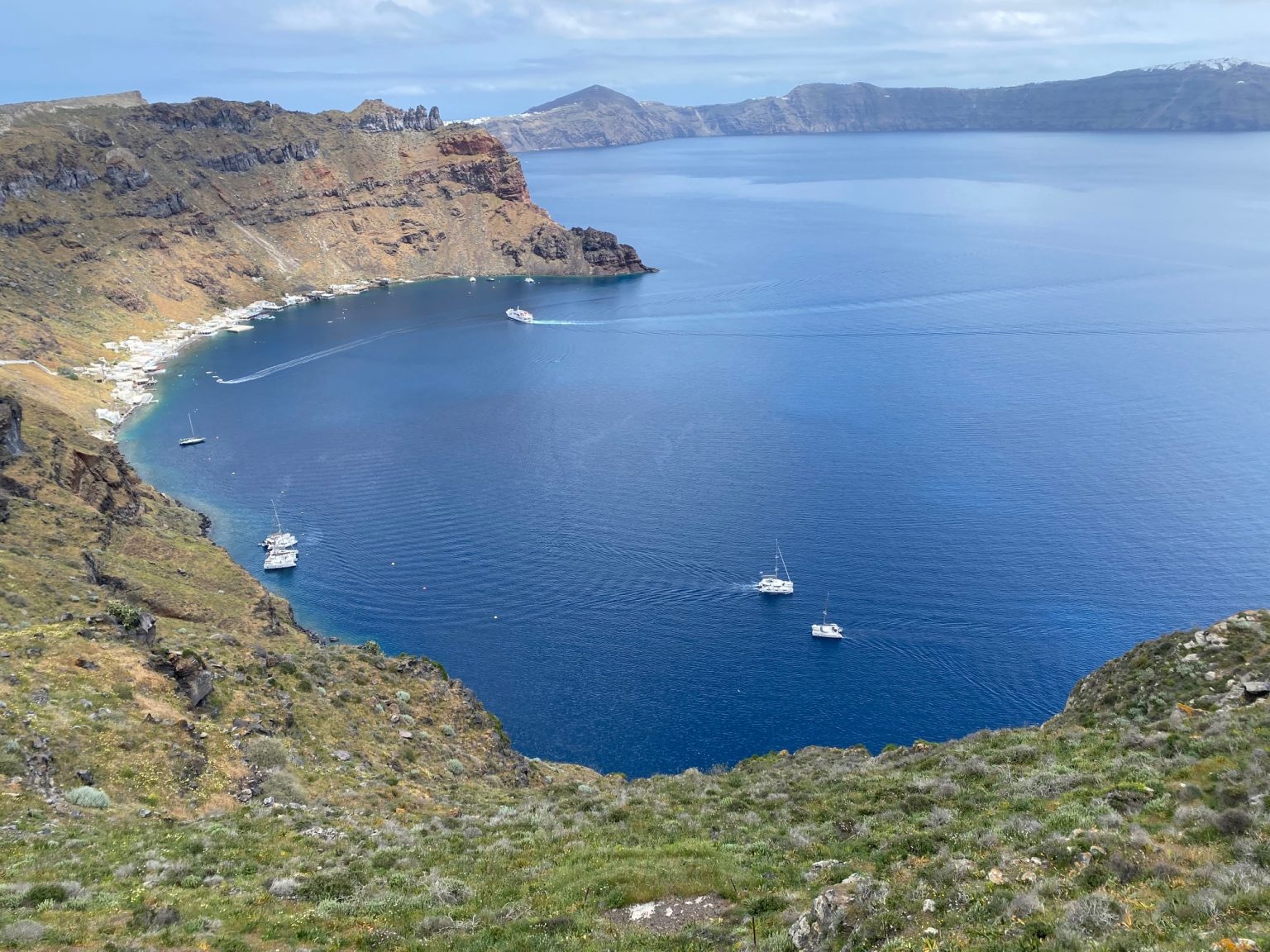 There's a bakery here, an ATM and a few shops and a couple of taverns.
What is Thirasia know for?
The most popular export from Therasia was always its sweet wine. Vineyards here are hard to recognise as the plants aren't grown in uniform rows. They're planted in a more organic way that, if I recall correctly, is to do with how they use the water. (A precious commodity.)
Thanks to the volcano, the island also became famous for its pumice stone. Small pieces of pumice were used to create bricks like breezeblocks. The material is lightweight but strong so was a popular export. And I've been told it helped build the Suez Canal.
What is there to do on Thirasia?
Mostly, people come to Thirasia to hike and/or relax. There's a slow pace of life so come prepared to read, catch up on sleep and enjoy some breath-taking hikes. On my first visit, I explored Thirasia as part of an e-MBT (electric mountain bike) tour so there are options to be more energetic if you like!
Thirasia Beaches
There aren't any sandy beaches on Thirasia but that won't stop you from relaxing by the sea.
Riva Beach – there's a pleasant pebble beach right at the harbour where the boat arrives from Santorini. It's a nice area for swimming, has outstanding views and there are tavernas and cafes only a few steps away.
Riva Port and the steps down to Steps down to Korfos Harbour
Korfos Harbour – you can swim and relax on the pebbled beach at Korfos, Thirasia's other port. Again, it's a peaceful spot with amenities right on hand. Note that there are A LOT of steps – like 300 – to get here from Manolas.
Wide Steps Down to Korfos and another kitty lounging about
We hurried down them to get the boat back to Santorini but I wouldn't have enjoyed walking up them! If you don't feel like exerting yourself that much take the boat to Riva and get the taxi/minibus up from there.
Hiking
Church of the Prophet Elias
If you keep walking south through Manolas village you can get to the Church of the Prophet Elias.
It's the highest point of the island giving brilliant views out over the sea.
View to the east and the west on the way to the Church & Monastery
Monastery of the Dormition of the Virgin Mary
Further on is the Monastery of the Dormition of the Virgin Mary. It's right at the tip of the island which feels like the edge of the world.
Potamos
Potamos is a village not far from Manolos. It's named after the small seasonal river that it was built on. It was significant to the islanders since water was so lacking on Thirasia. There are some nice churches and colourful houses here.
Agrilia
Beyond is Agrilia an almost abandoned village. It's interesting to look at though because you can see the cave houses that were built into the rock. They were built inland like this to hide from pirates.
Bakery outside a cave house and the inside of a cave home
Generations of the family would live together in these spaces. When couples got married they would literally begin carving out a new life together. The community would help them create a new room in the rock.
Entrances to several cave homes
When I visited there was work going on to restore the stone path through the village. The houses are naturally bioclimatic and work is being done to maintain or restore the architecture in some places.
My home on Thirassia for 3 weeks
Hike to the rest of the island at your own pace and discover the churches, donkeys and other delights for yourself. Or if you prefer, you can join an organised tour with Explore Thirasia.
e-MBT Tour of Thirsasia
My first visit to Thirasia was a day trip from Santorini and I chose to explore it by e-MBT tour. It was organised through Explore Thirasia although I actually booked it really easily through Airbnb Experiences.
The day I went was so much fun. It was an afternoon tour so someone from Explore Thirasia came over on the 12.30 boat and collected us from Oia's old port. There was me and two other Greek girls on the same tour. We all went back on the boat and the bikes were waiting for us at Riva port.
After a quick overview of the afternoon and an explanation about the bikes, we were off. The bikes sounded like they were going to be complicated but they weren't at all.
The brakes were the other way around to UK bikes so I did need to keep that in mind. (I didn't really want to go head-first over the handlebars by accidentally yanking on the front brake!). But the electric bit was easy.
Physically it was a bit demanding on the hills but the electric element helps you there. Otherwise, it was a good fun ride around the various villages and sights.
A cave house on Thirasia and a renovated cave house next door
After about 2.5 hours on the bikes, we were starving. We finished at the HQ in Manolas where we enjoyed a Greek meal of small plates.
Greek Hospitality!
As it's a former winery it seemed fitting that we were also served up a welcome glass of chilled white wine. We finished the meal off with a Vin Santo for the road boat.
Homegrown black-eyed beans used in our meal
Amenities on Thirasia
There aren't a huge amount of amenities on Thirasia but it does have:
A taxi
Minibus from the boat
An ATM in Manolas
A bakery in Manolas
Restaurants/tavernas at both ports and in Manolas
A health centre
A school
Pebble beaches
When I first visited the taxi was a converted pick-up truck that waits at Riva port when the boats come in. It filled up and then went up to Manolas. If there wasn't any space left you'd wait at the port and it would come back to do another trip.
However, I lived on the island in spring 2022 and the taxi had been stolen on a trip to Athens. It may or not be returned/replaced when you visit so here are other options.
Mini Bus – included in your 1 euro ticket from Ammoudi Bay is a mini bus ride from Riva port (the first stop from Santorini). It goes up to Manolas and will stop at the cross-roads before Agrila if you ask the driver.
Niko's Taxi – Niko, the owner of Agistri Restaurant at Riva port will run you about the island if you ask. Drop in and get his card. For 5 euro he'll take you to Agrila.
How do I get to Thirasia? (From Santorini)
You can get to Thirasia by passenger boat from Ammoudi Bay (Oia's old port) or from the main port of Athinios at Fira
The boat from Ammoudi Bay runs 3 – 4 times per day. The car ferry from Athinios port runs once per day at around 15:40. Thirasia is also on a route with other Cycladic islands.
If you're staying on Thirasia, speak with your host about the best way to reach your accommodation.
Oia to Thirasia Ferry
A little boat runs daily from Ammudi Bay toThirasia. There are two ports on Thirasia. Riva is the first one you'll arrive at from Santorini. If you stay on the boat it will take you to the second harbour, which is Korfos.
The timetable is roughly:
Ammoudi Bay (Santroini) to Riva (Thirasia): 8am, 12:45pm, 5:20pm
Riva (Thirasia) to Santorini: 7:35am, 12:35pm, 5:10pm
Korfos (Thirasia) to Santorini: 12:15pm, 5pm
Be ready about 15 minutes before. If you want to get the bus down to the port it leaves Manolas about 10 minutes before.
In the busy season, usually July to the end of September, there's an additional boat running in the evening. However, it's only on Mon, Weds, Fri, Sat, Sun.
From Riva (Thirasia) to Ammoudi Bay (Santorini): 9:50pm
From Ammoudi Bay (Santorini) to Riva (Thirasia): 10pm
Double-check this is running on the day you visit if you intend to take one of the later boats.
Also, note that if the weather's bad and the boat can't safely dock then it will be cancelled. So if it's quite windy double-check before you go that it's likely you'll get back!
Tickets
The journey takes about 7 minutes and costs 1 euro. After you get on the boat someone comes around to do the tickets so make sure you have change with you. It's very informal and there were no COVID checks. I'm guessing because it's seen as an extension of Santorini in some ways.
The boat ticket includes the minibus ride up to the villages.
Ferry to Thirassia from Fira Santorini
An open-deck car ferry to Thirassia also runs from the main ferry port (Athinios). It's a much bigger boat and can take cars, although note there are no petrol stations on Thirasia.
(Google Maps will tell you differently, but I've seen said former petrol station. The roof has literally collapsed onto the building. So definitely fill up elsewhere if you're taking the car.)
The journey costs 3 euro for foot passengers and takes about 45 minutes. Take change and buy your ticket when you get on. It's actually a really lovely way to sail along the caldera.
How do I get to Thirasia from Other Islands?
Interested in including Thirasia in some island hopping with some of the other Cyclades, not just Santorini? There have been routes between Thirasia and other nearby islands. You'll need to check what's running the season you visit.
Examples of past seasons:
Tuesday and Saturday:
Syros
Paros
Naxos
Folegandros
Sikinos
Ios
Thirasia
Santorini
Anafi
Timetables are constantly updated through the seasons so do check Ferryhopper for yourself.
Getting to Santorini's Ammoudi Bay jetty
Ammoudi Bay is Oia's old port and is signed from the main road. If you're driving it's a good idea to park before the actual bay since it gets congested and can be difficult to turn around. As you wind down on the main road you'll see a dirt road car park on the corner about 8 minutes walk from the bay.
When you turn that corner you'll start to see cars parked on the side of the road too. I normally park along here, as close as I can get to the bottom.
The jetty for the boat is at the bottom of the slope, before any of the restaurants.
If you're walking down the steps from Oia then you'll need to walk around the bay. Pass all the restaurants and head for the jetty at the bottom of the road.
Accommodation on Thirasia
Agrilia Secluded Cave House – I stayed here in the spring and, apart from the building work next door, enjoyed the peaceful area. My cats loved being in the middle of nature. I did too but be aware the house is up an old cobbled path with very uneven footing and high steps.
Zacharo Rooms – basic rooms overlooking the sea in Manolas
Perivolas Hideaway – If you're looking for something absolutely exclusive, on par with Santorini's offerings then this is it. Built to blend in with the rock, it's accessible only via their private pier or helipad.
Restaurants on Thirasia
There are a number of tavernas in the ports, pick one that takes your fancy if you're lazing on the beach.
I ate at Agistri when I arrived. Kindly Nikos stayed open since he's normally not open much after lunch. He listed out some suggestions which were all very good. The meal was a bit more expensive than I expected as he didn't seem to have menus. So just double-check prices before you order if you're on a budget.
Agistri Restaurant and signage for Cafe Bar Different
If you're at Korfos port it's worth climbing up to Manolas for food with a view. There you can find:
Different – Greek fast-food restaurant with lovely views of the sea and takeaway options. You'll be joined by cats at this location!
Panorama Resto – another restaurant with brilliant views out across the sea. The menu is here is limited but not in a bad way.
So there you have it. Thirasia as an easy day trip from Santorini, or as an island to enjoy in its own right.
This page may contain affiliate links. Read through my privacy page for more information.
---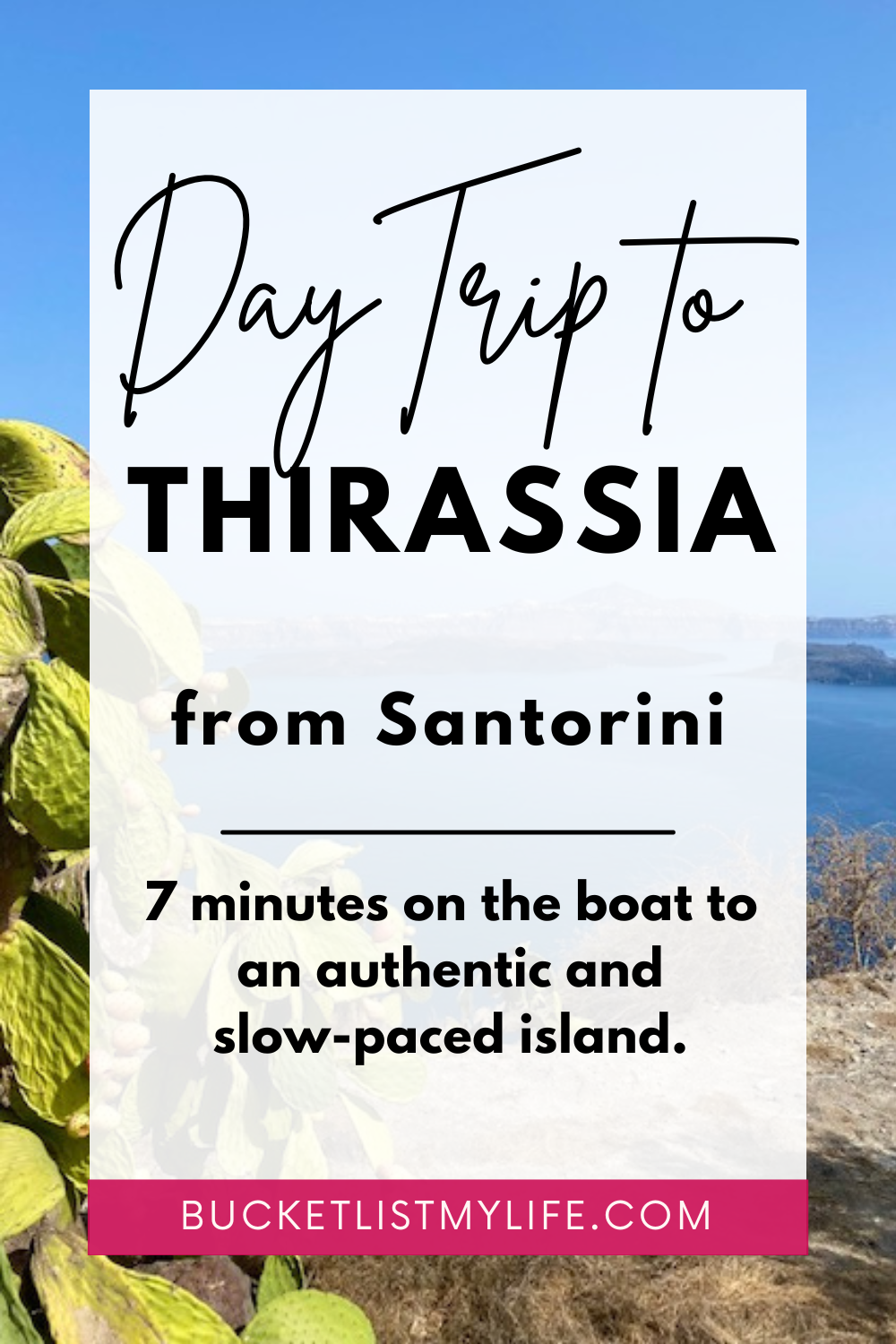 Suzie Young
Suzie writes informative posts for solo, nervous or first-time travellers to Greece, Turkey and other countries on her 50-before-50 bucket list. She became a Greek resident in 2020 and intends to visit every inhabited island (13 down!).