Welcome To Piraeus, Athens Cruise Port: What You Need To Know
The bustling port of Piraeus is the largest passenger port in Athens Greece. As well as many ships per day going to and from the Greek islands (mainly the Cyclades and Saronic Gulf but other destinations too) Piraeus Athens is also one of Europe's major cruise ports.
Cruise lines dock their ships at Piraeus all year round although over winter it tends to be smaller cruise ships. As one of the largest cruise ports, Piraeus Athens can berth 11 cruise ships at a time from these small ships with a few hundred passengers up to the biggest ships from Royal Caribbean cruise line.
Some days there's just one cruise ship at the port. On busy days I've seen up to 9 cruise ships scheduled in.
Athens is a frequent stop for many cruise operators' Mediterranean cruises. In fact, Piraeus Port is often the home port for Eastern Mediterranean cruises.
It's normal for a cruise line to arrange a one-day stop at Piraeus although some ships dock overnight. Most cruise ships tend to arrive in the early hours of the morning and then leave late in the evening. But have a good long day for you to explore the city.
Some of the best cruise lines in the world stop in Athens Greece. You'll often see large ships at the port from companies like:
Princess Cruises
Norwegian Cruise Line
Oceania Cruises
Hellenic Cosmos
Cunard Line Ships
Here I'm going to help you navigate Piraeus Cruise Port specifically. The advice is slightly different if you're using the Port of Piraeus and you're not a cruiser because the ferries dock in a different area. But if you're amongst the cruise passengers whose cruise visits, starts or finishes at this port of Athens then read on.
Arriving at the Port of Piraeus Cruise Terminal by Cruise
Cruise ships arrive at gate E11 and gate E12 (Lion's Gate) and there are three docks you could stop at. The three terminals at Piraeus are some way apart from each other and from the Piraues city centre so you might need to plan your exit when you get off the ship.
Cruise Terminal A Miaoulis is the main Terminal. Cruise terminal A is the closest to the ferry port but still about a 20 minute walk to Piraeus Metro station.
Cruise Terminal B Themistocles – the Terminal B building is the furthest pier from the Metro and ferry port. It's also about a five-minute walk from where your cruise ship docks (if that's the pier you arrive on).
Terminal C Alkimos is between terminals A and B, close to terminal B and the lion statue of Lion's Gate fame.
If your cruise ship is the only one at Port Piraeus when you arrive you'll likely be close to the terminal building. But if your cruise is one of several in Athens that day you could be quite a distance from the terminal. Luckily there is a free shuttle service to move you between the ship and the terminal building.
Services available at the cruise port
tourist police
customs office
check-in desks
free WiFi
cafe
currency exchange
duty-free shops
Public transportation near Piraeus cruise port includes:
Athens Metro is pretty reliable and easy to navigate. The Piraeus – Athens line 1 is the oldest but you can now use the blue line 3 from a brand new station. Both take about the same amount of time into central Athens.
On either, be aware that the Metro in Athens Greece is second in the world for pick-pocketing. So keep your valuables zipped away and be vigilant for scams like someone dropping something on the floor. Don't help, just walk away.
Tram – the tram lines to and around Piraeus are new. They're a handy way of getting around the various parts of Piraeus city if you're staying to explore that. And also a straightforward way of getting to Athens riviera if you want to visit that or have a hotel stay located there.
Hop on – Hop off buses
Mini train for tours around Piraeus
Spending Your Day in Athens City Center
If you're heading to central Athens there are a number of options for you to get there.
Cruise Line Shuttle Buses
First off, check whether your cruise line is running dedicated shuttle buses to get you into Athens. If they are, it's normally a free service and it's probably useful to take advantage of them if you're happy to get off the ship when they're running.
Shore Excursions
Your cruise line will no doubt offer a number of shore excursions for you to choose from. As well as going into the city you might also have the option to explore ancient Greece via the Temple of Posideon at Cape Sounio or a day trip to Delphi.
If you prefer, you can book independently for specific tours that take into account cruise ship itineraries. For shore excursions not booked through your cruise line, you'll need to coordinate with the group organisers/ tour guide to get to and from your tour.
Hop-on Hop-off Bus Tour
Not the quickest mode of transport but a good way to get the lay of the land and see a lot in a short space of time. There are several hop-on hop-off buses that come past the cruise port.
Some of the Piraeus Lines start later in the day (often around noon). There's a stop outside terminal A with information about the current timetable that you can check. But also check company websites for your arrival date as the City Sightseeing Buses run from outside the passenger terminals every 15 minutes from earlier in the morning for cruise passengers.
To see the main sites like the ones below you'll need to change from the Piraeus line to an Athens line unless you get one of the buses that goes directly to Athens.
Acropolis & Acropolis Museum
(including Temple of Athenian Nike)
Arguably the most famous of the Athenian landmarks the Acropolis will no doubt be top of your list the first time you visit Athens. If you're visiting in the summer then the 17:30 tour can help avoid some of the crowds and heat.
If you have time, choose to visit the Acropolis Museum. Some tours include the museum. If yours doesn't you can head there before or after for a good overview of Greek history and culture.
National Archaeological Museum
The National Archeological Museum is the biggest in Greece. You'll find artefacts from all over Greece housed here. Together these items give you an excellent picture of ancient Greek culture.
Opening times and entry fees vary seasonally so check on the museum's site.
National Library
The National Library has moved to a futuristic new building that makes up part of the complex at Stavros Niarchos Foundation Cultural Center along the coast.
The Stavros Niarchos Park is a pleasant space to walk through and the centre holds concerts and various vents throughout the year.
National Gallery
If you're interested in visiting the National Gallery it's close to Kolonaki (high-end shopping), the Benaki Museum and the Museum of Cycladic Art. Closed on Tuesdays it's open from 10am – 6pm the rest of the week.
Temple of Olympian Zeus
Another of Athens' most distinctive landmarks is the Temple of Olympian Zeus, along with Hadrian's Arch.
Panathenaic Stadium / Ancient Olympic Stadium
Run around the track at the ancient Olympic Stadium, pose on the winners' podium for photos or just hit your entire daily step count goal walking to the top of the seating area! It's steep, and the marble is slippery when wet so take care.
Syntagma Square
Syntagma Square is a huge square in the centre of Athens. Hellenic Parliament is housed in a large neoclassical building in the north that faces the famous shopping street of Ermou.
Below, on a wall around the building, you can see the Tomb of the Unknown Soldier. It's guarded by the Evzones /Presidential Guard. These ceremonial soldiers stand motionless in their elaborate and symbolic uniforms until it's time to be replaced.
You can watch the changing of the guards at Syntagma Square on the hour every hour.
But if your cruise stops in Athens on a Sunday you'll get an extra special display. On Sundays at 11am, the soldiers wear traditional dress and it's quite a sight to see.
Mount Lycabettus
Lycabettus Hill is the highest peak in Athens and a leafy escape from the crowds. There's a cable car that'll transport you up and down. But if you're feeling sporty you can hike up the trail.
There's a church at the top along with a cafe/restaurant. So you could always cable car up and then work off your treats by walking back down.
Express Bus
The X80 Piraeus-Acropolis-Syntagma Express bus line will get you to central Athens (Acropolis, Syntagma Square) in about 30 minutes. Main stops include Stavros Niarchos Foundation Cultural Center, Sygrou-Fix Metro, Acropolis and Syntagma.
This is quite a convenient way for cruise travelers to get into the city since it picks you up directly at the cruise port exits. Note that it only runs between May and October and from around 7am – 9pm. You can check the ticket price here.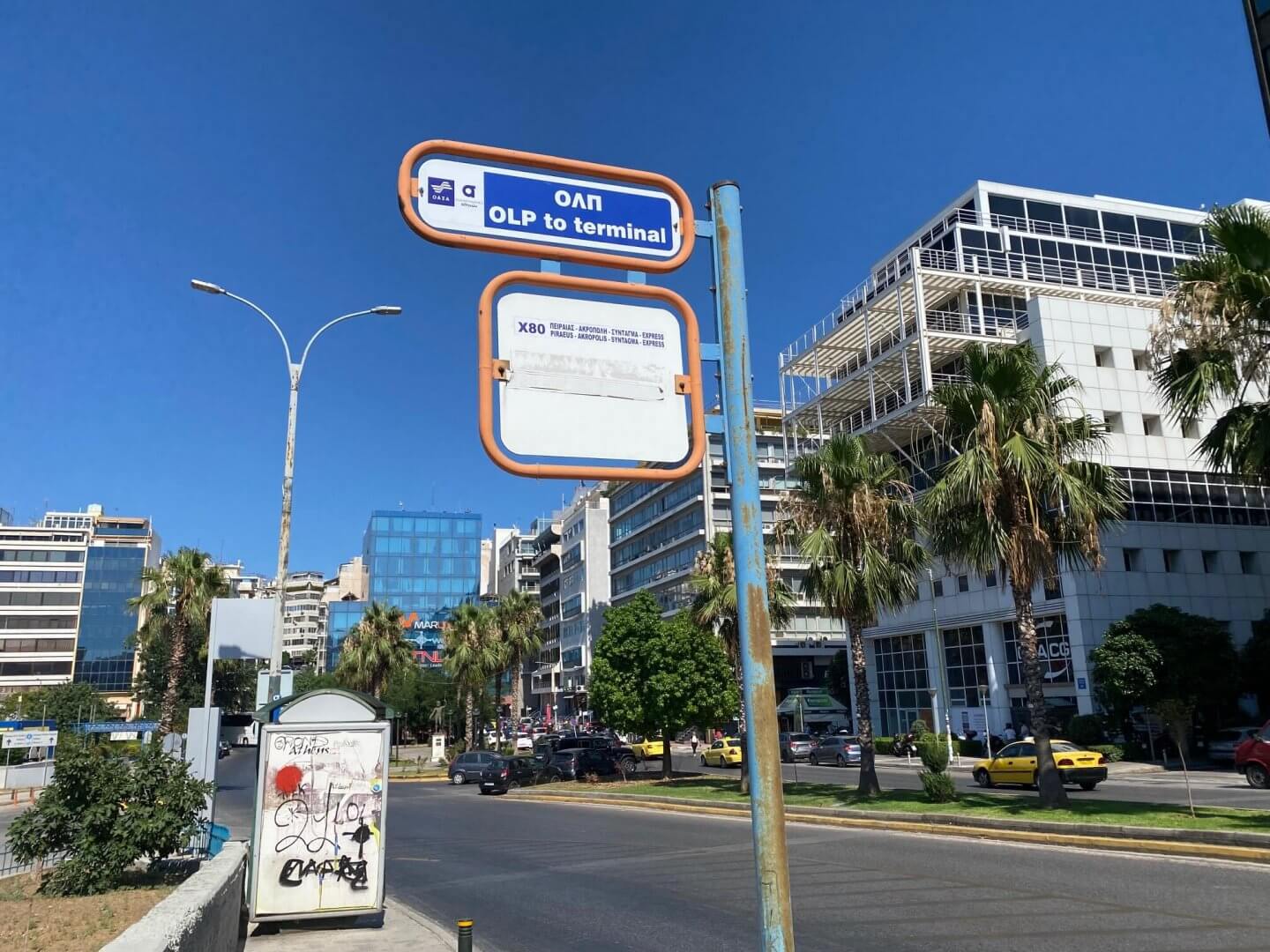 In the picture above, you can see this is also a stop for the OLP port shuttle bus that goes to the cruise terminals where the ships dock.
Public Bus
There's also a public bus, the 040, that runs between Piraeus and Syntagma. It's cheaper than the X80 but it stops at a lot of places and can get crowded. The X80 is generally better for tourists unless you arrive overnight. The 040 runs 24 hours so you can get into Athens at any hour. (Take a taxi if you're a solo traveller arriving overnight.)
Metro
Piraeus Metro station / train station is about a 20 minutes walk from terminal A. Most likely you'll have to walk because the drivers get a bit stroppy if you ask them to take you just a short distance from the port.
In my experience, they'll take you if there's no one else about. But the drivers will dump you for a better fare if someone else wants to go to the airport or the city centre for example.
If you're walking look for Piraeus 3 on Google Maps. That will take you to the new station (2022) with the blue metro line 3.
Both that line and line 1 from the station below will take you into Athens in about the same amount of time so you can take either.
If you get the Metro line 1, take a moment to admire the architecture of the station. Buy your ticket from one of the machines (cash or card) and then get onto the green line.
Get off the Metro at Thissio for a meal with a view. The Acropolis from this neighbourhood is spectacular and there are rooftop restaurants you can enjoy it from. Then wander around the historic sites on your way to touristy Plaka.
If you stay on an extra stop you can explore Monastiraki and the famous Monastiraki Flea Market. The proper market stalls are only out on Sunday but there's an eclectic mix of small shops all week.
From there, walk up Ermou, the main street for high-street shopping, until you get to Syntagma. There you can jump on one of the hop-on, hop-off bus tours or stay a while and watch the changing of the guard.
Spending Your Day in Piraeus City Centre
This ancient Athenian port is worth exploring if you've already been to Athens and/or just want to stay closer to your ship. The city of Piraeus is often overlooked. But as an ancient city with strong ties to maritime history, there's plenty to see and do within walking distance.
Places you might enjoy visiting include:
Hellenic Maritime Museum
This is the largest marine museum in Greece and great if you're a maritime enthusiast. The museum will take you through the history of the Hellenic Navy from prehistory to the present day.
It's situated at Zeas Marina close to the cruise port. The marina itself is lovely to walk around too (see below).
Archeological Museum of Piraeus
The tourist mini-train will drop you right outside if you want to get your dose of Greek history without traipsing all the way into Athens city centre.
This museum has lots of sculptures and will give you an in-depth look at the Pireaus area which was a busy place during antiquity.
Municipal Theatre
The Municipal Theatre is a large neoclassical building that houses a variety of productions. Visit here to see what's on. While you're there pop into the new metro station outside. It houses some interesting historical exhibits that are worth a look.
Holy Cathedral of Agia Triada
This is a beautiful building both inside and out. It's also a quiet haven from the busy city. Remember to dress respectfully to enter this Orthodox Church. That means no shorts or uncovered shoulders.
Piraeus Train Station
The metro station that houses green line one is another piece of architecture you might like to see. If you're a train enthusiast the elegant station leads to the museum below.
Electric Railway Museum
There's an entrance to the railway museum at the Metro platform before you go through the barriers. The museum is open 8am – 2pm Monday to Saturday.
Shops
Piraeus is also a good city for normal shopping with chains like H&M, Marks and Spencer, Hondos Centre as well as lots of others, and specialist shops, too.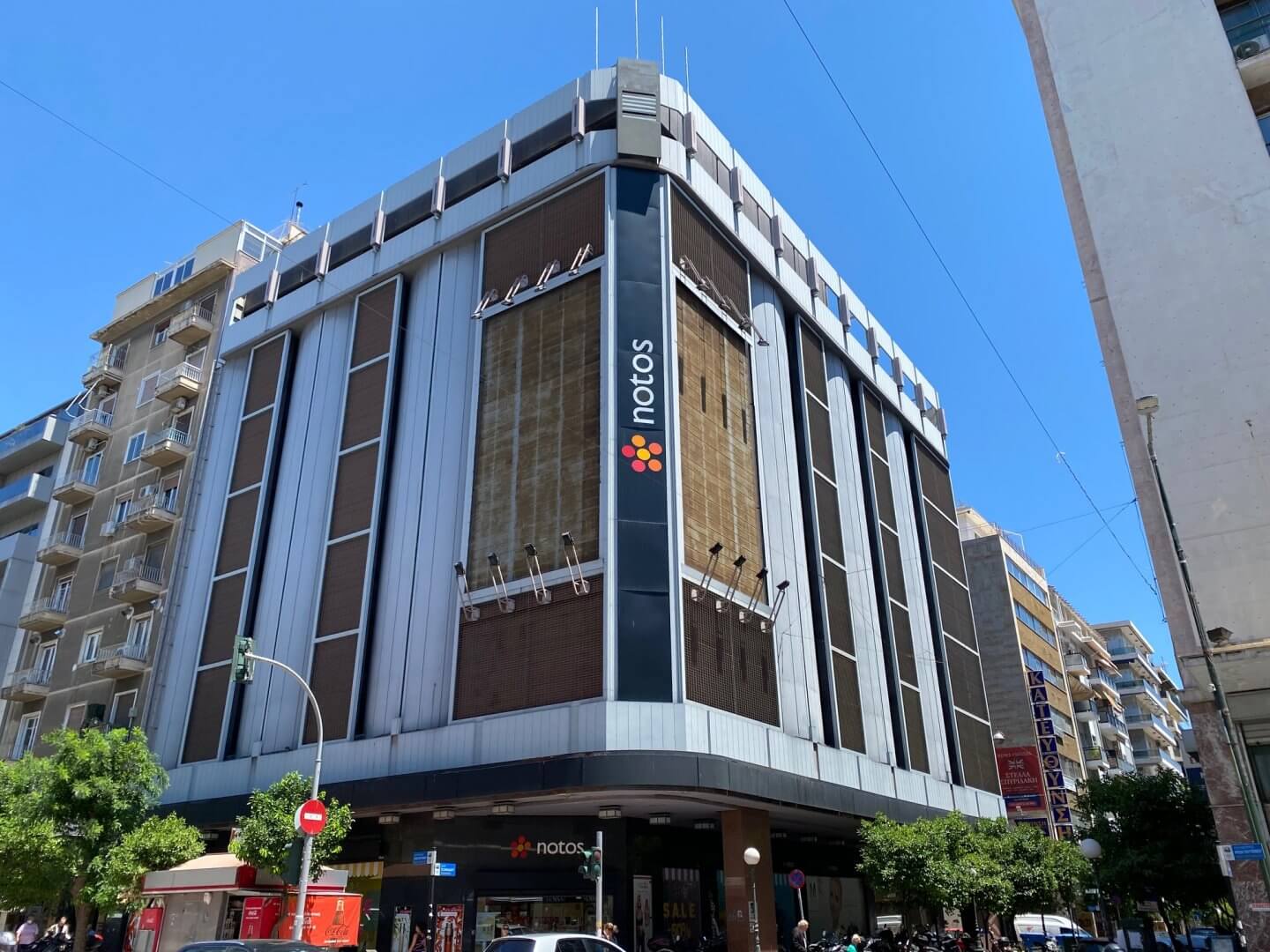 Of course, you can find souvenir shops in the city and stores with local produce if you want to pick up some bits and pieces to take back.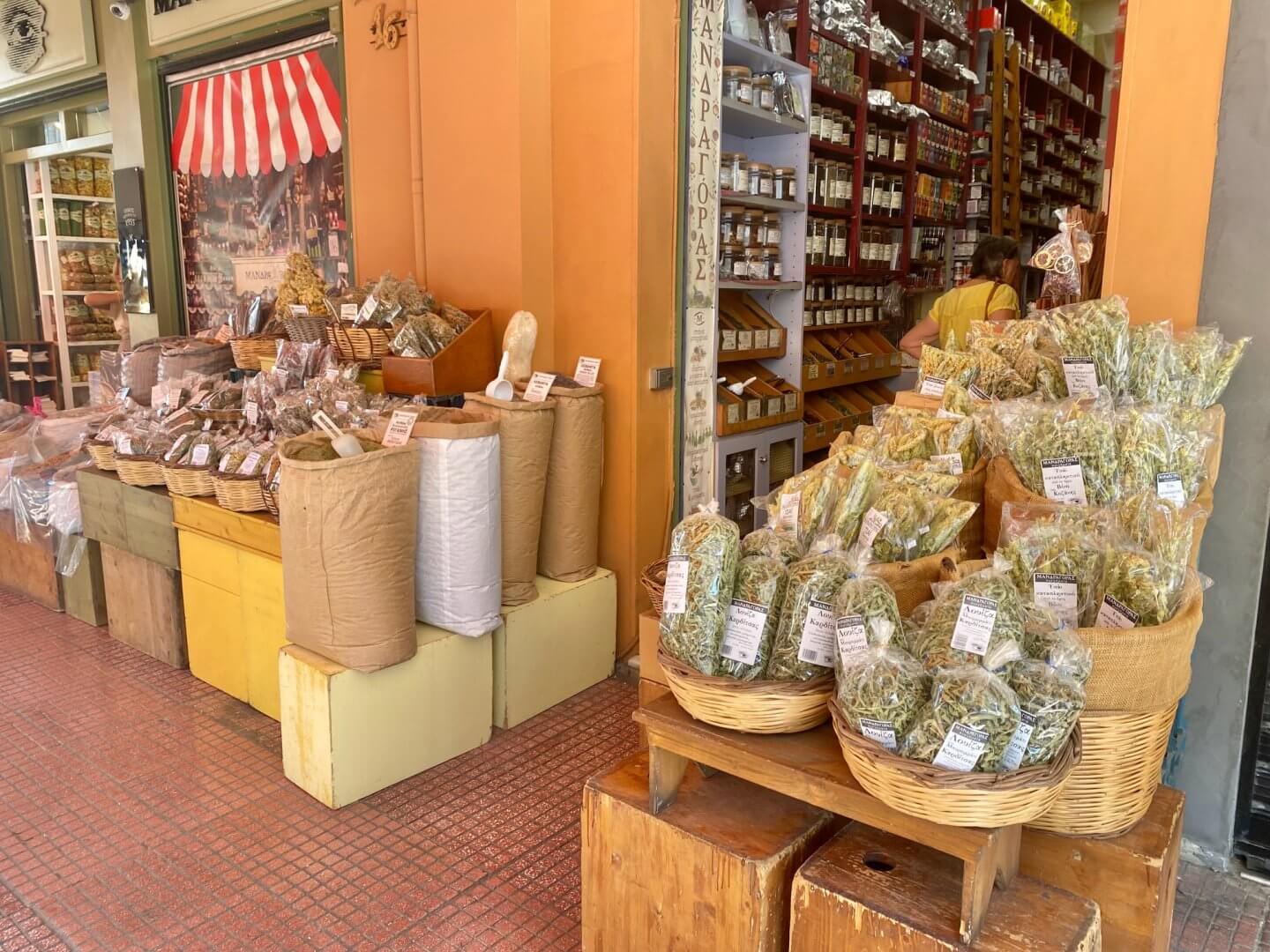 Marinas for Food and Drink
On top of that, you're right by the sea and in a great place for traditional Greek food, particularly seafood.
Take the number 20 (yellow) tram from Akti Posidonos to the Limhn Zeas stop at Mikrolimano and have a walk around the marina.
It's a buzzing place day and night with plenty of coffee shops and restaurants. For a real treat, stay on the tram until Skalakia and enjoy an exciting meal at the Michelin-starred Varoulko Seaside Restaurant.
Accessing Public Transport from the Cruise Port
For the Metro, tram, mini train and hop-on hop-off buses come out of your cruise exit and head down the hill in front of you (to your left if you're at terminal A).
The train and buses stop where the main road splits to go off to terminal A. You'll see the signs, it's quite obvious.
Keep walking around to your left on the main road and you'll come to the tram stop.
5 minutes beyond that you'll come to the Metro stations on your right. The one for line 1 is opposite Piraeus Port just before ferry gate E6. The other for line 3 is a little beyond the same gate.
I recommend downloading the offline version of Google Maps because you can find these spots easily on there.
Getting to Piraeus Cruise Port from Athens Airport
Metro
Thanks to the opening of a brand new station and stretch of railway, from10th October 2022 you can now get the metro directly from Athens airport to Piraeus port. The journey to Piraeus 3 Metro station takes about 55 minutes.
Note that the metros that run all the way between the airport and port only run every 36 minutes so account for that time too.
Taxis Or Private Transfer
Athens International Airport is about 40 minutes from Piraeus by taxi. Taxis are easy to get directly outside of the airport terminal. The cost is a flat rate of 54 euro during the day and 70 euro after hours.
For peace of mind, you could also choose a private transfer service for a stress-free and easy transfer that you arrange and pay for in advance. The price should be similar to the taxi rates.
Taxis and transfers are the easiest and probably the best option for getting to the port.
Public Bus
There's also the public bus service X96. The journey time is around 90 minutes from the airport to the ferry port (gate E1). From there it's a bit far to walk to your departure point with luggage. So either jump in a cab or get a second bus round to the cruise terminals.
Getting To Athens Cruise Port From Athens City Centre
If you're planning to spend some time in the capital of Greece before or after your cruise then you can choose between getting a cab or taking the metro. The best way to get to the port from "downtown Athens" will probably depend on how many of you there are and how much luggage you have.
Again, a private transfer is an option or just ask your hotel to arrange a taxi for you. Prices from central Athens hotels are around 20 – 30 euro.
Travelling by metro is quite straightforward from the centre. Get on (or change to) the blue Metro Line 3 at the central metro stations of Monastiraki or Sygntama and head straight for the port. It's a short ride of just under 20 minutes to Piraeus.
However, as I said above, it's a bit of a trek (30 minutes or more) to the actual cruise port of Piraeus (depending on which pier you need). So you'll need to get a taxi or a bus round from the station.
Enjoy Your Cruise!
I hope this info helps you know more about what to expect when you arrive at the port of Piraeus, Athens' cruise port. Whether it's one of your ports of call or where you're embarking on or disembarking your cruise, I wish you a wonderful trip.
This page may contain affiliate links. Read through my privacy page for more information.
---
Suzie Young
Suzie writes informative posts for solo, nervous or first-time travellers to Greece, Turkey and other countries on her 50-before-50 bucket list. She became a Greek resident in 2020 and intends to visit every inhabited island (13 down!).