Solo Travel Greece – What You Need To Know
Greek Island Bucket List is an Amazon Associate and participant in other affiliate programmes. I earn from qualifying purchases. Please see my disclaimer for more information.
---
Solo travel in Greece is a great option if you're interested in a solo travel experience in Europe. I see lots of female travellers asking about the best place to go for a solo trip.
And as someone who's been living here for a little while now, I solo travel Greece all the time. As such, I do feel like the country's a good option to recommend for solo travel.
Overall, Greece is a safe destination for solo travellers. During the tourist season and in touristy areas, the Greek people are generally very friendly and helpful.
Having been in Greece since 2020, I do find the trend of "femicide" concerning but the incidence of sexual assault and violence against strangers is very low.
As female travelers (and other lone travelers) we don't need to be overly concerned about our safety during a trip to Greece.
You'll enjoy some really great experiences on your solo travel adventure, and you can choose a day trip in practically any destination when you want some company.
General Safety Tips For Solo Females
(and others travelling alone.) These tips are mainly for Athens and other cities but they're not unique to Greece. They're not meant to scare you because as I said above Greece is generally a very safe place.
But my advice would always be the same for travel in any large city.
Traveling Solo in Greece for Your First Solo Adventure
Although the thought of solo travel in Greece might sound a bit daunting at first it really doesn't need to.
In touristy places all over Greece, locals speak very good English. And even if your solo trip destinations take you off the beaten path, you can find ways to get by.
Years ago I lived in Spain. It was well before things like Google translate and smartphones with photo translator apps. Made-up sign language, pointing, facial expressions and the like can all help you communicate!
Now we have all these modern tools you'll have support at your fingertips.
Solo travel can be such an empowering experience. And solo travel in Greece doesn't need to be stressful as there are so many resources to help you plan before you go.
Where to Avoid as a Solo Female in Greece
There isn't anywhere around Greece that I would specifically recommend a solo female or solo woman to avoid. Other than Mount Athos, anyway. No woman, solo or otherwise, is allowed to come within 500m of the coastline.
Mount Athos is peninsular that's basically considered a monastery in its entirety. Not even female animals are allowed. Well, except for cats. They're allowed.
Greek Islands
I think the Greek islands are a good introduction to solo travel if you're nervous about it. Solo travel to the islands can restore your faith in humans.
One of the best things about Greek travel is the smaller islands, where none of this stuff crosses my mind. People leave their cars parked up unlocked or even with the key in the ignition.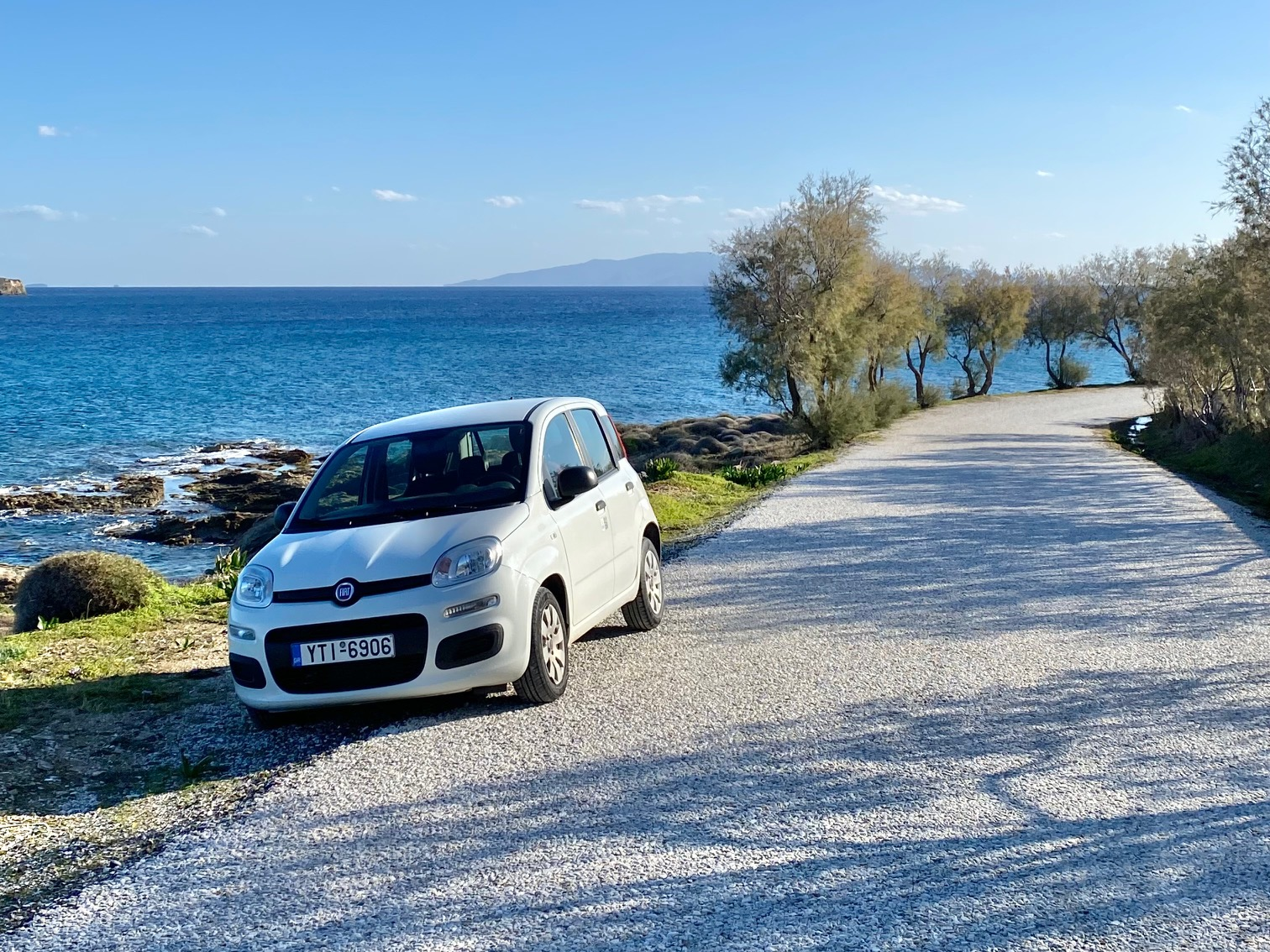 Everyone leaves their stuff on the beach unattended, safe in the knowledge that no one's going to take anything. (But do what you feel comfortable with, don't sue me if you leave your stuff and it gets nicked, haha!).
On occasion, I've even accepted a lift home (from women drivers) while walking which I've never done before in my life.
Greek Cities
Greek culture is intertwined with the Greek Orthodox Christian religion so I always think that fundamentally the mindset is based on honesty and being a good person.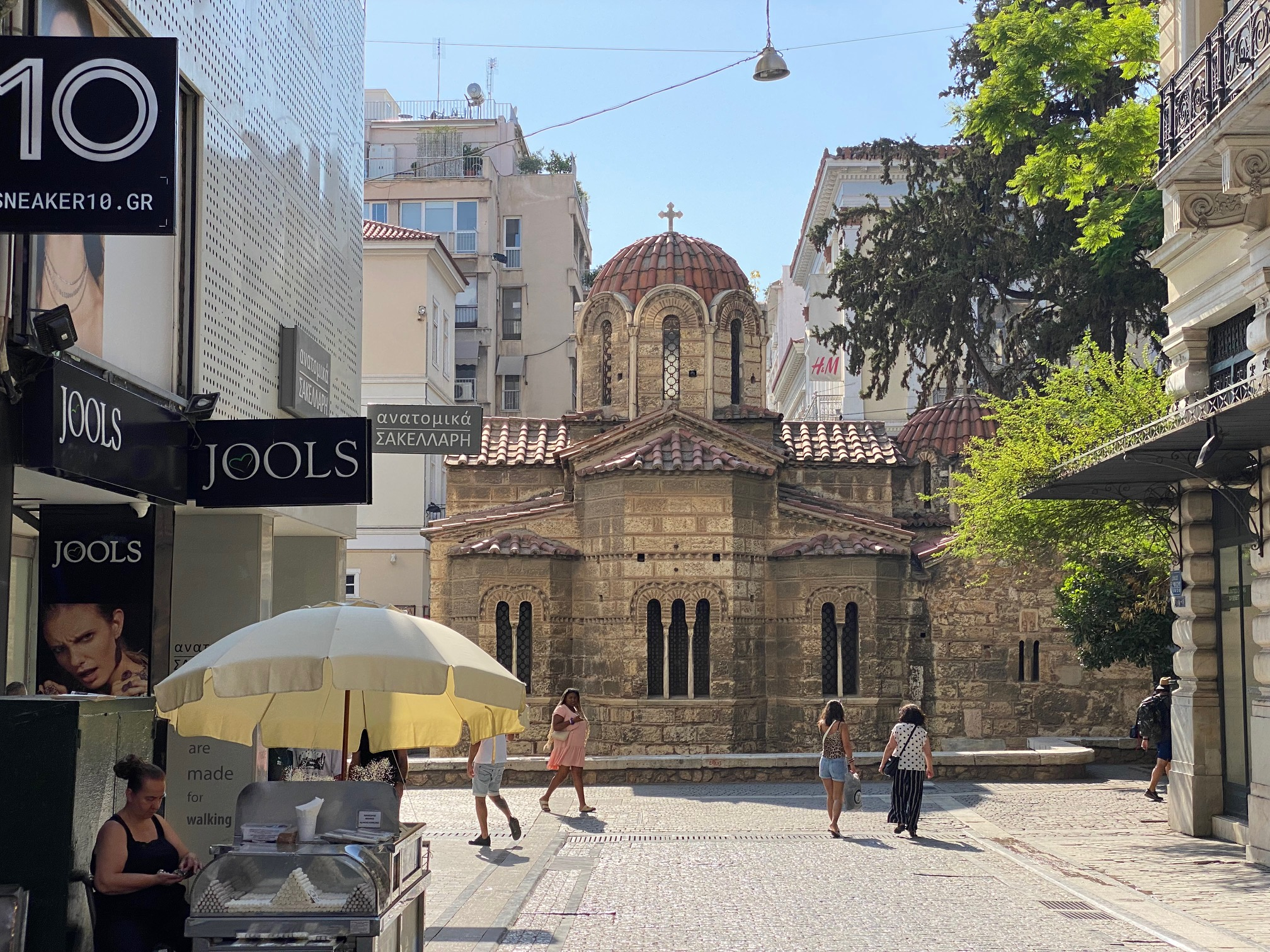 But cities and busy parts of the country are melting pots for all sorts of people, and that leads me to my first point:
Always Trust Your Gut
ALWAYS. You're probably more intuitive and perceptive than you realise. So trust your gut. Don't worry about being seen as rude by locals if you feel vulnerable. Just get out of the situation. If it turns out there wasn't a problem then it's better to be safe than sorry.
Sometimes I've seen people from other countries, like the US, immediately think something is suspicious. But my mind didn't jump straight to the same place theirs did.
We all have different experiences and ideas of what's normal where we come from. Part of what travel's about is seeing how the local culture changes from place to place. But if something feels wrong back yourself and change the situation.
Arrange Transfers In Advance
I usually hire a car when I get off the ferry, but I have it booked in advance. I'd recommend doing the same if you're hiring a car. (Although double check whether someone meets you directly off the boat or plane or if you have to go to an office).
If you're not, then have your port or airport transfer organised in advance.
On the islands, I wouldn't expect you to have much of a safety issue. But at the main port in Athens, you might have someone approach you about a lift who'll rip you off.
I've used Welcome Pickups a couple of times now. I liked paying a set fare in advance because I have been ripped off a few times by yellow taxi drivers in Athens.
Buddy Up For Nights Out
Go out with people from your hostel or join a group event through something like Airbnb experiences to stay safe on a night out.
Don't walk in quiet places in the dark or on streets that aren't well-lit.
If you have met some people you trust while in the country you can share your ride with them so they can track you via the app and check you're safe.
Best Way To Meet New People While Travelling Alone In Greece
One of the best things about solo travel is that you're more likely to strike up a conversation with other people than if you are travelling in an insular group.
If hostelling's your thing or you're up for trying out a hostel stay for your accommodation then that can be a great place to meet new people.
If it's not then there are a few other ways to meet people:
make your first trip an organised group tour
travel as a volunteer for a cause you're interested in like refugee support, wildlife conservation or rescuing stray cats and dogs. Often this is beset suited for longer stays
join something like an organised yoga retreat or walking holiday, for all or part of your stay
Another way that's helped me is staying at an Airbnb. Read the reviews of places you're interested in and see what others have said.
In my experience, it's not uncommon for an Airbnb host to welcome you for a meal or a walk or some other activity.
Even if they just recommend you to a friend's organised tour it can be a friendly introduction that makes you feel better about joining a group trip.
Get A Local SIM Card
If you need help quickly or want to access Google Maps (if you haven't downloaded the offline version) or use the Taxi Beat app (like Uber) then it's much easier with a local number.
With an unlocked phone you can just pick up a SIM card when you arrive in the country and add a bit of credit to it. You don't need a lot because it's only for outgoing calls/texts and data. You don't pay for incoming calls or messages. Plus you can use the WIFI in loads of places.
Choose Hotels Other Solo Travellers Recommend
I use Booking.com a lot for hotels in Greece. One of the ways you can sort suggested hotels is by ones that other solo travellers have recommended.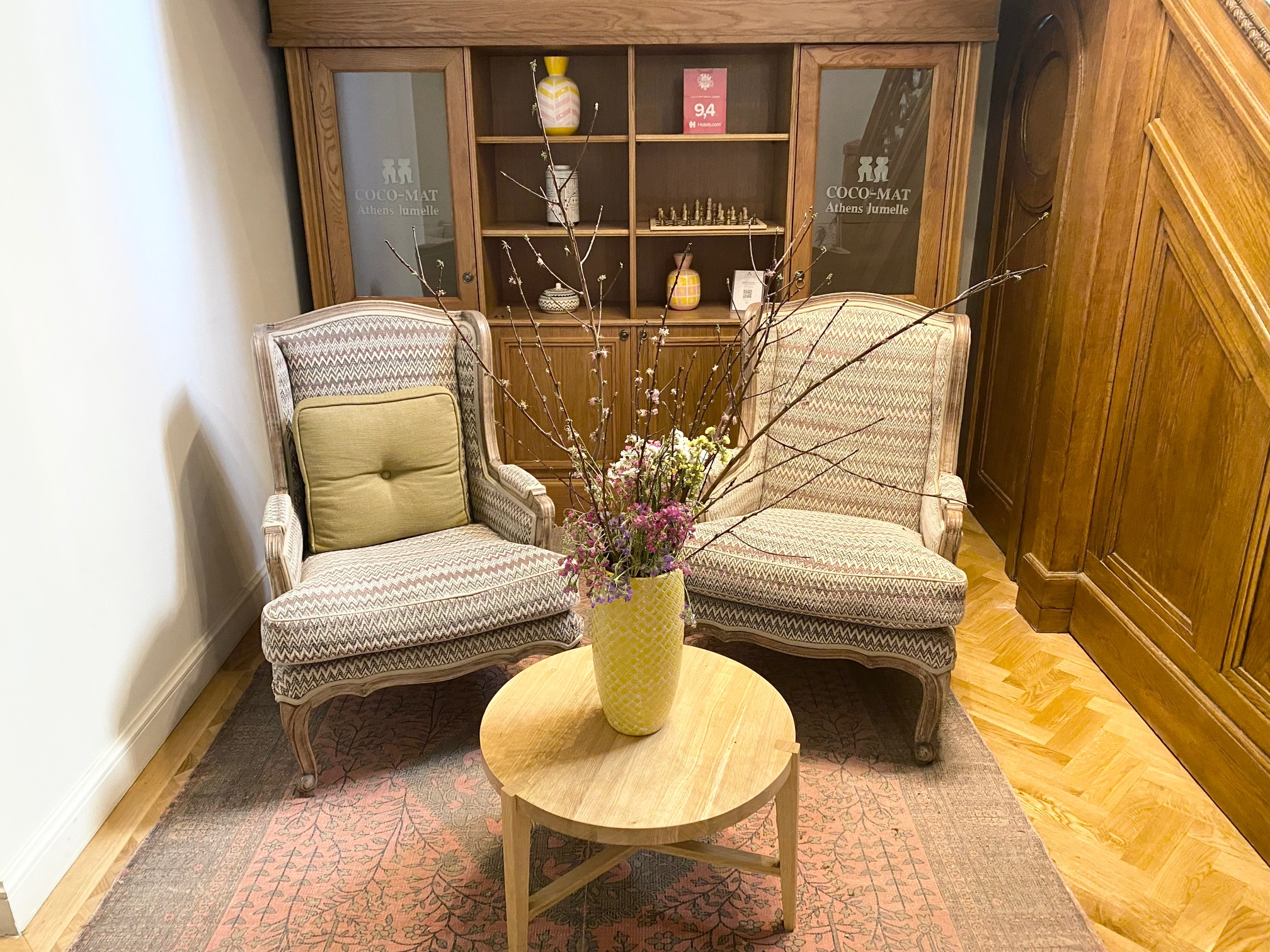 Usually, it factors in things like location and how easy/safe they found it getting around, or how good/quick the check-in was for someone arriving alone.
Exploring Athens As A Solo Traveller
Athens, the capital, with its host of historical sites is obviously a very popular travel destination. With easy access from both the Port of Piraeus and the international airport, you'll probably be planning to spend some time here during your Greece vacation / holiday.
Take heed of this information around touristy places, especially around the main archaeological sites and ancient ruins where a lot of tourists gather.
Keep Your Valuables Safe
If there's stuff you don't need to carry about with you during the day lock it away in your hotel safe or hostel locker. Try and keep some of your cash and debit / credit cards separate if you can. So have some in your bag and some on your person if possible.
And don't carry all your cash around if you take out a large amount. Also, don't flash your cash or have valuables like your camera in full view.
Be Wary of People Asking About Your Plans
This is mainly in Athens and not something I've worried too much about the islands. (Although the best advice is to only give out what you feel comfortable with and err on the side of caution.)
I was in Omonia just for one night on my way between destinations. There's a whole other story to this because I booked an apartment on Booking. But then they changed the booking and sent me to a hotel around the corner.
Absolute bait and switch, but that's for another time. Anyway, while I was waiting this guy came up to me and started asking about my booking.
I was exactly on time when I said I'd arrive, so in the beginning, I thought he was my host. I thought he'd come to meet me to let me into the building.
Then it dawned on me he wasn't, and he was just some random man that had appeared when he saw me alone with all my stuff. He was asking to see my booking, and luckily I realised the situation before I showed him.
I basically asked who the heck he was and what he thought he was doing. He backed off, but it was quite intimidating, especially as a lone traveller laden down with all my stuff.
Use Earphones For Directions
I know wearing earphones is generally a big no-no when walking alone, particularly at night. But when it's my first time somewhere, or I'm generally a bit unsure of where I'm going, I wear them with only Google Maps directions on.
Don't play any music so you can still hear and are aware of what's going on around you. But with the directions going in your ears, you can walk confidently and look like you know where you're going.
When you're following maps on your phone, it's really obvious you're new to the area and somewhat vulnerable.
Watch Out For Opportunists
When you're in the city center, on public transport and in other tourist areas mind your bag and pockets. Pickpockets and opportunists look for easy targets.
Things like a bag on the floor at a restaurant in easy reach, an open bag or an unzipped pocket.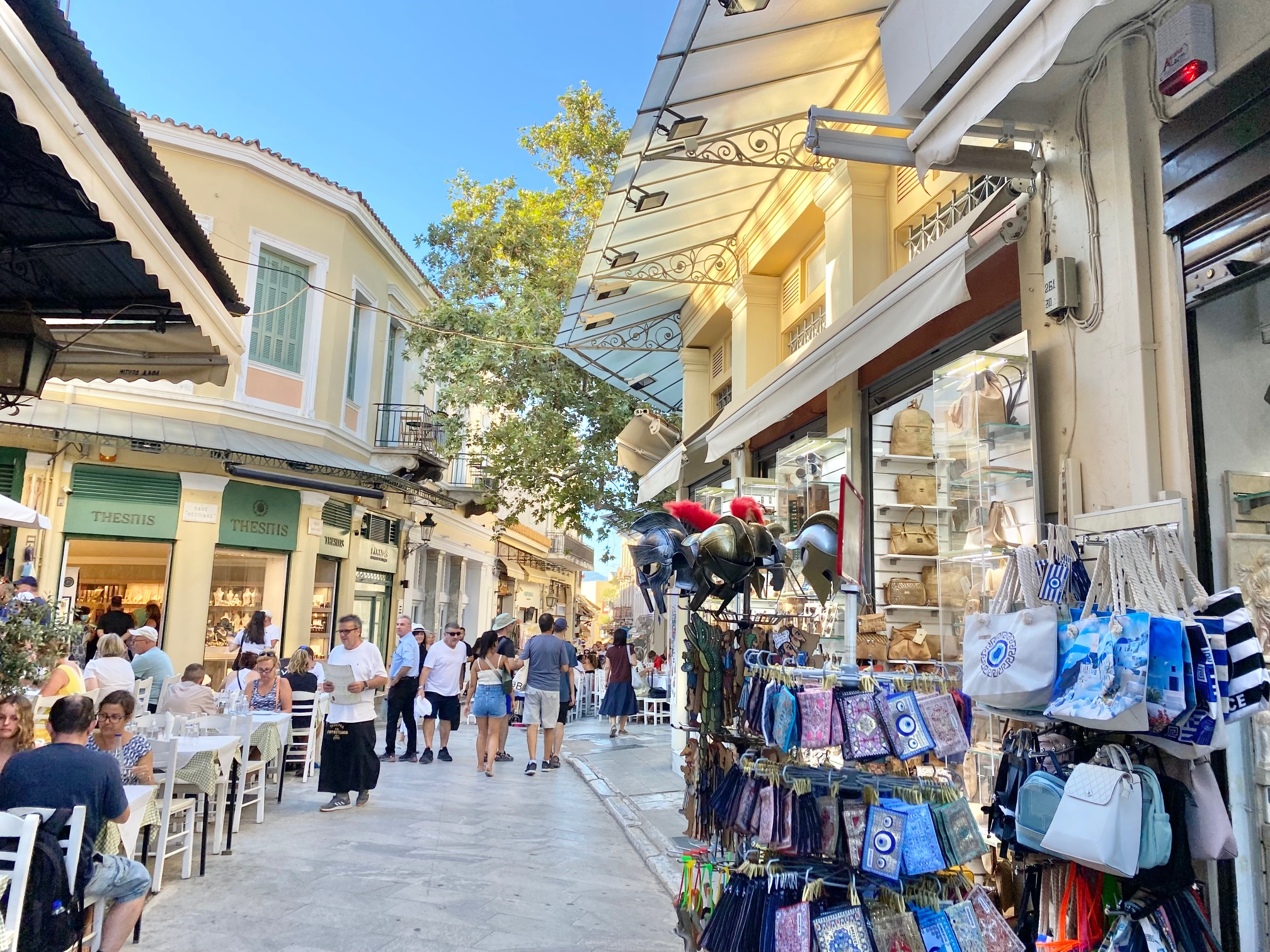 Sometimes they pickpocket you with a little group scam. Like one person will drop something on the ground or on the floor in the metro. And then, while everyone is helping to pick it up, other members of the group steal valuables.
Make sure you've got a secure bag and close it every time you take something out.
In Piraeus recently I was taking a picture of a church. I was in a quiet square with no one else around. After I took the photo, I turned around, and there was a shirtless young boy of about 11 or 12 right beside me.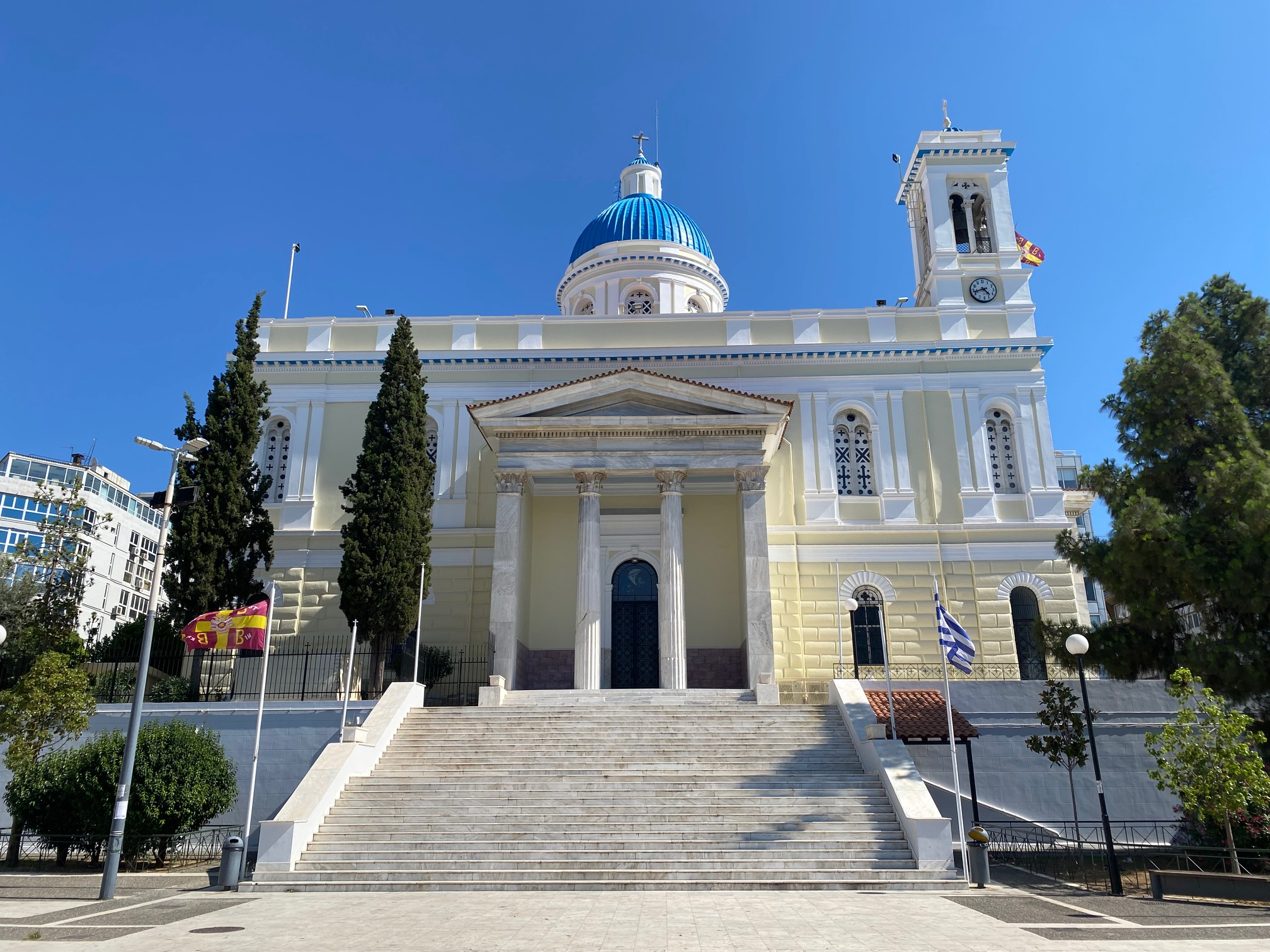 He'd obviously been just about to put his hand in my bag because there was absolutely no reason for him to be that close to me.
I was in a big area with plenty of space, and no one else around he needed to avoid. My current bag is a cross-body bucket bag that is always open at the top. When I go to the city, I zip my purse and phone away in an inside pocket.
But it probably looked like easy pickings especially as it was slightly behind me and I was distracted taking my photo. So just keep your wits about you.
You Do The Asking When You Need Some Help
if you're on your own somewhere taking selfies and someone comes up to you and offers to take a picture for you, listen to your gut. I'm not saying never accept the offer but use your discretion.
There have been plenty of times I've offered to take a picture of someone, and I was genuinely just being helpful and friendly.
But sometimes guys will do this as a way to try and talk to you and then become a bit of a nuisance. And potentially, someone could find out quite a bit about you from your phone apps thanks to geotagging on places like Instagram.
If you give your phone to someone else to take a photo of you, access the camera from the lock screen rather than when you're phone is open. That way, all someone else can access is your camera and the last couple of images.
Post Pictures And Geotags After You Leave
Carrying on from above, even if someone doesn't have access to your phone, you can still be found fairly easily, thanks to social media.
If you tag the places you've been in your posts, it's possible for people to see those posts by looking up the hashtag for that place or area. Keep all that stuff private and post your pictures after you leave.
Avoid Demonstrations
Demonstrations in Athens are fairly common and usually peaceful. But I'd advise anyone, particularly solo travellers, to avoid areas where you can see large clusters of people forming.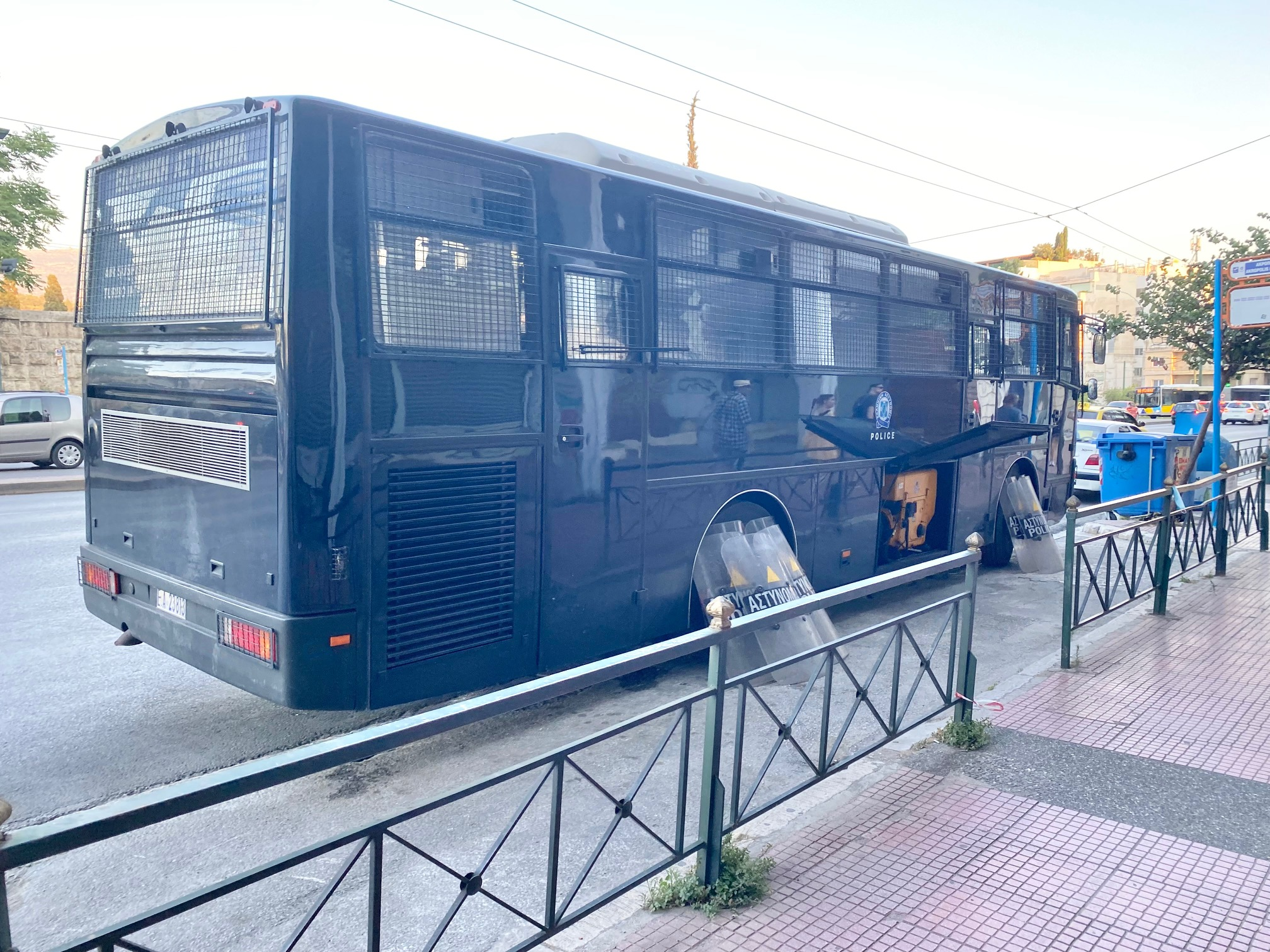 Dates to Avoid Athens City Centre
These two dates are annual demonstration dates that usually turn violent. Avoid being around the city centre (in both Athens and Thessaloniki) and the neighbourhoods mentioned on the dates below:
17th November demonstration commemorates the uprising at the Athens Polytechnic in 1974 and
6th December demonstration on the anniversary of the fatal police shooting of 15-year-old student Alexandros Grigoropoulos.
Avoid Certain Neighbourhoods
Again, the same as in any city there are certain areas you want to avoid altogether or at least at night.
Exarchia
If you do an alternative walking tour of Athens you might go to Exarchia. It's a neighbourhood that's interesting to visit during the day with its political street art, vintage shops, music stores and little cafes.
But it's historically known as being an anarchist area so avoid it in the evening and during any of the big demonstrations.
Monastiraki
Monastiraki is another place you'll likely visit during your visit to Athens but avoid it in the evening.
Omonia
People will tell you that Omonia is fine to visit in the day but another place to stay away from in the evening. But in my experience, I felt uncomfortable during the day.
Like all cities, there are areas with drug addicts and homelessness and that's very obvious in Omonia. Because of that, I feel like it's an area where unsavoury characters are looking out for vulnerable people to take advantage of.
The incident I mentioned above where someone tried to get me to show them my hotel booking was in Omonia in the daytime. And even the taxi driver warned me to be careful. So if you choose to go, do keep your wits about you.
Travel Light
if you ever needed to get away from a dogy situation, it's much harder if you're weighed down with loads of luggage and bags, so it's a good reason to only travel with hand luggage.
The only time I've ever felt vulnerable in Greece was the time above in Omonia when I was moving with a big suitcase, hand luggage, two cats and a 10kg bag of cat litter. (Don't ask!)
Especially with the cats, I couldn't have moved fast or left everything and run. But luckily, on that occasion, someone else was going into the building, and I was able to get into the lobby off the street.
Best Greek Islands For Solo Travelers
There really isn't a bad Greek island when it comes to visiting alone. I've heard people worry that some of the most popular islands, like Santorini and Mykonos, aren't the best islands to visit on your own.
Not from a safety point of view, but more feeling like a spare part on a romantic island for couples or a party place with groups going out together.
But I disagree. I've seen plenty of solo travelers or groups of friends in Santorini, it's not just lovey-dovey couples. And there's more to Mykonos than just partying. So go where you like!
Mykonos Island
Yes it's the infamous party island but there's plenty more to enjoy. Make your way through the main town's whitewashed streets and shop at the little boutiques and designer stores.
Visit the windmills and museums then do a boat trip to the small islands of Rhenia and Delos. (Delos is a sacred island and U.N.E.S.C.O World Heritage Site).
Have a gorgeous massage at Ciel Spa after all the walking and then get the bus to one of the island's beautiful beaches to chill. Beach bars not required.
If you want to meet others, there's a hostel in Mykonos town
You don't have to be a teenager to stay in a hostel. Since accommodation in Mykonos can be pricey, it can be a good way of staying close to town.
If you're nervous about meeting new people, it can be a good way to find people for day trips and making new friends.)
And Little Venice is a famous sunset location and people do have romantic meals on the seafront. But, because it's such a popular spot I'm sure you could make out other solo travellers. You could always strike up a conversation and arrange to visit somewhere together.
Island Of Santorini
One of the most popular Greek Islands Santorini is definitely a famous honeymoon location. But that doesn't mean you should feel excluded if you visit alone.
It is busy and it is touristy but there's no denying it's also a beautiful island. The caldera view really is breathtaking and I'd recommend everyone seeing the spectacular views once if they can.
See also: Best Beach Clubs In Santorini For A Luxurious Day
The boutique hotels along the caldera are where you'll find loved-up couples but if you want a room with a hot tub and a view don't be intimidated about booking a room too.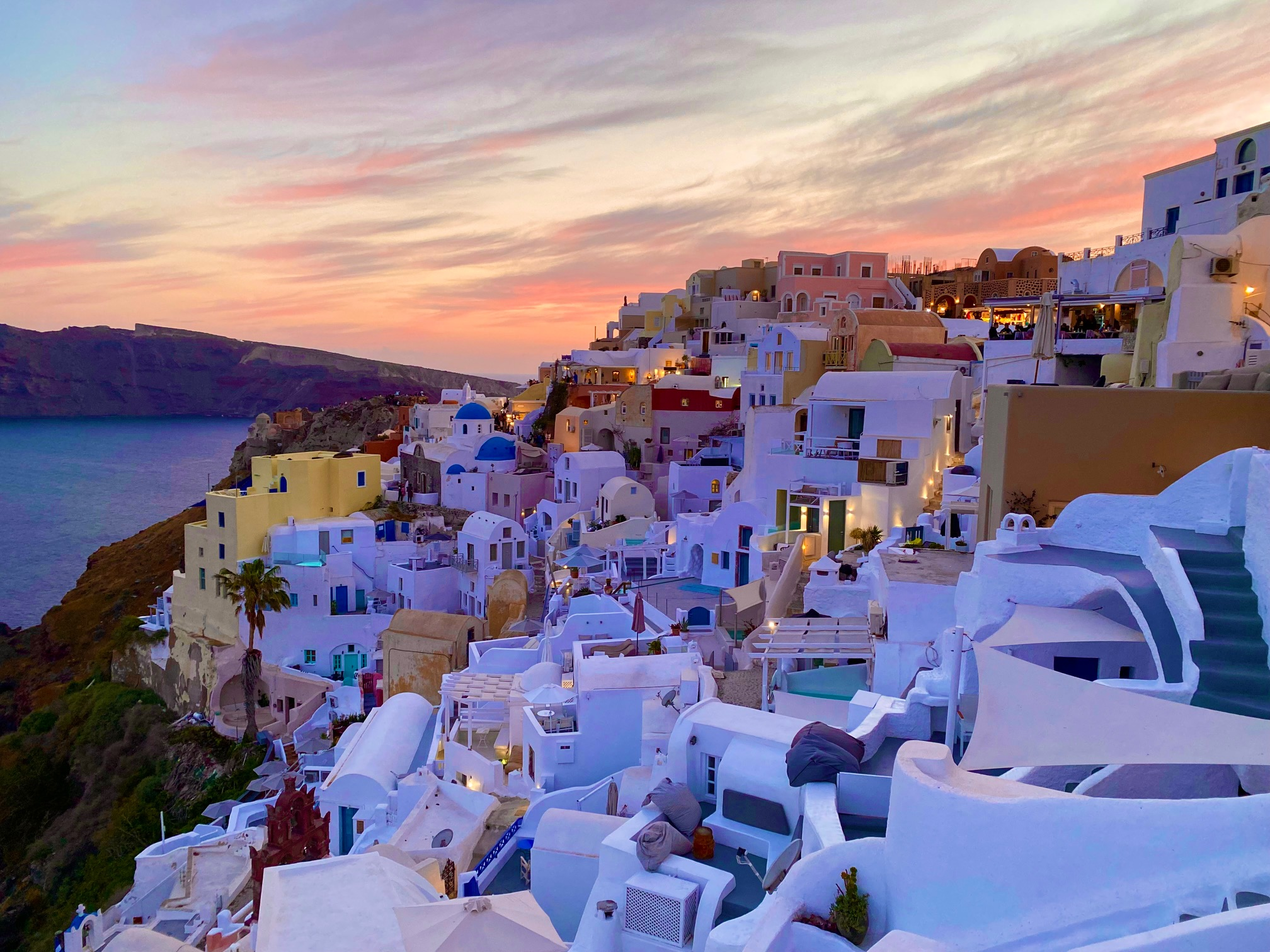 If you want privacy, you'll need to find somewhere at either end of the Oia caldera or move to another part of the island.
Pyrgos is a good spot. It's a traditional village with lovely sunset views, good restaurants and easy access to hiking and activities throughout the whole island.
On one of my visits, I did a wine-tasting that ended up being me and 4 other couples. I didn't feel like the odd one out at all. We had a right laugh and such a fun evening.
Another fun thing where I got chatting with other people was on a boat trip to the volcano and hot springs. It was a fun day.
Also, if you have a way of getting there, Christina and Dave at Santorini Animal Welfare Association are really friendly and are always looking for people to walk a dog or two on the beach in the morning.
I have heard some black female travellers say that Santorini was one of the destinations in Greece they didn't feel as welcome. But it doesn't seem to be a blanket experience.
Naxos
Naxos is the largest island in the Cyclades and is easily accessible from the two islands above. This is the first island I lived on when I moved to Greece.
It's the perfect place for a mix of ancient sites, stunning beaches, water sports, great food and pretty villages. The bus transport is pretty good and you can go on bus tours of the island from the main bus station in Chora.
Stay in town to be close to the local shops and restaurants as well as a long stretch of beach at Agios Georgios.
If you're a beach lover you can also take a boat trip to the small islands around Naxos and some of the best beaches in the area. (As if Naxos hasn't got enough great beaches – they're some of the best beaches in Greece in my opinion.)
But that kind of day trip is another fun way to meet fellow travelers if you want to.
It's a good place to visit if you want to do some island hopping. You can easily get to Paros and Antiparos. Plus there are the Smaller Cyclades islands if you want to spend more time there than just a boat trip to the beaches.
Andros
Andros is another of my favourite islands. I think it's quite similar to Naxos if you've already been there. It has lovely lush hiking paths, really friendly people and golden sand beaches.
Rhodes
Rhodes is another of the bigger islands you could explore as a solo female. Rhodes Airport has domestic flights within Greece but also serves international flights. Because of that it could be a good starting point for solo travel in Greece.
This Greek island is great if you like archaeological sites and ancient history. The old town with is steeped in it with the medieval walls still standing.
There's plenty to explore alone plus loads of tours you can join if you prefer. It's good to know that the island has decent public transportation in the form of buses.
And Rhodes is one of the best islands for hopping from. If you want to visit Greece away from the crowds then go island hopping to some of the smaller Dodecanese islands.
Greek islands I've visited as a solo traveller
The's are the Greek islands I've visited as a solo female and felt comfortable on.
Santorini
Mykonos
Naxos
Paros
Syros
Kea
Crete
Rhodes
Andros
Tinos
Thirasia
Anafi
Upcoming Islands I'm Travelling Solo To
My solo travel in Greece continues, and these islands are next on the list:
Saronic Islands
The Saronic islands are close to Athens and have multiple daily ferries running between them and the capital city.
If your trip to Greece is quite short but you still want to include some islands look at this group. You can even visit three in one day on a boat trip from Athens (Hydra, Poros and Aegina).
Ionian Islands
If your solo travel adventure has been sparked by pictures of beautiful beaches – think white sand and crystal clear turquoise sea – then you've probably seen snaps of the Ionian islands.
Corfu is at the top of my list of places to go. It has a fantastic hike through the lush island hinterland and Corfu old town is a U.N.E.S.C.O World Heritage Site.
Cyclades
Milos is another of the islands known for its beaches. It seems to be a good one to travel solo since it's one of the places in Greece that gets plenty of Insta influencers visiting.
Enjoy Your Solo Travel In Greece
In summary, don't overthink solo travelling in Greece. Be sensible, don't hire a scooter or a quad bike, learn a little Greek and allow yourself to enjoy your adventure.
Book the trips you fancy so you have some structure but remember to leave some free time for spontaneity too.
If it's your first visit to the beautiful country then give yourself time to adjust and adapt to the culture and find your way.
What to Expect When You're Solo in Greece
I've found that sometimes locals don't know what to make of a woman traveling solo through Greece. Not in an unfriendly way. Just that they don't understand why someone would go on holiday alone.
Sometimes it gets a bit tedious. Like often when I sit down alone at a cafe or restaurant I get ignored for a bit. I think it's because staff assume I'm waiting for someone and I'm not ready to order straight away.
Anyway, it's a small trade-off for precious alone time where you get to travel where and when you want.
Best Time to Travel Alone in Greece
The best time to visit can be the shoulder seasons like May and early June and then Mid-September to the end of October.
The weather's gentler than in July and August and there are fewer people. If you're visiting just the mainland then you can go from earlier in spring until later in the year and still visit the major historic sites.
Enjoy Traveling Solo in Greece
So I wish you a wonderful time whenever you choose to go on your solo visit. And of course, feel free to ask any questions about travelling alone in the country.
Suzie Young
Suzie writes informative posts for solo, nervous or first-time travellers to Greece, Turkey and other countries on her 50-before-50 bucket list. She became a Greek resident in 2020 and intends to visit every inhabited island (13 down!).