10 Best Beach Clubs in Santorini for a Luxurious Day (2023)
Greek Island Bucket List is an Amazon Associate and participant in other affiliate programmes. I earn from qualifying purchases. Please see my disclaimer for more information.
---
Looking for the best beach club Santorini has to offer? Although other Greek islands are more renowned for their beaches, Santorini has some popular beaches with good beach clubs, bars and restaurants.
Everything's fairly chill, although you can still find one or two places with loud music and wilder parties. For the most part, it's relaxed cocktails and laid-back music for lounging at the sea side. You'll find the perfect place to unwind on your Greek island adventure.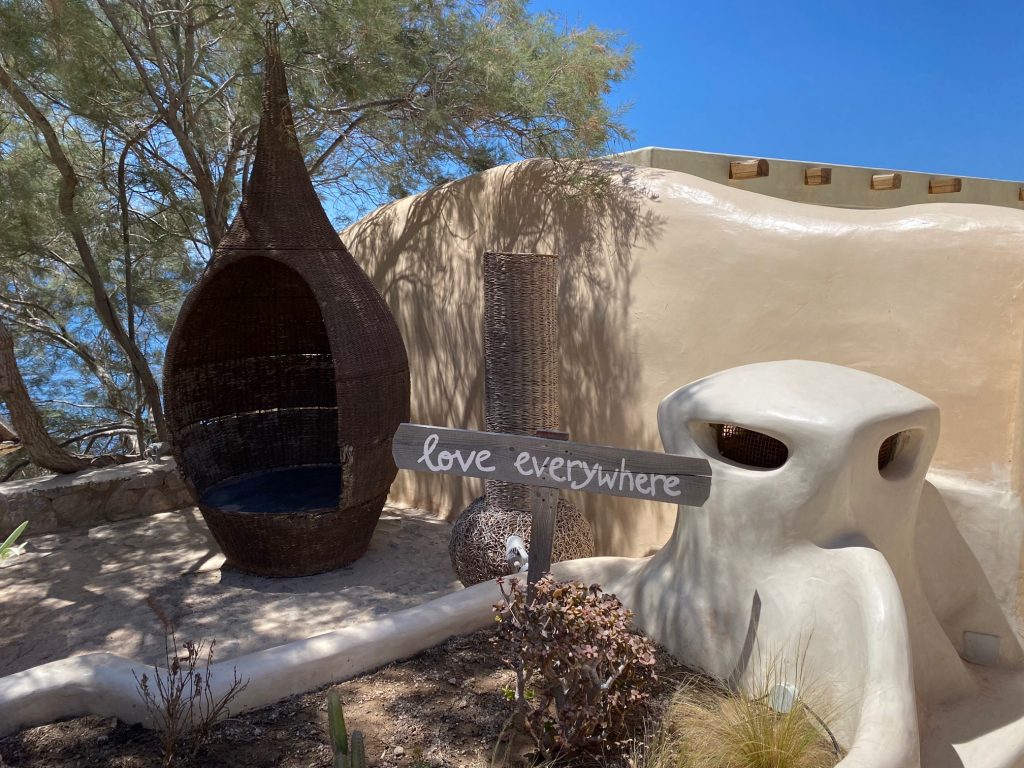 In case you weren't aware, the beaches in Santorini have black sand. Even White Beach, which is actually called that thanks to the colour of the steep cliffs behind it. (Although to be fair, the sand on the Red Beach is a little bit red!) Black beaches are normal on a volcanic island because of the volcanic activity in the past.
Santorini's beaches might not be the classic beauties you expect but they're stunning in their own way. And they'll certainly let you have some quality time gazing at the endless horizon of the Aegean Sea while sipping excellent cocktails. For the best views and a great spot close to the sea you'll need to pay a premium at some of the clubs. This is the island of Santorini after all!
So, let's get into the best beach bars in Santorini so you know great places to enjoy good food, spectacular views, swimming in deep blue waters and relaxing.
Seaside Santorini – Best Beach Club in Santorini?
Seaside, at Perivolos / Agios Georgios beach, is considered to be the best beach club Santorini has. It's the beach club to see and be seen at so it's the best place if that's what you love. It's got a feel of Mykonos about it with its fashion boutique and open-front restaurant. It's a mood, a premium experience and expensive.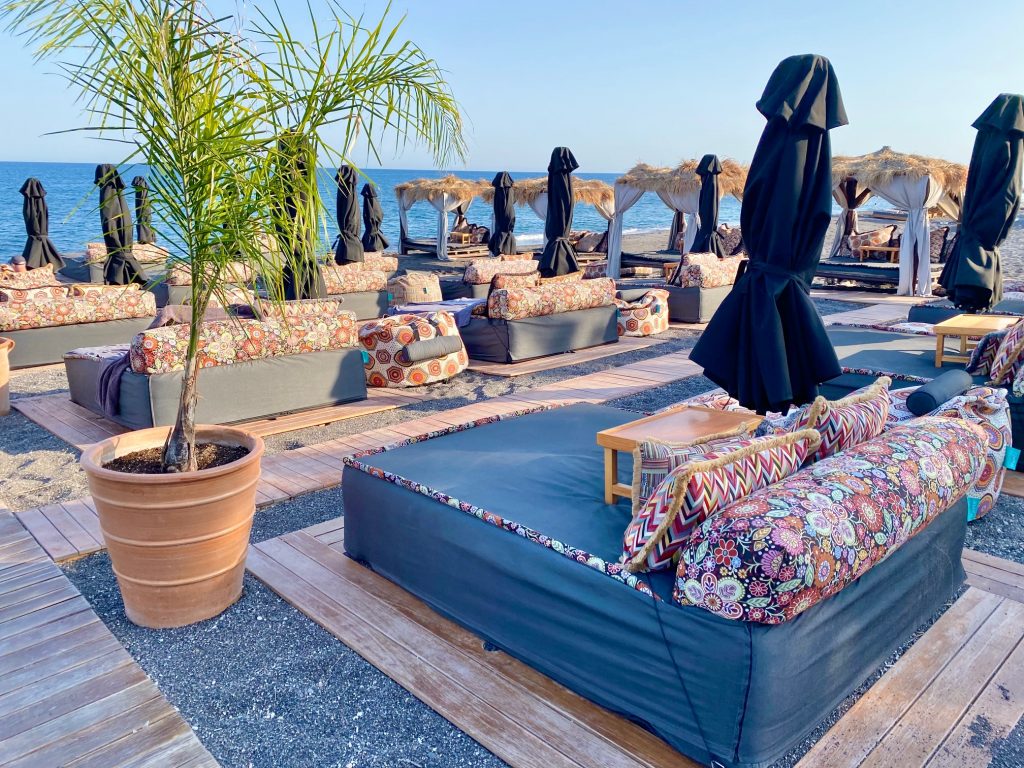 The fine-dining restaurant has an indoor dining area and is one of the best restaurants on Santorini's beaches. It offers Mediterranean cuisine that's been given a "creative funky" twist. The seating area extends out onto the sand to become a cool lounge area. The whole set-up is very trendy and comfortable.
Pricing for the beach beds and cabanas varies depending on how close to the sea you are. As a guide, here's the layout and what the prices include for 2022.
My personal experience here was that the team were a little pretentious. I waited around at the desk at the beach while they talked amongst themselves and ignored me. I then went to the indoor restaurant where the receptionist and a colleague also continued to talk amongst themselves.
A waitress behind them noticed me and immediately came to see how she could help. I probably didn't "look the part" on the day but other places I've been would have been more welcoming.
Forty One 41
Forty One is just a few doors down from Seaside as you head towards Perivolos and I found it had friendlier service.
It's a similar set-up with an indoor dining area, tables on the beach of Perivolos and then rows of beds and cabanas towards the water. The prices start at 50 euro for the fourth row back, which includes towels and two cocktails. They go up to 300 euro for the front-line beds and for that you'll get a bottle of champagne, a fruit platter as well as your towels.
I stopped here for pudding one day and I didn't think it was the best. However other dishes looked great and have good reviews so I'd definitely go back for a proper meal.
Wet Stories
Along this stretch of the best beaches – Perissa and Perovolos – are a number of lively beach bars. As winners of luxury restaurant awards, this one is more expensive than most of the others. But the food is good and the service friendly.
If you want a beach party in this area of the island then check out the Wet Stories event page. They have great music nights with guest DJs throughout the season.
Chilli Beach Bar
If you're at the Perivolos end of the sand and want something a little less pricey than Seaside and FortyOne then head to Chilli Beach Bar. Their comfy beach sets are reasonably priced and the food here is good. Plus it's really accessible with a customer car park.
Theros Wave Bar Vlychada Beach
Theros is on a small beach called Eros Beach at the end of Vlychada Beach. Vlychada Beach is one of Santorini's most beautiful beaches and the whole area is a unique landscape of extraordinary beauty.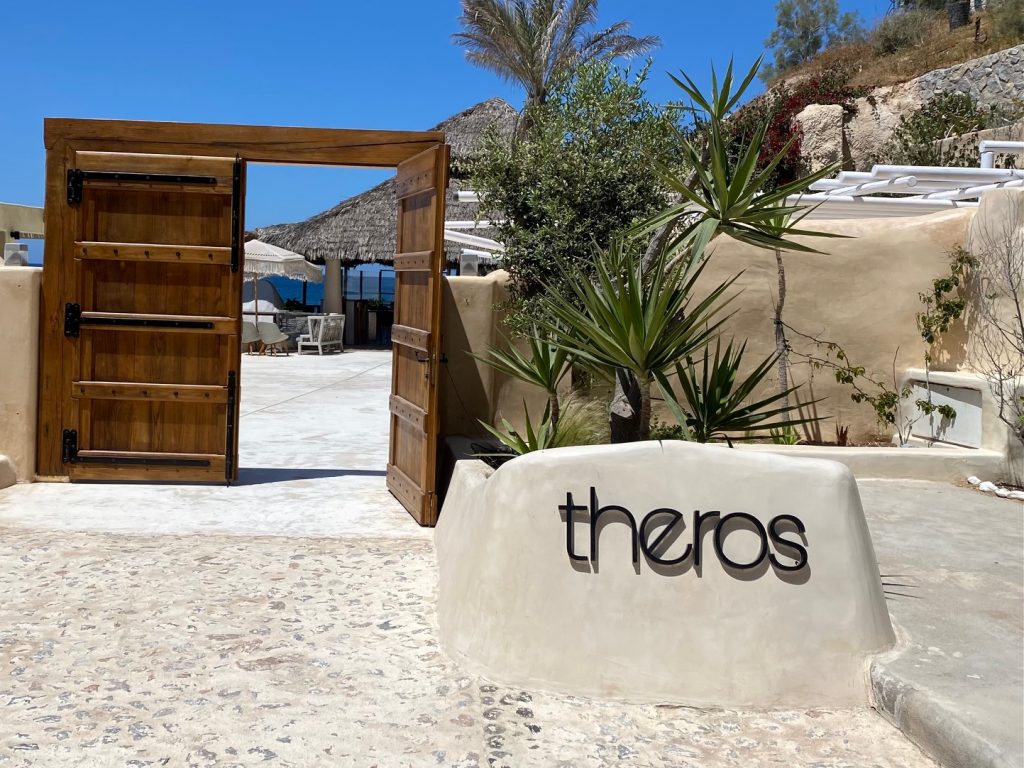 You can get to Theros by walking the length of Vlychada. Or you can drive directly to it down a road that makes you feel like you're leaving the big crowds far behind. Theros has a small car park but there's a big parking area on the road a little way back.
I liked that the seating area on the deck above the beach felt really spacious. I didn't visit in high season but the whole space felt quite secluded and private.
As well as their signature cocktails you can actually enjoy a massage at Theros too. The beach area has the usual sunbeds and umbrellas and beach volleyball courts as well.
East Breeze Exo Gialos Beach / Karterados
As well as being a good place to get away from the bustle, this is an ideal spot to waste time between your hotel check-out time and your flight departure. Karterados Beach, the sand at Exo Gialos is the far end of Monolithos Beach. And Monolithos is the closest beach to the airport.
Like other beach clubs Santorini hosts, there's a bohemian luxe feel to East Breeze. As a day destination, it's an ideal choice for chilling. The lounge atmosphere inside is quite lively as they have the music loud.
But it's quieter out on the sand in the Zen Zone. The beds and tables stretch over quite a large area with a lovely clear view of the sea. There's an Insta-ready swing for you to take some great pictures, too. I didn't try out the food here but I liked their selection of healthy fresh juices. (Although not the plastic straw mine came with.)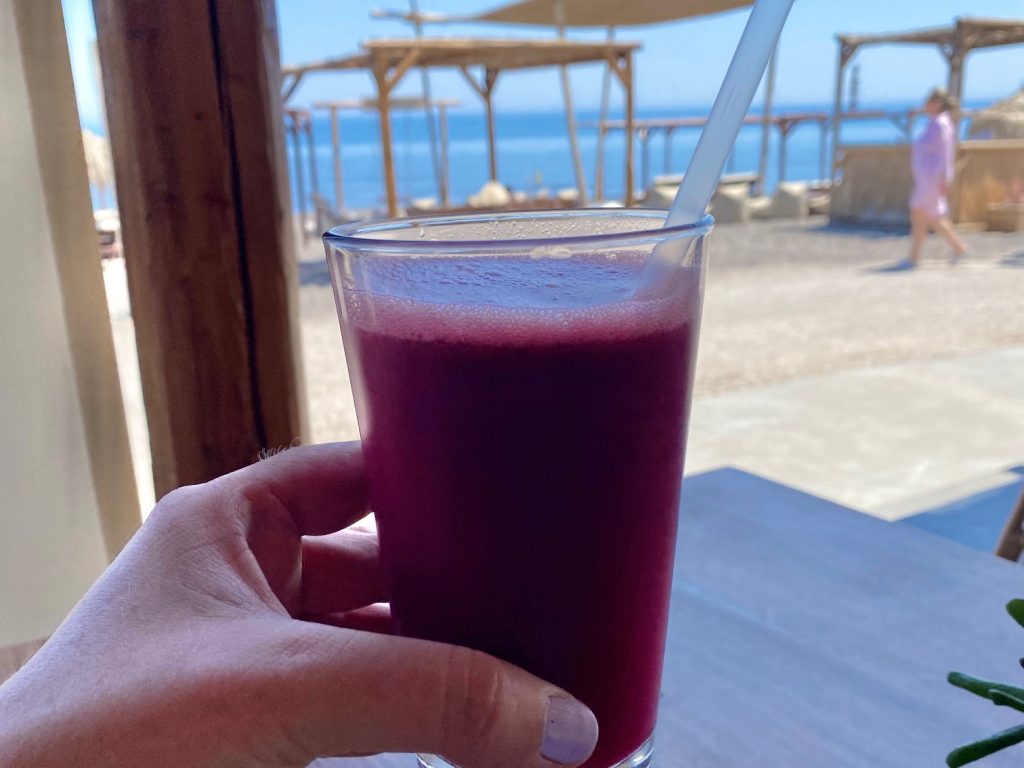 If you're looking for a party atmosphere check out East Breeze events or head over at the weekend. There's a resident DJ on specific dates throughout the season, and at weekend, guest DJs provide the live music.
Yalos Exo Gialos Beach / Karterados
At the opposite end of Karterados in another quiet place is Yalos. There are no beach parties here, the relaxed atmosphere lends itself more to yoga, sound healing and meditation.
One of the things I really liked about Yalos is that they use local produce. They grow a lot of their own food for the Mediterranean flavors in their delicious menus. And I did have a delicious lunch. It was supposed to be tricolour tomato salad but I think it was a bit early in the season as there were only monocoloured tomatoes!
I found the service polite and professional if not particularly warm. One team member did come up and ask if I was travelling alone and had a friendly chat with me. But other than her, I felt like the service could have edged into pretentious territory.
Still, I'd go back a second time to see what the experience was like another time, especially if there was a yoga or sound healing event running.
Jojo
I'm including Jojos at Perivolos Beach because of its pool facility. Although the food's good it's not on the cheaper end of the scale. To me, Jojo is one of the more party bars and the music was way too loud for me to go in there. But if that's your vibe then give it a visit.
Tranquilo Perissa Beach
I've added Tranquilo in because you really can't miss it and it's known for having great cocktails. Tranquilo attracts a younger crowd with their bright hostel next door. If you're not staying in the area and are driving to visit the famous beaches of Perissa and Perivolos then there's easy access from the car park just a few minutes' walk away.
The laid-back seating with hammocks and cushions makes this beach club a popular venue. Although I love the idea of their organic garden and their concept of "think global, eat local" I didn't really rate their vegetarian menu (although I didn't sample it extensively).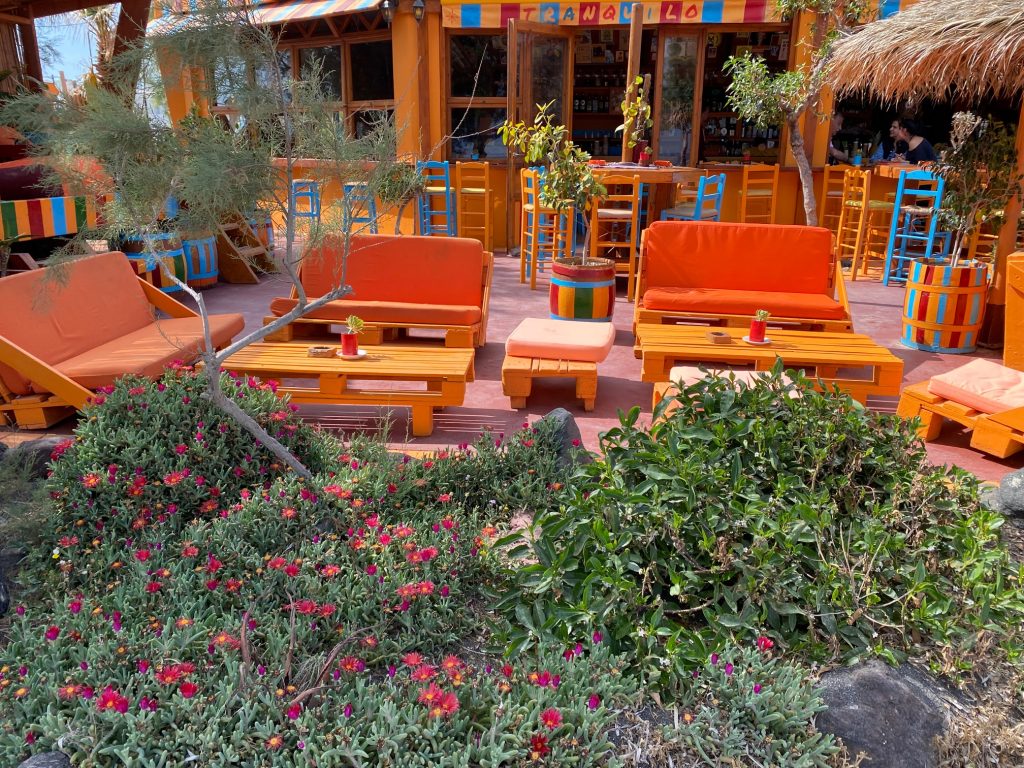 They're famous for their huge salads but mine was disappointingly soggy and others have said the same. Go for the drinks bar menu and with any order, you can use the beach beds.
🧿For more ideas of things to do in the area, there's a list of fun things to try in Perissa here.
Waves
Waves is at the top of Perissa Beach one of the best cocktail bars in that section. In the daytime, it's got clear water for swimming and good views. In the evening there is live music on selected days. You'll need to go along and check in person what's happening when, though.
What Next?
Best Spas in Santorini for Relaxation and Wellness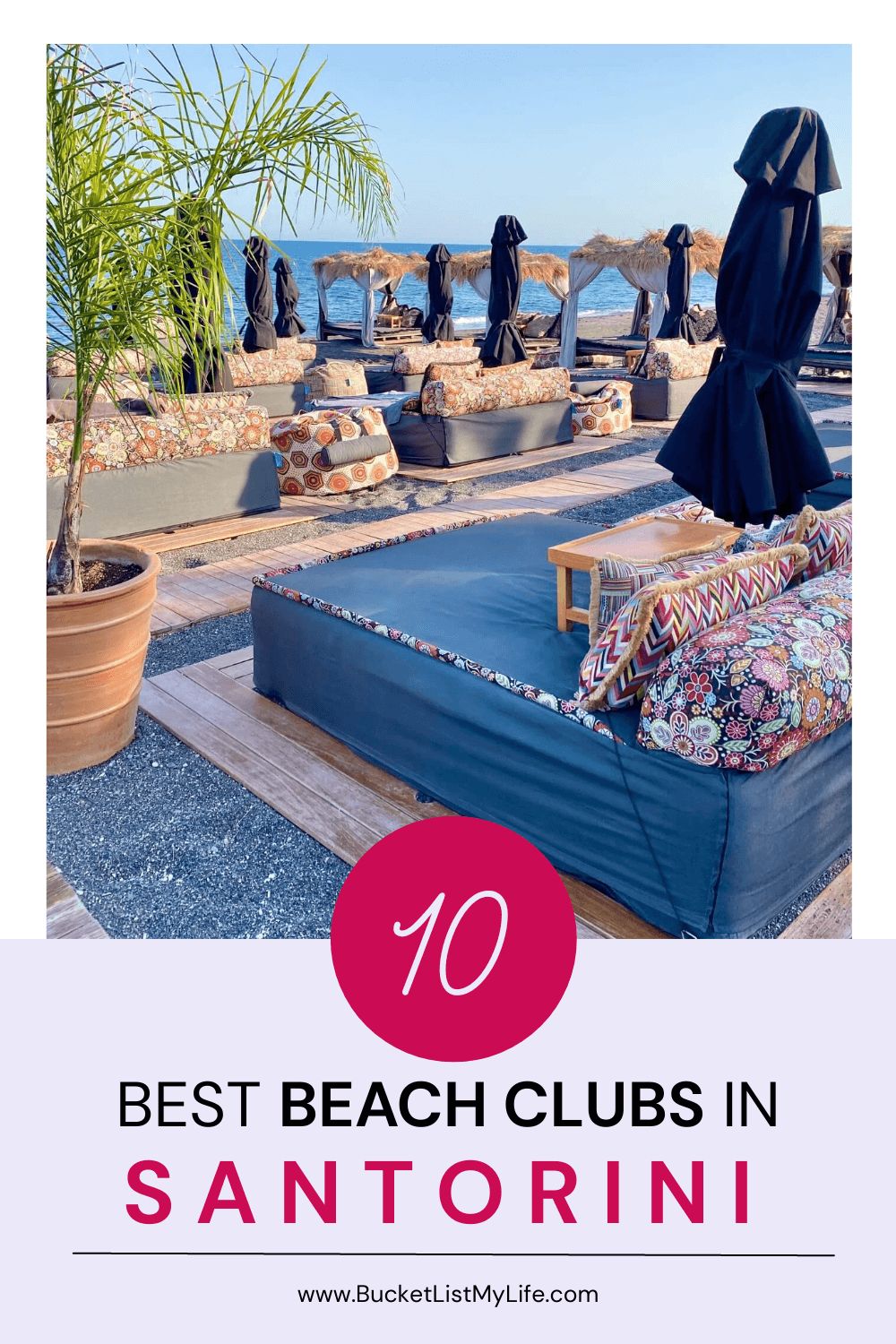 Suzie Young
Suzie writes informative posts for solo, nervous or first-time travellers to Greece, Turkey and other countries on her 50-before-50 bucket list. She became a Greek resident in 2020 and intends to visit every inhabited island (13 down!).