15 Best Apps For Greece Travel In Athens & The Islands
Greek Island Bucket List is an Amazon Associate and participant in other affiliate programmes. I earn from qualifying purchases. Please see my disclaimer for more information.
---
If you're visiting Greece you might be wondering which Greece travel apps would be useful to have on your phone. Here I'm giving you my favourite apps for travelling in Greece. I use some of these all the time and others just when I'm visiting Athens.
1. Google Maps App
I use Google Maps every day, it's absolutely one of my most used apps in Greece. As well as for getting around I use it to create lists of places I want to visit or eat at. Then when I'm out I can look on the map and see if there was anything I wanted to do in that area.
Be mindful that places on the islands often just show summer opening times and don't update when they are closed in winter. If you look at the opening times it will tell you if they've been updated recently.
If you're travelling in the shoulder/off-season you can see if something's just been updated recently. That way it's pretty likely that the times are accurate for when you're there.
Travelling in the off-season? Here's what to expect from Santorini in spring.
A great idea is to download Google Maps so you can use it offline. That way you don't need data for directions.
Google Maps and Walking Routes
Side Note: Be aware that the walking routes on Google Maps don't always sync up with marked hiking trails. Like in Santorini for example. If you put in Oia to Fira it'll send you along the main road rather than the Caldera route.
Use a map or a hiking map app or have someone direct you to the start of a marked route. Google Maps can be useful along the way if you want to veer off and look at something. Or to check if you're heading in the right general direction.
Andros is a great island for hiking as is Naxos if you're interested in that.
2. Google Translate
I use this to help communicate when I can't get over exactly where I want to go or what I'm trying to ask for or if I can't remember a word in Greek.
In touristy areas, many people have excellent English. But occasionally, I'll stay with a host/get a taxi/go to a shop where my Greek isn't good enough to convey what I'm saying and their English isn't strong enough to understand either.
As a resident, I use it for lots of other things like translating websites that Google Chrome can't translate, for emails/text or for random things at the pet shop!
See this post for Greek gift and souvenir ideas.
3. Photo Translator App
Although Google Translate does have a photo translator function, I don't find it very good. This photo translator app is much more effective (if you can ignore all the ads on it).
You basically take a picture of a sign or label (or find one from your camera roll), and it translates the words on it.
I don't use it that often so I use the free version which does three translations per day, I think. But it's been really useful when I do need it. It's not perfect, but you can generally get the gist.
If you need to be able to read labels on food packets, this would be helpful. If you're using it for something like that consider getting the paid version. Otherwise, you'll have to watch a 15-second video in the supermarket before every packet.
4. Booking.com App
I use Booking a lot for accommodation. The app makes it simple to see my current and upcoming stays plus it's easy to book new ones. And accessing messages is much easier than via the mobile website.
Read this if you're looking for airport hotels in Athens.
5. Airbnb
Similarly, I use Airbnb for a lot of bookings, so it's another frequently used app while I'm travelling in Greece. Again, messaging is really easy on the app with the auto-translate. And I can find places to stay and check details while I'm on the move.
I really like the ease of booking Airbnb Experiences, too. You can quickly see what's on in the area at the time you're. And going through the booking and payment is straightforward.
6. Ferryhopper App
If you're visiting the islands, this app should be at the top of your list. I love using Ferryhopper for my ferry bookings because I find the site nice to look at and easy to use. Plus it makes checking in online really easy and I can add the tickets to my digital wallet.
I've just started using the app as I always used the mobile site but the app definitely has advantages.
You can plan new trips and pull up previous bookings in the app whether you booked them via the app or the website. Even if you have your travel booked before you come to Greece, it's still a good one to have because you can use the track your ferry feature.
Plus, you might decide to take an impromptu visit to another island. Or maybe you'd like to shuffle your plans a bit to stay longer and get a later ferry.
7. My Ship Tracking
If you're not using the Ferryhopper app, then use this one to track your ship (or any ship) and see if it's running on time. Hanging around at the port isn't as fun as spending longer in your caldera view hot tub or ordering more food at your favourite taverna.
So check on the live ship tracking and see what time your boat is actually going to be at the port. There are other similar sites/apps but I've always found this one to be the most user-friendly.
8. Skyscanner
Similar to Ferryhopper you might want to have Skyscanner on your phone before you travel to Greece. It makes finding flights to and from particular locations super-easy as it scans all airlines for you.
Even if you have all your flights booked before you come you might want to change your itinerary and this makes the planning easier.
Psst…these are the airlines to consider if you want a Greek carrier
9. WhatsApp
I'm not a big WhatsApp user normally but I make use of it quite a bit in Greece and for other travel abroad. Because the messages run over wifi or data, it's a popular method of communication when dealing with people from other countries.
Therefore, many hotels, airport/port transfers, spas, etc, will use this to get in touch with you.
In Greece, it's considered a professional way to communicate, so don't worry if it seems a bit casual. Sending messages is the most common way of using it, but you can make calls over WhatsApp too (audio and video options).
Viber is the alternative to this, but I don't personally use it, and I don't think as many other people do either.
Here are more tips about travel and culture in Greece.
10. Free Now (previously Beat)
Beat Free Now is like Uber in Athens (and also in Thessaloniki), and it's connected to the yellow taxis. I think some drivers are dedicated Beat Free Now drivers and don't pick up fares any other way. But many are normal yellow taxis.
I used the app quite a lot when I was housesitting in Athens last August and also now that I live in the city. There was a taxi rank less than 10 minutes walk away, and I did use that.
But when I had a lot of luggage and/or was travelling with my cats I wanted someone that would come right to the door.
Plus, it's good if you're out and about and don't know where the nearest taxi place is. Or if it's late and you don't want to get public transport. For the most part, I had a really good experience using it and found the prices reasonable.
Here are the options for travelling Athens International to Athens city centre.
11. iMove
iMove is a similar booking system to Uber and Free Now but only operates on Mykonos. The website says it covers Paros, too, so check if you're there. When I tried, it said it didn't operate in the area, but it could have been the time of year,
Mykonos has very few taxis, so I found iMove a helpful alternative even in peak tourist season. It's expensive because it's Mykonos. But the prices are on a par with what you'd pay for fixed-price fares through any other transfer company there.
Here are some of the best things to do while in Mykonos.
12. Viator
I've booked activities and tours with Viator in Greece, and it's been great. You can book through their desktop website, too. But the app keeps all your booking info together when you're on the go.
13. Get Your Guide
Get Your Guide is very similar to Viator. I alternate between both apps because sometimes the ratings for a particular activity or tour are better on one provider than the other.
As with Viator, Get Your Guide keeps all your booking information together while you're away. Plus, it makes communication with the providers easy.
You can use this app to book things like a kayak or boat trip in Santorini.
14. Wolt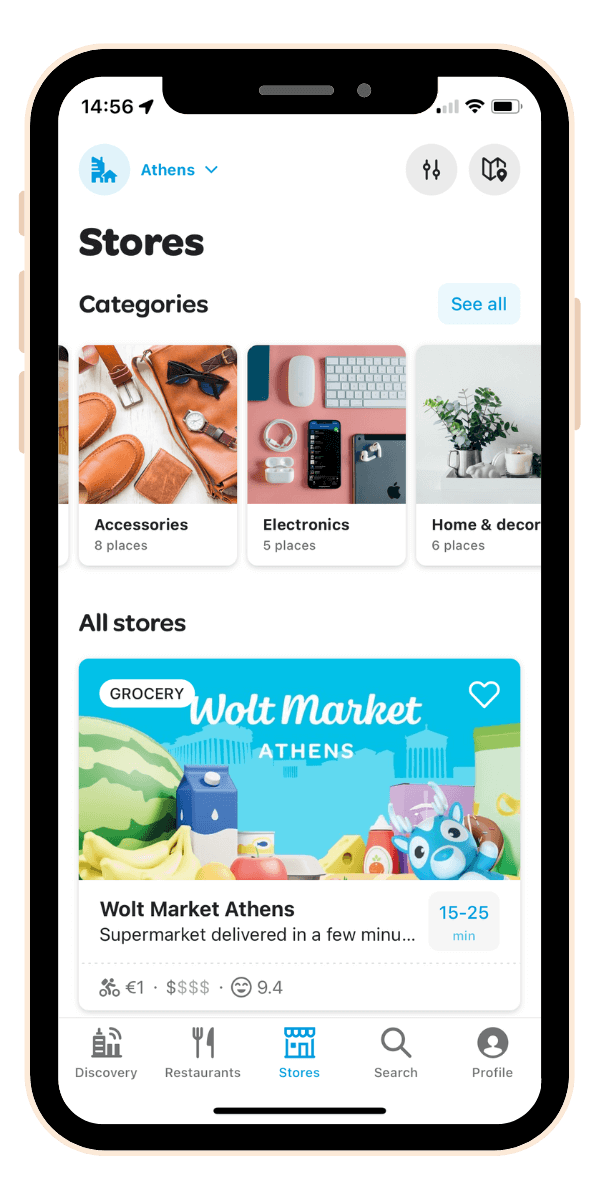 Wolt is like UberEats and again it's one I used more than I'd care to admit in Athens. You might think it's not an app for tourists since you're coming to Greece to eat out and enjoy the ambience. But as a solo traveller, I sometimes chicken out of eating in restaurants by myself.
So, if you'd prefer to have something in the comfort of your own space, you can order and enjoy it from your balcony.
Wolt has a good variety of places for takeaway food, including corner shops and fruit shops, plus florists and pharmacies too. I found service through the app fast and reliable.
The only downside is that you need a Greek phone number to use it. But if you're getting a pay-as-you-go sim for your visit, you can just use that. Wolt is available in Athens, Crete (Heraklion and Chania), Volos, Patras, Larissa and Thessaloniki.
You don't need an app to find the tastiest Gyros in Athens, they're all here!
15. COSMOTE CHRONOS
The Cosmote Chronos app is designed to let you see some of the monuments on Acropolis Hill in 3D. It uses virtual and augmented reality to show you historically accurate representations of the buildings in the Roman era and Classical Antiquity.
It's free to download, and you can use it when you're actually at the Acropolis. Or you can access the information and view the buildings from anywhere in the world.
Bonus: Kindle App
My Kindle app is a favourite for Greek travel. Ok, so it's not specific to Greece travel or travel generally, to be fair. But when you're spending hours on a ferry (or waiting for a delayed one), it's a good one to have something to read.
I'm terrible for lugging about actual books because I like reading offline. But for the most part, I try and stick to the ease of reading from my phone.
So those are my favourite apps for travel to and around Greece; I hope they help you!
Other Useful Resources For Travelling in Greece
For more information to help your Greek adventure, see my travel advice section. I have lots of advice on things like renting a car, driving in Greece for the first time, what to pack and wear, as well as general tips to know before you come.
Suzie Young
Suzie writes informative posts for solo, nervous or first-time travellers to Greece, Turkey and other countries on her 50-before-50 bucket list. She became a Greek resident in 2020 and intends to visit every inhabited island (13 down!).