Athens airport to city centre: best ways to go
Yippee! You've just arrived into Athens International Airport, and you want to get yourself to Athens city centre as quickly/conveniently/cheaply as possible.
You have several options depending on how you want or need to travel. So let me take you through them now, and you can decide the best way for you.
The most convenient option with lots of luggage is a hotel transfer (on the conditions below), taxi or pre-booked private transfer.
The cheapest option is the EXPRESS X95 bus (but I prefer the Metro).
Hotel Transfer
The first thing I'd do is check whether your hotel offers a free or paid shuttle service. Sometimes this can be the most convenient way of travelling, especially if it's complimentary.
On-Demand or Set Schedule?
If your hotel has this facility, check how it works. Some will arrange to collect you whenever you arrive. Others put on a bus service that runs on the hour during set periods of the day. If you want something flexible, it might not be the most convenient for you.
Athens Airport Taxis
This is a really straightforward option (if you have cash). It takes around 35 minutes+ to get into the city centre, depending on traffic.
You'll find the Athens airport taxi stand just outside exit 3 of Arrivals. The taxi fare into the centre is set so you don't need to worry about whether the meter is on.
Most taxi drivers only take cash (although that is set to change in the future). You can get lucky and find someone who takes cards, but you'll probably have to wait quite a long time.
If you need to pay by card, check you can BEFORE you get in or be prepared to stop at a cash point/ATM on the way to your destination. There's an ATM in the airport too although the rates probably aren't very favourable.
Taxi Fares
Prices from Athens Eleftherios Venizelos airport to the city centre are a flat rate of:
40 euro if you arrive at your destination between 5am and midnight
55 euro if you arrive at your destination between midnight and 5am
Most taxis can take four passengers, so this pricing can work well for a group of you.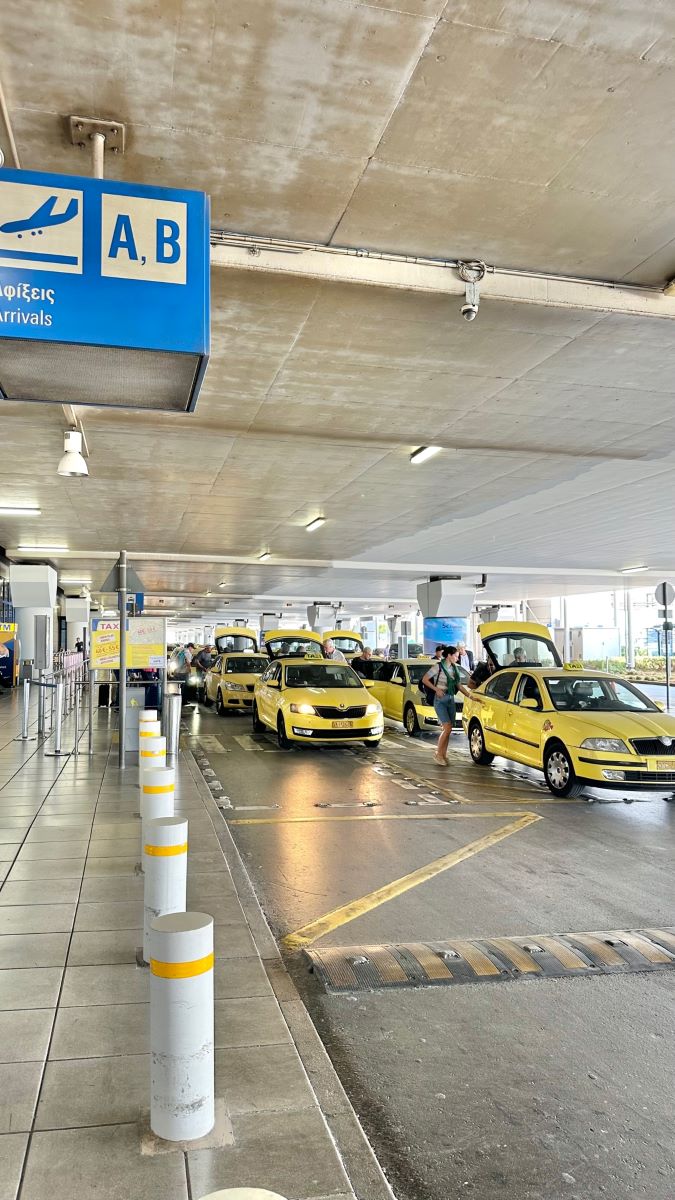 Yellow taxis lined up at the Athens Airport arrivals hall
Taxi Apps
I wouldn't recommend using a taxi app like Uber or FreeNow to collect you from the airport. They add on the extra airport fees and it can be awkward to get them to pick you up in the right place.
Having said that, I noticed that there's a new area for pre-booked taxis during my most recent visit. It's separate to where the regular taxi stand is, so maybe it's better than it used to be.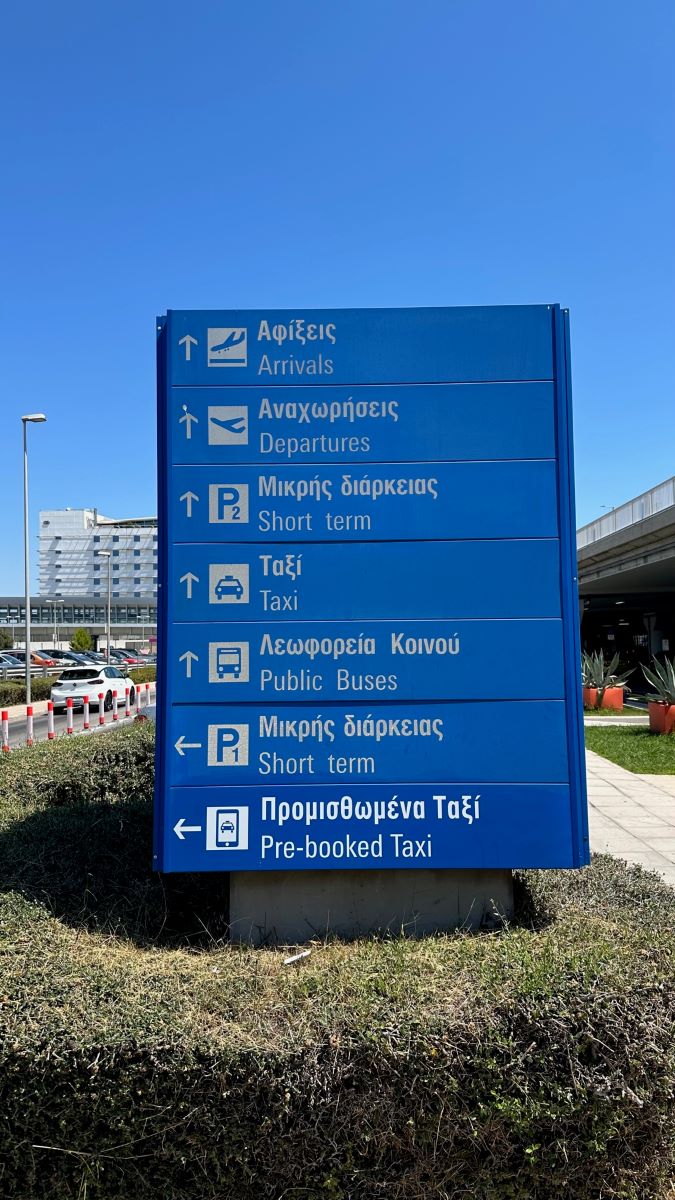 Private Transfer
If you're travelling as part of a larger group or just want to organise your own transfer then I like Welcome Pickups. I've used them a few times and find the drivers safe and courteous drivers and people.
They'll track your flight to ensure they're at the arrivals gate with a sign with your name, whether you're on time, early or late.
I've used them to get to the airport too. I liked that they were absolutely fine with me contacting them on WhatsApp to say not to come early. (I hate when taxi drivers rock up 15 minutes early and then get stroppy when they're kept waiting for 10 – 15 minutes. How is it my fault if I meet them at the agreed time?!)
Metro
The Athens Metro is a good and reliable form of public transportation, and there's a Metro station right at the airport.
Metro Lines
The Blue Line 3 will take you right into Syntagma Square. Other stops in central Athens, like Monasitaki and Kerameikos, are on the same metro line. (It'll actually take you all the way to Piraeus Port if you need it to.)
For Omonia, you'll need to change to the Green Line at Syntagma.
The travel time between the airport and Syntagma is about 40 minutes. Trains leave every 36 minutes, although they're not 24 hours. They run from about 06:10 until 23:30.
If you scroll down to the bottom of this page, you can see the most up-to-date airport metro timetable.
The airport metro train has luggage racks which are helpful. Keep your valuables on or beside you, though.
Athens Airport Metro Station
From the airport arrivals level, follow the signs for the trains (to the left) and then go over the pedestrian bridge to get to the station.
There's a lift/elevator if you need it.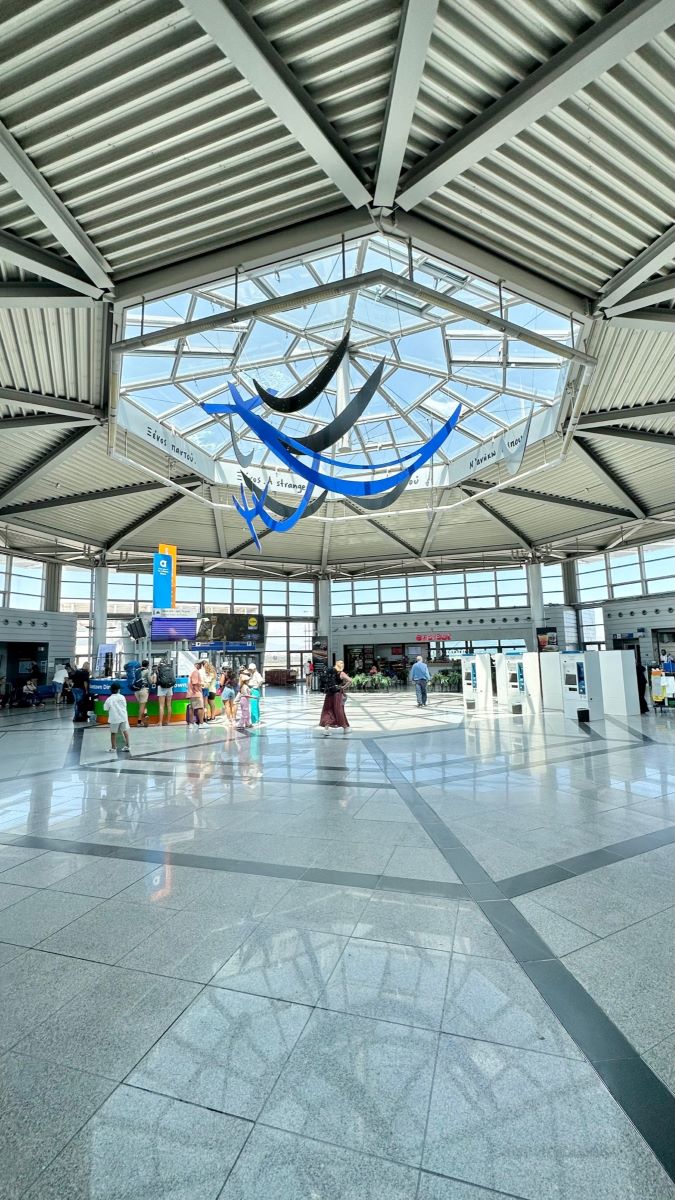 Metro and Train Station that will take you from Athens Airport to city centre
Metro Tickets and Fares
There are a few different options here, depending on what you need.
Single and Return Metro Tickets from the Airport
A one-way Athens Metro Airport Ticket costs 9 euro (concessions 4.50)and is valid for 90 minutes from validation, and can be used on all Athens Urban Transport Organization (OASA). So that's also buses, trolleybuses and trams but not the EXPRESS buses below.
The return ticket option costs 16 euro and is valid for 30 days.
3-Day Tourist Ticket – 20 euro
This is valid for 72 hours from when you first validate it at the metro station before you get on the train. It includes a return ticket to the airport by Metro or one of the EXPRESS bus lines below, as well as use on the:
buses
trolley-buses
trams
Metro lines 1, 2 and 3 (as far as Koropi Station)
the Suburban Railway (TRAINOSE) for the route between Magoula – Piraeus – Koropi and
the X80 bus line, which runs between the coast and Piraeus
You can buy Metro tickets at self-service machines at the airport station. You'll validate your ticket by holding it at the entrance gate to get to the platforms. You need to do the same at the station when you exit.
Bus
The EXPRESS bus from Athens Airport to city centre runs 24 hours a day, seven days per week. EXPRESS bus routes you might want to know about are:
Athens airport bus X95 is included in the 3-day tourist ticket
X95 Bus to Athens City Centre
Bus X 95 is the EXPRESS bus that goes to downtown Athens. It's the cheapest way to get from Athens Airport to the centre of Athens. A one-way ticket costs 5.50 euro, and concessions are 2.70.
You can also choose the 3-day Tourist Ticket that I've mentioned above.
The journey time on the metro from the airport to central Athens is usually around 60 minutes. It can be a bit longer with traffic depending on the time of day you travel.
X97 Bus to Glyfada
If you're staying on the Athens Riviera you can go directly to Glyfada and then get a taxi on from there, rather than going via the city centre.
X93 Bus to Kifisos Bus Terminal (for Nafplion)
This bus terminal is a bit out of the centre so don't go here unless you specifically need to, to get to your final destination. E.g. you're making an onward journey, say from Athens to Nafplion.
X80 Tourist Bus
This bus won't help you get from the airport into town. I'm just mentioning it because it's included in the tourist ticket if you buy that.
It's a bit like the hop-on-hop-off sightseeing buses, and it runs an express route between Athens and Piraeus cruise port from May to October. (Although, check the exact start and end dates if you're travelling around the cusp.)
The buses start at 07:00 from the coast and run every 35-40 minutes until 21:15.
It's not just for cruise ship passengers or those heading to the Port of Piraeus for onward travel to the Greek islands. If you want to explore the coast a bit, it can be a straightforward way of getting from some of the main sites, like the Acropolis, down to the planetarium or Mikrolimano at Piraeus.
Bus Tickets
There's a little ticket office outside the arrivals area at exit 5. You'll need to buy your bus ticket before you get on the bus. You can pay by cash or card.
Ticket booth beside the bus stop
Car Rental
Driving in Athens isn't always the best option for getting around. The traffic is usually heavy, and parking can be difficult to find. (See this post about driving in Greece for the first time.)
However, if you're making an onward journey and staying somewhere with parking facilities, it's easy to pick up a car at the airport. I'd always advise you to prebook, although there are lots of car rental booths at arrivals. Note that for most, you need to have a credit card rather than a debit card to rent.
You might like to read this post I wrote about renting a car in Greece.
About Athens International Airport
As well as toilets, free drinking water, mini-supermarket, chemist/pharmacy and places to get food, there's a left luggage facility (at the far end of arrivals), SIM card booth and information centre.
The airport in Athens also has good old WH Smiths, one of the places you can find English books in Greece.
If you want to sleep before heading into Athens city, there's a Sofitel hotel directly opposite the main terminal.You can read about other hotels near Athens Airport here too.
A new payment system is in place from 2023 that charges for pick-ups longer than 10 minutes. If you happen to end up being collected at the airport by a friend, make sure they're aware of the charges. Note this doesn't apply if you park in the short-stay car parks. It's for the bays closer to the terminal.
More Greece Travel Information
This post about Greece travel tips is useful before visiting Greece for the first time, as is this one about the best travel apps for Greece.
Have a look at this if you want to know about power in Greece and what adapter plugs you might need to pick up at the airport last minute!
If you're thinking about arriving at Athens Airport from the islands, here's some information about the best Greek airlines. Oh and check the deal on bringing wine back on the plane if you're planning on doing some wine tasting in Santorini (or anywhere else!).
Athens Tips
Maximise your time in the capital, these are the best things to do in Athens at night. Definitely try one of the best gyros in Athens and do some shopping for souvenirs or yourself!
This page may contain affiliate links. Read through my privacy page for more information.
---
Suzie Young
Suzie writes informative posts for solo, nervous or first-time travellers to Greece, Turkey and other countries on her 50-before-50 bucket list. She became a Greek resident in 2020 and intends to visit every inhabited island (13 down!).