25 Best Things to do in Mykonos Besides Party
Greek Island Bucket List is an Amazon Associate and participant in other affiliate programmes. I earn from qualifying purchases. Please see my disclaimer for more information.
---
Mykonos is one of Greece's most visited locations. It's popular for week-long package holidays as well as a classic stop on an island-hopping vacation. But with its hedonistic reputation, you might have mixed feelings about the island.
So if you're thinking to yourself "what can I do in Mykonos for a week?" (or less!) when you've heard it's all party, party, party, don't worry!
There are loads of other things you can do if the nightlife isn't your scene. There are plenty of activities to choose from if you want something more energetic than lying on a beach for 7 days.
Narrow streets of Mykonos
Plus, go directly to the link below if you're looking specifically for things to do in Mykonos in September and October.
What are the top attractions to visit in Mykonos?
The Windmills
The famous windmills always top the list of things to do in Mykonos. They're pretty iconic and are a must-see when on the island.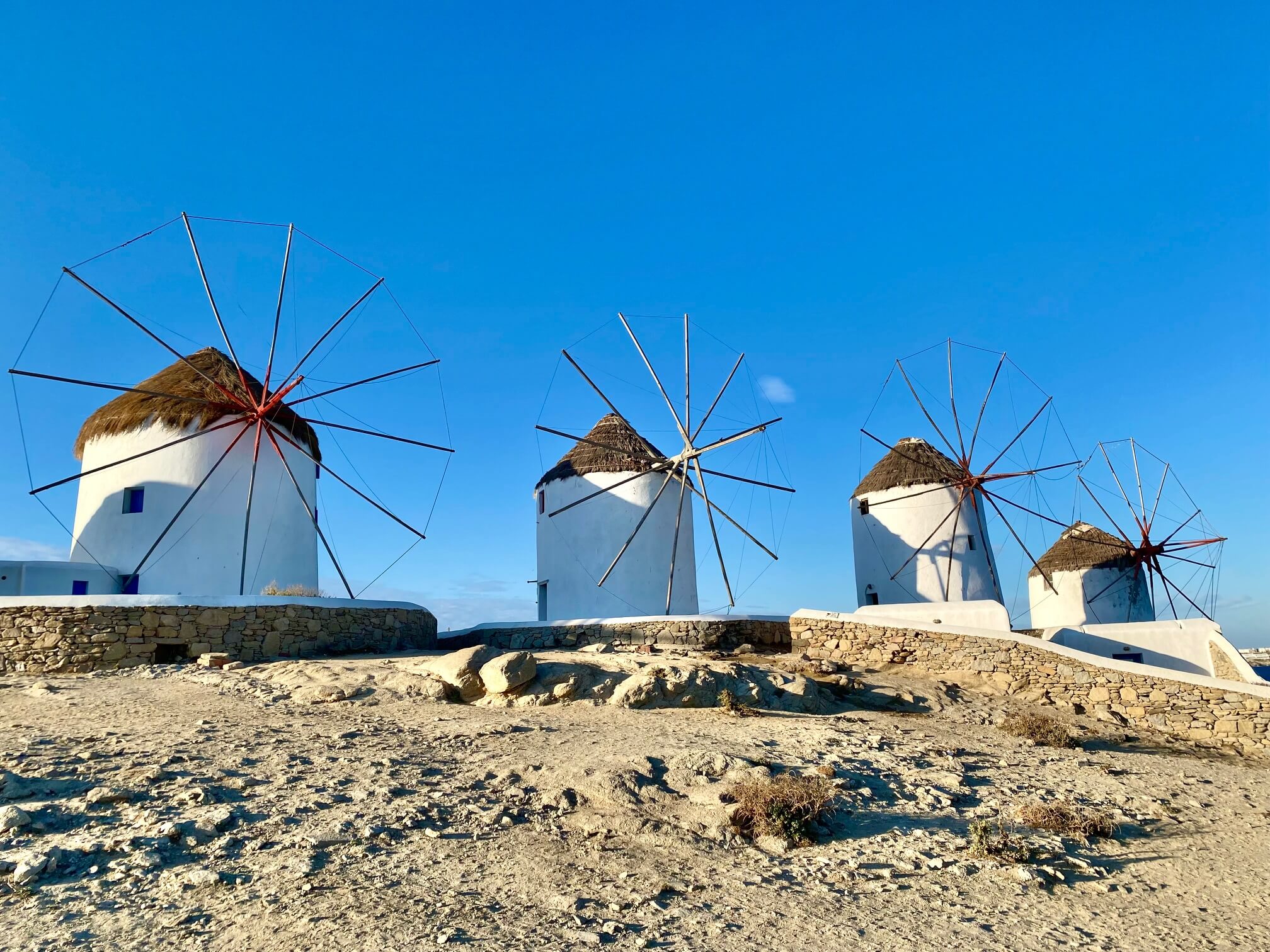 When you visit, you'll understand why there are windmills in Mykonos. Like many of the Cyclades, it's a windy isle thanks to the Meltemi wind from the north. In the past Mykonians took advantage of this free source of power and the windmills were an essential part of life.
The island was a thriving commercial centre and the windmills on the lower ground near the sea milled flour for dried bread for the sailors. Nowadays the windmills are no longer used for processing grains since other electrical machinery took over.
But they stand as a cultural reminder of an important past.
There are a number of typically Cycladic windmills left in Mykonos. The most prominent are the ones in a cluster in an area called Kato Mili, close to Little Venice. These are just a short walk from Fabrika Square and bus station.
They're signed and also marked on Google Maps. One of the windmills in Kato Mili has been completely restored. It's not open to the public but there's a little souvenir shop in the store that you can browse.
If you want some Insta-worthy shots, visit the windmills in the morning. Because so many people come to Mykonos to party, it's pretty quiet around town between 8 – 9:30am.
(To be honest, it's pretty quiet until after lunch in my experience. But the earlier you go the more chance you have of seeing these landmarks with no one else around.)
Kato Miloi Windmill and Boni's Windmill
Boni's Windmill
Boni's Windmill is the other notable windmill. It's on the main road above Chora. It's in good condition and is actually part of an outdoor museum. You can go in during opening times to explore the different floors and see the windmill's mechanism.
There are also tools and equipment the millers would have used and other external structures that give a holistic impression of by-gone times.
The sunset view from both of these places is fantastic. Obviously, they get busy. So be there in plenty of time to nab a good spot if you're visiting in peak season.
Church of Panagia Paraportiani
Paraportiani Church, beside the water and between the windmills and Little Venice, is actually a number of churches. It's a cluster of five churches of varying architectural styles built beside or above each other over a period of centuries.
It's a highly photographed church and like Mykonos' other highlights, gets very busy.
Little Venice, Mykonos Town
After you've explored the group of windmills head down to Little Venice. You'll see the buildings right on the water.
They're reminiscent of ones from the Italian city with their balconies hanging over the water. Originally they were owned by ship captains from the maritime trade.
There are different rumours as to whether the doors right on the water were to move things quickly from the boats to the buildings because there were pirates about. Or whether it's because some of the captains were actually secretly pirates themselves!
Little Venice from afar and a bar in Little Venice
Now the buildings are a mix of holiday accommodation, shops, bars and restaurants. The area is considered to be the most romantic in Mykonos.
The restaurants right beside the sea do feel like a magical location with an amazing sunset. Get a table before sunset begins and enjoy the spectacular natural show.
Mykonos Town
The typical old town with its narrow streets and whitewashed buildings is fun to explore. There are photo opportunities at every turn and a mix of shops, designer stores, food outlets, churches and more.
Mykonos Town
In the evening it gets very lively so if you're looking for Instagramable photos go out early-ish in the morning. I was going to give you a list of photos spots but honestly, the fun is in following your nose and seeing where you end up.
People go on about the square outside the Happiness store. But I don't think much of it. There's not much there but a gaudy red staircase. Obviously, we all have our own tastes but I think there are much prettier corners for you to discover.
Mykonos Museums
Right in town, you'll find Lena's house and the Aegean Maritime Museum. Lena's House is a 19th-century Mykonian townhouse that was owned by the war hero Captain Nicholaos Sourmelis.
You can go in and see the depiction of what life would look like in the 19th century with the various furniture, objects and decorations. Plus there are some examples of traditional dress.
Opening times are: Monday/Wednesday/Friday 5:30-8:30pm and Tuesday/Thursday/Saturday 18:30-21:30.
At the maritime museum, you'll learn about Greek maritime history and tradition. Exhibited are ship models, maps, ancient artefacts, rare carvings and much more. A delight for maritime enthusiasts.
Opening times are 10:30 – 13:00 and 18:30 – 21:00, 7 days per week.
Mykonos Archaeological Museum is close to the port. It's a small but important museum which you'll find full of artefacts. Opening times are 08:30-15:30o every day except Tuesday.
Ano Mera traditional village
Mykonos is mostly about the old town and the beaches. It's not really somewhere you visit to drive around discovering pretty villages.
But Ano Mera is an exception as a traditional village that would be worth a trip. It's the second-largest settlement after Chora and I enjoyed a few days' stay there.
Stop at the souvenir shop and see the cute kitty!
Life in Ano Mero is slower-paced than in Chora and the beach resorts. It's centred around the square where you'll find traditional taverns, a few shops and a couple of really nice bakeries. The Monastery of Panagia Tourliani is also right on the square and worth a trip to see.
There are about 1500 island residents who live in Ano Mero year-round so it continues to be lively through the winter.
Monastery of Panagia Tourliani
A lovely respite from the bustle of Mykonos Town is the Monastery of Panagia Tourliani.
Delos Island
Ancient history might not be front of mind when visiting a party island like Mykonos. But the island of Delos is something special and I'd put a trip to Delos on your list.
It's a sacred island at the heart of the circle created by the other Cycladic islands. It's revered and has an important place in Greek history from both a religious perspective and as a port.
Famous Stone Lions at Delos
The mythological birthplace of Apollo has since been declared a UNESCO world heritage site and the archaeological area has extensive excavations going on. People talk about its energy and I heard that aspect mentioned a few times while on Mykonos.
Cats and Temples
Technically Delos is an uninhabited island. But the archaeologists working on-site actually live there temporarily (along with several cats!). Historically it was so sacred that it was forbidden to die or give birth on the island.
There are a few options for visiting Delos. You can get the boat over from Mykonos and either explore the island and ruins on your own or join one of the tours.
It's probably a good idea to go on one of the tours for your first visit. Otherwise, it's not too easy to understand what it is you're actually looking at even with the signage.
Delos Outdoor Museum
Delos Tours has a booth at the harbour in Chora, near the town hall and Little Venice. You can choose for just the trip over and then pay the entrance fee (12 euro) when you arrive.
Alternatively, they have an all-inclusive package for 50 euro. You get your return boat ticket, entrance to the island plus a tour and headphones to listen to your tour guide. (The tour is live but there can be a lot of people so the headsets help you listen in even if you're a bit spread out.)
The Seabus offers something similar. There are ticket booths in both the New and the Old Ports and you can pay for the return boat journey or with the tour included.
Rhenia Island
Some companies combine a tour to Delos with one of Rhenia, another uninhabited island. Delos is the history and culture and Rhenia is for the turquoise water and gorgeous deserted beaches.
Normally you get to stop and snorkel at a couple of different beaches and a meal on the boat is included. Generally, the tour will include beach towels and snorkelling equipment. However, it goes without saying you need to double-check what comes as part of the package you choose.
Aegean Ventures has a booth at the old port, opposite the Seabus stop and offers the combined trip. There are other options like this one. If you'd prefer something private this can be arranged as well.
Winery and olive grove tour
Like visiting Ano Mero, this food and wine tasting gives you an opportunity to glimpse Mykonos beyond tourism.
During the 2-hour tour, you'll be taken to the host's olive groves and he'll explain how the olives are turned into oil. He'll then show you his vineyards where five varieties of grapes are cultivated.
After that, you get to see the traditional winery and understand their process for producing different types of wine. Before you sit down to sample some Mykonian delicacies you'll also see the traditional wood oven where they create their amazing fresh bread.
Your tasting at the taverna is combined with samples of olive oil from the groves you've just seen plus glasses of each of the wines.
What makes this a completely immersive experience is that you'll also get to enjoy some Greek music. The host plays a number of traditional instruments and will treat you while you eat.
The tour costs 60 euro and you can book online directly, here.
Greek cooking class
Teta will welcome you to her Mykonos home "spiti" and farm for a cooking class that blends conversation, family, food and culture. You'll have an enjoyable morning or evening creating classic Greek dishes and learning about the foods.
While you're there you can meet the farm animals which includes goats, donkeys, rabbits and turtles.
Say Hello to the Donkey!
Mykonos Brewing Company tour
Mykonos Brewing Company is the only craft brewery in Mykonos and boasts having the only Certified Cicerone in Greece as one of its co-founders. They say their aim is "to modernize artisanal produce in the traditional Cycladic way of living" and invite you to see how they do it.
Take a 45-minute guided tour with the guys and they'll show you how they create their local speciality. You get a flight tasting of 6 beers and you can buy some to take away.
Traditional Greek night event
Eat, dance and drink the Greek way and feel like a local for the night! Gerasimos, who runs the wine and land tours, also hosts this fun traditional evening event. You'll enjoy local, homemade Greek cuisine, traditional Greek music and dancing.
You'll be warmly welcomed and leave with fond memories of a fun night.
What are the best outdoor activities to do in Mykonos?
If you're looking for adventurous things to do in Mykonos then have a scroll through this list of outdoor activities. You'll find a good few things to have fun with.
Hike to Armenistis lighthouse
Another great sunset location on Mykonos is at the Armenistis lighthouse. It's also stunning to go up there in the daytime and look out over the sea to Tinos. The next island isn't far at all and you can see it clearly.
Armenistis lighthouse and Tinos beyond
You can drive to the lighthouse or make your way up on foot and have the sunset as your reward. But it's more fun to do it as an organised activity. Matthaios runs daily hikes up to the lighthouse in the evening.
After you've visited the lighthouse you'll trek for about another 20 minutes. From there you'll get to relax and watch the spectacular sunset from an even higher point. As you watch the light show from Profit Elias church you'll enjoy some homegrown Mykonian treats.
The whole evening lasts about three hours and you can book your dates here.
Kayak and snorkel adventure
This experience is another chance to see the other side of Mykonos. Away from the crowded spaces are beautiful wild beaches. Meet at one of these to start a kayak adventure and learn more about the nature of the island.
During this particular trip, you'll have the chance to do some snorkelling too.
Go kite surfing or windsurfing
With the famous Meltemi wind, the Cyclades are a great spot for sports that take advantage of it. Mykonos is no exception and you can find both kite and windsurfing being offered on the island.
I saw the cool guys and gals riding the wind at Korfos beach. This looks like a great fun activity to try. Kite Mykonos are based right on the beach and it's a perfect location to catch the famous Mykonos wind.
You can join in whether you're a beginner or an experienced independent rider. The beach is less than 3km from town and it's a nice and sandy one. If you'd prefer to chill and watch the others in your party go crazy then you can just roll out your beach towel and enjoy your book.
Mykonos windsurfing is based at Kalafati beach, one of the quieter beaches near Ano Mera. You can rent kit from them, including SUPs and kayaks, or join a group or private lesson to get going.
Hike the wild north coast
If you liked the sound of a trip to Ano Mero you can combine it with this walking tour in Mykonos. Starting in the village you'll hike for about 12km. The tour takes in the natural side of the island.
You'll get breathtaking views of the unspoilt coastline in the north. The trip includes stops at an old chapel as well as a secluded beach you'll likely have to yourself. On the way back you'll pass one of the lakes (hopefully with water in it!).
If you fancy it, Reto, who runs the tour, will also take you around Ano Mero village and monastery when you get back.
Pilates on the beach
Reto who runs the hiking tour above also offers morning pilates on the beach in Mykonos. It doesn't matter whether you've done pilates before or not, you will be accommodated.
If you're a pro, Reto will give you advanced options so everyone is working at the right level for them. The class runs for one hour and it's held in a quiet and beautiful location overlooking the sea.
Cycling tour of Mykonos
Tour Mykonos by bike (or e-bike for a bit of boost, since you ARE on holiday) with a choice of tours by Yummy Pedals.
Dimitra, the company's founder says the rides are for "cruise passengers, singles, couples, families with kids, athletes, leisure cyclists, newbies, culture explorers" so there's definitely a tour for you.
Unusual things to do in Mykonos
Go bare-foot grape stomping
Mykonos Vioma is an organic, bio-dynamic farm based on the principles of Rudolph Steiner. On their land, on the grounds of the monastery at Ano Mero, they grow a variety of grapes, as well as other produce.
Classical music is played throughout for the benefit of both the humans who visit and work there and the well-being of the plants. In the harvest season, you can contribute to wine production by joining in the bare-foot grape stomping rituals. Sounds like a riot!
Visit a designer boutique
This may or may not be an unusual thing for you to do, but going to designer boutiques is not something I do every day. But while in Mykonos…
There are lots of shops to choose from including well-known chains like Dior, Louis Vuitton and Gucci. There are also Greek designers and others you may not have come across before.
Designer shops in Mykonos Town
Wander around the old town streets and window shop, or properly shop, in one of these pop-up boutiques. You'll also find designers at Nammos Village in Psarrou beach resort.
Oyster tasting on the beach at sunset
Taste oysters and clams, fresh off the boat, the Greek way. This is a laid-back experience at a secluded beach that combines food, ouzo, Tsipouro or wine with swimming in the clearest waters.
You'll learn about the oysters, and how to shuck them, from a real and enthusiastic fisherman.
Eat Caviar at The Caviar House
Sticking with the seafood theme you can pop into The Caviar House for a taste of caviar. Well, you are in Mykonos after all. Drop in for a bump of sustainable caviar with a free vodka shot, or have a basket made up with exquisite treats and delivered to your door.
Ancient wine tasting on a private beach
The last of the food and drink suggestions is a wine tasting. Not an unusual activity in and of itself, but it's set on a private beach. Think bohemian vibes with rare wines. That's got to be a little bit different?
Your host is an experienced sommelier who will take you through a wine journey with some unusual wines reminiscent of ancient times while regaling you with mythological tales. A nice choice for celebrating a special occasion.
Harness the power of Delos
I mentioned the energy of Delos earlier. Those who are tuned into these sorts of things definitely celebrate and work with the sacred energy here. So why not surrender to it yourself? Harness the power of Delos with a wellness treatment and magnify the benefits.
Keep an eye on the Six Senses visiting practitioner page. They offer things like Tibetan Bowls Sound Therapy options.
The Althea Spa at the Mykonos Grand has an Ancient Greek Cupping Massage on its menu. This massage combines deep tissue techniques with cupping. A treatment recommended by Hippocrates himself, no less.
Go to Paradise Beach Agios Sostis Beach
Visiting Paradise Beach and Super Paradise Beach are two of the most popular things to do in Mykonos. But there's a much better beach for you if you want to avoid the party scene.
Agios Sostis in the north is natural and wild. There's a taverna nearby but there are no beach bar, music or sunbeds/umbrellas. Free to access and much less crowded than other spots this is a little haven in the summer months.
What to do in Mykonos Greece in September and October
I have found that the peak season in Mykonos is shorter than on Santorini and other islands. Many of the activities I looked into finished at the end of the first week in September. But don't despair.
I'll give you a list of what to do in September and there are enough things to do in Mykonos in October to keep you busy enough, too.
Activities listed that run into September and October:
Outdoor Attractions
Obviously, all the outdoor sights that I mentioned above are available whenever you visit Mykonos:
The Windmills
Boni's Windmill
Church of Panagia Paraportiani
Little Venice
Mykonos Old Town
Ano Mera village
Culture
The Aegean Maritime Museum is open until the end of October.
Delos Tours book right through until the end of October
Bookings for the traditional Greek night event are taken until around the middle of October
Food and Drink
Winery and olive grove tour runs through the winter
The ancient wine tasting on a private beach is available until the end of October
You can join the Mykonos Brewing Company tour until the end of the year
The Oyster tasting on the beach at sunset experience has dates until close to the end of October
Greek cooking classes run until the end of November
The farm where you can join the bare-foot grape stomping is open until mid-October
Outdoor activities
There's a combined Delos & Rhenia islands full-day trip by yacht running until the end of October
The kayak and snorkel adventure runs until the middle of November
Cycling tours of Mykonos can be booked until the end of October
You can book the guided hike to Armenistis lighthouse until nearly the end of October
Quiet beaches – the outrageous summer parties have burnt themselves out by September but the sea water is still warm. Even in October it's much warmer than in May and perfectly swimable in
Hiking the wilder parts of the island. Without the stifling heat of the summer, it's much easier to walk. So take advantage and hike to places where you can see Mykonos in her beautiful natural element.
Enough Things to Do in Mykonos?
Well, that feels like a fairly exhaustive list of things to do in Mykonos that don't involve partying. AND the activities you can do still do in Mykonos in October (and even November).
Remember that less is probably more, and it's still nice to make time to enjoy some rest and relaxation. Have fun on your Mykonos holiday!
Oh and if you need any help with how to get to the island I have the perfect post for you. Take a look at the best way to get from Athens to Mykonos.
Suzie Young
Suzie writes informative posts for solo, nervous or first-time travellers to Greece, Turkey and other countries on her 50-before-50 bucket list. She became a Greek resident in 2020 and intends to visit every inhabited island (13 down!).