Mykonos in Winter: Does It Close? Need to Know Info
If you're contemplating the best time to visit the Greek islands and Mykonos is on your list you might wonder whether the winter months are a good time to go.
The short answer is that Mykonos doesn't "close" in the winter like some kind of theme park. BUT your experience at that time of year will be much different than in the summer. It might even seem like you're on a completely different island to the one others talk about.
Depending on what you mean by winter, the quieter months CAN be the best way to enjoy warm weather, fewer crowds and accommodation at a reasonable price. But there are still a few things to bear in mind.
During the actual winter, Mykonos probably isn't the best place in Greece to visit. So let me explain.
First, let's agree on what we mean by winter.
March versus September
What is Classed As Winter?
Well in Greece, with regards to tourism, the "winter season" can mean the whole of the low season, encompassing all the time outside of the summer months. So, any time that's not June, July and August.
And I've found the summer season in Mykonos to be shorter than on other islands like Santorini. More like mid-June to mid-August (more on that later.)
But you could break things down a bit further. Generally speaking, April and May and then September and October are classed as the shoulder season. And then winter would be from November to March.
I'll start off by talking about the shoulder periods because that's what lots of people mean when they talk about "winter". But feel free to use the links in the table above to jump straight to what you're looking for if you mean later or earlier in the year.
March versus September
The Reality of Visiting Mykonos in the Off Season
For the most popular Greek islands, I often do recommend going outside of the peak season. Mykonos is one of the country's most popular destinations and it can be absolutely packed in the summer. Depending on what you enjoy, that combined with pretty hot weather might not be your idea of a great time.
Therefore the shoulder months can be much more pleasant. If you can't travel during the traditional summer season or you just want to avoid the hoards and warmest weather then spring or autumn can definitely be better. Plus it's cheaper thanks to off season prices.
But I wouldn't recommend it during the actual winter.
Here are some things to consider.
While about 10,000 permanent residents live in Mykonos, they're mostly in the village of Ano Mera. And a whole chunk of Chora / Mykonos Town IS shut down in winter/off season as well as the other tourist resorts around the island.
Mykonos Town comes alive in the summer. Walking through there even in March is much different to what it's like a few weeks later.
While you can still wander around and see the famous windmills and Panagia Paraportiani Church Chora is not the same in the off-season. The whitewashed houses and narrow streets look a bit grubby and damp. And the shops and restaurants are boarded up.
March versus September
You won't get that Instagram-worthy shot of the sea from (see the pre-season maintenance section below) and overall the town is missing the vibrancy that comes from the cushions, outdoor eateries and boutiques.
Around the last days of March and the first week in April is when businesses are just starting to prepare for opening. When I went, there were boxes of stock on the street outside stores. People were cleaning, doing maintenance and installing new retail fixtures ready for the season.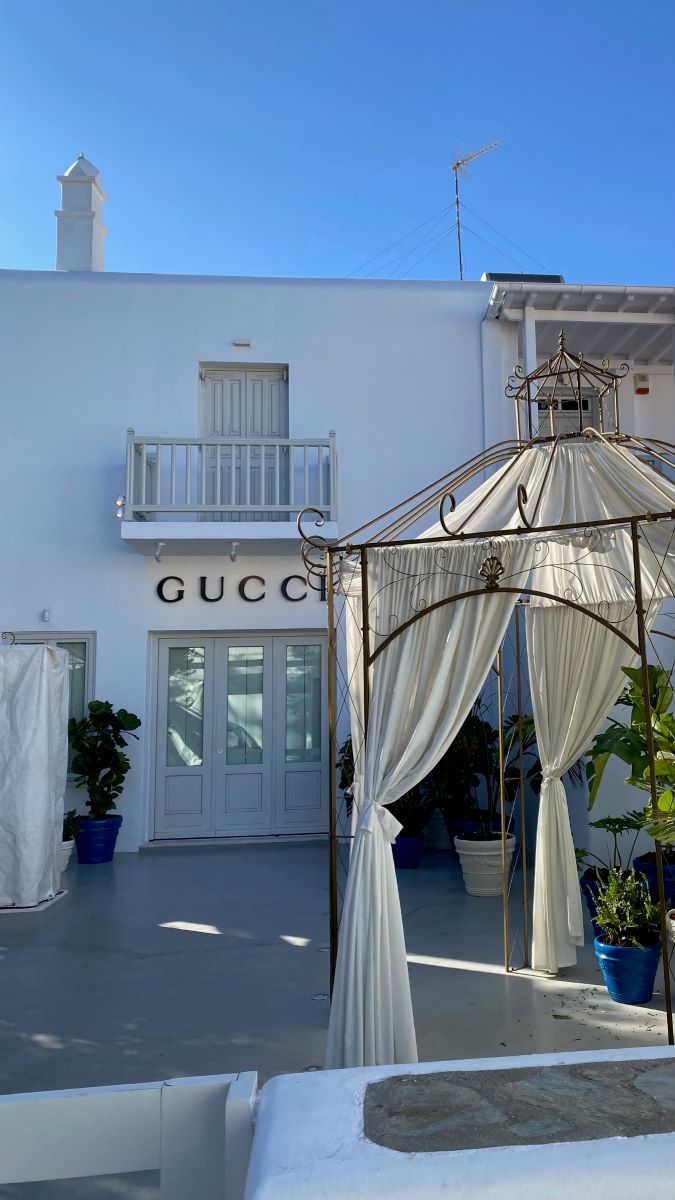 March versus September
You can also see the difference between some of the popular photo spots then and from when I've been in peak months. Bars and restaurants were closed and the outdoor seating areas weren't set up.
What Do You Want to Enjoy in Mykonos?
When deciding if Mykonos is worth visiting in winter you need to think about why people choose to include Mykonos on their tour of Greece.
The most appealing things about Mykonos (depending on who you ask) are:
beautiful beaches
hot weather
iconic beach clubs, great nightlife and overall summer party vibe
designer boutiques and shopping
traditional, whitewashed streets
proximity to the historic and sacred Delos island
Going to Mykonos in the Shoulder Season
The months that surround the most hectic time of year can be a great time to visit Mykonos. It can be a calmer time for a family trip. And just more pleasant for anyone visiting whether as a group, couple or solo. Here's what to expect.
Weather
Mykonos weather can be changeable and you should be prepared for windy and/or rainy days. Particularly so in April and late October. But May, especially late May, and September can be the perfect time to get good weather and sunny days with fewer tourists.
Wind speed can be high so if you're into wind or kite surfing take advantage and join other enthusiasts at Korfos Beach.
For April, most of May and October make sure you take layers. It's good to have more substantial clothes like a pair of jeans and a proper jacket. Have a change of shoes too in case your feet get wet.
In late May and September, it's usually pretty warm but you might want a thin jumper or light jacket for the evenings. You might also want it for the air con on the ferry and as protection against the wind if you go on a boat trip.
Accommodation
Hotel prices are much less inflated in this period. But if you have somewhere specific you want to stay you'll need to choose dates carefully.
Iconic hotels like Cavo Tagoo won't open until after the middle of May and then they close around mid-October. But hotel rates in October are about half the price you'll pay in July and August.
A few more hotels will open for the Orthodox Easter weekend and it will get busy with Greek people so check dates if you're travelling around that time.
If you're staying in April/early May or in late October see the information below about accommodation in winter.
Pre-Season Building and Maintenance Work
What can look pretty and quaint in summer can look quite run down in winter. After a busy season, things need to be replaced or refurbished. None of that happens until close to the beginning of the season.
You don't need to worry too much about loud music from the beach clubs. But, you could be disturbed by building work and noise. You'll likely see a lot of work going on and associated mess. And that could be in the accommodation that surrounds yours.
I experienced that in Mykonos in March. It's not uncommon on the tourist islands so perhaps check with your hotel/villa if you'll be affected.
Walking through empty streets of Chora in March versus September
Beaches
Great news about the weather if you want to enjoy the gorgeous beaches. Particularly as the Aegean Sea stays warm through September and early October.
But be warned that in April and May the sea temperatures is low. I personally will swim in the spring but on boat trips, others haven't joined me in the water!
Beach Clubs
You'll be hard-pressed to find a beach club that's open in the off-season. That means that some beaches are inaccessible. Although it's not actually legal for people to privatise them, it happens. And you'll find big gates with everything locked up at some of Mykonos' most famous beaches like Paradise Beach.
Some of the beach clubs do open at some point in May and most opening parties start around mid-June. But the crazy parties every night don't start until later. People party hard until August and then the season closes by early September. So if huge beach parties are your thing, you need to go peak season.
Paradise club from as close as I could get in winter
Day Trips
The very popular Delos tour starts on 1st April with one tour a day. Visiting the island to discover the ancient ruins at one of the country's most prominent archaeological sites is one of the best things to do in Mykonos.
See this post with everything you need to know about visiting Delos Island.
View from one of the hills on Delos at the beginning of April
In the high season, there are several boats running back and forth throughout the day. But at the start and end of the season, you're limited. The Delos tours run until 31st October and the number of boat taxis running between Mykonos and Delos tapers off in the last month.
Delos is a small island, uninhabited when the archaeologists leave for the winter. So once the Delos Tours taxi boats stop there's no way to get to it.
While you can enjoy exploring Delos from April, a lot of other types of day trips and group tours don't start until May. And at the end of the season, you may struggle to find activities to join from September onwards.
In this post about things to do in Mykonos, I have a section about activities and tours that do run closer to the end of the year.
Getting Around
While there are good bus connections to the popular beaches, ports, airports and tourist areas of the island in summer, the bus schedules change seasonally. You will still find buses until the end of October but with much less frequent services.
Fewer car rental places will be open but you'll likely still find somewhere. Prices will be more agreeable during these periods too.
This post about how to get around Mykonos might be useful.
Restaurants and Bars
Some of the best restaurants and famous bars in Mykonos will be closed during the winter. Often the businesses are run by people who come from Athens and then head back there after the summer.
If, for example, you're planning to enjoy a lovely sunset at a particular restaurant in Little Venice check that it'll be open. A lot of places do now have websites or social media accounts with up-to-date info. Otherwise, have a look on Google Maps to see if the reviews mention it being open in the winter.
Don't take the opening times as gospel though. A lot of summer businesses on the islands don't update their listings on Google Maps to show as being temporarily closed after the summer. I think they just assume no one would be looking or expecting it to be open.
You will find a local taverna open somewhere because the locals still eat out in winter. But it might just take a bit of looking to find.
Cruise Ships
Cruise ships do still make stops at Mykonos in the winter season. But it's not the same as having to contend with the large crowds that descend upon the White Isle during the busiest time of year.
If you're visiting the island via cruise ship then you'll probably be able to find an independent tour excursion from May until the first week in November. A few of the souvenir and tourist shops near the port are also open when other things are closed.
Orthodox Easter
Easter is one of the key events in the Greek Orthodox calendar. It usually falls after Catholic/Protestant Easter around the end of April. It's a time of huge celebration in Greece and it can be an interesting and exciting time to visit the islands.
Going to Mykonos Between November and March
I would not recommend going to Mykonos at this time of year. It can be cold, windy and damp. Outdoor bars and restaurants are closed up and there's very little to do indoors. Although you might have good luck with the weather there's no guarantee.
Mykonos Accommodation in the Winter
A lot of the tourist accommodation will be closed anyway so you're more likely to have to choose a villa or house than a hotel room.
While you might be pleasantly surprised by the reasonable rates, don't make the mistake of thinking that just because something is available in these months, it's actually a pleasant place to stay.
Greek accommodation on the islands:
usually, has solar-powered hot water that won't work on cloudy winter days. Some places also have the option of a water heater but not everywhere does. Even then the tank can be small and you won't be enjoying a very long shower. So check.
won't necessarily have heating. If there's air con you can use that on heating mode and usually that's pretty good.
is often drafty, cold and damp. While that's not a problem in the hot weather, it can make things pretty miserable in the colder months, especially if you've got cold and wet outside.
Year-Round Ferries and Flights
Both ferry schedules and flights via Mykonos International Airport taper off after the summer.
You might like to read this post about the best way to get from Athens to Mykonos.
Flights
Having said that, the flight options between Athens and Mykonos look quite strong through to December. They're a bit spottier between January and May but there are still quite a few options.
If you're flying internationally don't expect to find a direct flight after October. As an example for spring, the first direct flight I can see from London for 2024 is 31st March.
Most flights run regardless of strong winds and the turboprop planes do get buffeted about quite a bit in that case.
You can check and book flights on Skyscanner.
Ferries
There are daily ferries running all year round from Athens' Rafina Port. Usually, they stop at Andros and or Tinos on the way. If you'revisiting other Greek islands in the off-season it's usually good to stick to nearby islands on a particular ferry route.
Thanks to the changeable weather your ferry ride could be a bit bumpier than at other times of the year. If it's particularly windy the ferries will be cancelled if they can't dock safely.
They do have a pretty good go most of the time in the dead of winter because the ferries are a lifeline. Do be prepared to jump off the ramp as it moves if the sea is very choppy. (A good reason to pack light.)
You can use Ferryhopper to check and book ferries.
Fares
The ferry fares stay pretty consistent throughout the year. They just get more expensive in summer because the economy options sell out and/or because there are more of the faster ferries running which are always more expensive.
Flights are different and you can definitely get some great deals by travelling in the less popular months.
Mykonos Island Hopping and More
So, I've probably made it clear that if you want to enjoy Mykonos at a more relaxed pace, then the shoulder season is pleasant. The end of May and June and then September and early October can each be a good time of the year to visit Mykonos.
How to Combine Mykonos with Santorini in Winter
If you'll visit Santorini as part of your trip then go there after Mykonos if you're travelling late in the year. You can visit Athens at the end. And if you're going in the spring, head to Santorini before Mykonos. Santorini has a longer tourist season so going that way around is the best option.
If you want to visit Greece in the stretch from November to March look at mainland Greece rather than a Greek island. The Greek capital is great all year round and there are suitable day trips even in the cold months.
General Greece Travel Info
Other information that might help when you're visiting Greece is this post about travel tips for Greece, this one about apps for Greece travel, this one with information about power in Greece and the travel adapters you'll need and this one about renting a car in Greece.
This page may contain affiliate links. Read through my privacy page for more information.
---
Suzie Young
Suzie writes informative posts for solo, nervous or first-time travellers to Greece, Turkey and other countries on her 50-before-50 bucket list. She became a Greek resident in 2020 and intends to visit every inhabited island (13 down!).