43 Uniquely Greek Souvenirs from Athens & Islands
Greek Island Bucket List is an Amazon Associate and participant in other affiliate programmes. I earn from qualifying purchases. Please see my disclaimer for more information.
---
Looking for the best souvenirs from Greece? If you visit beautiful Greece on holiday it's likely you'll want to bring back the perfect souvenir. There are loads of Greek products you can pick up as a fun way to remember your trip.
Whether you're just looking for things for yourself or the perfect gift for family and friends I'm going to tell you about some of the best things to bring home. from your adventures on the Greek islands
The good news is that in Greece souvenirs are easy to come by. Whether you're visiting the huge island of Crete or you're hopping to somewhere much more off the beaten track you'll be able to find things to bring home.
If nothing else many of the islands have amazing food products and local wines. Even if there's no souvenir shop in sight you can still load yourself up with gifts. So let's start there with some of the best souvenirs from Greece for people who love food.
What to Buy in Greece to Bring Home – Food & Drink
Each island and area of the mainland will have local specialities for you to bring home. It could be spoon sweets, pastries jam or herbs. The local women's association sometimes has a shop you can buy their products from. Find your favourites and stash some in your suitcase.
Greek Honey
While travelling through some of the islands you might see beehives on the terraces in the countryside. The Greek herbs that grow prolifically on some of the islands are perfect for creating delicious Greek honey flavours like Lavender and Thyme Honey.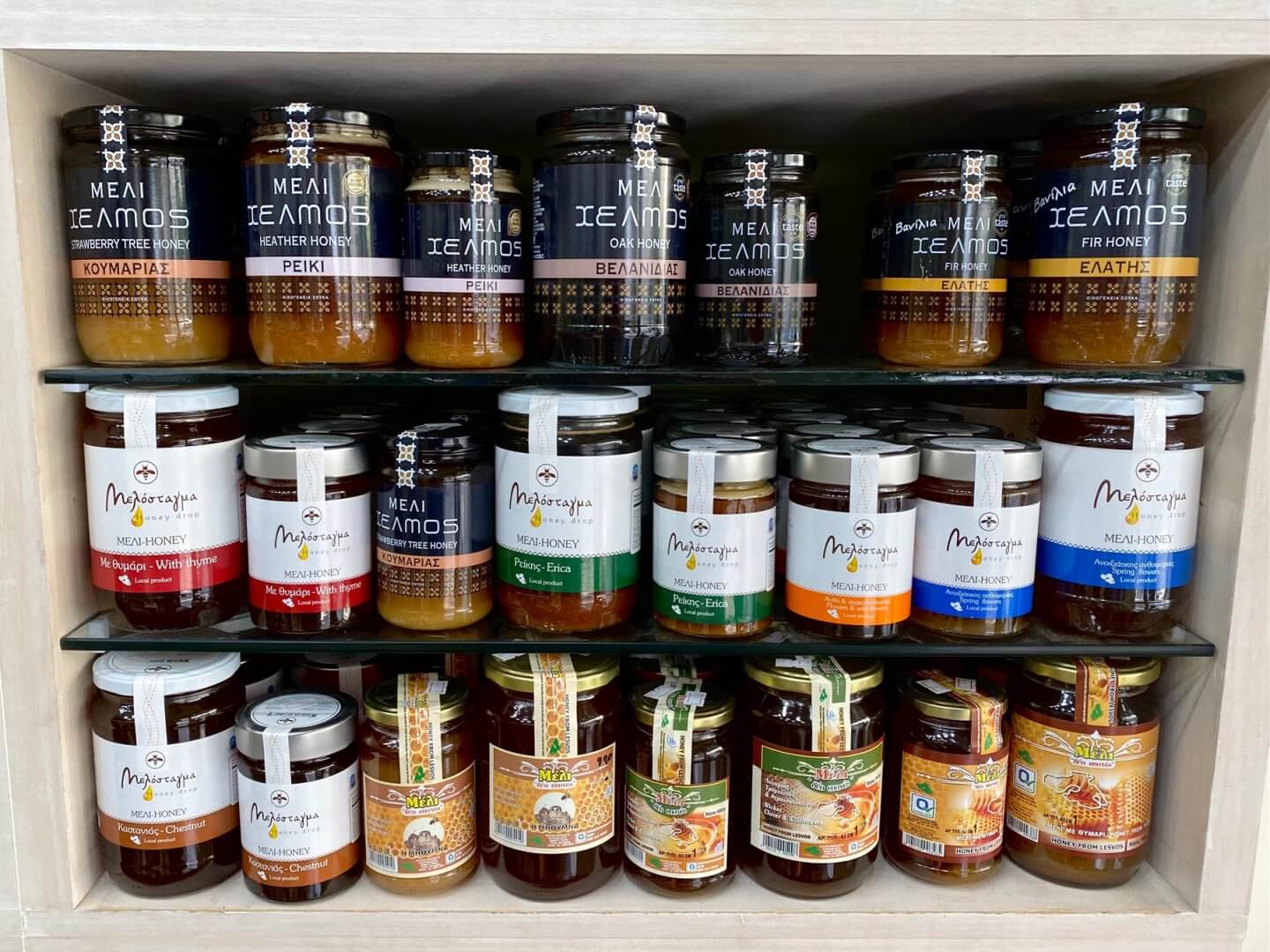 On the islands, honey isn't usually mass-produced. But you'll find jars of it stocked in local supermarkets and probably your nearest tourist shop. You won't be surprised to know that Greek honey also ends up in plenty of local sweets and treats.
Greek Herbs
I love going to the supermarket and looking at all the Greek herbs. They often come the way they were picked, just dried out. It's interesting to see them that way instead of shredded right down and packed into a tiny bottle.
You might find some of your favourite herbs in a wonderful Cycladic blend. For example, I picked up a lovely little mixed jar of Thyme, Savoury, Oregano and Marjoram in Andros.
Take some herbs home to finesse any Greek dishes you whip up at home. Or add it to some of your usual dishes and let the scent transport you back to happy days in Greece. Whichever you choose, herbs are an easy thing to buy in Greece and transport home.
Greek Olive Oil
During your trip, you might join an olive oil tasting, sometimes paired with honey tasting. If you do you'll understand what a treat really good extra virgin Greek olive oil is.
If you happen to speak with anyone on the islands who own olive trees they'll tell you their Greek olives are the best. But I do have it on good authority that the best olive oil comes from Crete, including olive oil that's come first in the world in competitions.
Olives
I know olives aren't everyone's cup of tea but if you do love them or know someone else who does you can buy some bumper packs in Greece. Kalamata olives are famous but you can buy all sorts, stuffed and otherwise as a memory of your holiday in Greece.
Capers
I love adding a few capers to my Greek salad for an extra bit of taste. And what's great about them is that the capers differ in different areas in terms of flavour and size. In Tinos, there's an annual caper festival hosted by one of the villages to celebrate them
In Santorini, the capers, like the tomatoes have a unique taste because of the volcanic soil.
Bringing a jar home for you or a friend releases a little bit of Greek summer every time you open it!
Greek Cheese
For this one, you'll need to check the customs regulations of the country you're flying back to. But if you've had some local cheese that you can't live without (think Naxos' range of 10+ cheese types) then grab some at the end of your trip to take home.
Spoon Sweets
Spoon sweets are almost like jam with fruit in it. They're served on a side plate with a spoon but they're great dollopped on a bowl of Greek yoghurt. You'll find spoon sweets in every fruit under the sun. But you might find specific to a particular place, like quince in Andros.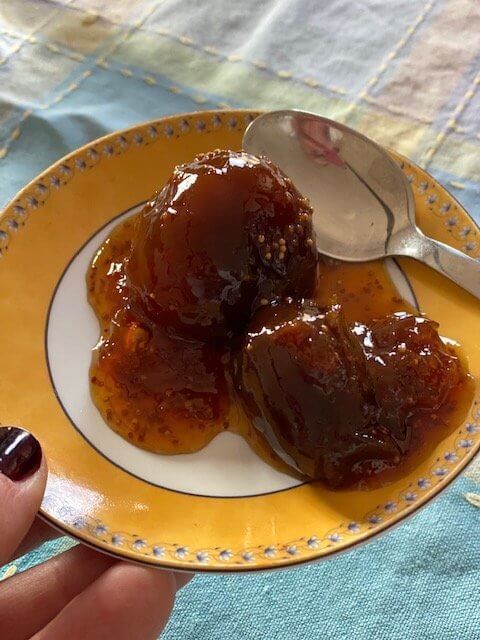 Halva
Took me ages to try halva because it just looked so odd and I couldn't work out what the texture would be like when I ate it. But if you find some good stuff when you're visiting Greece you'll probably love it!
There are two types, one looks almost like jelly but it's set rather than wobbly. The other is solid and a creamy colour. That's the type you'll find in gift boxes to take home.
Loukoumi
Loukoumi is Greek Delight (like Turkish delight but from Greece!). It's famously made in Syros and you can get loukoumi made with mastic in Chios.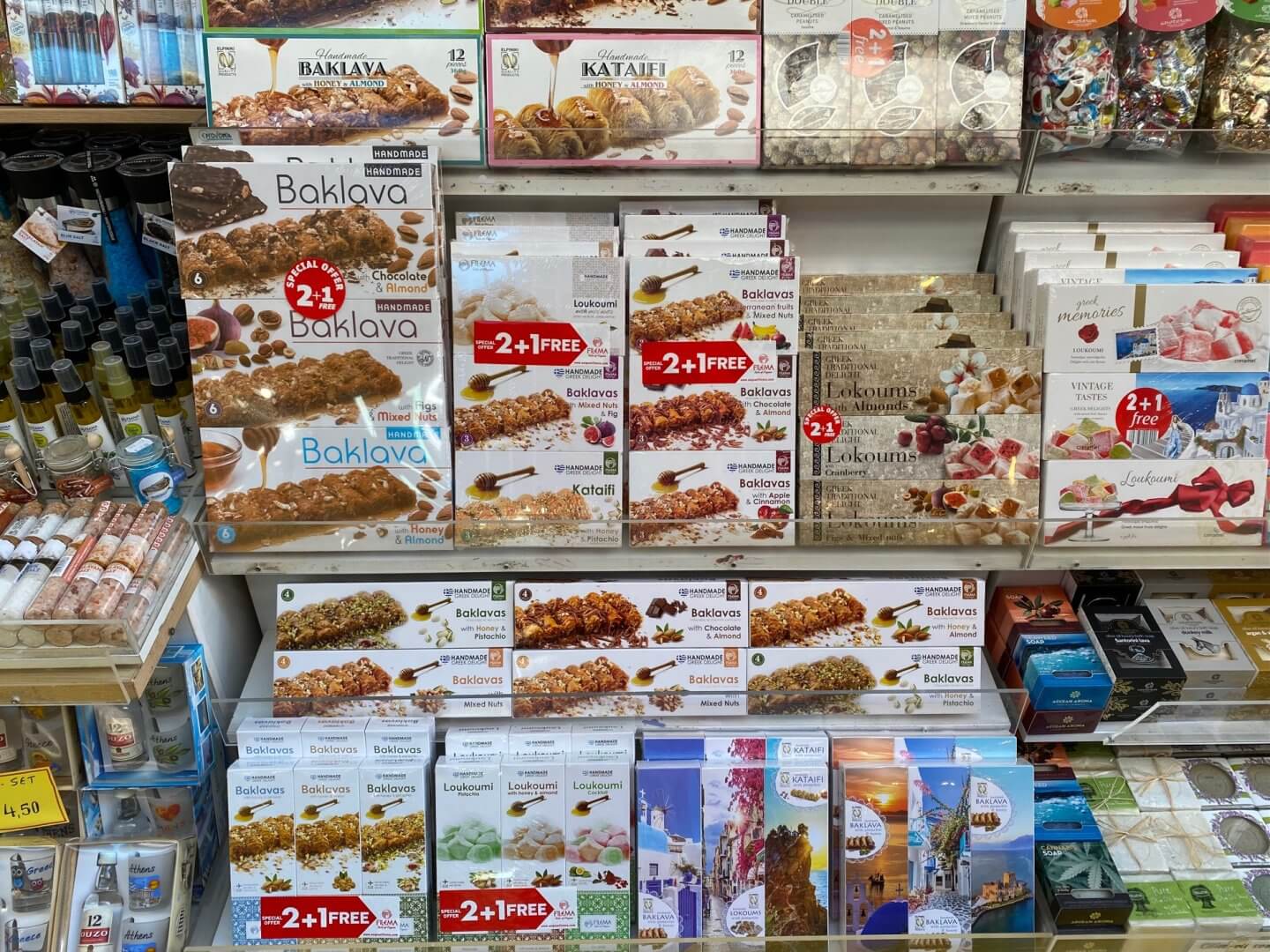 You'll find it in lots of souvenir places along with other traditional sweets like Amygdalata from Andros. (Amygdalata is a type of almond sweet that I found in Andros. It's so good, made with almond paste and rose water.
Types of almond pies are traditional in other areas of Greece too. And you'll find pastries/sweets that come from everywhere you visit.)
Sealed boxes of these are easy to pack and make a lovely gift.
Mastica
Mastica is the revered resin from the Mastic Tree found in Chios. It's been scientifically proven to have all sorts of health benefits that the Greeks have known since antiquity.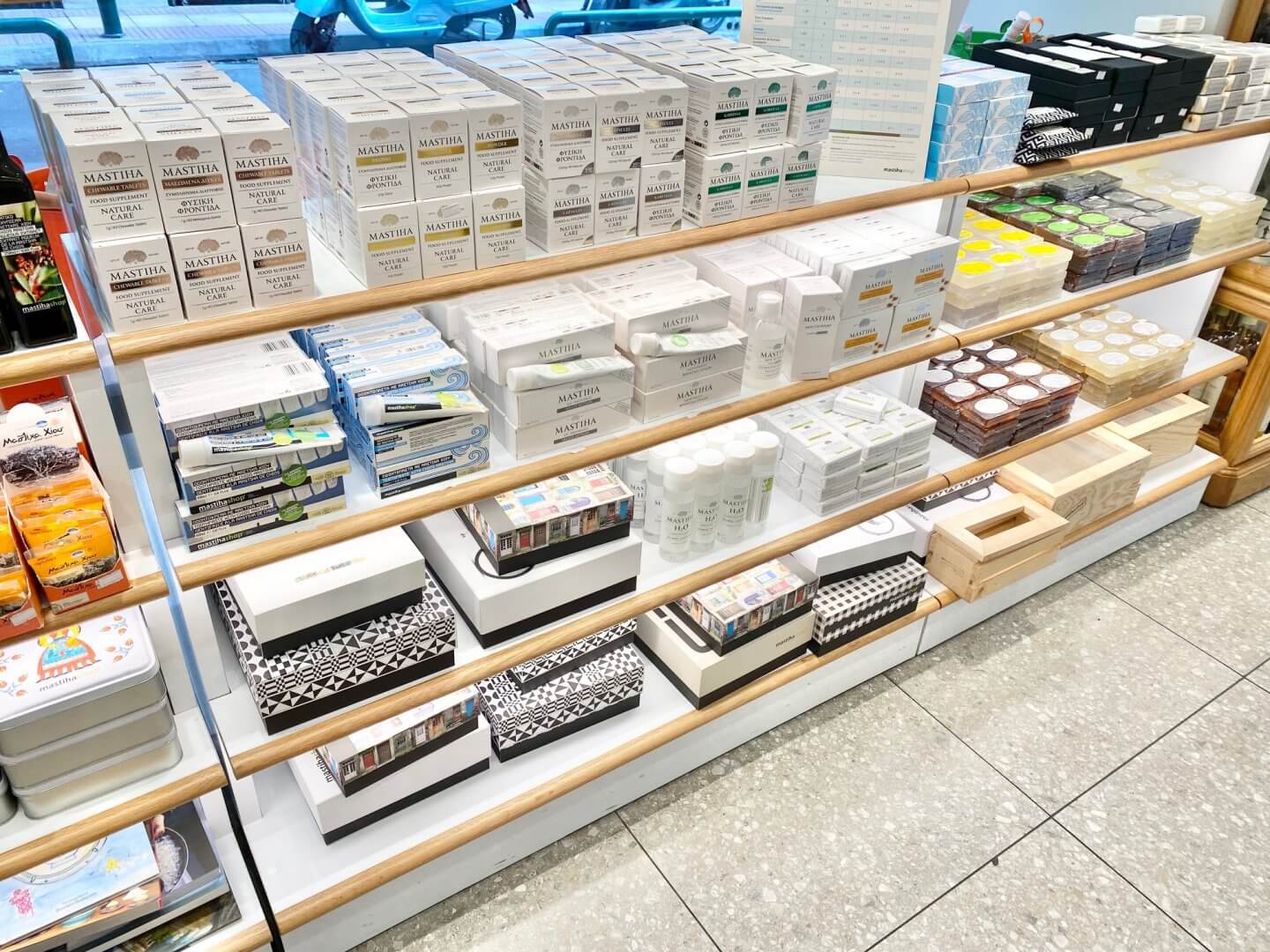 If you don't go to Chios but still want to buy some of the tears that drop from the tree you'll find products in Athens too. You can get it in powdered versions too. But the small tears are better for travelling since the powder is affected by heat.
Mountain Tea
One of the herbs you'll see a lot of is packs of Greek Mountain Tea. It has a long tradition of being used for all sorts of healing and prevention. The Greeks have known the benefits since ancient times. Indeed Aristotle, the father of medicine himself, described it as an energy tonic.
But it's only more recently that international scientific research is backing that up. Some of it's actually really impressive.
Take a pack or two of Greek mountain tea back to enjoy yourself. Or give it as a lovely natural gift of health to someone you care about.
Greek Coffee – Great Gift for Caffeine Lovers
I'm not a coffee drinker which causes a small amount of contention in coffee-loving Greece! But most people are so if you want to enjoy Greek coffee every morning when you get home include some bags in your souvenir list.
You can buy bags of Greek coffee in the supermarket or at touristy places. You might even need to go as far as picking up a briki to make your Greek coffee as authentically as possible!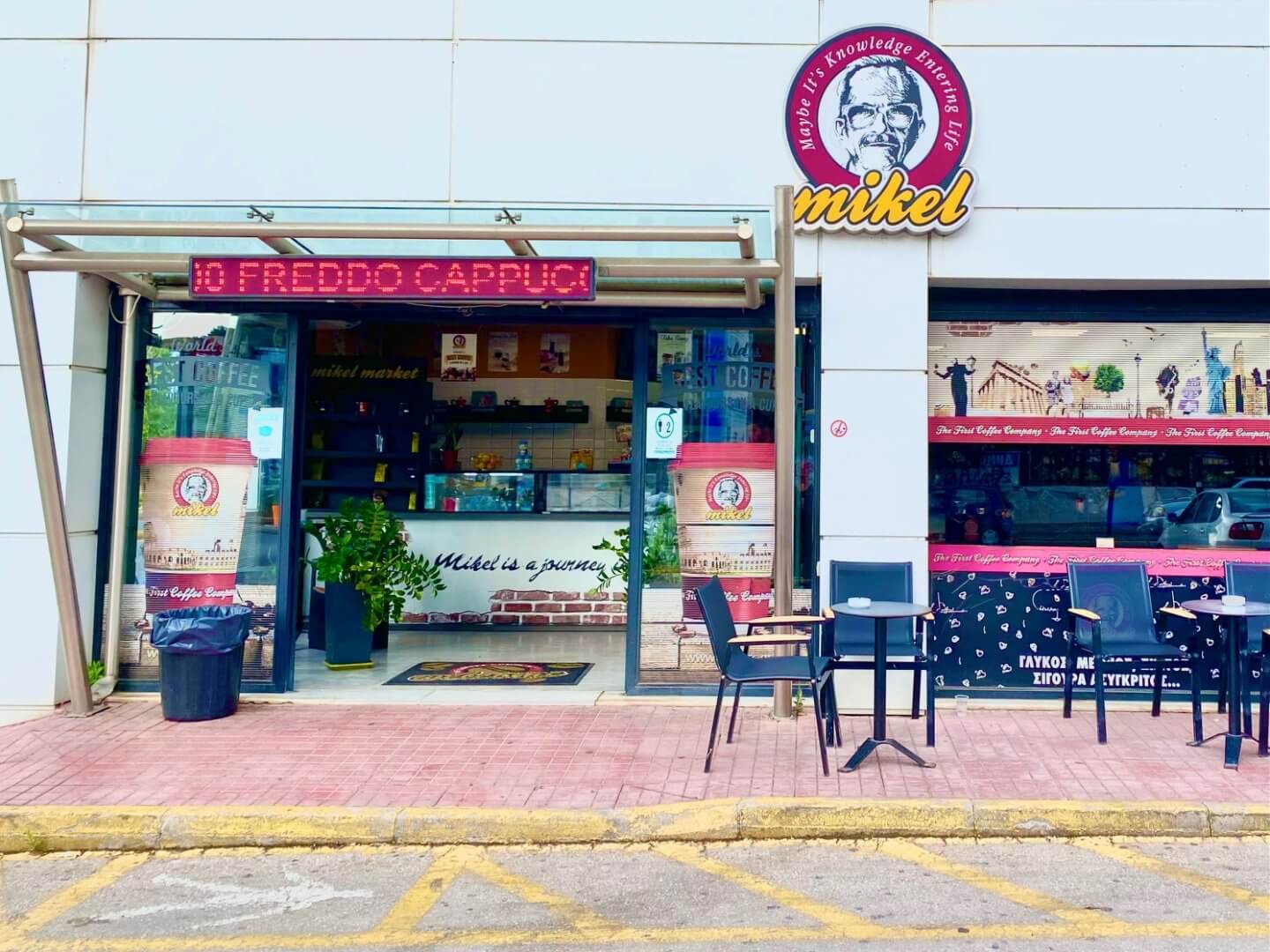 Find bags of Greek coffee for sale all over Greece!
Ouzo – National Drink of Greece
Ouzo is a protected national alcoholic beverage, meaning that the name can only be used on products made in Greece or Cyprus.
Synonymous with Greek summer holidays ouzo could make a great gift for someone who wants to live vicariously through you!
Tsipouro
Tsipouro is a type of brandy that at first glance seems similar to Raki. In Andros, the Androp company makes a version of Tsipouro that you'll see in supermarkets and shops all over the island.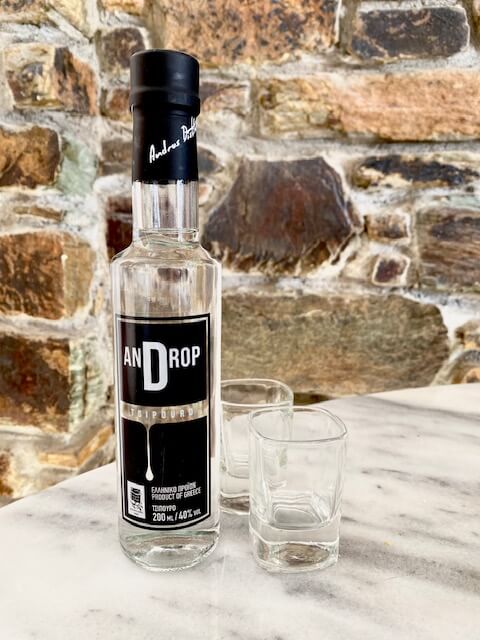 Kitron
Kitron is an example of another type of alcohol that's specific to one place. It's a liqueur that comes in a variety of strengths and its flavour comes from local Citron fruits.
Like the ouzo, Kitron can only be made in Naxos so it's a great souvenir if you've been visiting.
Greek Beer
On Mykonos, you can find various Mikònu craft beers made by the Mykonos Brewing Company. If you're a beer enthusiast then do one of their tastings and pick up beers then to bring back.
In Tinos, NISSOS beers are 100% natural and are close to red wine in terms of health benefits They are the first beer in the world to reach certification for the high content of bioactive compounds and antioxidants.
If you don't want to shlep cans of beer around the islands with you, you can find them in Athens too.
Greek Wine
You'll find local Greek wine on lots of different islands but Santorini is probably the most famous. The sweet Vinsanto wine is a quality gift to take back (or keep for yourself – it is tasty!). There are lots of other varieties to choose from too.
Popular Greek Souvenirs
The Evil Eye
Many countries have a version of the evil eye which, according to Greek folklore, wards off bad luck. In Greece, you won't go far without seeing the distinctive round blue eye.
The evil eye is a popular souvenir that you'll definitely see on t-shirts, scarves, jewellery and bags when you're out souvenir shopping.
These little eyes make some of the best souvenirs because you can take a handful of bracelets or keyrings home without taking up much space or weight.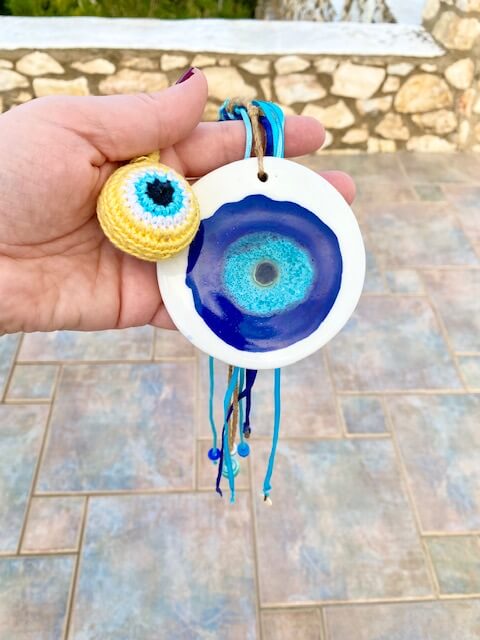 You'll find lots of jewelry stores on the popular islands. As well as evil eye jewellery you'll often find interesting pieces based on designs from the ancient Greeks.
When I first came to Greece I noticed how different the styles were from what I was used to in the UK. I really liked that and thought it would be nice to take home something a little bit different. So on that note…
Lava Stone Jewellery
On Santorini, there was a lot of jewellery made from local lava stone which was a bit unusual. The pieces are similar to items I got in Iceland, another volcanic island.
Naxos Eye
The Naxos eye is a small shell that's been worn down in a specific spiral pattern that's unique to the island. You can find them on the beach if you have a good eye for spotting them. In Chora, you might also see the being used as inspiration for jewellery in the touristy shops and jewellers.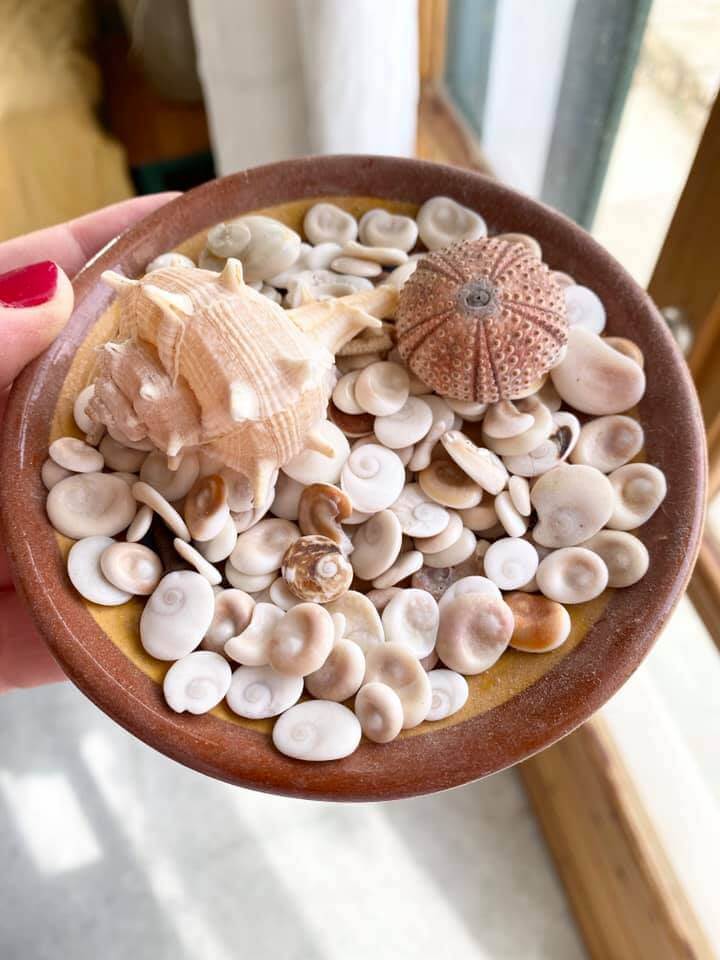 Greek Worry Beads
Greek worry beads, also known as Komboloi, are something of a Greek tradition rather instilled in Greek culture. The string of beads you see people playing with was originally used by monks as prayer beads. Nowadays they're used more for fun and relaxation.
You can get them all over the place but a tiny little shop in Mykonos that only sells the Komboloi comes to mind. They have beads made from all sorts of beautiful stones.
Worry beads can be made out of lots of different materials but either amber or coral is the most common material.
I think worry beads are quite unique souvenirs. The great thing is you can get them from just a few euros right up to over 1000 euros for something really special.
Greek Beauty Products
Olive Oil Soap
You'll see olive oil soap in lots of places and it's one of the best Greek souvenirs. It's easy to carry in your bag to transport home.
And it's made with lovely natural ingredients that usual smell gorgeous. I think it's a great little gift to keep for stocking fillers or when you need a little thank you gift.
St John's Wort Oil
This oil is traditionally used as a remedy for all sorts of skin complaints, wounds and burns. If you visit Kea island or the Peloponnese you might come across this being sold with other Greek products.
In Kea, I found it made locally at Red Tractor Farm where they sell acorn products (including some yummy cookies).
In the Peloponnese, you might come across it if you do an olive oil tasting and tour with one of the oil producers.
Santorini Lava Products
These Greek products include natural products from Santorini which makes them a fun little gift.
Like the facial scrub made with Santorini volcanic sand, heather honey and olive oil. While not completely natural I thought it was a nice little treat to take back. For something with a higher natural content see Korres below which uses Santorini grapes and avoids chemical nasties.
Apivita Products
I love Apivita's philosophy and the fact that they're a B-corp. They use natural products from all over Greece to create their skincare. The suncream is the best I've ever used and is kind to the sealife of Greece.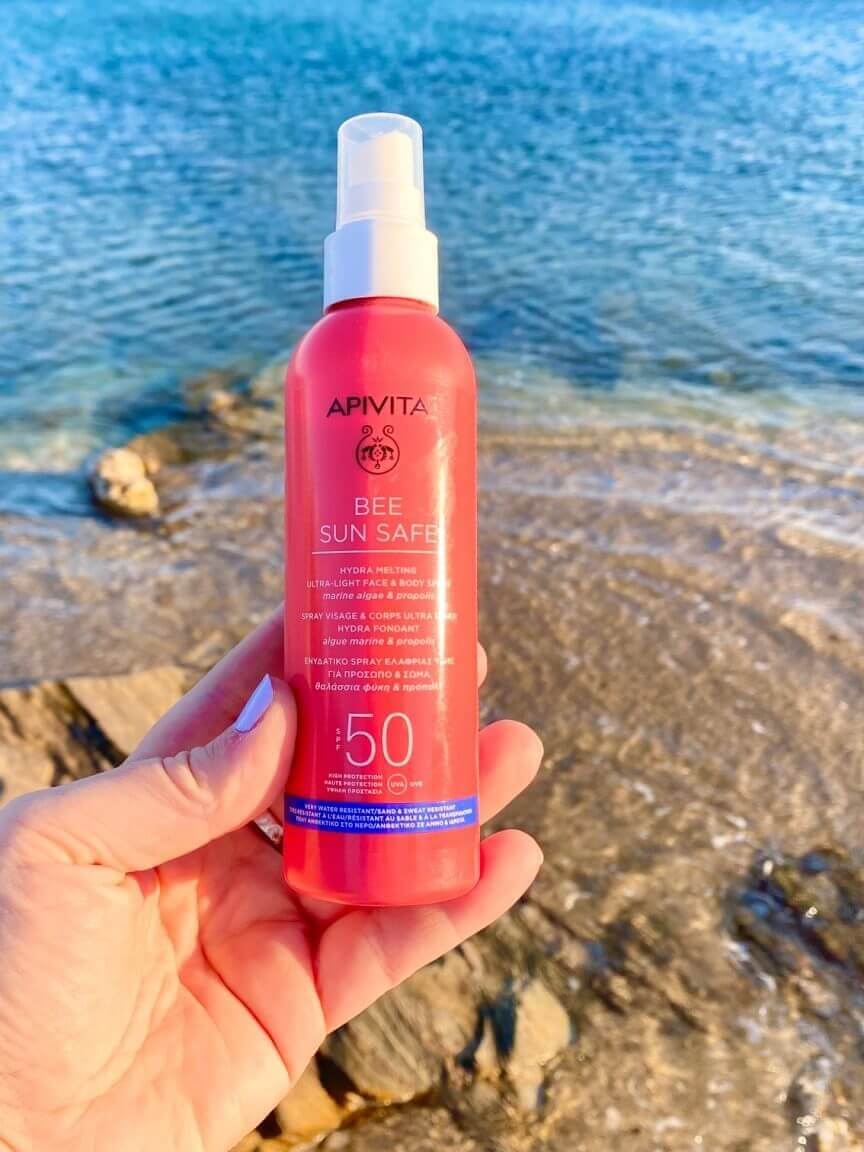 Korres Products
This Greek brand was created in 1996 by pharmacist Giorgos Korres who hails from Naxos. You'll find the brand in pharmacies all over Greece. Its science-backed use of herbs and local products is fascinating.
And I love that the R&D team is all women and that they have a whole host of chemicals they never include in their range.
As well as skincare Korres makes medicinal goods too. Their pastilles got me through COVID!
Mastic Beauty Products
The same mastic that I mentioned in the food section above is added to beauty products because of its natural benefits. You can find these in Chios and in Athens.
Handmade Items
Leather Goods
I'm always in two minds about whether to include leather items like leather sandals on lists like these. I'm trying to live more sustainably and advocate for others to do the same.
While I don't think it's right to encourage consumption for the sake of it, I think if you genuinely need a new bag or pair of sandals then it might be ok to buy leather goods.
When I looked into everything it seemed like a long-lasting bag or pair of leather sandals created less harm to fewer creatures than plastic-based alternatives. I know there are other options but they're not necessarily widely available at the moment.
So make up your own mind about what you need. But a good pair of handmade leather sandals created especially for you could be a good investment. Something that'll last you for years and create less waste overall.
You can get handmade sandals made in a few days when you visit islands like Naxos or Santorini. Alternatively, you could visit Olgianna Melissinos Sandals, the granddaughter of the famous Poet Sandal Maker of Athens.
Her shop is near Monastiraki Square not far from the Plaka area. You can choose from various designs that are based on ancient Greek sandals and have them fitted to your feet.
I had some made by her father (pictured) and his helpers. The sandals were good quality but I've heard that the customer experience at Olgianna's is a bit more magical.
Olive Wood Items
When I went to Santorini I was fascinated by the olive wood products on display. I went to a great place in Fira that was full of products carved from the wood of the olive tree.
There was everything from olive wood kitchen utensils to Greek backgammon sets to watches and pens or a wooden frame for your favourite holiday photo.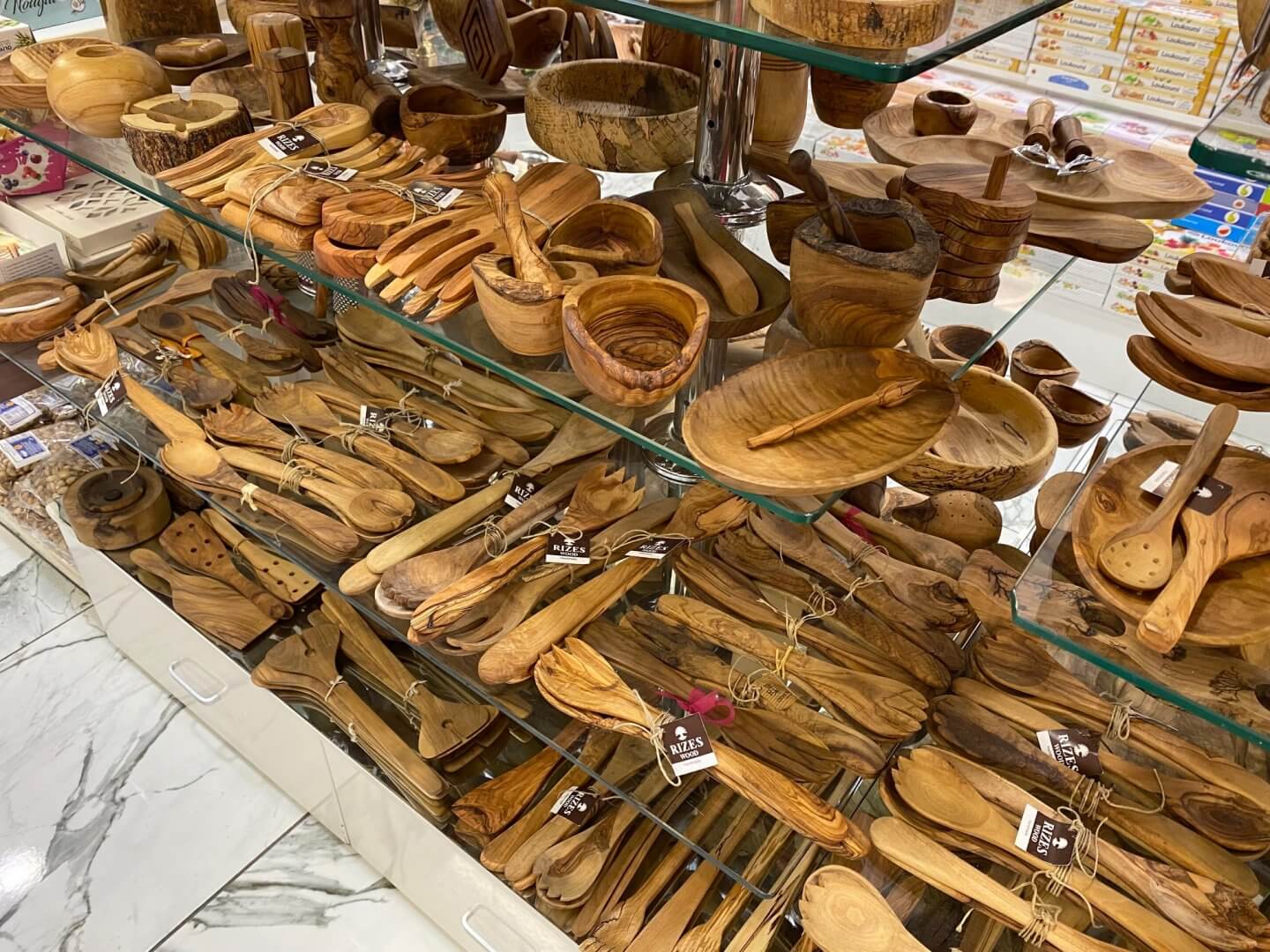 Everything seemed to be of exceptional quality. I thought they would make some of the best Greek souvenirs because the olive tree is so symbolic in the country. I think these are great gifts from Greece because you could use them daily for years
Backgammon Set
Backgammon is a popular board game that you'll find men playing on tables in the street. In Santorini, I saw a permanent backgammon table installed in one of the traditional villages.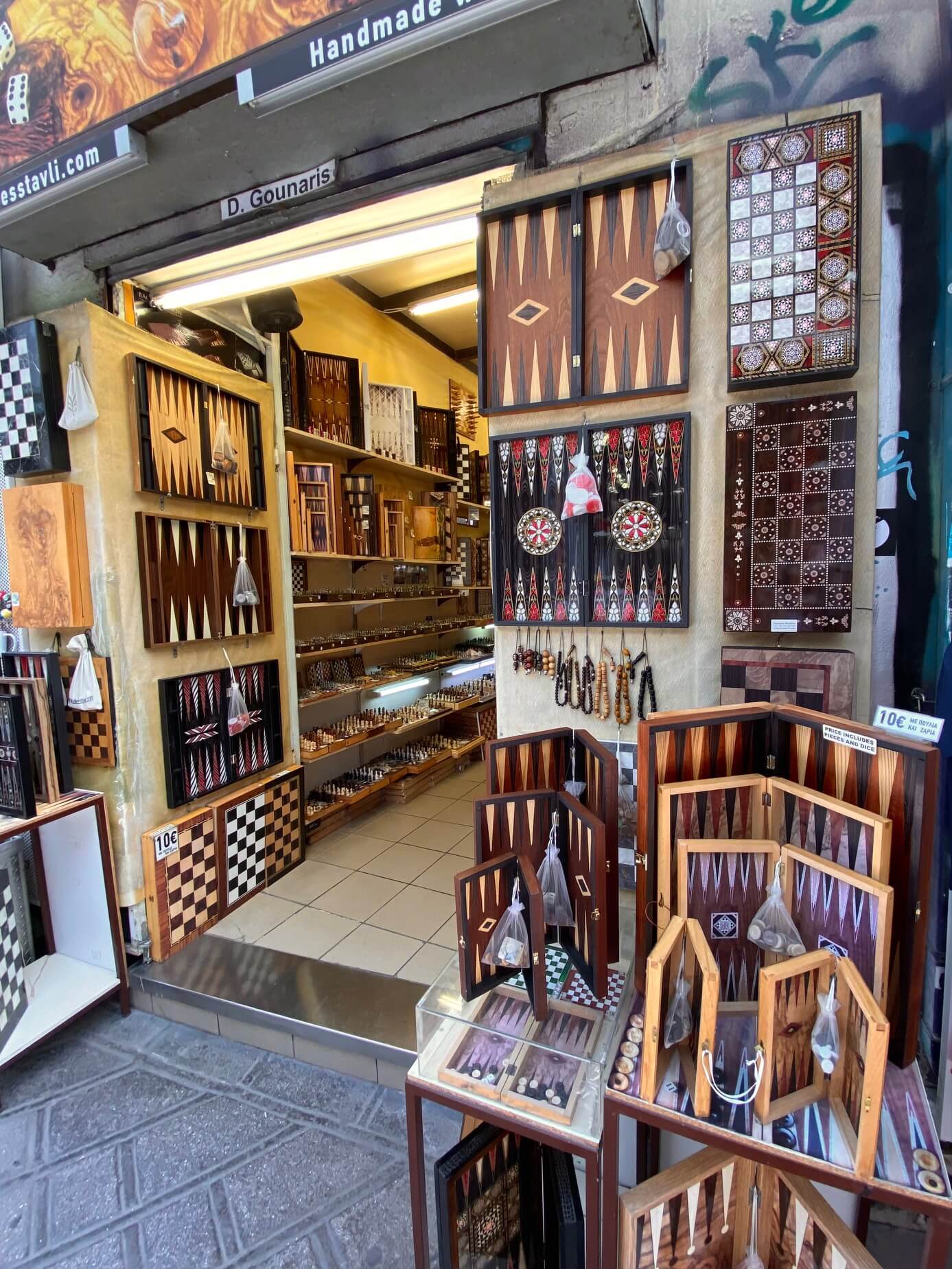 Linen
In Santorini, I saw a few shops selling beautiful linen. They were full of things like cushions, table cloths, table runners all with beautiful embroidery. The intricate hand-stitching created traditional symbols like flowers, olives and olive leaves.
It goes without saying you'll find shops like this amongst souvenirs to buy in Athens and other parts of Greece.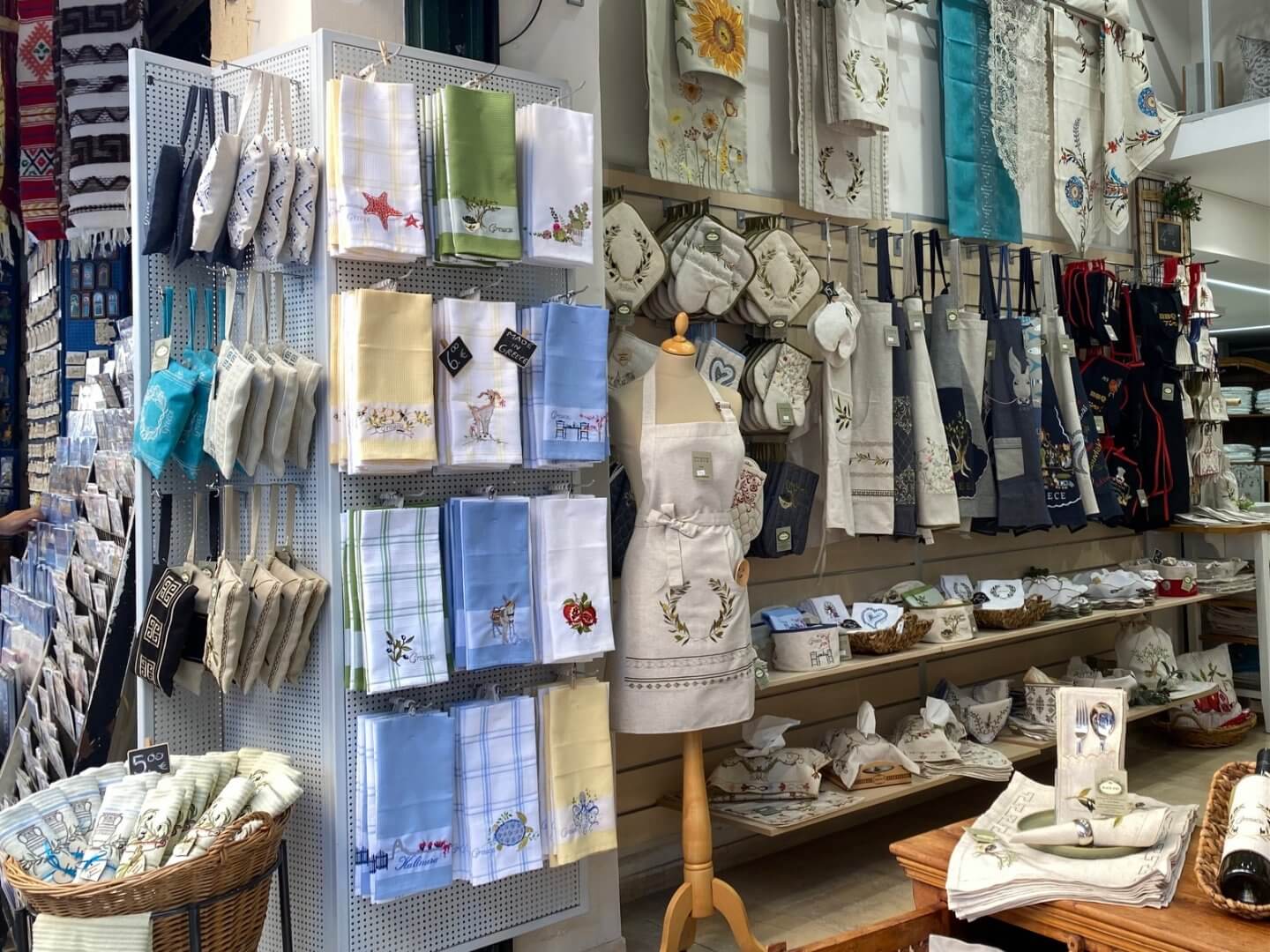 Art
On the various islands, there are art galleries with all sorts of paintings, glassworks, ceramic sculptures and other decorative items. You can find some really unique designs. Things that would make a great addition to your living room walls or shelves.
Just make sure you pack everything up well before heading off to Athens airport.
Ceramic Plates
I've seen some really beautiful Greek ceramics, specifically plates and bowls on show in some of the gift shops and art galleries. They're great to have at home when you're trying to recreate that Greek holiday feeling.
Use them for meze and pile them high with Kalamata olives and little cubes of feta cheese.
The bright, hand-painted Greek colours will bring a touch of summer wherever you are.
Demitasse Cup Sets
Greek coffee is absolutely embedded in modern Greek culture. I'm not a coffee drinker at all but even I was drawn to these small cup sets. I saw some in the art galleries individually and part of sets.
The cups are so dinky and cute and some of the designs are really fun. Could be a good thing to pick up for the coffee lover in your life.
Ceramic Greek Church
I'm obsessed with the small, rustic Greek churches dotted about all over the islands. For reasons unknown, I bought a tiny, simple 1 euro ceramic church made and hand painted in Santorini.
Why I bought it is a mystery because living on the islands all I have to do is walk to the window to see about four little chapels at any given moment.
But they're so quintessentially Greek I decided I needed one of my very own. From this tiny wee thing to some really contemporary art work I've seen some beautiful ornaments that would take pride of place on your shelf back home.
Wearable Greek Souveniers
Greek-Style Dress
Channel your inner Greek goddess Athena in one of these dresses. You'll find them in many souvenier shops and I often see people wearing them out in the evening. Popular colours are blue and white with gold or silver and they come in children's sizes too.
Traditional Greek Clothing Items
Pick up some traditional regalia to commemorate your time in Greece if you're interested in it.
Country or island Merchandise
T-shirts and cotton bags are great re-usable souvenirs from Greece. I have something of pouch collection that is really handy for keeping bits and pieces together in my suitcase.
Many places have similar designs but if you see a specific one you really like get it when you see it. You might not find the shop again depending on where you go.
Unique Greek Souvenir Ideas
Replica Artefact
In Greece, you can buy replicas of ancient Greek jewellery or other things like vases and frescoes found in ancient sites. Sometimes Archaeological Museums have these souvenirs to buy although you can find some times in tourist shops too.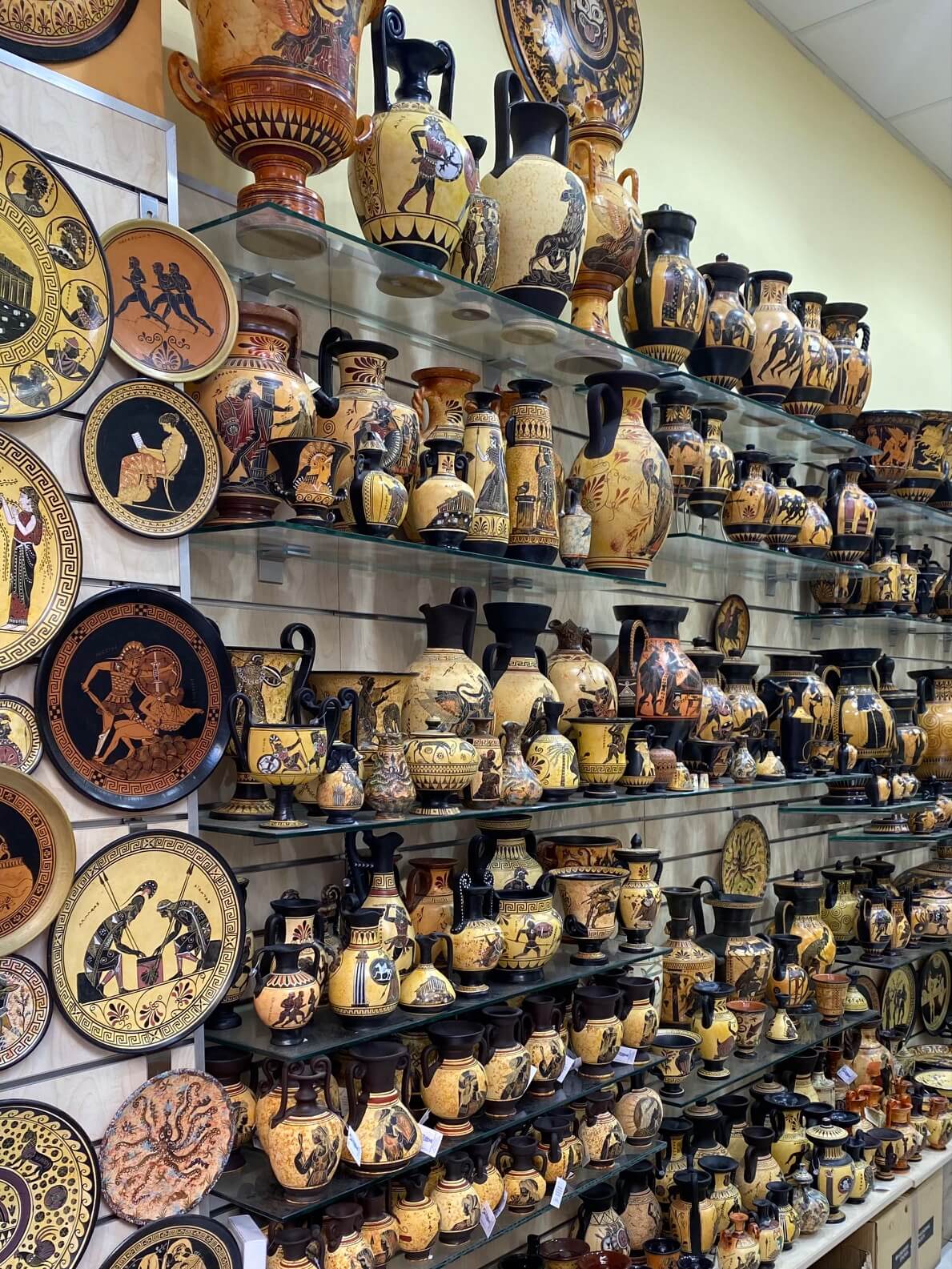 Religious Icons
If you know someone who'd appreciate religious icons and artefacts then they're in for a treat when you visit Greece. Should you visit Tinos you'll find loads of souvenir shops lining the streets on the way to the famous Panagia Evangelistria church.
They're packed with various icons and images from tiny to huge of saints who are popular in Greece.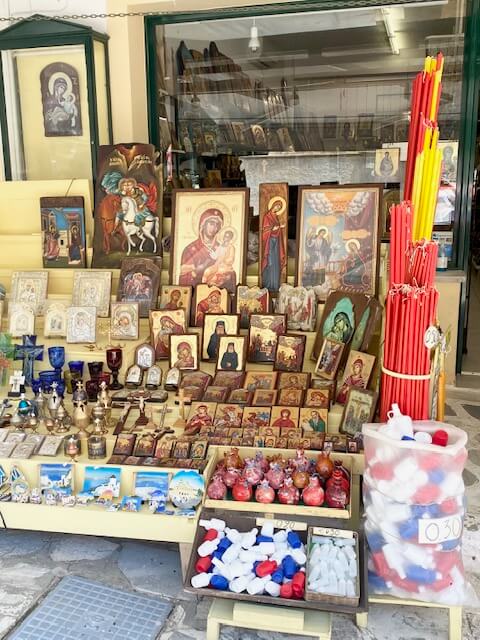 Musical Instruments
Greece has a rich history of music and Greek music has an important role in the country's traditions. If you know a music lover then consider taking back one of the traditional instruments.
A traditional Greek musical instrument like the bouzouki doesn't come cheap. But if you're looking for something special for a talented person then visit the music shops.
Festive Greek Souvenirs
If you book your Greece travel outwith the normal touristy time of the year then these are two things you might see.
Easter Candle
At Orthodox Easter (which is a bit later than non-Orthodox Easter) at the end of April/May there are various festivals and ceremonies. One is the lighting of the candles which happens after one of the midnight masses.
Everyone takes a candle and children are giving special ones. They can be quite simple or rather ornate, decorated with all sorts including teddy bears and other toys! I think they're pretty and it would be an interesting and unusual gift or souvenir.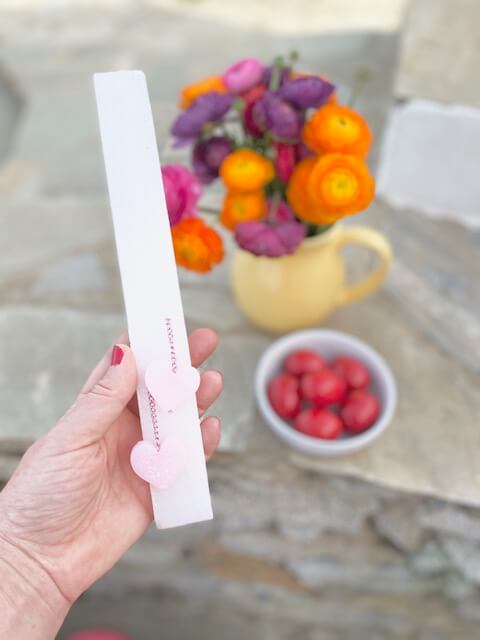 Melomakarono
These sweets are traditional at Christmas and now at New Year too. They're incredibly moreish being made from honey. And they just ooze Christmas for me since their ingredients include clove and nutmeg.
BONUS TIP
Another Greek brand that I absolutely love is COCO-MAT. They make The. Best. mattresses, toppers and pillows. The company is just about carbon neutral and they source their natural materials locally (Greece and Europe) from sustainable sources.
Now, taking back a mattress might not be too practical. But maybe there's a way to transport a mattress topper or a pillow or two. I've stayed in a lot of places in Greece that have these bed systems (including two of the COCO-MAT hotels in Athens).
And let me tell you if you can find a way to get some of their stuff back it'll be so worth your while. [UPDATE: I found out COCO-MAT has stores all over the world so you can go and find one more local to you.]
How to Shop for the Best Souvenirs from Greece
Shopping in Greece for the best souvenirs should be a pleasurable experience. But to be honest, I don't always find gift shopping much fun. When it's crowded and hot and you're on a deadline to tick off your list of Greek souvenirs it can be tiring and frustrating.
I think the way to get the best gifts is to pick things up as you see the perfect item for someone. Many of the souvenir shops have similar things but if you see something you particularly like, then get it when you see it.
You might not get a chance to pass back that way. Or more likely, you'll have trouble finding the specific shop in some of the maze-like village streets.
As well as the main shopping areas don't forget about museum gift shops. They can be a good place to find the perfect things to take back from your Greek holiday.
Often they'll have quite unique gifts inspired by ancient Greece or Greek mythology. It can be a relaxed opportunity to pick up something cool.
The only downside to shopping on the islands is traipsing everything back on a ferry or flight to Athens. If you already have enough luggage then take some time to pick things up in the Greek capital. (If you're heading there before you go.)
Although I think it's really nice to buy things from family-owned places on the islands sometimes it's just not the most practical. Some of the best souvenirs from Greece can be found in Monastiraki and Plaka district if you need to do your shopping in Athens.
It's stuffed with touristy shops with clothes, food and souvenirs. If you're near the Central Market there are some good places just outside with herbs, olives and cheese too.
Make Your Sounveirs List
There you go, your round-up of the best souvenirs from Greece for you, your friends and family. There's a lot to choose from so leave plenty of space in your suitcase to bring back what you see.
I like to travel light but taking advantage of the checked baggage option with your flight is sometimes a good idea. Arrive with it half-full and go home with it packed with goodies.
Suzie Young
Suzie writes informative posts for solo, nervous or first-time travellers to Greece, Turkey and other countries on her 50-before-50 bucket list. She became a Greek resident in 2020 and intends to visit every inhabited island (13 down!).