Best Shopping in Athens Greece: Gifts Markets & Malls
Shopping is a great way to spend an afternoon or evening in Athens after some sightseeing in the morning. But I've also helped people who've needed to do some emergency shopping because their luggage didn't make it to Greece.
So whether your bags have gone missing and you need some new outfits, you want some designer gear, you're shopping in Athens for souvenirs or you just want to mooch about the flea market, the shops in Athens have you covered.
The best areas in the city for shopping are a bit spread out so I'll take you through what's where.
Oh, BTW in the UK shops = stores so I'll use both terms interchangeably here.
Best Shopping in Athens for High Street Stores
Ermou Street
Ermou Street Athens is the main shopping street in central Athens for international high-street stores. You'll find H&M, Zara, Marks and Spencer, Pull and Bear, Sephora as well as some local clothes shops and other Greek staples like Hondos Centre.
At the top of Ermou Street is Syntagma Square with the Metro station and the Tomb of the Unknown Soldier. Here there are other large chains like Mcdonald's and Public (Greek electronics, stationery and bookshop).
At the bottom of Ermou Street is Monastiraki Square and a different experience of shopping in Athens (see below).
There are lots of smaller shops and cafes in the streets leading off Ermou as well as the streets behind on either side. Look for gemstones, jewelry, traditional food, shoe shops and a variety of boutiques.
From Ermou you're also very close to the tiniest church and the city's important cathedral. So you're right in the thick of things with your site-seeing too.
Where to Find Eclectic Second-Hand Goods
Monastiraki
Monastiraki is an ancient neighbourhood in the city centre that's quite unique and eclectic today. You can easily walk here from Syntagma in about 10 – 15 minutes. Monastiraki station is one stop from Syntagma Metro on the blue line (Airport Line and Piraeus Port) and is an interchange for the Green Line.
There are important historical structures in the area of Monastiraki like the Roman Forum, Stoa of Attalos and Hadrian's Library. Monastiraki Square with its Byzantine church is a popular plaza with both tourists and locals. Plus it's home to the famous Monastiraki flea market.
Walk under the Flea Market sign and down Ifestou Street for Greek jewellery, vintage clothing, handmade sandals and more.
Through the week you can shop for all sorts of second-hand items like vinyl records. On a Sunday, the area truly becomes a flea market. Keep your eyes peeled for bargains and all sorts of junk.
As this is a busy tourist area, watch your pockets, and don't take your valuables.
From Monastiraki, you can walk along Athinas Street to Thission/Thisseo. In the evenings there are stalls set up outside the park. They sell things like paintings, jewelry and other trinkets.
It's a nice area to wander around and have dinner with a view of the Acropolis. If you visit in the summer you can also queue up to watch a film at the outdoor cinema.
Exarchia
This is known as an anarchistic neighbourhood and bohemian melting pot. I'd avoid it when there are demonstrations taking place in the city centre but otherwise, you might love the vibe. Definitely take time to appreciate the street art that's everywhere.
Exarchia is a little way from the tourist areas, about a 20-minute walk from Thissieo. If you're vegan, plan a stop there for lunch because it's the best place to get a vegan gyros in Athens. For more local food, get along to the Saturday farmer's market for a plethora of fruit and vegetables.
Anyway, aside from food there are some interesting and eclectic shops in the area. I loved the small shop I found with reusable and "green" household items. And there are loads of other little shops selling vinyl records, vintage clothes, second-hand luxury or art.
Best Places in Athens for High-End Shopping
Kolonaki
Kolonaki is an upscale area that goes from close to Syntagma Square up to the slopes of Mount Lycabettus.
Luxury stores like Gucci and Omega start from behind Hotel Grande Bretagne and the King George. And Voukourestiou Street is lined with high-end shops like Louis Vuitton, Hermes, Bvalgari and Dior.
Attica department store takes up a whole block running along Panepistimiou. And nearby you'll find the LINEA PIU boutique, exclusive retailer of global fashion houses such as Tom Ford, Ermanno Scervino, Chanel and Blumarine.
Attica Department Store
Attica City Link is something of an exclusive department store. The Athens city centre branch is a few minutes walk from Syntagma Square and, like the surrounding shops, it carries a number of designer brands.
It's laid out in a fairly standard way. There are premium skincare and makeup brands on the ground floor. Then the other levels are filled with everything else you might expect: clothing and accessories for men, women and children, shoes, sportswear, restaurant, wine bar and hair & beauty salon.
Glyfada
Glyfada is in the southern suburbs and is part of the Athenian Riviera. I've heard it compared with both L.A. and Florida. I'm not sure which, if either, is accurate although I did go to the dentist at Florida Mall there!
It's certainly a place to see and be seen. Looks matter, and I've seen some interesting/eccentric/high-end and totally over-my-head looks, usually accompanied by a designer dog. (That bit makes me sad because Greece is full of stray dogs that need a lovely home.)
Anyway, I personally enjoy the shopping experience in Glyfada. The streets are leafy and wider than in central Athens. Although it can get busy I find it much calmer than other places.
Start at Kiprou and, from there, work your way down the streets towards the sea. There are sooo many shops I can't quite get my head around how they all manage.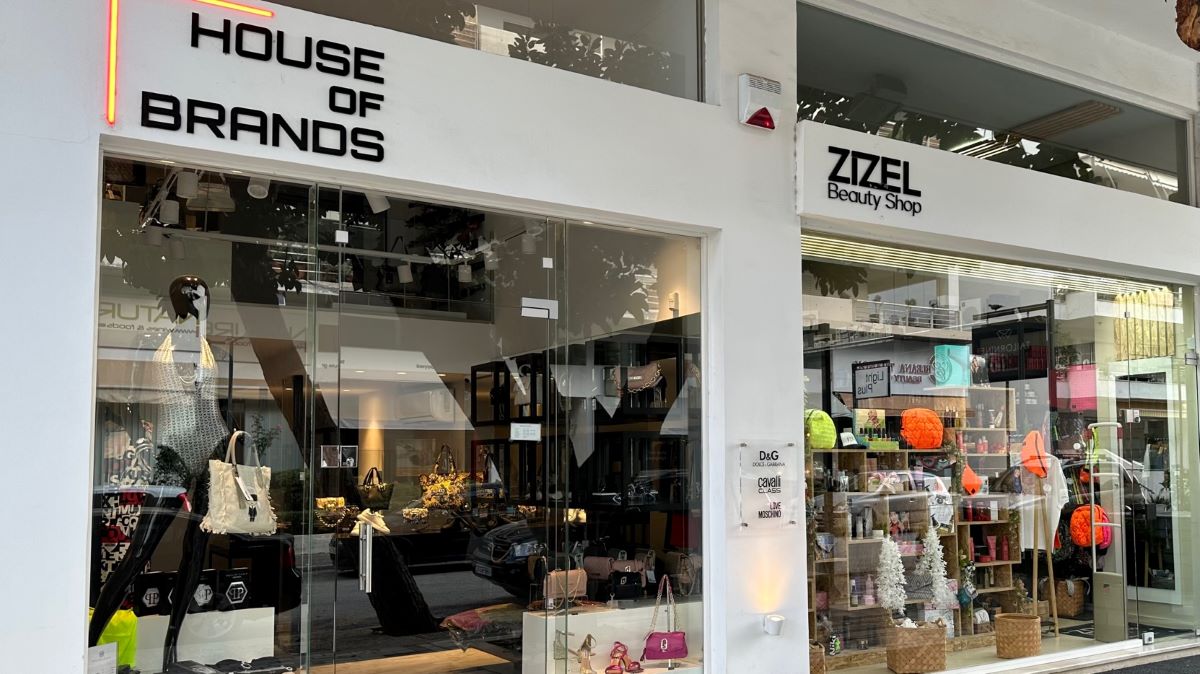 As well as high street stalwarts like H&M, Zara, Pull and Bear, Marks and Spencer and Bershka, you'll find boutiques with international and Greek designers. There's also a nice Hondos Centre department store and a large Public with books, stationery and electronic items.
Amongst all the shops there's no end of cafes, restaurants, beauty salons and hairdressers.
Best for Souvenir Shopping in Athens
If you need any ideas about WHAT to bring back from Athens see this post with Uniquely Greek Souvenirs From Athens & Islands or this one about Greek Gifts For Her.
In terms of WHERE to get your gifts then Plaka's teeming with souvenir shops.
Plaka District
Again, you can combine your shopping with discovering the Greek capital. Plaka has a village feel to it, particularly the section this is Anafiotika. It's like a little Cycladic village because it was built by people who came from Anafi island, close to Santorini.
Here, you're right at the foot of the Acropolis where no doubt you'll be visiting the Parthenon. Make time to go to the Acropolis Museum too. It's quite good as museums go and there's a gift shop at the end which is another nice place to look for gifts.
Anyway, take time to wander through the area before or after your shopping. And then it's the perfect place to find a Greek restaurant. Sit on the steps or the in the main part of Plaka by Acropolis Metro to enjoy a meal.
Streets you can look for to get gifts are:
Adrianou Street
This is one of the main shopping streets for souvenirs from Greece. You'll find all sorts of things aimed at tourists. I think the best shops are here as you can find some quite unique designs.
You can pick up Greek dresses, musical instruments, souvenir clothing, olive wood products, natural beauty products and traditional Greek products like olive oil, ouzo, honey and sweets.
Right towards the end of the street, you'll find fashion stores from Greek designers like Ioanna Kourbela and Semiology.
Pandrossou Street
Pandrossou is crammed with shops selling gifts like religious icons, more jewellery, clothes and small souvenirs like keyrings, fridge magnets and symbols of Greek mythology.
Museum Shops
Don't forget to check out the products being sold in the museums that you visit. Sometimes they have some lovely things that are a bit different to what you see in other tourist shops.
Best Food Shopping in Athens
If you go on a food or walking tour of Athens it may well include a visit to Central Market, Varvakios Agora. The covered market itself is mainly fish and meat but the whole area is like a bazaar filled with all kinds of foods.
The meat market can be quite distressing to walk through. You'll see animal carcasses, fully skinned cow's heads and every part of an animal you can imagine all being stung up and chopped. So don't feel that you have to go in.
Just beyond is the melting pot Evripidou Street where you can fill up on spices to your heart's delight. I got some lavender there the other day as well as some Greek tea.
Definitely get some Sidartis tea. Greek tea is really good for you. The benefits of this herb as a traditional Greek remedy have been backed up by some interesting scientific studies. You can read more about the health benefits and how to make the tea in this post about Greek mountain tea.
Then indulge in fresh fruit, olives, aromatic herbs and spices and other delights.
Shopping Malls in Athens
If you're looking for a more concentrated shopping experience you can do some of your shopping in Athens via the malls.
Athens Metro Mall
Athens Metro Mall is a large mall in the southern suburbs. It's full of chains like Public, Bag Stories, Calzedonia, Folli Follie, Funky Buddha, NYX, Stradivarius etc., etc.
Within the mall, there's also a cinema with current releases playing in English with Greek subtitles. You can choose from several places to eat. One of the best things here is the roof garden with nice views over Athens. Go in the evening to catch the sunset.
Agios Dimitrios metro station is right beside the mall and it takes 9 minutes to get there from Syntagma.
River West
I actually really like the River West shopping centre. It's good for me as there are several homeware stores, not least Ikea.
But they also have a variety of other high street brands including Mango, H&M and a huge Zara that are all on one level. There's a pleasant outdoor area to eat around too.
It's a bit in the middle of nowhere (really close to the bus station that takes you from Athens to Nafplion actually). But it's easy to get to in a taxi and only takes about 15 minutes from Syntagma and less if you're near the Grand Hyatt or Intercontinental.
Plus they have a minibus that shuttles you from Egaleo/Aigaleo metro station which is 8 minutes from Syntagma.
Golden Hall
Golden Hall is a European Shopping Center Award winner. It's a luxe shopping experience mainly because of the Attica Store, see below.
There are lots of high-street stores and some accessible luxury brands like DKNY.
If you have kids, the XPLORE Entertainment Center is quite fascinating. They have all sorts of zones and activities, including an aquarium.
Within the mall, there's also the Athens Olympic Museum with its own shop and cafe/restaurant.
It's a bit trickier to get here but it's about 25 minutes in a taxi from central Athens.
The Mall
Located on Andrea Papandreou Street in Marousi, north of Athens is The Mall. It's pretty close to Golden Hall and takes about 30 minutes to drive to from Syntagma. These two shopping centers are probably best reached if you're staying in the northern suburbs.
As you can see from the images, The Mall is full of high street names, a small Ikea and a Village cinema. (Films are in English with Greek subtitles.)
Best Shopping Near Athens Airport
If you've got some time to kill while you're near the airport there are some alternatives for shopping if you don't want to traipse into Athens.
Smart Park & McArthur Glen
An easy 15 – 20 minute drive from the Airport will get you to the Smart Park outdoor mall.
It's combined with a McArthur Glen Designer Outlet and between them there are a lot of shops. There's a good variety of high street stores alongside the designer outlets.
If you're going as a family there's a Smart cinema, events space and big play area for kids. There are also plenty of places to eat and drink.
I generally find this a pleasant place to shop with a variety of good-sized stores. The place does get busy at weekends but it could be a useful place for you to come from the airport.
Kifisia
Although this might not immediately spring to mind as being near the airport it could be convenient if you're staying in the area. I would consider it a good option to stay the night before a flight if you didn't want to be in Athens proper.
The neighbourhood is popular with foreign "expats" and is full of chic boutiques.
Athens Airport
Don't rule out a bit of shopping at the airport if you're short on time and want to splash some cash. Here's what you'll find.
Greek Products
If you need to be last-minute with your souvenir shopping then pick something up while you wait for your flight. There are several nice stores with Greek-branded products. You'll find all sorts from jewellery to gourmet gifts to mastika items to skincare brands like Apivita, Korres and the The Naxos Apothecary.
Luxury Goods
If you want to shop for something nice for yourself (or a generous gift for someone else) then there are small versions of these types of shops:
Attica
Armani Exchange
Emporio Armani
Michael Kors
Montblanc
Polo Ralph Lauren
See by Chloé
Hugo Boss
MCM
Salvatore Ferragamo
Zeus+Δione
Shopping Near Athens' Piraeus Port
You can get into central Athens on the metro in about 15 minutes from Piraeus Metro. But by the time you trek there from either the port or the cruise port, you might prefer just to stay in Piraeus. I'm aware it's a completely different city, but since we class this as Athen's cruise port I'm including it here.
Back from the port, you can find a good selection of high street stores, Notos department store and other boutiques and souvenir places.
here are a couple of Chios Shop stores with mastica products and you'll find herbs, spices and other traditional Greek products along the streets too.
If you're not looking for anything too luxurious then you could well find what you want on the port's doorstep.
What You Need to Know About Shopping in Greece
There are a couple of things you might find different to shopping at home, particularly in bigger shops and department stores. I find the whole thing quite stressful so it's good to know in advance.
Shop Assistants Don't Leave You Alone
The biggest difference I found, which drives me nuts, is that assistants will ask what you want the second you step into the store. And then constantly after that. In my experience, even if you say you don't need help and just want to look around, they follow you every step and breathe down your neck.
Hondos Centre – which is like Boots in the UK without the chemist/pharmacy and more departments – is awful for this. Literally every two steps someone is coming up to you to ask what you want and they can get quite cross when you say you're ok thanks.
Maybe browsing just isn't a concept in Greece. I don't know. It's like they want to march you to the exact thing you came in for and you're not allowed to have a look at anything else. I don't understand how that's good for business but whatever, that's just how it is.
I end up scurrying around and avoiding eye contact which then usually ends up with the security guards following me around. Sigh.
You Aren't Allowed to Carry Your Purchases Around With You
The other thing I find really odd when shopping in Greece is that places don't let you carry items in your basket. So if you go to a department store, one of these million people that approach you takes away the things you want to buy.
You're not allowed to collect up what you want and then go to pay at the til. You have to keep track of these scrappy pieces of paper with scribbled notes that they give you in exchange for your items. Then you have to mess about and find which till they took your stuff to.
Try and communicate with people otherwise the assistants in different parts of the store will take your stuff to different checkouts. I really hate how inefficient it is, it just does my head in!
Finding These Shopping Locations
I'm not going into too much detail about how to get to every single place I mention here. The easiest thing is probably to use an app like Google Maps (see this post with my recommended apps for Greece travel) to see the best way to get there from wherever you are.
Store Opening Times in Athens
Most chain and department stores' opening times are along the lines of 10am – 9pm Monday to Friday, 10am – 8pm Saturday and closed on Sunday. Many of the shops in Ermou open on Sundays, usually from 11am.
The shops at Smart Park/McArthur Glen open seasonally on Sundays, usually from May – October. And in Glyfada, you'll find that some of the bigger chains open on Sundays too.
Most of the shopping malls open on Sundays for access to their cafes and coffee shops but the commercial shops are shut.
In tourist areas, souvenir shops are usually open all week.
Need more to do in Athens?
If shopping is only a small part of your Athens itinerary, then check out this post about Athens' museums or this one detailing Athens' landmarks. If you're all cultured out, then read up on the best beaches in Athens or the best bars to spend an evening.
This page may contain affiliate links. Read through my privacy page for more information.
---
Suzie Young
Suzie writes informative posts for solo, nervous or first-time travellers to Greece, Turkey and other countries on her 50-before-50 bucket list. She became a Greek resident in 2020 and intends to visit every inhabited island (13 down!).