31 Greek Gifts for Her: The Best Unique Present Ideas
Here are the best gift ideas for the women Greece lovers in your life.
Olive Tree
Perhaps one of the slightly more unique gifts on this list is an olive tree. They can grow indoors and out and they can still work in cooler places if they're planted in a pot so they can be moved indoors. You can get really tiny ones too.
If you need something that ships to the UK or US you can find that online. Magnolia Gifts ship olive trees across the US (excluding Arizona and California) and for the UK you can try Plants4Presents.
Anything Lemon
For me, the essence of Greece is captured in the whiff of lemon. Here are some fun gifts with a lemon theme:
Greek Gift Basket
One of the simplest and most impactful presents you could give is a gift basket with a variety of items for the recipient to discover. You could make a gift box up yourself with a few of the things I've listed in this post.
Or get a ready-made themed gift basket from one of the online retailers below. You can literally get all sorts and they could be purely food stuffs, home things, skincare or a mix.
Greece Gifts Subscription Box
Similar to the above you could give a subscription to an on-going service. Pick monthly or quarterly frequency, food items or other and let it be a gift that keeps on giving throughout the year.
Travel Books
If the person you're buying for is dreaming of Greece buy them some kind of travel book. You could give them a helpful guidebook to help them plan their next trip or a novel about travelling in Greece. Alternatively, get them an arty coffee table book to get lost in.
Korres Natural Beauty Products
This Greek brand was created in 1996 by pharmacist Giorgos Korres who hails from Naxos. You'll find the brand in pharmacies all over Greece. Its science-backed use of herbs and local products is fascinating.
I love that the R&D team is all women and that they have a whole host of chemicals they never include in their range. Their Greek Yogurt range of award-winning products is a great option for someone who loves natural skincare products.
Apivita Beauty Products
Apivita is another Greek beauty brand. I love Apivita's philosophy and the fact that they're a B-corp. They use natural products from all over Greece to create their skincare.
You'll find their products in almost any pharmacy across Greece. They do some nice gift sets/bags as well as individual hair/shower/skincare and home ranges and essential oils.
Island Specific Natural Products
On some of the islands, you'll find products that are somewhat unique to that island.
In Santorinin you'll find skin care products that include volcanic sand, heather honey and olive oil. In Chios you can find items that have beneficial mastic added. Tinos has various natural base oils and essential oils.
Olive Oil Soap
You'll see olive oil soap in lots of places and it's one of the best Greek souvenirs. It's easy to carry in your bag to transport home. And it's made with lovely natural ingredients that usually smell gorgeous. I think it's a great little gift to keep for stocking fillers or when you need a little thank-you gift.
Greek Jewellery
Jewellery from Greece can make an interesting offering. There's a wide range of different styles and you'll be able to find something for all tastes.
Jewellery gift ideas include:
lava stone bracelets, necklaces and earrings from Santorini
jewellery that's symbolic of Greek mythology
Greek key pendants and bracelets
replicas of items the ancient Greeks wore
evil eye variations
Art
If your gift recipient would love to see views of the Greek Islands every day then give an artistic present. Give a beautiful painting of her favourite Greek view.
Anything with the Evil Eye
The evil eye is a symbol of good luck that's said to ward off bad luck. You'll find it on all sorts of products in Greece.
Here are things you could find with the blue evil eye (and colour variations of that):
jewellery
bags
t-shirts
dresses
key rings
bowls and plates
candles
phone cases
drinks coasters
mousemats
door mats
Extra Virgin Olive Oil
One of the most traditional Greek gifts you could give is perhaps some really premium quality EVOO. Many oils from Greece are award-winning on the world stage. A lot of bottles have stickers or labels attached showing the awards they've won. If you don't have that choice, look for something with low acidity.
A low acidity level reflects both good quality olives and production process. For EVOO, 0.8% is considered average (other olive oil will be higher.) 0.5% is classed as good while the highest quality oil will be 0.3%.
Acidity is apparently one indicator though and you can't automatically assume that 0.3% acidity means the perfect oil. Also look for single-origin olives from the same estate. In terms of bottles, skip anything plastic and go for dark-coloured or frosted glass or stainless steel.
See also: Best Olive Oil In Greece: World-Class Greek Oils
Greek Herbs
The Greek climate lends itself to the abundant growth of aromatic herbs in the mountains and on the islands.
Commonly used herbs that you might want to gift are:
Oregano
Thyme
Dill
Fennel
Rosemary
Saffron
Greek Cookery Book
For the culinary expert get them a Greek cookery book to indulge their passion. From traditional meals, sweets and vegan options you can find whatever fits their cooking style.
Greek Honey
All those herbs mean delicious honey too. Thyme Honey is a special treat that would make a lovely gift. Honey from the Blue Zone island of Ikaria is particularly well-known for its health benefits and would make quite a unique Greek gift.
Greek Mountain Tea
Tea lovers will delight in some mountain tea. It has all sorts of wonderful health benefits and Greek yiayias have used traditionally used it as a treatment for lots of different ailments. The best type to get is organic.
Herbal Tea
As the most popular Greek tea, mountain tea gets its own category. But there are other herbal teas that could make a good option too. Flavours to look out for are:
Chamomile
Sage
Crete Dittany / Dictamus
Valerian
Nettle
Other Greek Food
Honestly, I don't think you can go wrong with a food gift (nut allergies aside!). Greek foods like halva, loukoumi (greek Delight) and baklava transport well.
If you're buying outside of the country then zēlos has all sorts of Greek sauces, sweets and more. In the UK try Agora Greek Delicacies I've used them for gifts and had good experiences
Greek Coffee
If the person you're thinking of is more of a coffee drinker than a tea enthusiast they'll love you for a pack of Greek coffee. Just make sure you give them a briki Greek coffee pot to make it in too.
Wine
Heading into the alcoholic variety of drinks, Greece has some very tasty wines for anyone who likes a tipple. Vinsanto and other white wines from Santorini always make a good choice. But there are plenty from the Peloponnese to pick from too.
Spirits
Ouzo's obviously the national drink but there are lots of other to choose from around the country. Naxos does my personal favourite, Kitron.
But there's also:
Androp tsipouro from Andros
Mastic Liqueur from Chios
Kumquat liqueur from Corfu and
Tentura from Patras
Home Gifts
One of my favourite types of Greek souvenirs is something that you can take home and use again and again. I like having gifts around the house that remind me of my travels and add a global flair to my home.
Homely gifts from Greece you could give are:
embroidered linens
olive wood decorations, photo frames, pens and kitchen utensils
handmade wicker baskets
cushions with Greek designs
evil eye decoration
Religious Icons
If you have a Christian in your life who would appreciate a faith-based gift then find some religious stalls or shops. In Tinos, they line the street up to the Holy Church of the Virgin Mary Evangelistria.
But you'll find shops selling religious icons everywhere and the items range from tiny to huge. Go for a small card, a material version or a large ornate version. Other options are candles and incense used in the churches.
Greece Puzzles
Amazon does a good line in puzzles with beautiful Greek scenes. Choose a street tableau from Napflion, the ruins at Delphi or Santorini's stunning sunset. Once it's completed she could frame it and keep it as a picture.
Musical Instrument
If you have a talented "her" in your life a really special gift would be a Greek musical instrument. The Bouzouki is probably the first one that comes to mind but there are many traditional Greek instruments you could browse to find the most suitable.
You'll see music shops not just in Athens but even in the touristy areas of some of the islands.
Greek Music Album
If the music lover you're thinking of is more the type to enjoy listening than playing give some Greek music. Again you'll be able to find CDs of traditional music in tourist shops as well as online.
Demitasse Cup Sets
Greek coffee is absolutely embedded in modern Greek culture. I'm not a coffee drinker at all but even I was drawn to these small cup sets. I saw some in the art galleries individually and part of sets.
The cups are so dinky and cute and some of the designs are really fun. Could be a good thing to pick up for the coffee lover in your life.
Clothing
Pick an expensive piece of clothing from a Greek designer shop in Mykonos or a simple t-shirt with Greek cats. You'll find lots of linen items as well as Greek-style dresses with traditional patterns.
Tote Bag / Pouches
Tote bags are a really simple gift but they're very practical. It's something that will be used over and over and helps the environment too. They're handy to carry around or stick in the car for when you go shopping.
I have a load of pouches that I got in Greece that are great when I'm travelling about. I stick all my computer and tech clutter in them when I'm away from home. Mine mostly feature evil eye designs but you can get plenty of other designs too.
Gift card
Maybe you know that the perfect gift is the one they choose themselves. Chic Greek Gifts offers e-Gift Cards of various amounts so that your recipient can buy the Greek gifts of their choosing.
Where to find the Perfect Present
If you're in Greece and looking for a great gift you'll always find gifts and souvenirs in the tourist areas where you're visiting.
In Athens, Pandrossou is a street packed with souvenir shops. Museum shops usually offer something a little bit different too.
For online Greek-themed gifts check out:
For more gift ideas check out:
This page may contain affiliate links. Read through my privacy page for more information.
---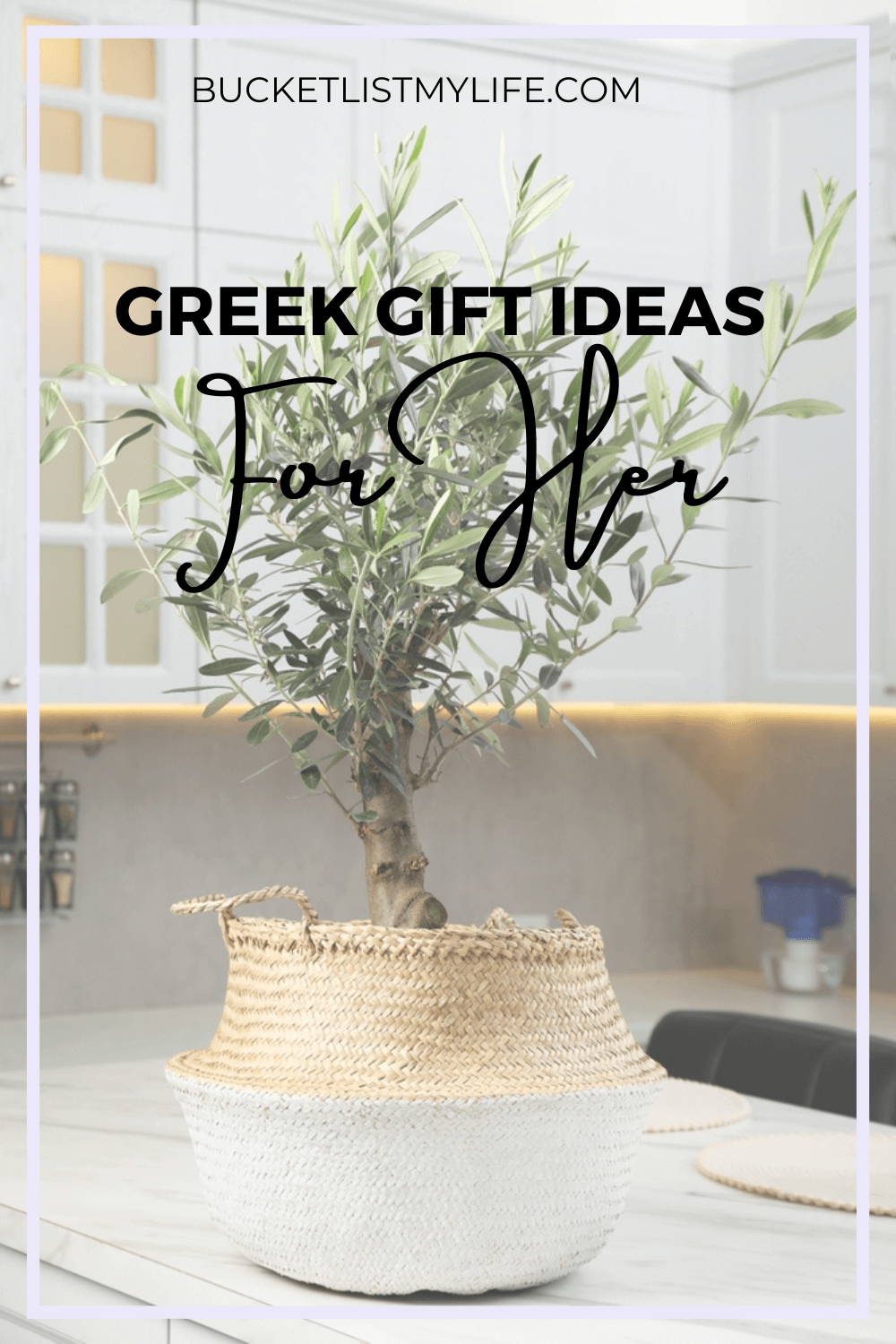 Suzie Young
Suzie writes informative posts for solo, nervous or first-time travellers to Greece, Turkey and other countries on her 50-before-50 bucket list. She became a Greek resident in 2020 and intends to visit every inhabited island (13 down!).