How to Get from Athens To Nafplion: Easy Ways to Go
Interested in a day trip to Nafplion from Athens? Heading to Nafplion as part of a Peloponnese or mainland Greece trip? Then you might be confused about the best way to actually get from Athens to Nafplio.
No fear, I'm here to bring you the options so you can choose the best route for your trip.
I'm going into some of these transport options in quite a bit of depth so that you know what to expect. So use the table of contents to jump to the section(s) you're interested in.
Athens to Nafplio by Car
Driving is a nice option because you can set your own itinerary and pace. There are interesting places en route from Athens to Nafplio (like Corinth). And the archaeological site of Epidaurus with the ancient theatre is close to the town too.
If you're driving the Peloponnese region or have a car for part of your stay then don't be intimidated. Sometimes driving in Greece can be a bit hairy but the journey to Nafplion is pretty good.
For the most part, you're travelling on the National Road which is well-maintained. It's three lanes much of the way with clear road signs in Greek and Latin.
Remember if you want an automatic car to book well in advance. Expect the cost to be higher than a manual, too.
Finding Your Way
To be honest, I'd use the car's satnav or Google Maps to find your way. However, you can manage with just the road signs if you prefer.
When you get your car, ask the car rental people to head you in the right direction. It's certainly very easy to get onto the road from the airport.
Following the Road Signs
First, you'll pick up the signs for the Atikki Odos road to Elefsina. Travel on the E94 and at some point you'll start seeing Corinth (Korinthou/Korinthos) on the signs. You're going to follow those until you closer to Corinth.
When you get close you'll start seeing signs for Tripoli/Kalamata. Follow those until you see signs for Nafplio and Mycenae. Unless you're making a stop in Corinth.
I have a list of the best things to do in Corinth if you want to see some of the ancient sites, visit the Corinth Canal or the modern town.
When you turn off the motorway to Nafplio the road gets smaller although it's still a main road.
Before you get to Nafplio you'll pass – and probably want to stop at – the Mycenean Acropolis of Tiryns.
When you're ready to leave, get back on the main road which takes you right to the edge of Napflio town centre. As you come round the corner into the town you'll see signs for parking by the port on your right hand side.
Parking in Nafplio
I'd recommend setting your Satnav destination as this parking area in Nafplio. It's spacious and free and close to the town. Look for Nafplio Tour Bus Parking on the map. It's also where you can get on the Nafplio Hop-On Hop-Off bus.
From this parking lot, you're in a good position to explore the town on foot. You can walk up to the castle or take the car later if you prefer. If you need any help, there's a little tourist information booth at the parking entrance/exit.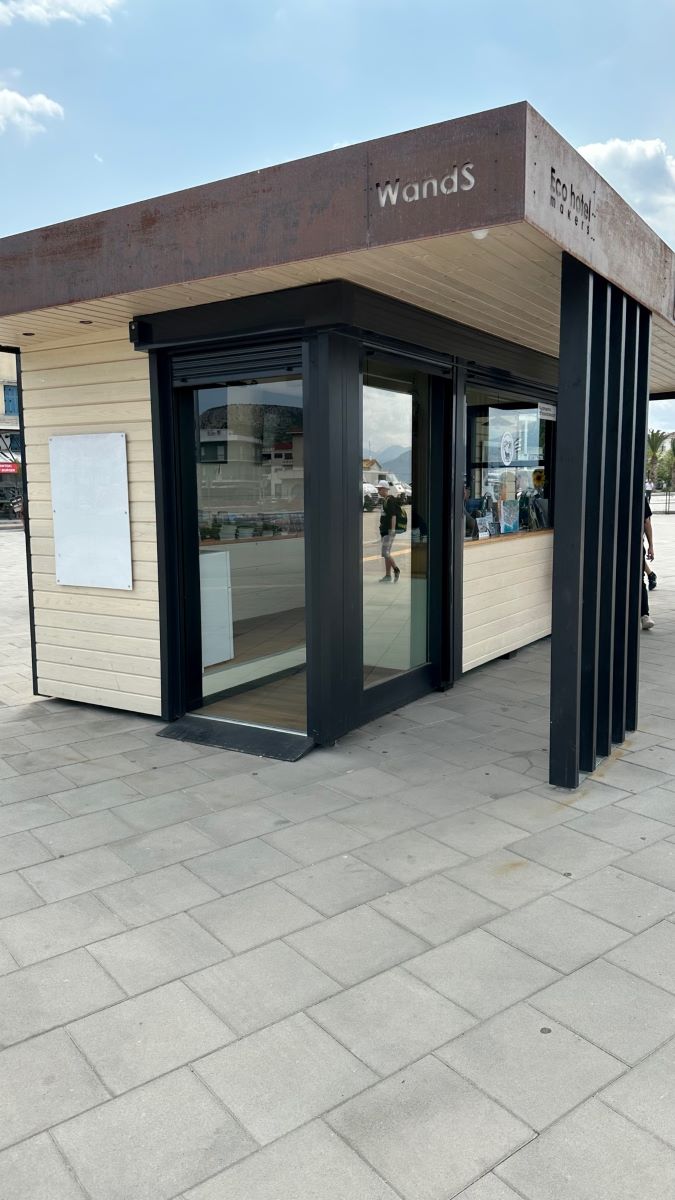 There is additional, free on-street parking in the areas close to the parking entrance. If you go at a particularly busy time you could look out for those too. But the car park is pretty big so I can't imagine you won't get in there.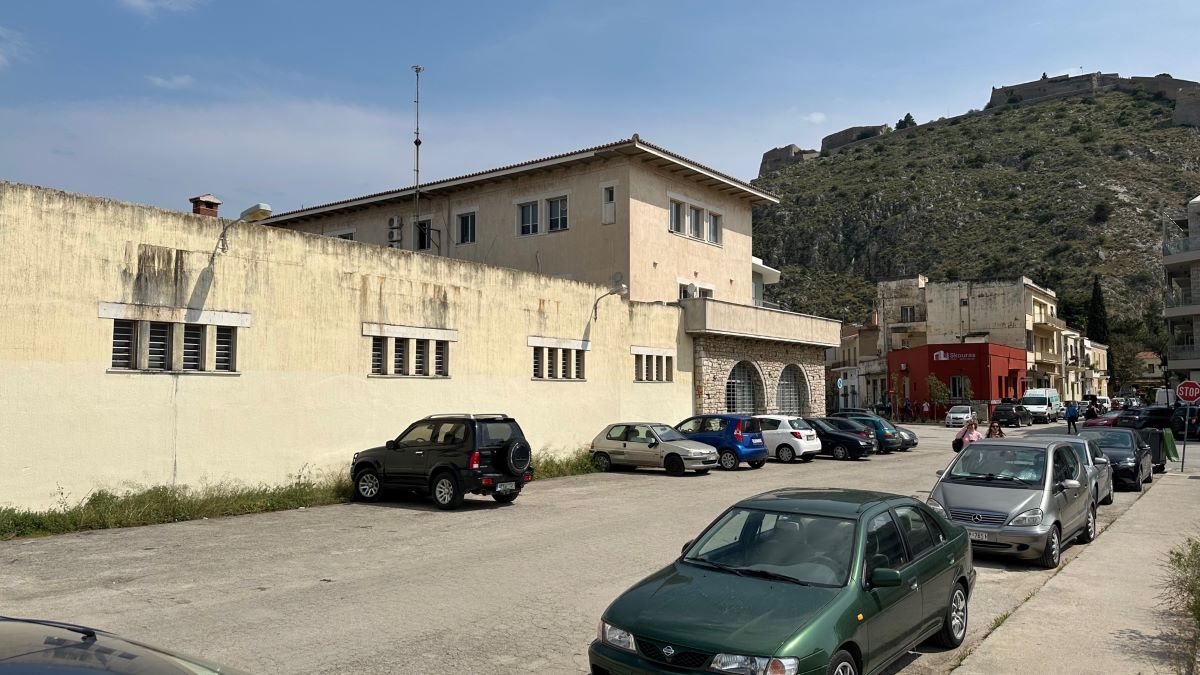 Remember not to leave any valuables in the car. And I'd tuck in your wing mirrors when you park.
Motorway Toll Stations
There are several toll booths along this route from Athens. I tried to keep track of how many but I lost count and I got in a muddle with my receipts when I tried to check after. But I think it was 5 in total going from the Airport. It might be one less coming from Athens itself.
Approaching the Tolls
You can't miss the tolls so don't worry about that. Several booths stretch across the road and there are signs on the approach telling you to slow down.
The LED displays show which booth you can pay at. The background colours vary a bit in each region but you're looking for the one with the inspector. The first few on Attiki Odos are blue. Others are green.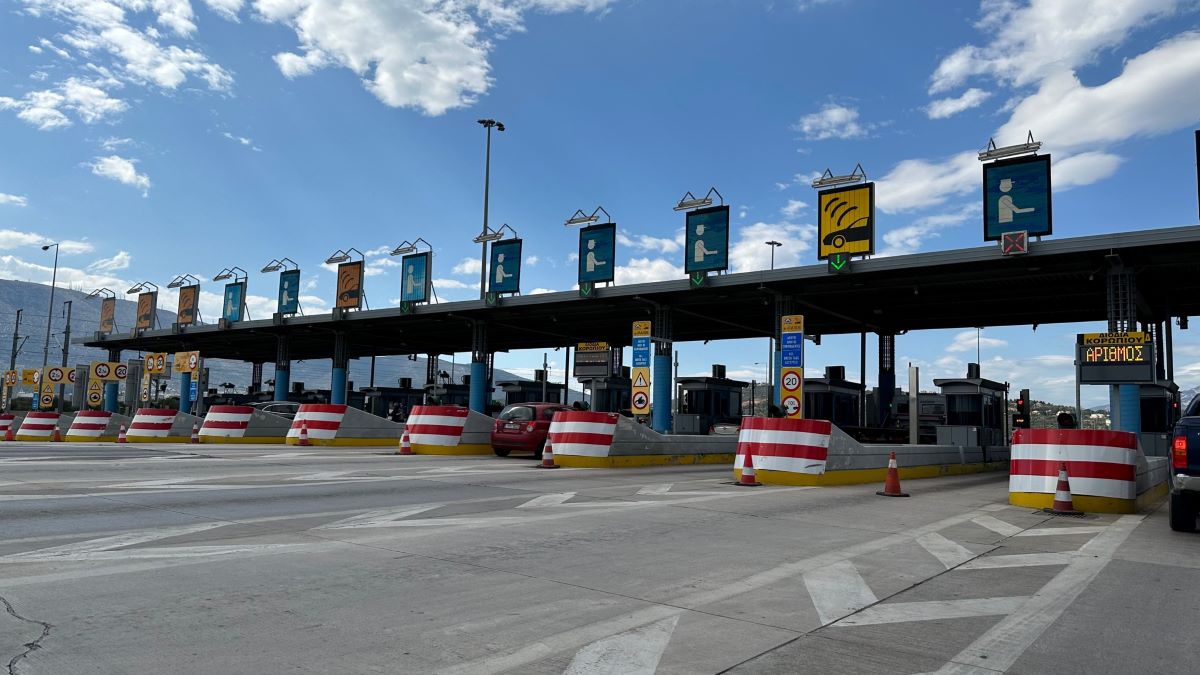 In some places, there are automatic booths for cash or card payments. The ones I've seen are an orange/yellow colour and they have coins and card symbols.
The display that looks like radars coming off the car is for the e-passes so avoid those.
Paying the Road Tolls
The prices are minimal. Getting onto Attiki Odos from the airport is normally 2.80€ but I heard recently the price was being dropped to 2.50. Anyway, the other tolls are either around the same price or slightly lower.
I think it was about 11 euro something in total to go one way. You can pay by cash or card (excluding American Express or Diners.) If your bank charges you foreign fees then cash is obviously better.
You can take loads of change but the booth operators always seem happy enough to change notes. I usually pay by contactless card on my phone.
Facilities Along the Route from Athens to Nafplio
There are regular amenities along the way so you can stop for toilet or coffee breaks.
Service Stations
Periodically there are petrol and service stations. They have good car parking and facilities you might expect like:
food and drink outlets e.g., Goody's Burgers and Flocafe
mini-market with souvenirs, drinks and snacks
toilets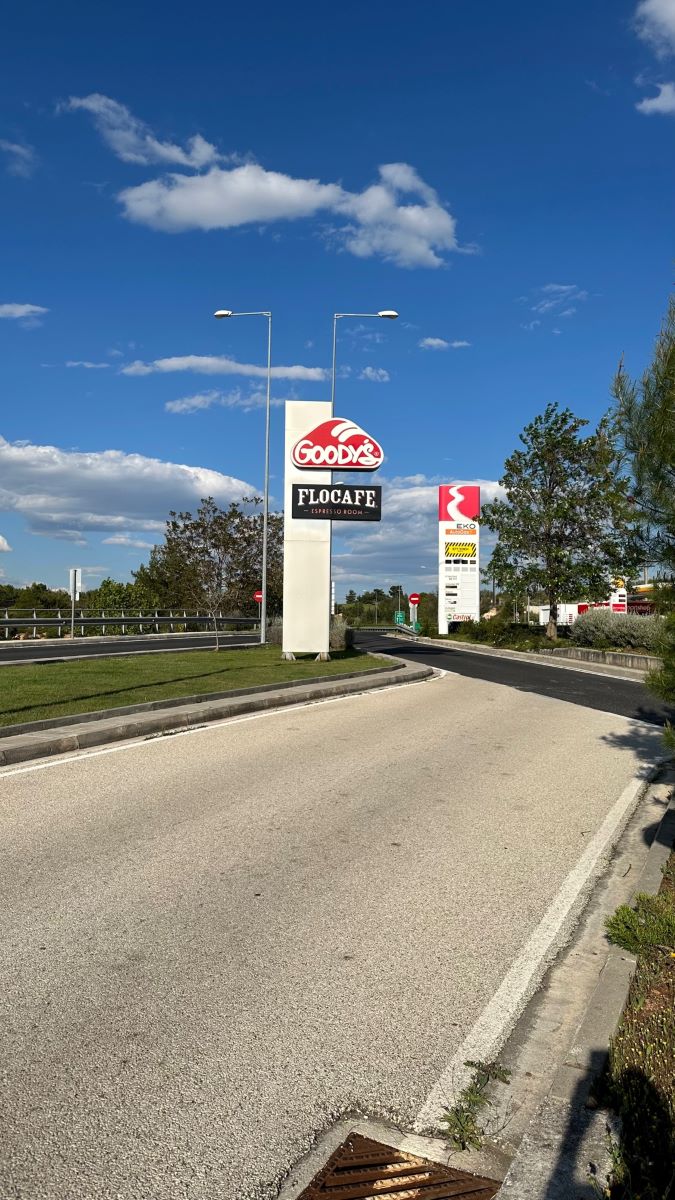 Roadside Toilets
This is a bit different to what I'm used to in the UK. But quite frequently along the road there are also little laybys with toilets. They're very basic. Usually, there's a male and a female toilet plus a disabled cubicle and then a couple of sinks outside.
While they're basic they're not unpleasant. All the ones I've been to have had clean, western toilets (rather than squat ones) with toilet paper and soap available.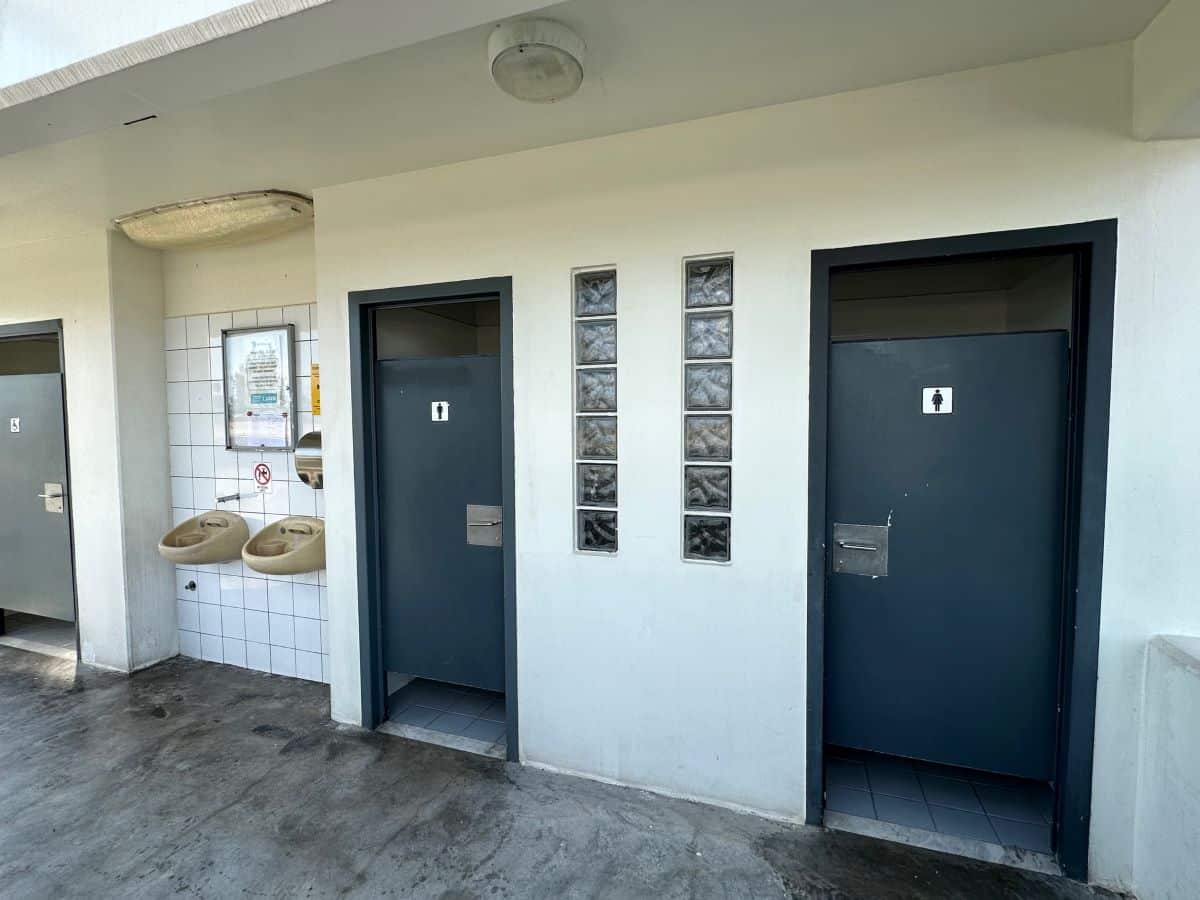 One-Way Car Rental Option
If you're interested in coming back to Athens via one or two of the car-free Saronic Islands, you can get one-way car hire from Athens. I used this company to pick up a car at Athens airport. After Nafplion, I drove just under 1.5 hours to Porto Heli.
I left the car with the car rental company at Kostas port and went over to Spetses island. I was there doing the Spetsathlon and made my way back by boat. But you could easily spend time seeing some of the other islands, like Hydra and Aegina before returning.
How to get to Nafplio from Athens by bus
If you'd prefer to take public transport to Nafplio than drive there are regular buses from Athens.
The bus services to Nafplio from Athens are run by K.T.E.L Argolida. (KTEL is what the bus services are called.) There are several departures a day from Kifissos Bus terminal. The average journey time is 2h 15mins.
KTEL Bus from Athens to Nafplio at Kifissos Bus Terminal
The station is noisy, busy, dirty and generally a bit rough but it does the job. Hopefully, this guide will help you find your way without any trouble. But it might be a good idea to leave a bit of buffer time to get where you need to go. Especially if you need to queue for a ticket on the day.
Return to Athens by Metro Not Bus
It's worth knowing that the return bus to Athens from Nafplio stops at Eleonas Metro before it gets to the bus station. The bus station isn't somewhere I'd like to be at night. And since it's in an awkward location it's likely a better option for you to get off at the metro.
Eleonas is on the Blue Line 2 just a couple of stops before Monastiraki. From there you can go to Piraeus, the airport or to central Athens.
Bus Timetable between Athens and Nafplio
You can check for the most up-to-date details on the K.T.E.L Argolida website.
This is a timetable I got in May 2023 to give you an idea of departures.
Getting Your Bus Ticket for Nafplio
As I write this, a single trip bus ticket on the Athens Nafplio route costs 13.10€. A round trip is 24€.
You can buy an e-ticket from here. Or you can get a paper ticket at the station. Note that if you're buying a ticket at the station you need to get it from the little office beside the bus stance. You can't get it from the main ticket counter in the terminal building.
For journeys from Athens and Nafplion, you can show your e-ticket on your mobile phone. Alternatively, you can print it out yourself or queue up at the office beside the bus stop to have it printed for you. That's not the case for all routes/stops but for the link above it is.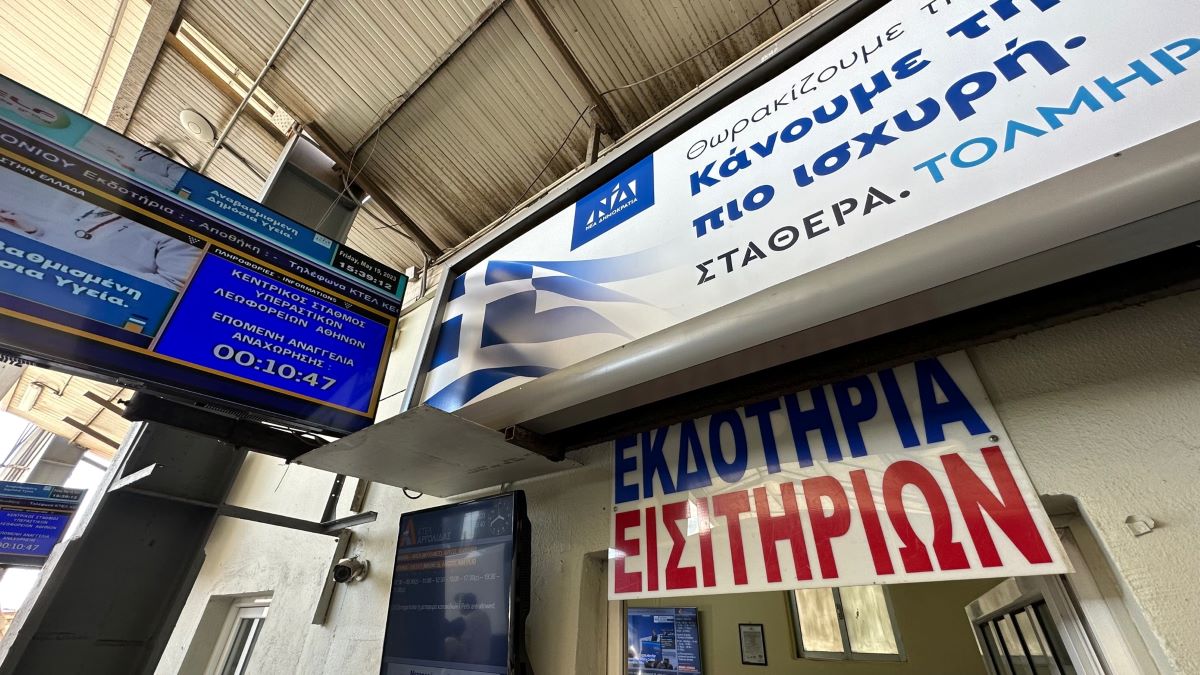 This is the ticket office entrance at stand 37
At the Station
For the Athens to Nafplio bus, you need to go to stand 37. It's the last stand to the right of the terminal building and the taxi rank, as you look at the office building.
Station Facilities
There are lots of little shops around the station to pick up snacks and drinks. Inside the building, there's a large waiting area with tables and chairs and a little mini market.
There's also a shop selling things like luggage, hats and cuddly toys. Plus a couple of bookshops around the station that have a small selection of second-hand English books.
The toilets are along the same section as the bus stance you need. They are Western style without seats and you have to ask for toilet paper when you go in. It's by the tips box where the attendant sits so drop a coin in there.
Getting to Kifissos Bus Terminal
Kifisou bus station is a little bit in the middle of nowhere but here's how you can arrive.
From Athens By Taxi
From Athens city center, the easiest thing is probably just to get a taxi. This is the Google Maps location that you're aiming for.
(You might find this post about the best apps for Greece travel in Athens and the islands helpful.)
How long the taxi ride is depends on where you're staying in Athens, as well as the traffic. The journey normally takes about 15-20 minutes from outside McDonalds and Public at Syntagma Square. The journey time from Omonia Square is normally about half that.
Leave yourself plenty of time though because traffic really can affect your journey time.
Taxis will normally drop you at the front of the station right in front of the bus you need. (Like in the photo above.) When I went recently the traffic was bad and the Greek taxi driver just forced his way down a one-way street and dropped me at the back of the station. So y'know, they might do that, too.
From Athens by Bus
For the cheapest way from central Athens, you'll need to get the 051 bus from Omonia Square. This is the Google Maps link to the stop at Omonia. The bus takes you right into the station when you arrive.
Although Greece has launched contactless payments for buses you need an Athena ticket/card for this journey still.
From Athens Airport by bus
If you're coming directly from the airport then the X93 runs every half hour 24 hours per day. The journey takes about 65 minutes depending on the traffic. Single tickets cost 5.50€.
Tickets for the X93 bus at Kifisia station if you're going there after your Athens to Nafplio trip.
From Piraeus Port by bus
You can get bus 420 from Gate E1 at Piraeus Port. This bus journey takes about 50 minutes. Single ticket packs of the Athena ticket start at 2.30€ for a 2-pack. You can buy them in the Metro station at Piraeus if you don't already have one.
Arriving at Nafplio Bus Station
The bus station in Naflio is on the edge of town. You get dropped off outside the office with ticket and timetable information. The bus back to Athens goes from spot 2, the same place it drops you off.
As soon as you get off your plunged in amongst the beautiful neo classical architecture. The town is pedestrianised so you're ready to head straight off into the pretty streets.
And if you don't fancy walking up to Paladimi Castle there's a taxi rank right where you get off the bus.
Join an Organised Day Trip or Private Transfer/Tour
If you'd rather just sit back and relax into an organised day tour then that's an option too.
Group Tours from Athens
There are plenty of group day trips from Athens. Have a look at the reviews on trips offered through places like Get Your Guide, Viator and TripAdvisor to find one.
Private Tour from Athens to Nafplio
Alternatively, you can also find a private tour through one of those agencies. My Athens Transfers comes highly recommended too.
Check whether a licensed guide is included or not. If you're into Greek history a private tour guide means you can get all your questions answered from ancient times through to the Greek Revolution.
If you're less of a history buff and are happy with a thorough introduction from knowledgeable drivers then a transfer might suit you best. You'll get information about the places you're visiting but you're free to explore on your own.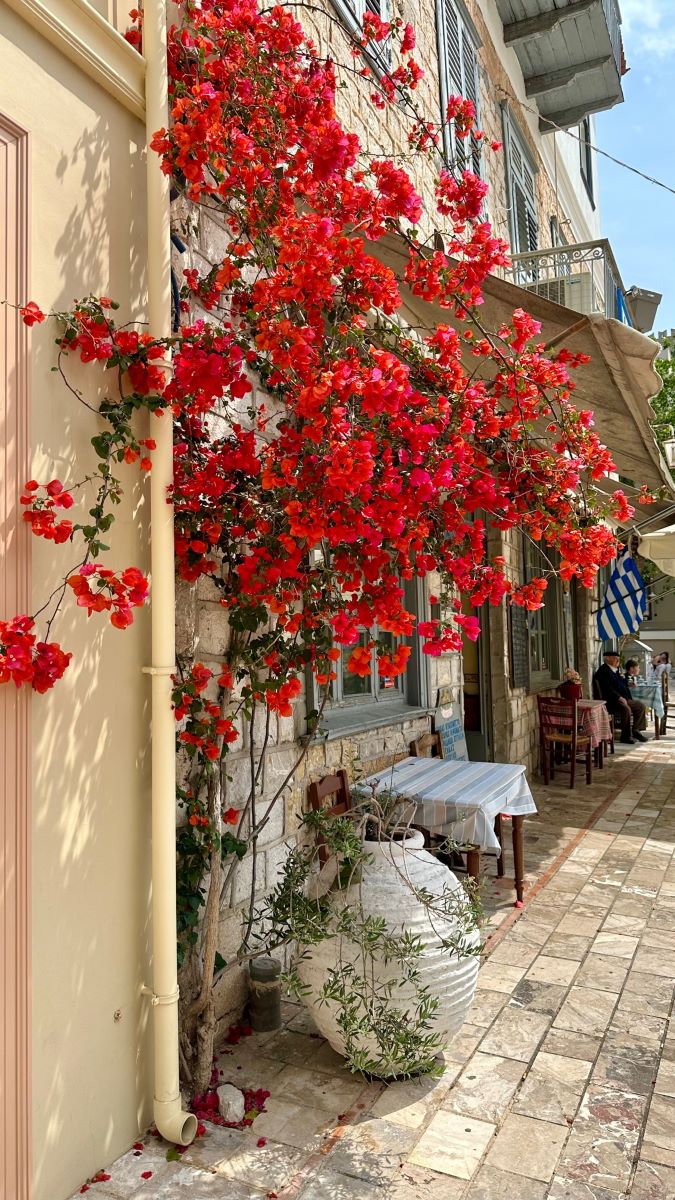 Taxi from Athens to Nafplio
Probably for this, the driver will arrange a fixed price with you. As a guide, you can expect to pay around 166€ – 200€
FAQs
How do I get to Nafplio from Athens?
The best ways are by bus, car or group/private day trip. I've outline all the details in the post above.
Is there an Athens to Nafplio Train Option?
Trains run between Athens and Corinth and buses from there to Nafplio. However, since the horrific crash at Larissa I'm not sure about the current state of the railways. For the moment it's probably best to choose one of the other options above.
Is there an Athens to Nafplio Ferry Option?
You could go to Nafplio via the Saronic Gulf. However, I wouldn't recommend it unless you're finishing there after a bit of en-route island-hopping. The ferry from Athens to Ermioni/Hermioni takes about 2.5 hours and to Port Cheli over 3.
From there you still need to drive about 75 minutes to get to Nafplio. It's not an option for a day trip or a straightforward route.
Can You Get from Athens to Kifissos Station By Metro?
The nearest metro is on the Red Line but I wouldn't recommend travelling this way. It's about a 20-minute walk to the station on a route that's not very nice to walk.
How long is the bus ride from Athens to Nafplio?
It's about 2 hours 15 minutes.
Is Nafplio a day trip from Athens?
Yes it's a popular day trip with people travelling in both organised groups and on their own. You could definitely stay longer in the area though.
Is it easy to drive from Athens to Nafplio?
Yes it's quite straightforward. The roads are good and well signed. Look at the pictures and information above to see for yourself what to expect.
Is Nafplio and Nafplion the same?
Yes they are the same place.
More Info For Your Trip to Nafplio from Athens
If you'd like to know more about renting/ hiring a car in Greece then read this.
For those of you who will be flying into Athens from the islands these are the best Greek airlines for island hopping. (Travelling via Athens.)
If you're thinking of spending more time in the Peloponnese then have a look at things to do in Corinth. And this post about hiking and swimming at Polylimnio Waterfalls. It's a lovely example of the region's beautiful nature.
This page may contain affiliate links. Read through my privacy page for more information.
---
Suzie Young
Suzie writes informative posts for solo, nervous or first-time travellers to Greece, Turkey and other countries on her 50-before-50 bucket list. She became a Greek resident in 2020 and intends to visit every inhabited island (13 down!).