9 Best Gyros in Athens Greece: Veggie and Vegan Too
This week's mission was to find the best gyros in Athens. It wasn't really what I was supposed to be doing but some weeks of the month I'm better at eating than getting my brain to work. So here we are.
Where Are the Best Gyros in Athens?
The best place for a good gyros won't necessarily be in the city's most popular restaurant or the latest raved-about foodie hotspot. The most authentic Greek food in any place you visit is one, subjective, and two, often found in the most tiny taverns or no frills atmosphere.
Anyway, luckily for you some of the best spots to find this particular Greek dish are in the city centre. You can find most of the traditional Greek gyros that I mention below in central Athens' tourist area just a short walk from Monastiraki Square or Syntagma Square, or close to the Acropolis
Monastiraki/Ermou/Syntagma
Meat the Greek Souvlaki Pork Gyros
If you want pork gyros here you need to go earlier in the day rather than later. Meat The Greek has a reputation for high-quality gyros because they make the meat stack themselves fresh each day. Once that day's is gone it's gone.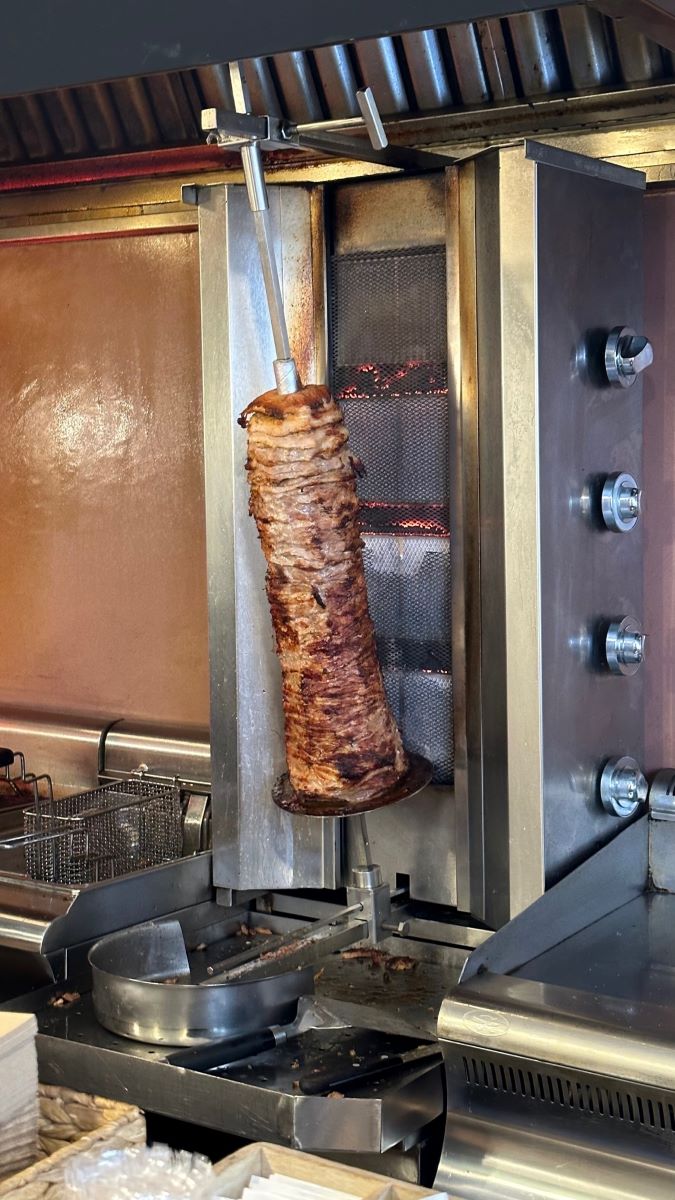 If you miss the gyros they have souvlaki grills going all day so you can still have a chicken souvlaki wrap. Plus they have a lovely Greek salad and other good food on the menu.
I like that Meat the Greek uses recyclable materials, sources Greek products where possible and that the olive oil they use is made from their own olives. It's another "hole in the wall" that's popular with locals and it's certainly always busy when I pass.
Pork Gyro from Meat the Greek with warm pita and really crispy fries
You can find the restaurant on Fokionos Street, a side street off Ermou, tucked between Marks and Spencers and Hondos Centre. They have a few little tables and chairs and people queue up over the way for takeaways.
Oh, and I didn't realise until after that they do veggie and vegan options. The vegan one is best as it's filled with falafel. The veggie is basically the standard one with the meat taken out.
Meat the Greek – Vegan Wrap
Meat the Greek gets a second entry on this list for their vegan version. Don't ask for a vegan gyros like you would at the vegan places on this list. It causes confusion and they'll give the pork gyro.
The vegan option is listed under their souvlaki and wraps section. Ask for the vegan wrap to get the right thing.
Their version is a spicy falafel filling with lots of tasty french fries.
Hoocut – Veggie
My friend Marika from ClumsyGirlTravels came with me to Hoocut but it turns out they don't actually don't do gyros. Their wraps are made with grilled meat, not gyros from the rotisserie. But I've left Hoocut on the list because of their vegetarian option.
It was a very delicious gyro, possibly my all time favorite. Their version is stuffed with full dolmades which sounds like a weird combination but I loved it!
If some of your party is veggie and some aren't you could still come here if you're not bothered exactly how your meat is cooked. (The Greeks may consider me saying this sacrilege…) Marika thought her chicken wrap was good quality.
Anyway, it's another spot with several restaurants together with tables on the street.
​Yummy Gyro Veg-style at Hoocut
o Kostas
Kostas is in Agia Irina Square which is one of the favorite spots for many a local Athenian, not just tourists. I actually went to Kostas as part of an Athens food tour where we all enjoyed what I was told was an authentic gyro on little stools outside.
The Americans in the group called the place a "hole in the wall". And it literally it's the tiniest indoor space but that's enough to create a delicious gyro. I didn't notice at the time because I was digging straight in, but I can see now this is souvlaki meat not gyros.
But see my note below that mostly what I think you're after as a tourist in Athens, is meat in a wrap. So technically it's not gryos but it might still do the trick.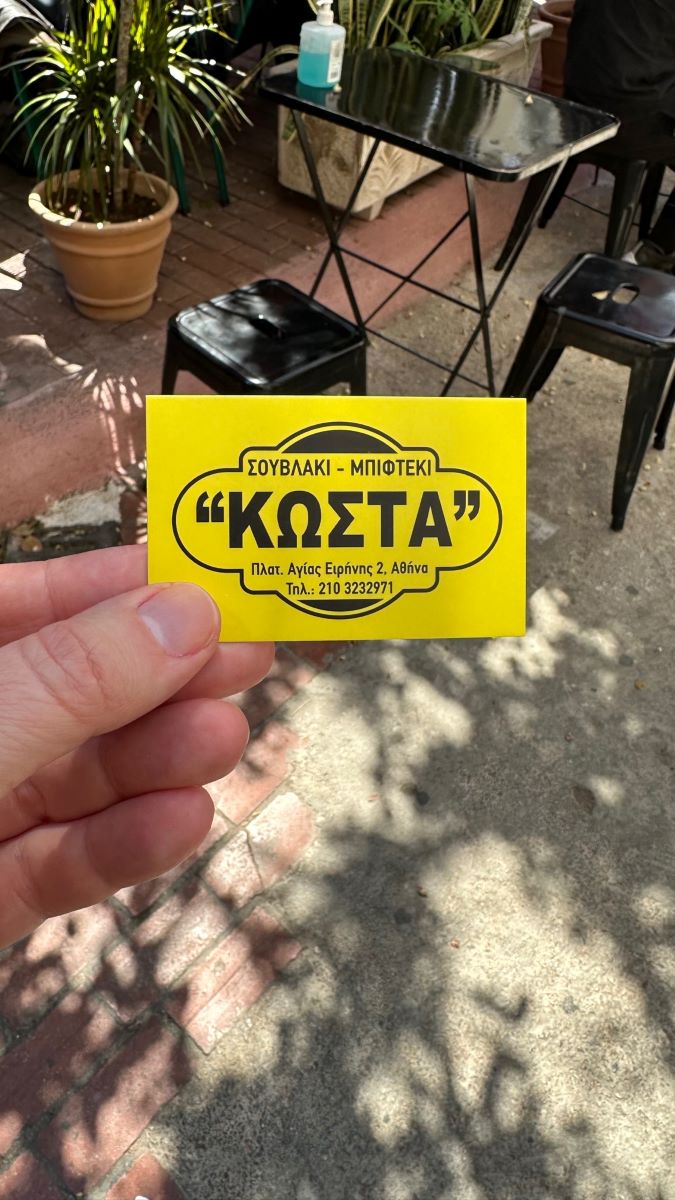 View of the square from Kostas
O Thanasis
This restaurant is the one on the left side of the street as you come up with Monastiraki Square behind you. There are two restaurants with the same name and we went to the wrong one the first time.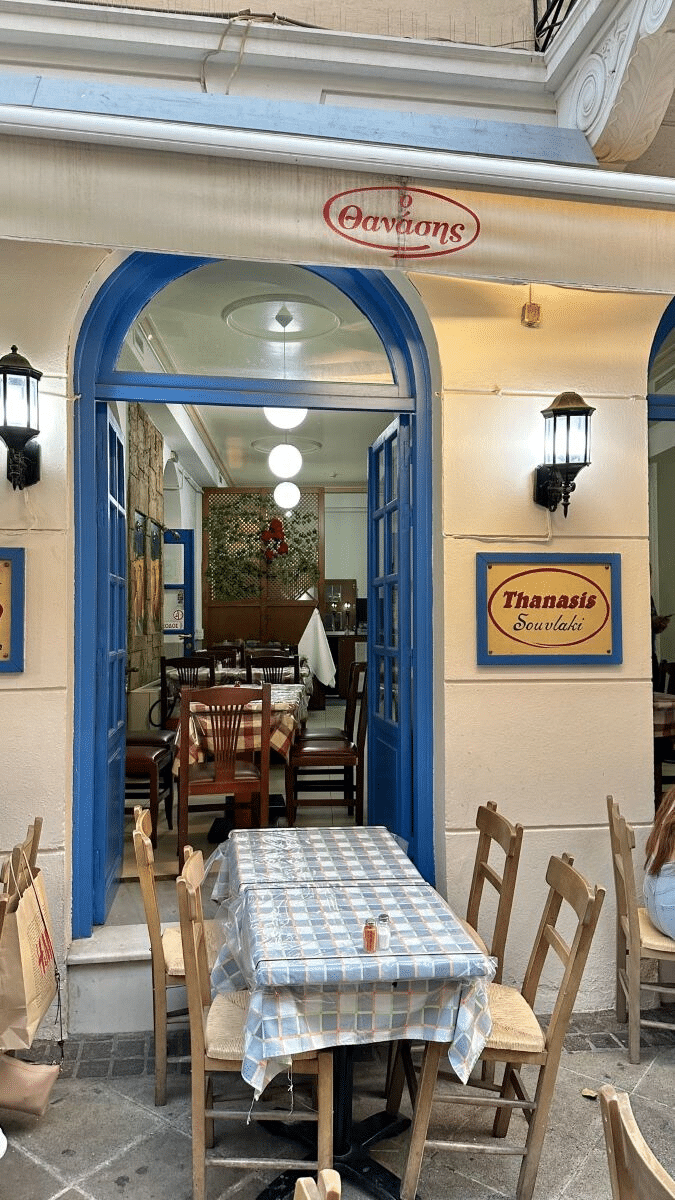 Anyway, we found the right place and both restaurants had friendly staff. I was still with Marika for this one since we tried out two places in one night. I wanted to get round four so I could get this post out for you sooner. But that was a bit ambitious, even for me!
We decided to get the chicken gyro on a plate rather than wrapped chicken gyros to take away. It's the same just served as a platter. So the pitta bread was cut into pieces and the meat put on top. And the plate also had the lettuce, tomato and tzatziki. It was tasty and we got a very generous portion which we shared.
We sat under the window where the food was being prepared and when I said thank you to the guy leaning out of it he plonked another pile of meat on our plate!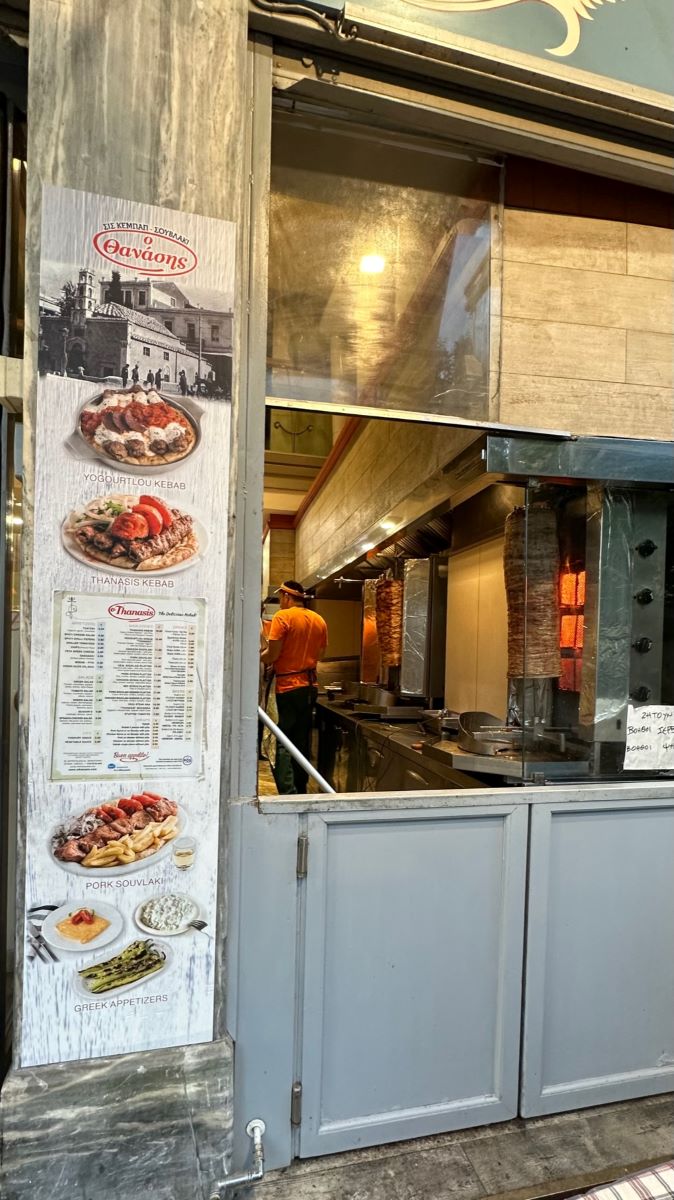 There's quite a bit of seating inside O Thanasis in a style I'd call traditional Greek decor. It was a nice evening so we sat outside. Their terrace is a good size, and again, it's amongst lots of restaurants with seating spilling out onto the street.
There was some live music at one of the other restaurants so we enjoyed being serenaded from across the way and soaked up the touristy atmosphere.
Bilingual menu at Thanasis
Having said that, I heard several other locals eating at the tables around us so that tells you something too.
Savvas
Savvas is right by Monastiraki Square and a bit of a tourist trap, as you might expect. I don't think the service is always great although it was fine when I was there. But they have good food, at least the gyros, great prices, and a great view of the Parthenon.
I had the chicken gyros and it was delicious. The bread was squishy and perfect and the chips were nice and chunky. Plus it was a good price.
For air conditioning and an Acropolis view, you'll need to sit in. Go up two floors in the lift/elevator and then walk up the last set. Alternatively, sit downstairs or outside where it's a bit more hectic.
For a takeaway gyros pay inside and then go to the outside window with your receipt.
Acropolis
o Gyros Pou Gyrevis
O Gyros Pou Gyrevis is the perfect place to grab a quick bite if you've been visiting the Parthenon and Acropolis Museum. It's literally just outside one of the Metro exits at the Acropolis station.
It's just a little takeaway place with a couple of tables outside. But it's cheap and tasty. Enjoy!
Smile Restaurant
Ok this isn't your 3.20 euro street food! At Smile their pork gyro is cooked sous vide style so it's a bit different to the others on this list.
I found the meat a little bit fatty for my personal taste. But I've left this on the list because people do rave about this dish here, the presentation was nice, the chunky potato wedges were fab and I liked the service.
Exarchia
Cookoomela Grill – Veggie
This is a great place for vegan food. It's a bit outside of the centre and I would be a bit cautious in this area. When there's unrest in the city it can come to a head here. But take a stroll there for lunch from Thisseo or get the metro to Omonia and discover Echarcia's unique bohemian/edgy/alternative (and anarchistic) appeal.
Amazing food at Cookoomela
The service at Cookoomela is friendly and quick. I had the yellow gyros and it was sooo good! It's stuffed with mushrooms, avocado tomatoes and the chunkiest chips ever!
You can choose from several gyro options (I might have the green one next time).
Support the Refugees Along the Road
If you do decide to go here, consider taking some food to drop off for refugees at the Notara 26 community. Check the Facebook page for what they need. I dropped off a fan and some rice and lentils when I went but when you go their needs might be different. Refugees in Greece that have been granted asylum have a really tough time with no support. So anything you can do will help.
What's the Difference Between Gyros and Souvlaki?
Turns out after about 2.5 years in Greece I'd understood this wrong. I thought gyros was when you had meat wrapped up in a pita bread and souvlaki was when it was deconstructed as a meal on a plate.
But I went on a food tour the other week and the guide explained this to me properly. But it's still confusing because the words souvlaki and gyro are often used interchangeably.
The guide told me that souvlaki is the sandwich, ie meat in a pita. And gyros is the TYPE of meat that's used. As in, it's the sliced meat that comes from a vertical rotisserie rather than from a skewer. But the meat that's like a kebab on a skewer is called souvlaki. Which confused me further.
It's like the difference between shish and donner kebabs which I also get the wrong way round.
Anyway, I think it's a topic that's open to debate so you may hear differently. And if you're Greek, don't attack me if you have a different understanding of this! Either way, in this post I'm talking about meat in a pita because I think that's what you're looking for.
And although they can be made with souvlaki meat (and gyros can be served on a plate with potatoes – wedges, fries or chips) what I'm recommending here is the meat that comes from the rotisserie. With the exception of Smile Restaurant and the veggie and vegan options obvs.
What's in a Gyros?
As well as the pita wraps (often a round bread, not actually pitta) and the gyros meat other things you'll find in a gyros are:
tomatoes
onions
chips/french fries
tzatziki sauce
Usually, you'll be asked if you want everything so you can choose to leave out anything you don't want/can't eat. Note that not everywhere puts chips/fries in theirs.
How Do You Pronounce Gyros?
Although it's one of the most popular street foods, people often have no idea how to actually say it properly. If you're from the UK you'll probably say it like I did, gi-ro. But it's actually more like yee-ro, with the emphasis on the "ee".
Looking for Other Things to Do in Athens?
So now you know Athens' gyros hotspots and you're right in the heart of Athens there's no end of other things you can do. Take a food tour or walking tour of the city's landmarks, visit Athens' museums, go shopping in and around Athens, hunt for souvenirs, chill out at a luxury hotel or forget it all and head off to the beach.
Heading to the Islands? Here's Where to Eat
If you're venturing out the islands and need food ideas for there too, then see this post about the best restaurants in Milos. If you're going to beautiful Andros then here's what and where to eat there.
This page may contain affiliate links. Read through my privacy page for more information.
---
Suzie Young
Suzie writes informative posts for solo, nervous or first-time travellers to Greece, Turkey and other countries on her 50-before-50 bucket list. She became a Greek resident in 2020 and intends to visit every inhabited island (13 down!).