21 Best Restaurants in Milos Greece Sorted by Area
One of the Greek islands that seems to be attracting a bit more attention recently is Milos. If you're heading to Milos and wondering which are the top restaurants to find the best food, read on.
Because I couldn't get around all of these restaurants on my own, this list of Milos restaurants has been gratefully put together with the help of Elias at Fantasy Rooms as well as some other locals and visitors to the island.
I've organised the following Milos restaurants by area. I think sometimes it can get a bit overwhelming when there is a lot to choose from. So hopefully this will help.
Restaurants in Adamas Port
The port, which you might also see referred to as Adamas or Adamantas is full of cafes, restaurants, bakeries and traditional food. Here are some of the best places to look out for.
O! Hamos!
Let's start with O! Hamos! which I was told is basically the best restaurant on Milos island. Their colourful, lively restaurant is on the main road on the way out to the airport. It's a bit further on than the other seafront restaurants so walk beyond them to get there.
Local Ingredients
O! Hamos! serves traditional Greek dishes and almost everything is made from their own products. That includes meat and cheese from their own flock. It's run by the Psatha family and you can read the background story about how the restaurant came to be on their hand-written menu.
Check the menu if you're vegetarian, but the chickpeas come highly recommended and there are several other meat-free dishes. Meat-eaters rave about the lamb dishes and you'll need a big appetite if you go with the Pitarakia tis Giagias (Grandma's cheese pies).
Expect to Wait
Given that this is one of the most popular restaurants and they don't take reservations you should expect to wait. If you want to eat there at dinner go early, like 6:30 – 7pm or be ready to wait up to an hour for a table.
O! Hamos! Does open at 1pm so you can go for lunch too. It's not as hectic in the afternoon but it still gets busy. There is a nice sunbed section across the road so it's not the worst place in the world to have to wait!
Reviews so far this year have been a bit mixed in terms of service. Once you've eaten it might take a while for you to get your bill. So overall, expect a very Greek dinner experience over a few hours, especially in the main tourist season. There are definitely other good options on this list.
Mikros Apoplous
Back along the main road towards the port is Mikros Apoplous. It's another waterfront restaurant away from the bustle and has beautiful seafood dishes.
The Gouna – mackerel dried in the sun – was recommended as a favourite as was the tuna which they didn't have when I went. But their food seems to be pretty good across the board. The vast majority of it is fish though, so don't expect a lot of meat dishes on the menu.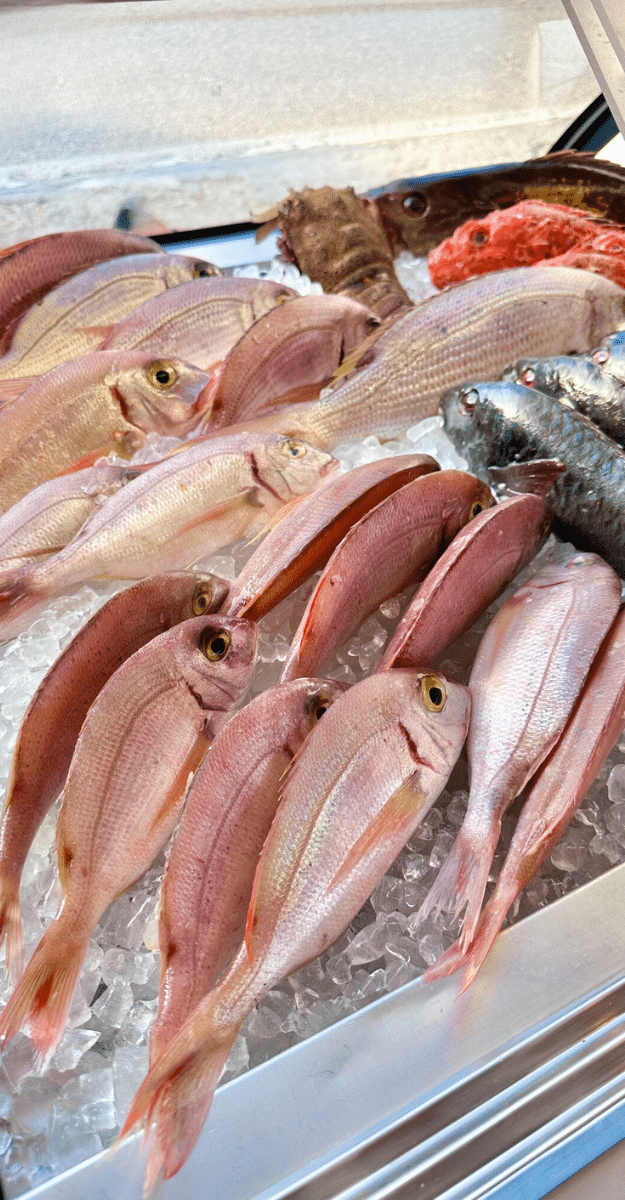 Anyway, the waiting team were friendly and professional and the prices are pretty reasonable. This is a nice little find in Adamas.
Nostos Seafood Experience
Nostos Seafood Experience was described to me as "spectacular". This seafood restaurant is a combination of traditional and modern cuisine with a lovely view of the sea. And it does feel chic.
Nostos is a bit closer to the Port than the other two above but it's right along the same main road. Try and get a table closest to the water if you can.
You will need to reserve here so either drop by or ask someone at your accommodation to book for you.
Alevromilos
If you want to eat like a local come to this restaurant courtesy of the Greek Chef Vasilis Papikinos. You can taste traditional dishes mixed with an Italian flair. The moussaka with fava instead of the normal bechamel sauce is one of the restaurant's popular dishes.
Alevromilos is away from the town centre so you can enjoy some space and lovely surroundings. The service is friendly and you'll be made to feel welcome. And if you need gluten-free dishes you'll find some here.
Vasilis also hosts cooking classes on Milos. Check those out if you want to learn how to make some delicious food in the Cyclades yourself.
Aggeliki Ice Cream Shop
This shop was recommended to me by a local and I can understand why. It's full of beautiful, freshly made desserts. I was told about the chocolate fondue they serve with chopped fruit. Honestly, it looked divine but too messy for me when I was in a rush!
So I had a really pretty fruit tart that was really tasty! They have all sorts of ice cream flavours that come in generous servings.
Later in my stay, I went back for brunch. I chose the avocado toast thinking it would be moderately healthy. But It was literally a Greek toast – cheese and ham toastie – with avocado puree over it topped with a couple of eggs.
Needless to say, I didn't need to eat for quite a while afterwards. The service was a little bit slow, but it was friendly and professional.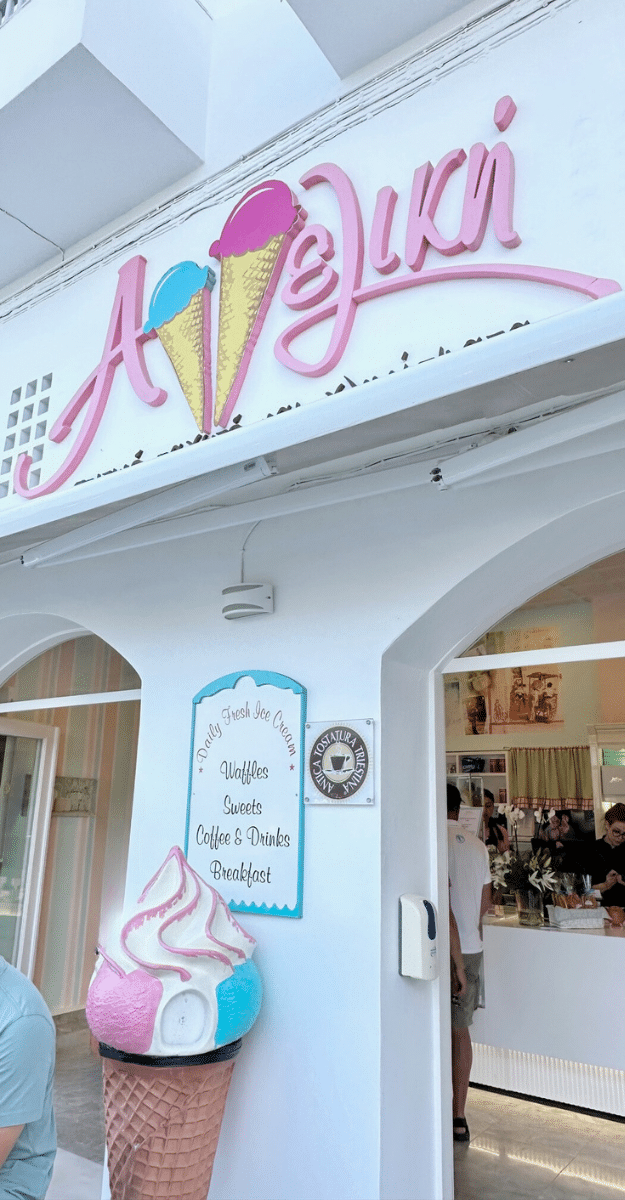 Aggeliki Ice Cream Shop was busy every time I passed it
Pollonia
Pollonia is a colourful fishing village in the north of the island. It's one of the best places to eat and pretty much everywhere is good to enjoy dinner. (Although I did notice the sushi restaurant has mixed reviews.)
There's a strip of restaurants along the seafront where you can enjoy a sunset dinner in a lovely setting. Take a wander along and see what takes your fancy. The ones below are the standouts.
Akrotiri "Seafood Obsession"
Akrotiri is an award-winning restaurant and perhaps the best in Pollonia. As such, expect to reserve a table a day in advance. So get straight on it if you're only in Milos for a few days.
The service here was really friendly and welcoming and the setting's lovely. The tables go right down onto the beach and it felt quite chic.
In terms of food, it's a modern twist on traditional Greek and Mediterranean dishes. There are a few meat dishes on the menu but you can tell by the name that it's all about the fish. What you eat comes solely from the local fishermen and you can see the fish displayed in their cabinet.
If you're vegetarian go for the risotto that's based on the traditional Greek stuffed peppers.
Enalio
Enalio's another specialist fish restaurant although they do have a very limited choice of meat. Their philosophy is all about using simple, fresh and seasonal products. And they grow their own products in Milos to use in the restaurant.
The restaurant's right at the start of the row of eateries in Pollonia so they have the slight disadvantage of being right beside the road. Although the tables don't go onto the sand the outdoor section on that side does have a lovely view.
The rest of the tables are across the road but the area has quite a pretty set-up. If you want to book at Enalio their website has an online booking facility.
Yialos/Gialos Restaurant
Yialos/Gialos is known for its wonderfully fresh seafood and of course the great view. It's a bit on the pricier side so check the menu before you go in if that's important to you.
Kivotos ton Gefseon
Go here for breakfast or dessert. It's an absolute Aladdin's Cave packed with sweets, desserts and Cycladic PDO (products of designated origin).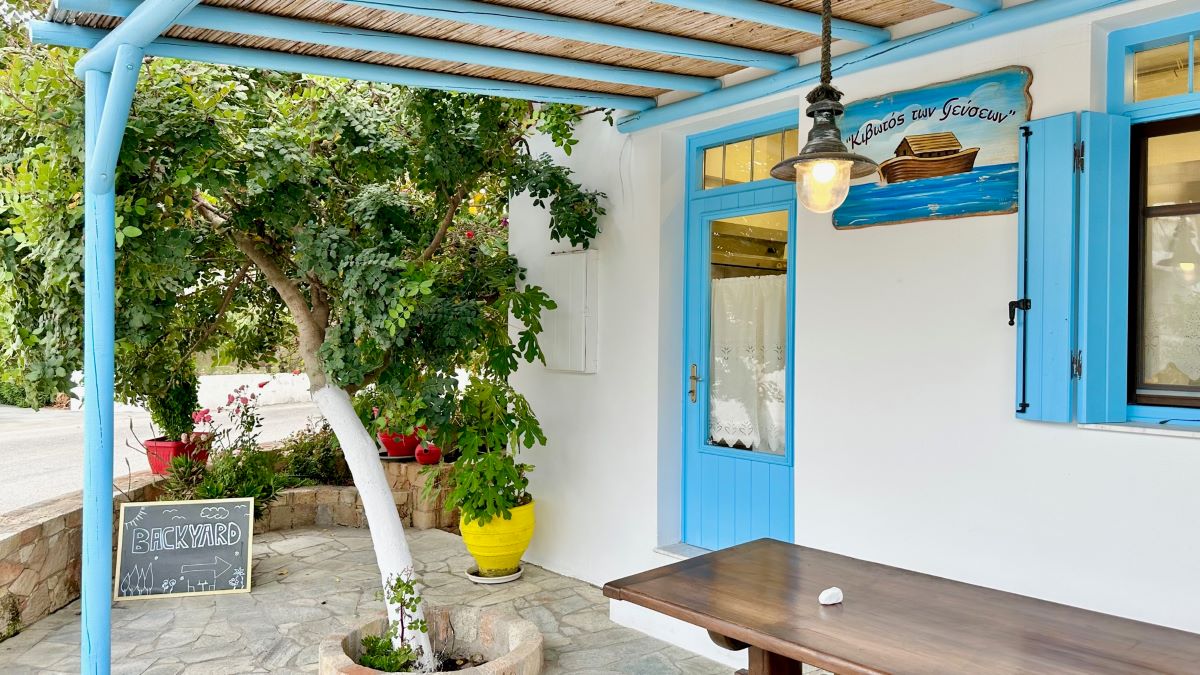 If you want to do some souvenir shopping in Milos then this is a great place. Take back some local wine, olive oil, herbs, beeswax products and all sorts of other yummy things.
The lemon tart and chocolate are amazing and you can try out Milos' traditional watermelon pie. I got some herbs and a gorgeous pot of aromatherapy balm.
Trypiti
A few of the best restaurants in Milos with sunset views are in the village of Trypiti. It's close to Plaka and looks really magical in the evening.
After visiting Ergina and Glaronisia (below) I drove back out of the village the way I came. The road forks and becomes one way so I passed another two restaurants that I didn't see when I arrived.
(If you're not used to driving through narrow Greek villages then I'd recommend coming by the route via Plaka. I hadn't discovered then there were two ways to go and I came up from Klima.)
Anyway, both caught my eye and I've added them here based on my research and other diners' experiences.
Ergina
I was recommended Ergina because of its delicious Greek cuisine and sunset view. I went to see the sunset and stopped here on the way back with the intention of taking away some moussaka. I was really tired and didn't want to sit in the restaurant.
However, even though a lot of the tables were empty, I was told the chefs wouldn't have time to get anything ready for me. I'm not quite sure how they'd have coped if I'd come in as a group of four and wanted to sit at one of the available tables.
Anyway, the terrace area has a pretty view of the sea and sky and the greeter wasn't unfriendly. Overall the reviews seem to match the local recommendation I got. So it's one to put on your list.
Glaronisia
After not being able to be helped at Ergina I passed Glaronisia on the way back to the car. I was welcomed warmly and I got a very good piece of moussaka for about half the price of Ergina.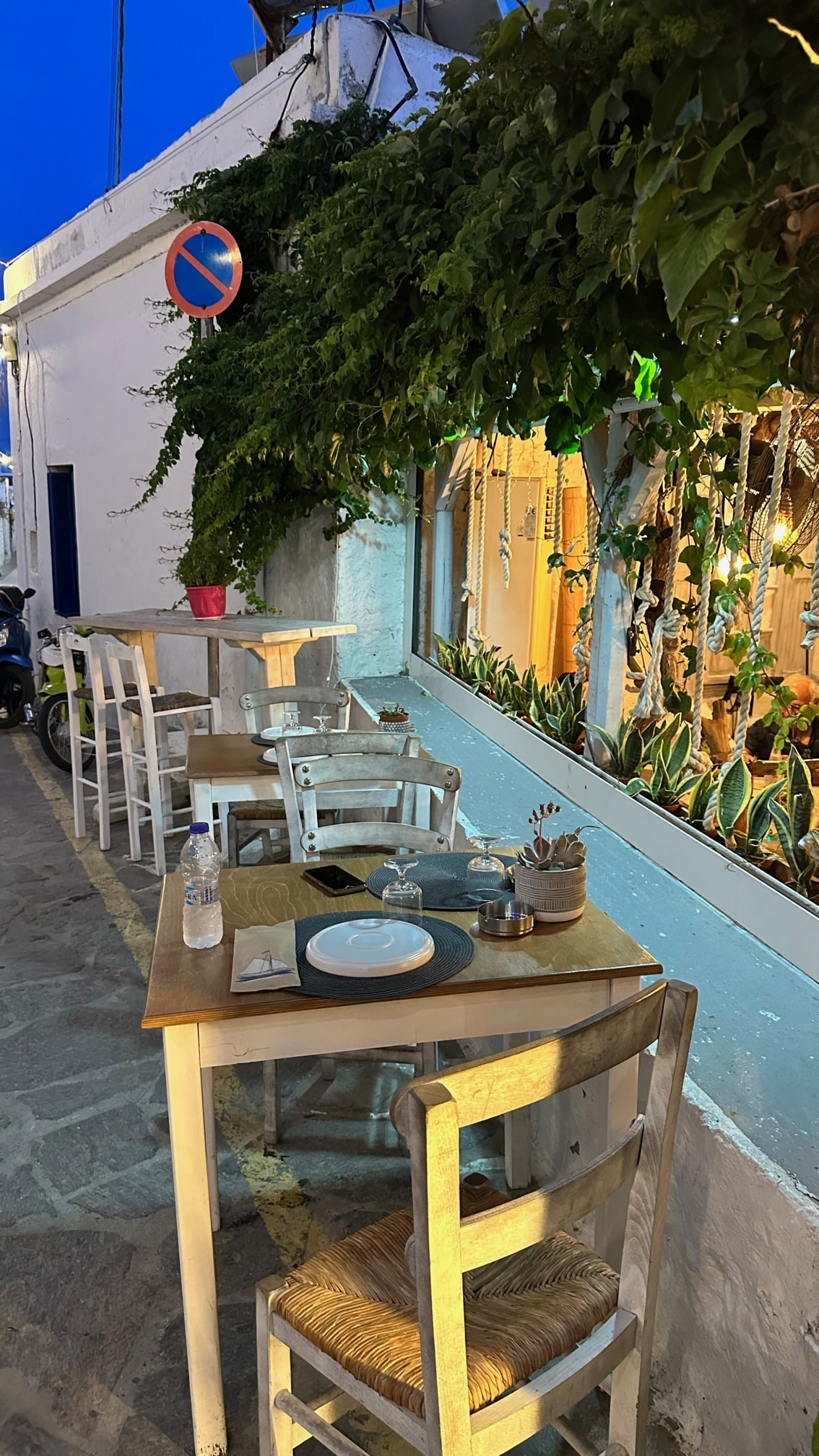 There's no sunset view here but the set-up is quaint. Portions are generous and good value for money so it's made it onto this best restaurants list.
Okto
Like many others on this list, Okto uses fresh, seasonal products to make their delicious food. They share the village square with Bariello (below) and also have three other balconies. If you want to watch the sunset from one of those then book in advance or arrive nice and early.
They have plenty of Greek beer and their Greek salad is a stand-out. You can expect warm and attentive service, gluten-free options and a brunch that's as fantastic as dinner.
Bariello
Bariello is another of the island's best restaurants for authentic Greek cuisine with a modern take. They have a farm in Adamas where they grow lots of fruit and vegetables and have their own rabbits and chickens running about.
Their food is fresh and organic and the restaurant has plenty of vegetarian dishes to choose from. They also have quite an extensive wine list.
Bariello shares Trypiti village square with Okto and has some great views of the sunset. (Book in advance to guarantee you can see the sunset from your table.)
If you go, you'll likely meet the owner, Takis. He's very passionate about what the restaurant offers and enjoys answering questions from his diners. He has a team of friendly staff and the atmosphere overall is very warm.
Plaka
Plaka village is the perfect place to enjoy the sunset in Milos. A great way to view it is with delicious cocktails from Utopia Cafe or Verina Cocktail Bar. The best restaurants for lunch, dinner and dessert are below.
Archontoula
This restaurant is right in the heart of Plaka. It's a bit touristy but if you want the experience of sitting at a restaurant in a pretty village street with authentic Greek charm then this is for you.
It's pretty busy most of the time so make a reservation for the day or the evening. There are quite a few tables along the streets but they do get booked up. People like coming for the lively atmosphere and the restaurant sees you as guests at a party.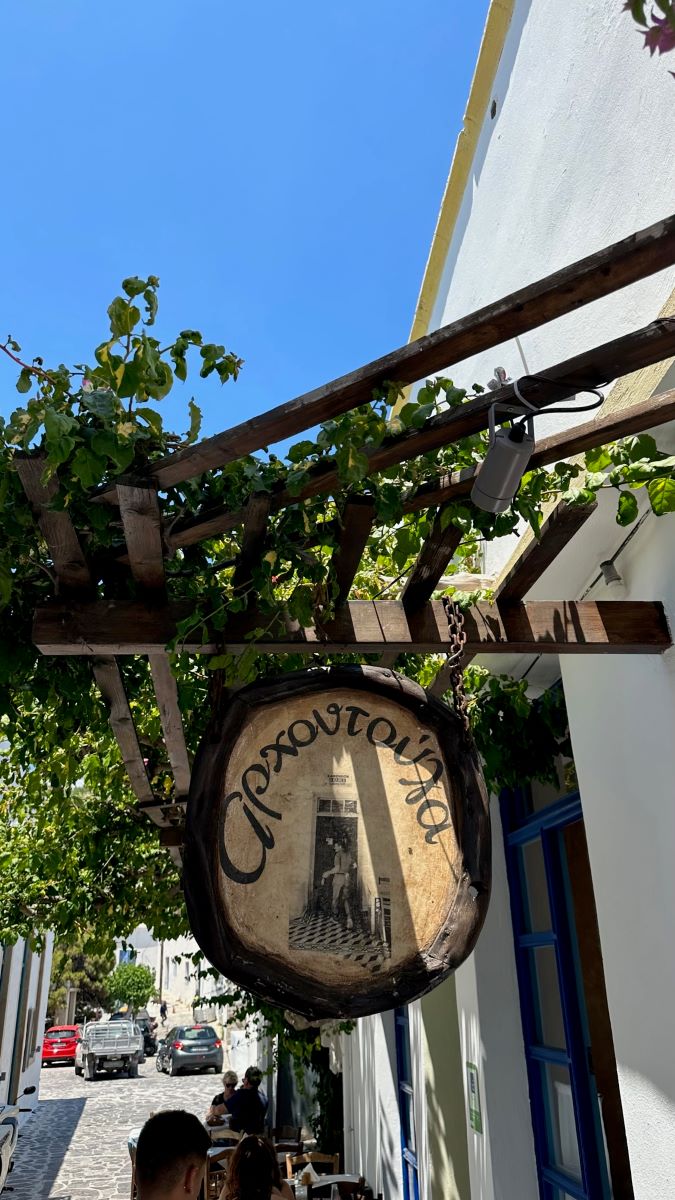 Top tip: try the stuffed mushrooms.
Phátses
Phátses is right outside the Archaeological Museum in Plaka. It's also quite touristy with loud music playing (lots of reggae when I was there.)
Historically it's always been a favourite in Milos. It was recommended to me by a local who said it was her favorite place. She particularly recommended the moussaka and pastichio.
Her son told me that he thought this 2023 season the food was expensive and not as good as in previous years. But I've left it on this list because if you're looking for live music with a bit of atmosphere this could be the right place for you.
Kokkino Podilato
This place is great for brunch and pizza. I highly recommend you get crepes when you go for the sunset. It's on the street near Archontoula, between Verina and Utopia close to the church with the sunset view.
If you get pizza to take up to Plaka Castle in the evening then please make sure you get rid of your rubbish properly.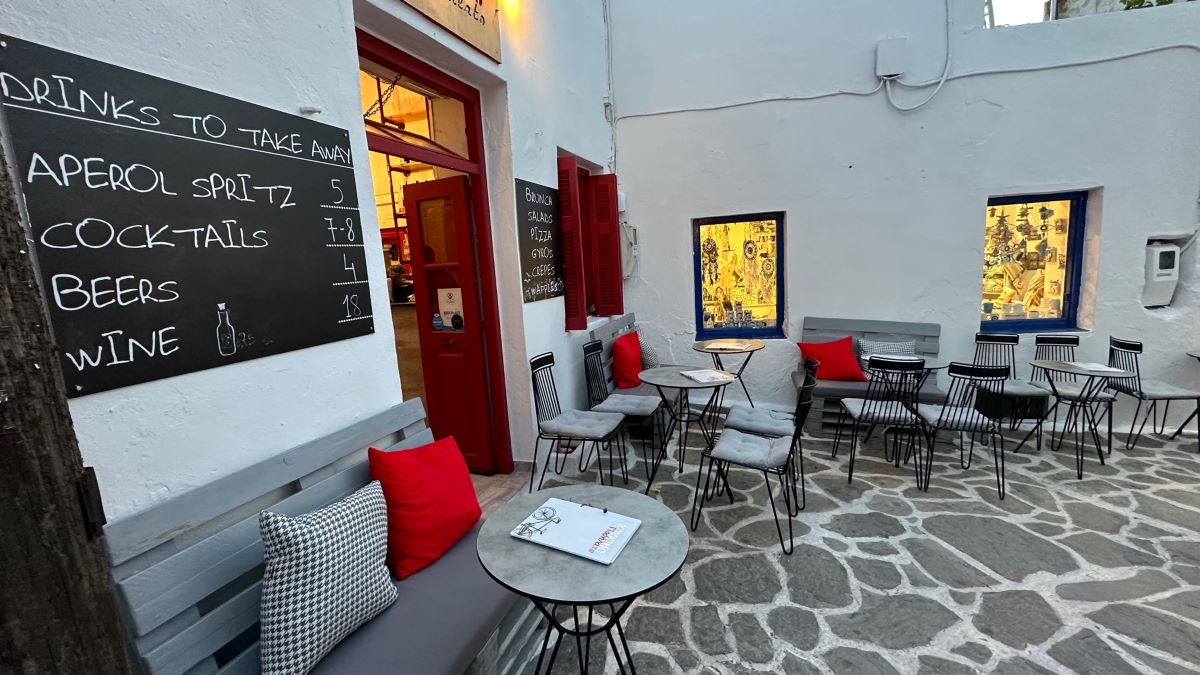 Hidden Gems Around the Island
Psaravolada Restaurant at Agia Kyriaki
Psaravolada Restaurant is within the Psaravolada Resort near Agia Kyriaki on the island's south coast. It's a calm spot with scenic views a bit away from the main bustle of the island.
The restaurant terrace is perched high on the cliff giving you an amazing panoramic view of the Aegean Sea. The service is quick and friendly and the food is really outstanding. It's classic Mediterranean cuisine created to a high standard.
The experience is really quite special so it's worth the effort to get there if you're staying elsewhere on the island. If you're at Agias Kiriaki beach you can climb up to the restaurant from there. Otherwise come along the dirt road but when you get close follow the signs to the resort/restaurant rather than Google Maps.
Medousa at Mandrakia Fishing Village
If you're visiting Mandrakia village to see the fishermen's houses then stop in here for some food. As you can imagine, they use local products and serve some beautifully fresh fish. I heard the swordfish souvlaki is a winner.
You can't reserve and it's quite a small restaurant. So go early because it gets pretty busy at lunch. You can have a drink while you're waiting and the view's easy to look at as you do.
I was so hungry when I passed here. I really wanted to stop but they were opening late due to a private function that morning. I went elsewhere because I was starving like hank marvin and couldn't wait. Next time!
Bakalikon Galanis at Triovasalos village
I stumbled across this place when I was back and forth to the pet shops in the village. (I rescued some young kittens off the side of the road near Pollonia.)
It's a really traditional Greek tavern set on the main road. It's not the best spot visually but it feels very rustic and authentic. It's a popular choice with the locals and can get very busy in the evening.
The portions at Bakalikon Galanis aren't massive and when it's busy you'll need to wait a bit. So keep that in mind with your hunger levels. It does have great choices for vegetarians in terms of the usual sharing plates you'd expect. Things like fava and really good courgette/zucchini balls.
If you need to wait for a table they have a little "bus stop" over the road which I thought was quite fun. They don't open until 6pm so it's dinner-only here.
Empourios Taverna at Embourios
If you want to eat like a local then this is another place to come. It's a traditional taverna on the beach serving authentic Greek food. This was recommended to me by someone I spoke to who was visiting the island.
Elias confirmed it was a good place but that you need a 4×4 to drive there. I think the dirt track's been partially upgraded but still take care. Again, follow the restaurant signs to get there instead of relying on Google Maps.
The best way to arrive is perhaps by boat. If you've hired a boat to take out yourselves for a full or half day then you could stop here on your trip.
Sirocco Volcanic Restaurant at Paleochori Beach
This restaurant is special because you can have food that's been slow-cooked in the hot volcanic sand. They do have one fish dish cooked this way. But it's mostly meat and vegetables that have been slow-cooked overnight in pots in a pit in the sand.
As well as this obvious draw, Sirocco have plenty of other dishes cooked in more conventional ways. Because of its unique attraction, some people find it a bit touristy and perhaps the prices reflect that. But it's at Paleochori Beach which is also quite an expensive place for sunbeds.
If you want to be part of an experience you might want to seek this spot out especially if you're visiting the beach.
What to Expect About Service in Milos
Lots of the restaurants actually have very mixed reviews for service. Unfortunately, my personal experience in Milos was that it was one of the least friendly islands I've visited. (And I've been to a few!)
I was regularly ignored and lots of people I encountered in Milos spoke to me in quite an unfriendly way. Some were downright rude. As such, I've removed restaurants from this list that were highly recommended to me but where I was either ignored or someone was rude.
I'm never quite sure whether it's because I'm a foreigner, because I'm travelling solo in Greece, because I'm fat or something else. But I hope you have a wonderful experience that's much more welcoming than mine.
Greek island of Milos
More About Milos Island
So now you know all about the best Milos restaurants, have a look at the other great things to do in Milos. If you're looking at restaurants before you've sorted accommodation then see this post about where to stay in Milos. If you're looking for the best beaches they're listed here.
To get to Milos you can either fly or take the ferry. And it's relatively easy to get to from other islands like Santorini, Mykonos, Paros, Naxos and Ios.
Most of the roads that you'd want to travel on are pretty good, if narrow in places. Have a read of this if you're new to driving in Greece. There some information here about hiring a car in Greece too.
This page may contain affiliate links. Read through my privacy page for more information.
---
Suzie Young
Suzie writes informative posts for solo, nervous or first-time travellers to Greece, Turkey and other countries on her 50-before-50 bucket list. She became a Greek resident in 2020 and intends to visit every inhabited island (13 down!).