27 of the Best Things to Do in Athens At Night
Particularly in summer, when the weather's scorching in the day, Athens by night is just as lively as the daytime.
Even though I've lived in Greece a while, I'm still shocked that evening events can start at midnight. You might not want to be out that late, but if you're looking for things to do in the Greek capital by night, here's your list.
Tours of the City and Beyond
If, like most first-timers to Greece, you've tacked a day or two in Athens at the start or end of your trip, you'll want to maximise your time. So one of the best things to do in Athens at night could be a tour of the city.
(It can also be a more pleasant way to get around in the summer months when temperatures get pretty high in the day.)
There are various options available to you, from classic to active and/or fun. Here are some to choose from.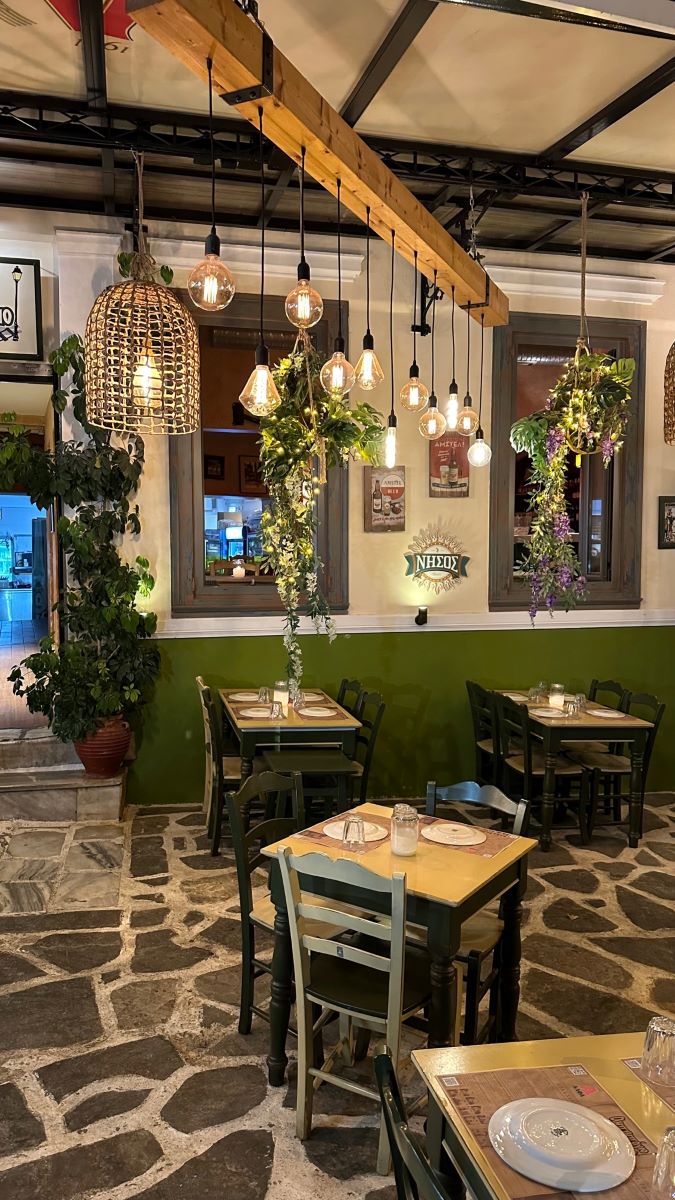 Classic City Tour
This group evening Athens city tour lasts for five hours, starting with a visit to the Acropolis at 5pm. You have a licensed guide leading your walking tour, which means you enter through a calm side gate rather than the hectic main entrance.
After seeing the star attraction, you get to visit some of the city's other historical gems.
Private Vehicle Tour of Athens
If you'd prefer to see the sights from the comfort of an air-conditioned vehicle, you can book this private tour. You'll get a great overview of the city and the main archaeological sites.
If you're short on time, this could be a relaxing way to see in a lot in a fairly short space of time. The suggested tour time is 6pm-10pm but as it's private, there's room for flexibility.
Evening Sightseeing Tour by Electric Tuk-Tuk
For a slightly different vehicle tour, try being transported around the heart of Athens by Tuk-tuk. Your fun local guide will take you around the narrow streets of the city centre through Plaka, Thesio, Monastiraki and Psiri and up Lycabettus Hill.
The two-hour tour packs in lots of sights that you wouldn't get to in a normal car tour.
Athens Night Segway Tour
Choose a group segway tour for an adventurous night tour of the city of Athens lit up at night. It's low energy for the environment and for you! Don't worry if you've never been on a segway before. You start with a lesson to get you acquainted before you head out.
E-Bike Night Tour
This is a really popular tour in the evenings. I've often seen the groups at some of the city's ancient sites. In the past, I took one of the COCO-MAT bike tours down the coast, but this company runs their tours around Athens' centre.
You'll have a leisurely cycle through Plaka and do a panoramic tour of some of the ancient ruins like Hadrian's Arch, the Panathenaic Stadium and The Temple of Zeus. You'll also find yourself around Syntagma Square and the Greek Parliament.
Take a Stroll Through the City
Discover the city on your own little tour. Follow your nose and head up any little streets that pique your interest. You could start at bustling Syntagma Square and watch the evzones in traditional costume at the Tomb of the Uknown Soldier. They perform their ritual duties on the hour every hour all through the night.
From there, you could grab some street food on Ermou and head down to Monastiraki Square. Pick up some souvenirs and then head to one of the museums below. Stop at Little Kook to take pictures of the lights (you could stop for food, too, but there are better places locally).
After Monastiraki, you can walk through Thiseo. It's one of the best places to see the illuminated Parthenon from the rooftop terraces in the area. Stroll on past the street performers and little stalls until you come to Acropolis Hill.
If you're feeling energetic (and surefooted – the rocks are slippery) climb up the steps to the Areopagus Hill viewpoint. Walking around you'll get a panoramic view of the city and the other hills.
Spend some time in the Plaka area enjoying the sights, exploring Anafiotika, having some delicious Greek food or sampling the Greek beer.
Sunset Kayak Tour
This might be a nice thing to do if you're staying in the Athens Riviera. Even if you're not and you're interested in something active, look into this water activity. I did a kayaking tour in Santorini, and I loved it. This sets off from down the coast in Vouliagmeni and can include hotel pick-up from the city centre.
Sunset Tour of the Temple of Poseidon
The Temple of Poseidon is at Sounion, about 75 minutes outside of Athens. Although this isn't something you can do directly in the city, private and group sunset tours run from Athens.
If you've already done a city tour and you're after more history and breathtaking views, then this could be the next thing for your evening.
For a unique view of the archaeological site, you could go on this excellent sunset kayak tour and combine these two activities.
Ride in a Hot Air Balloon
Another idea if you have a bit more time in the city and want to do something extra special is this hot air balloon experience from Athens.
Tickets for this unique experience can include a transfer from Athens to a site about an hour away from the capital. You'll sail over the site of ancient Thebes and mainland Greece before returning to Athens. I did a hot air balloon ride in Cappadocia as part of my 50-before-50 bucket list, and it was fantastic.
Entertainment
Watch a Film at an Open-Air Cinema
You'll find open air cinemas all over Greece so of course there are some in Athens. Cine Thission is a famous outdoor cinema in a really central tourist area. It runs through spring and summer with classic films as well as current releases.
Movies are generally shown in English with Greek subtitles. You can check showings and times on the Cine Thisio website, but you have to get your tickets at the box office in person.
Cine Paris is another of the popular outdoor cinemas. It's a popular alternative to Cine Thission as it's a rooftop location. Unfortunately, in 2023 it's closed for the season to do some building refurbishment.
See a Performance from Athens Epidaurus Festival
This Athens festival runs theatre performances through spring and summer at stunning venues like The Herodeon/ Odeon of Herodes Atticus and the Ancient Theatre of Epidaurus. The Herodeon is under the shadow of the Acropolis and is the perfect place to feel immersed in Greek culture.
The Ancient Theatre of Epidaurus is in Epidaurus, close to Napflion, so it's quite a way outside of Athens. However, special buses are put on from Athens for the performances during the festival.
This is the e-ticket link. You'll need to put the destination in as Epidavros then scroll down the options until you see Theatro Festival.
Selected performances are in English, and the rest are in Greek with English subtitles.
Solve an Ancient Greek Murder Mystery Whodunnit
For something a little different, go and see this entertaining one-man show before dinner. You'll travel back to ancient Greece to help a police officer called Nikarchos to solve the murder of Callimachos. It's a fun event for a small and interactive audience with magnificent views of the Acropolis at sunset.
Visit the Acropolis Museum
The Acropolis Museum is a good, modern museum which is absolutely worth visiting. It can be useful to visit before going to up the Acropolis to see the Parthenon and other ruins because it explains what you'll be looking at.
Over the summer, the museum is open Tuesday – Sunday until 8pm, with the last entry at 7:30pm. On Fridays, it's open until 10pm with the last entry being 9:30pm.
Special occasions where the museum usually stays open – for free – from 8pm until midnight are:
European Night of Museums – 18th May 2024
August full moon(s) – Thursday 31st August 2023 and Monday 19th August 2024
In 2023 it was also open until midnight for International Museum Day. The next date is Saturday, 18th May 2024, and you'll need to check nearer the time if they're participating again. In the past, they've opened until 8pm with free entry.
Go early and expect crowds, especially in August. They often have other events happening at the same time. For the full moon on 1st August 2023, they had a tango evening, and you can see from the photo how busy it was.
The Museum of Illusions
Not many museums in Athens open until evening but here, the last entry is 8pm. It's nothing to do with ancient Athens, but it's a fun one for children! The Museum of Illusions is at the far end of Ermou Street in Monastiraki.
The Maria Callas Museum
This is a new museum that opened in October 2023. It displays the illustrious career of the Greek opera singer Maria Callas. It's very much geared towards people who don't know a huge amount about opera, so you don't need to be an opera buff to visit.
You can listen to her performing, see some of her outfits and learn more about her interesting life across two floors of the building. It's a little down the street to the left from the city's Cathedral (with your back to the church). And it has a cafe and shop on the ground floor.
This museum is open on Friday nights until 10pm during the summer season and until 9pm from November until March.
Get a Fright at Athens Hall of Horrors
If you're into something a little ghoulish while on holiday, head to the Hall of Horrors. It's a short walk from Monastiraki Metro station, just past the Museum of Illusions.
You can't miss it; it's lit up like Christmas! Tours last 20 minutes, and the place is open until midnight. They don't recommend it for children under 12.
Sunset Cruise
You don't have to visit the islands to enjoy a sunset cruise. Head to the Riviera and do this activity right here in Athens. This particular catamaran cruise serves up a friendly afternoon and evening with traditional Greek food, excellent swimming and snorkelling spots and then a gorgeous sunset over the Saronic Gulf.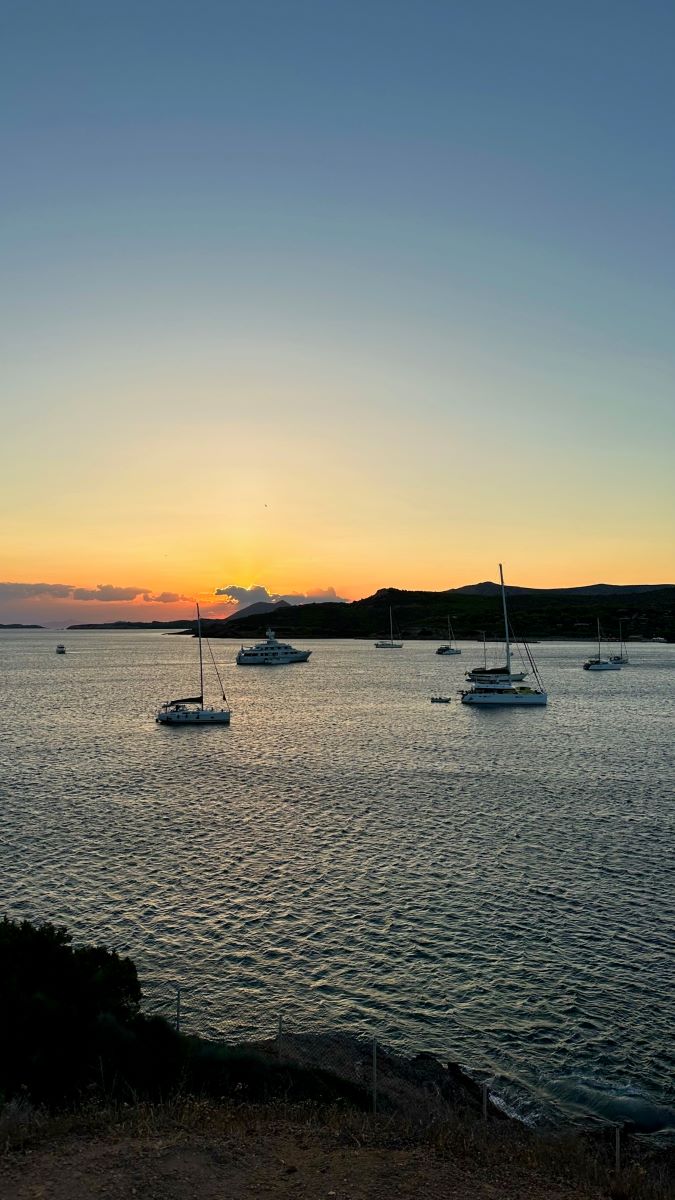 Go Shopping
Whether you're looking for clothes by Greek designers or gifts to take home, you can shop at night.
For international high street chains open until 9pm most days, you can head to Ermou Street or one of the malls around the city. If you're after designer goods, head to Kolonaki. Souvenir shops around Plaka are open until around 11pm for gifts and keepsakes.
See the Stars at the National Observatory
See the stars through the Dorides telescope at the National Observatory visitor centre on Nymphs Hill in Theisio. Guided tours are held in English on Wednesdays, Fridays and Saturdays.
They start one hour after the start of the scheduled evening visits and times vary seasonally:
20:00 from November to March
21:00 in September, October and April
22:00 from May to August
You'll see the Museum of Geoastrophysics, the library full of historical books plus various telescopes and other scientific equipment from past times.
You can buy tickets online from here. Note that the visitor centre is closed from 3 – 26th August 2023.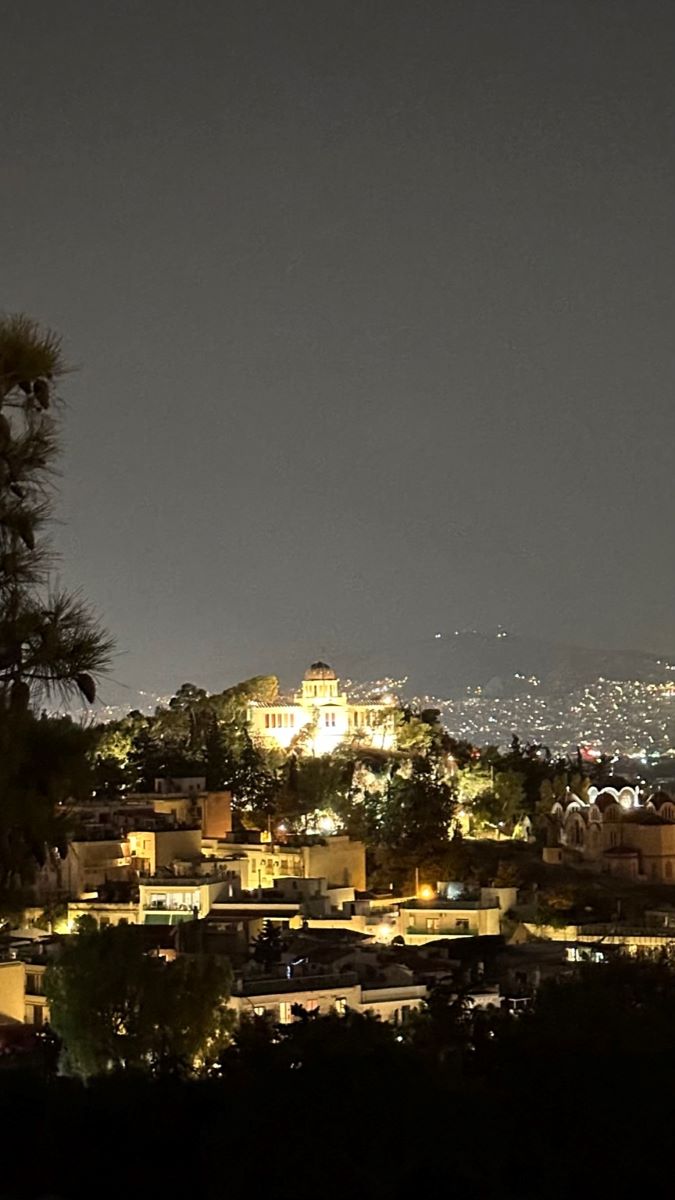 Watch A Greek Night Show
I'm adding this as a bonus because lots of people ask where they can go to hear Greek music and watch traditional folk dances while enjoying a traditional Greek dinner. There is a show you can book onto for all these things, but it's not particularly excellent quality.
Food and Drink
There are lots of options for foodie-related things to do at night in Athens. You can join an organised event or enjoy something on your own. Here are some of the best suggestions for you.
Enjoy Some Street Food
Let's start with something quick, easy and cheap. You could decide for yourself which are the best gyros in Athens or pick up some sweetcorn, nuts or koulouri. Walking through the historical centre, you'll find plenty of stalls and stands to pick something up.
Have a Drink
Kick back and relax in Athens with a drink. For something old school, head to Galaxy Bar.
If you go to a cocktail bar, you might as well choose one of the rooftop bars. There are several around Thesio and Monastiraki which give great views of the Acropolis. A for Athens has a good rooftop bar.
Orizontes Lycabettus at Lycabettus Hill also has exceptional views. You can have a meal at this fine dining restaurant too, but the reviews are very mixed so make up your own mind about eating there.
Sample Some Greek Wine
​Spend an evening doing some wine tasting in the heart of Athens. You can make your way through six wines in a relaxed atmosphere at the relaxed Wine O'Clock close to the Acropolis Metro Station. Or do Wine Tasting Under the Acropolis as part of a more formal session.
If you like to vary your scenery while you sample some great drinks, you could join this Wine Tasting and Nightlife Guided Tour with Cocktail.
Take a Cooking Class
If something you enjoy when visiting a foreign country is learning how to cook the local cuisine, then Athens is a great place to indulge. Ensconce yourself in the local culture with this Traditional Greek Cooking Class with Full Meal.
Go on a Food Tour
A good way to sample a variety of local food and explore Athens is through an organised food tour. This Food and Wine Tasting Tour at Night includes tasting various estate wines.
Have a Meal Somewhere Special
Have some traditional Greek food at one of the best restaurants in Athens or one of the options below.
Meal with a View
You could try out this 7-Course Dinner and Wine Pairing with Acropolis View for a special occasion. If you're looking for something a bit more "every day", head to Thesio (after the observatory or before the open-air cinema). Various restaurants, like Strofi, have good views of the Acropolis lit up at night.
Dinner in the Sky
What better way to see Athens by night than from the sky while you eat dinner?! I have to say this wasn't my favourite idea of a good time, but others who don't like heights would still encourage you to do this. I DID love the great music, amazing food and overall relaxed atmosphere.
Read about my full experience of Dinner in the Sky Athens here.
Go on a Pub Crawl
This is a great way to sample the best of Athens nightlife as part of a group. Get someone to show you around the best bars and best clubs the capital has to offer without worrying about finding your way around. If you're a solo traveller and want to meet other people, group activities can be the best way.
More Useful Information about Athens
Now you know how to maximize your time while visiting Athens, here are some other posts you might find helpful.
There are good tips here on things to know before visiting Greece for the first time. This post has information about how to get from Athens airport to the city centre. If you're heading up to Corinth, here are some things to do there.
This page may contain affiliate links. Read through my privacy page for more information.
---
Suzie Young
Suzie writes informative posts for solo, nervous or first-time travellers to Greece, Turkey and other countries on her 50-before-50 bucket list. She became a Greek resident in 2020 and intends to visit every inhabited island (13 down!).