Strofi Athens Greece: Top Restaurant, Acropolis View
Strofi Restaurant has kept coming up in conversations and queries, so took myself off there to try it out. I absolutely do recommend this restaurant, although the vegetarian options seem limited.
Strofi is an elegant restaurant with excellent service, nice food at reasonable prices and great views of the Acropolis.
Read on for my experience and details for booking.
View from Strofi Restaurant
Let's start here because visitors to Athens always ask where they can eat with a great view of the Acropolis. And that's one of the main reasons Strofi is popular. The building is on a corner, and their outdoor rooftop terrace angles round so everyone gets fantastic views.
Even though I wasn't at one of the tables closest to the large picture windows, I still had a great view of the Acropolis. It's not quite outdoor seating, but when I went in August, the windows were slid open for a clear view and a welcome breeze.
For the best seats in the house, I'd go early (at lunch) or book early (for dinner) and probably don't dine alone.
Strofi Athenian Restaurant
What's The Food Like?
I had some delicious food at Strofi. The portions were generous and I couldn't finish either dish, which is unusual!
When seated, I was offered bread along with a drink. I declined the bread, but I saw the others were served some lovely rustic bread and olive oil.
Starters
The menu has quite a large variety of typically Greek hot and cold starters.
I went for some traditional Greek food in the form of good old courgette/zucchini balls. The lemon yoghurt dip was really sour (in a good way). I thought it was perfect although I very nearly went for the fried feta cheese with honey.
I liked that the waiter left the starter on the table when he brought my main, in case I wanted to try finishing the fritters later.
The menu is full of authentic tastes like courgette balls and flava
Mains
The main menu options were all pretty classic local dishes from Greece. The hot main courses were all either seafood or meat dishes. I'm sure if you're veggie and wanted a hot meal rather than a salad, they'd put something together for you. But I'd check before booking.
My main course was two sea bass fillets wrapped in vine leaves. I didn't love the vine leaves, although that's personal choice rather than poor cuisine. I'll stick to them just for my dolmades.
But the fish was very light and meaty simultaneously, and the vegetables of mushroom, spinach and onions in the white wine sauce were very tasty.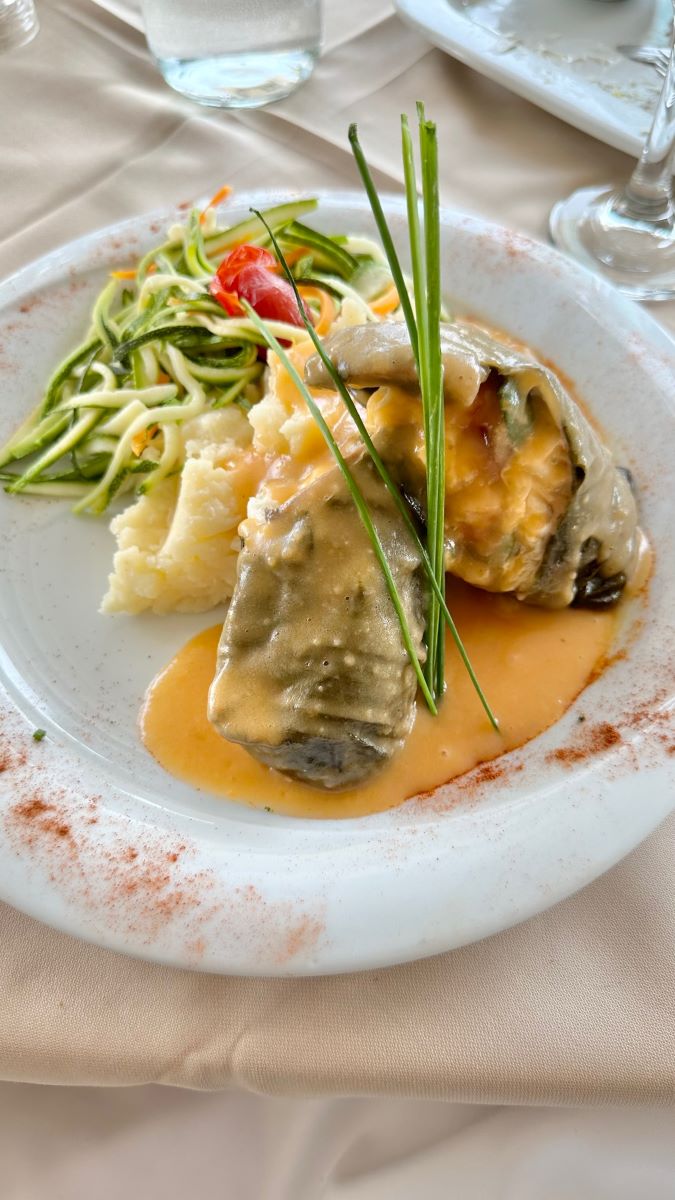 Sea bass fillet
It wasn't the best choice with my starter since the fish was served with a lovely pile of spiralised courgette/zucchini. My choices could have been better for more variation, but really, I wanted the mashed potato. I miss a bit of mash here in Greece, and it didn't disappoint!
I nearly ordered the Greek salad before deciding to be a bit more adventurous. But the couple who were seated before me had a gigantic salad. It looked like the Aegean colourful salad with huge shrimps and enough for two.
Dessert
Disappointingly, I had no space for dessert. I probably could have squeezed it in if I didn't have to go to the gym later. But I was eyeing up the walnut and the chocolate pies options with vanilla ice cream and the baklava. But I'll have to try them out another time.
Wine
I declined alcohol, but Strofi has a nice wine list. There's a good variety of Greek white wines, including Vinsanto sweet wine from Santorini. They also have some of the expected Reds and Roses, as well as a list of Ouzos to choose from.
Stunning view of the Parthenon, Athens
Do I Need a Reservation?
I went in August, and it was quiet around lunchtime (at least 12 – 13:30 ish). I asked when I left, and the lady told me that it was normal to walk in and be seated without a reservation at lunchtime.
However, if you come in the evening, you must make a booking to ensure a table. Do this as soon as you can for the best, unobstructed views. The tables around the edge vary in size, so you can get a good spot regardless of whether you go as a couple or a larger party.
You can book a table for Strofi online here (choose the terrace option) or call +302109214130. Strofi is open 12 noon until 1am and is closed on Mondays.
Where is Strofi Restaurant?
Strofi Restaurant is at the foot of Philopappos Hill, close to the Acropolis Museum. The historic location is Rovertou Galli 25.
My Experience Overall
Dining Solo
Some popular restaurants can be difficult to access without a reservation. And some restaurants, popular or not, can be difficult to eat at if you turn up alone. Luckily, I didn't encounter such issues as a solo diner at Strofi.
I was given a warm welcome when I walked in the front door. There was no problem that I didn't have a booking or that it was just me. The lady who greeted me was wearing a mic and told me to go all the way up to the top floor.
When I got to the roof, the waiter was expecting me. I really liked that he knew before I got there it was a table for one. Sometimes, I sit for ages and can't get a waiter's attention to order because they assume I'm waiting for someone else to join me.
I went about 30 minutes after they opened, and there was only a couple seated when I arrived. During my meal, another couple arrived and then a group of six friends (all of us foreigners).
Both couples and the group who came in were given seats next to the windows, and I was on one of the inner tables. However, I couldn't say for sure that's because I was on my own. It could have been because everyone had booked and others who were due to arrive did the same.
Service
I experienced really good service from when I walked in until I left. It was quiet, so I can't say what it's like on a busy evening. But the waiter was polite and friendly. The service was discreet, and he was good at anticipating our needs.
Like I said at the beginning, I found this a very pleasant place to eat in Athens. I would recommend it as an option for eating out in Athens with a view.
More Information About Athens
For another meal with a view, see this post about Athens Dinner in the Sky. And this one for more ideas of things to do with an evening in Athens.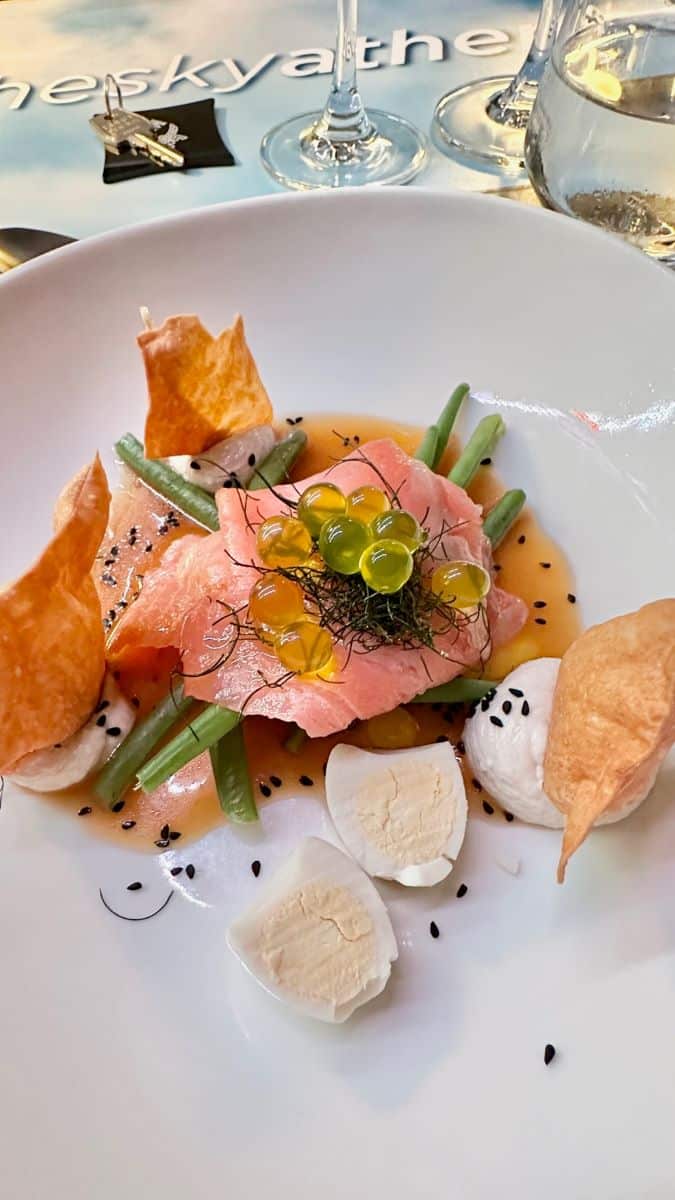 If you want to sample a completely different Greek gastronomy experience, here are the best gyros in Athens. And you can learn more about Greek alcoholic drinks here and here about Greek beer specifically.
This page may contain affiliate links. Read through my privacy page for more information.
---
Suzie Young
Suzie writes informative posts for solo, nervous or first-time travellers to Greece, Turkey and other countries on her 50-before-50 bucket list. She became a Greek resident in 2020 and intends to visit every inhabited island (13 down!).