Get Around Mykonos Easily: Travel the Famous Island
Getting around Mykonos, the island of the winds, can be quite straightforward. People who've fallen in love with this magical island will tell you it's one of the best Greek islands, despite the level of tourism.
So if you've decided to visit Mykonos island this summer season then let me help you choose the best way to get around.
Best Ways to Get around Mykonos
Rental Car
I always put this at the top of the list because I really like the freedom of having my own car. I usually find it's the best way to explore a new place. Having said that, don't feel that you need to hire a car for your stay on the island.
A Note on Chora
Vehicles aren't allowed into Mykonos Town / Chora. So if your hotel is in the "city center" it will be quite inconvenient to have one.
Parking in Mykonos can be hard work at the best of times although there is lots of space to park at the old port.
If you're staying elsewhere and want to get about the rest of the island you might need your own transport. But think about what you want to do.
If you're happy staying near your hotel/resort for most of your holiday then you can just walk to the local tourist shops and restaurants. There are tours that'll take you to some of the more remote beaches on the north coast that the buses don't serve. (Some might say the best beaches!)
And other tours and trips will pick you up from your hotel or a nearby meeting point. Plus you can get the bus into town unless you're staying somewhere really out-of-the-way.
ATV/quad bikes and scooters are also available and I know they're popular for day trips. But at the risk of sounding like a killjoy, neither are a great option in terms of safety.
Mykonos is a small island but it's not tiny. And it's busy with impatient drivers and unsure tourists. Choose car rental over one of these, I see too many fatalities in the news.
There are rental companies all over Mykonos but book in advance if you're visiting in peak times, especially if you want the car for more than a couple of days. If you're visiting in the shoulder season bus services are limited and a car might be the best option.
Buses
Public transportation in the form of buses is good on Mykonos. It's the most popular way of getting around as well as being the cheapest way.
The local bus service covers much of the island and there are a couple of bus stations. Most of the bus network runs from the southern bus station. That's the main bus station in the Fabrica area of Mykonos town.
However, some of the bus routes leave from the KTEL OTE bus station/ North Station which is near the old port. (It's downstairs from Faro Cafe – which has left luggage facilities – near the Seabus kiosk.)
To get from one station to the other you'll either need to walk through Chora.
In the summer months of July and August, there are plenty of buses running to the beautiful beaches and other common spots like:
Mykonos Old Port
Mykonos New Port
Mykonos Airport
Agios Stefanos
Paradise Beach (for Cavo Paradiso club)
Super Paradise Beach
Platis Gialos / Platys Gialos Beach
Ano Mera (a traditional village in the center of the island)
In the high season, some destinations have buses running every half hour. And because of the party scene at the most popular beaches, the buses in peak season run into the early hours. They start again early in the morning too in case you didn't make it back the night before!
Find all the Mykonos bus timetables here. Double-check the travel times because the schedules change throughout the season. Make sure you know when the last bus back is. You'll find up-to-date schedules at the bus stations before you get on.
Bus tickets – you normally get your bus ticket from the bus driver. Although at Fabrica I've got my ticket from the booth too, so check when you're there. It's helpful to have change although bus drivers will change notes for you.
Leave from Fabrica for: Platis Gialos, Psarou, Ornos, Agios Ioannis, Paradise, Paranga
Leave from the North Station for: Ano Mera, Kalafati, Elia, Agios Stefanos
Getting About on Foot
If you're staying in Chora then the easiest way to get about is to walk. Take comfortable shoes or sandals because you'll walk miles along those narrow streets.
Mykonos Chora is a good option to stay in because everything IS in walking distance. Plus half the fun of discovering somewhere is finding the best restaurant down a wrong turn.
The fastest way to get your bearings is to join a walking tour. But know you will probably get a little bit lost in the whitewashed streets during your stay. And one of my top tips for enjoying Mykonos is to go out early. And by that I mean, before lunch, not super early.
Because it's a bit of party place, the best time to enjoy quiet streets and landmarks is in the morning. You can get some good photos without the crowds. Plus you'll be out and about before all the cruise ships bring their passengers ashore on those small boats!
Taxi Services
There are a few taxi stations / stands on the island:
New Port by the bus stop
Old Port by the bus station
Next to Mycocoon Hostel
Mykonos Airport
However, there are only a handful of taxis serving the entire island and they are very expensive. Choose an alternative method if possible or be prepared to wait.
The iMove app is worth downloading if you really need to move about by taxi. It's a private transfer service that works a bit like Uber. Prices are the same as for taxis. Note it's normal for them to ask for your passport details for their tax records.
Hotel Transfer Services
On one of my trips to Mykonos, I just stayed a couple of nights while I was on my way back to Athens. As part of my accommodation, the owners provided a transfer service around the island.
I hated having to agree on set times to be dropped off and picked up. But it was definitely better than walking as we were up on a big hill.
Since I couldn't find an available car, I was grateful for the service. Check to see if this is something your hotel or apartment offers guests without a car.
Going to Delos Island
A popular place for a day trip on Mykonos is the nearby island of Delos. It's one of the best things to do and one of the best places in the Cyclades to experience. The entire Delos island is an outdoor museum basically, as it's a UNESCO World Heritage Site.
There's an archaeological museum there too. Unfortunately, it's been closed for a while and there's no sign of it opening again any time soon.
Anyway, Delos itself is definitely worth a visit. The only way you can get there is either on an organised tour or by one of the water taxis. The organised tours usually include a swimming stop at Rhenia Island and food.
You can choose a day cruise with lunch or a sunset cruise with dinner. Definitely check out these options.
Otherwise, if you want to go yourself then the seabus/water taxi will take you over from the harbour near Little Venice. You'll see the kiosk where you can buy your tickets. They sell online too but you still need to go to the booth to collect your paper ticket.
I also recommend jumping on one of the guided tours on your first visit. On your next trip you can explore more but it's worth having a local guide the first time to explain what you're looking at.
In the winter / low season, the boats don't run at all. They start on a daily basis in April and run until the end of October. At the beginning of the season, there's only one crossing per day. In May it picks up and through the summer months, there are several trips across, daily.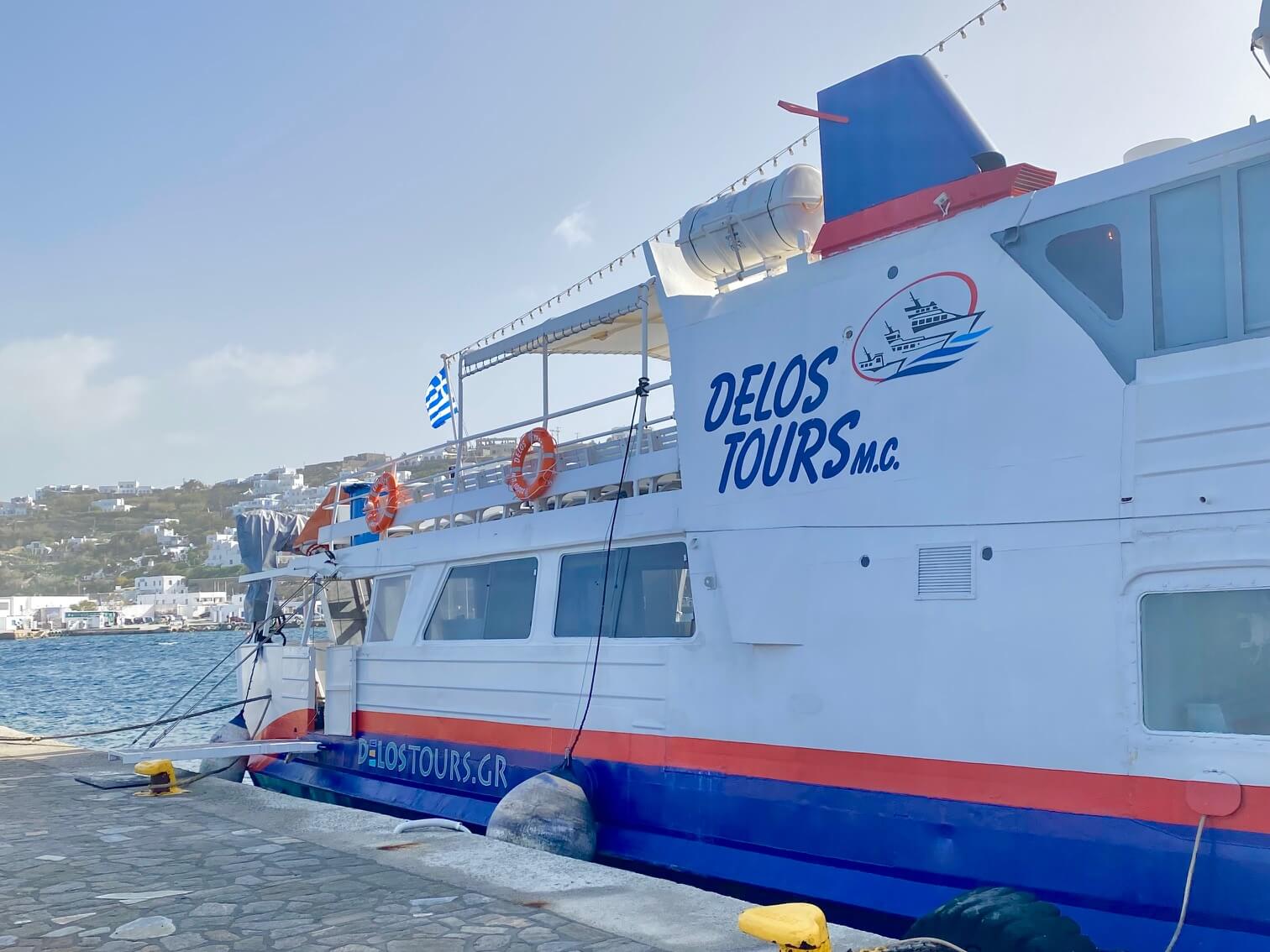 Getting From Mykonos International Airport to Your Hotel
Whether you've got direct flights to Mykonos or you've come via Athens International Airport you have a few options for getting to your accommodation when you land.
Private Transfer – an airport transfer from your hotel or Airbnb host is your best bet, so take it if they offer
Public Bus – getting the bus is a good idea as it's cheap and will take you into Mykonos town
Taxi – as I mentioned above, there aren't many taxis on the island. You might get lucky with one outside the airport, but don't expect to
Car hire – there are some offices at the airport, but it's best to book before you arrive. You can collect your car directly at arrivals once you have.
Getting to and from Mykonos New Port
Whether you set sail from the Greek capital or nearby islands you'll arrive into Mykonos New Port. The New Port is quite a walk from the Old Port and Chora so don't try it. The road has no pavement anyway.
The best ways to get from the New Port are:
Private transfer – as with the airport take advantage of any transfer services that your hotel runs. Alternatively, try WelcomePickups. Either way, your driver will stand at the ferry exit with your name on a board. It can help things feel less chaotic when you get off the boat.
Bus – there are buses about every thirty minutes to the Old Port. Check the laminated sign on the front of the bus as some go to the airport instead.
Sea Bus Water Taxi – these also run half-hourly and you can get on just at the port exit. From the New Port the water taxi will take you all the way to the harbour at Mykonos town.
There is an intermediate stop at the Marina and another at the Old Port bus and taxi station. Stay on until the last stop for Chora.
Transport FAQs
Here are the answers to some common questions about getting about the island.
What is the Best Way to Get Around in Mykonos?
The bus is the best way overall. It's cheap, the popular places are well connected and you don't have to worry about parking.
Is it Easy to Travel The Island?
Everything you could want in Chora is within walking distance. Buses are clean, reliable and air-conditioned and go to the famous beaches and popular tourist areas of the island.
Is There Uber?
There is of a fashion! You can use the app to get a ride but it's not a dedicated Uber car. You can choose:
Taxi for one of the – few – normal taxis on the island (note this is metered so the price doesn't show on the app in advance)
"Comfort" for a spacious vehicle with a VIP feeling
Vans for bigger parties travelling together
Boat for a speed boat rental to take you about from A to B or with some beach-hopping
Is It Hard to Get a Taxi?
Yes it can be hard to get a taxi in Mykonos as there are so few taxis on the island. Walking, bus, sea bus, your own hotel transport or the Uber and iMove apps are usually better options.
Can You Do Mykonos Without a Car?
Yes if you stay in Chora or one of the popular resorts. If you stay in a beautiful big villa on a hill you'll need some way of getting around from there.
What is the Island Bus Schedule?
The Mykonos bus timetables are here. Click the American flag to change the language to English.
Is Three Days Enough in Mykonos?
Yes, although you might want to stay longer on those golden beaches! In three days you can explore Mykonos town and all the famous landmarks plus go to Delos island and have some time to relax.
Is it Safe to Walk Around?
Yes, it's very safe in the daytime. In the evening, be aware that you're in a crowded place where lots of people have been drinking. I personally feel safe walking in Mykonos alone at night. But keep your wits about you and stick to the busy streets.
How to Get Around Mykonos at Night?
Your options for evenings through to the early hours are really the same as in the daytime. The sea bus runs until about midnight. Buses from various destinations run through until about 2am. Walking after a night out is a better idea than driving. See if there is a group going your way if you've been on your own.
How Long Does it Take to Get From One Side of the Island to the Other?
It takes about 30 minutes to drive across the length or width of the island.
Can you do a day trip from Santorini?
Unless the ferry schedules change then you can't do a day trip on the ferry from Santorini to Mykonos. The first boat from Santorini gets into Mykonos at lunchtime. And the last one back is the same boat turning around and leaving about 20 minutes later.
You could do an overnight stay for sure. But the journey time is 2 – 3 hours so decide if it's the best use of your holiday time.
When is the Best Time to Go to Mykonos?
If you're going to party then July and August are the months Mykonos is in full swing. If you'd prefer to avoid the crowds, the extra-high prices and the searing summer sun then try June or September and even into October.
By October the weather can start being changeable. But it's still quite warm and the sea is still pleasant for swimming. After the end of October until the second week of April there's really not much open at all.
Is It Worth It to Go to Mykonos?
I believe so. I love an authentic Greek island but there's something about Mykonos. There are things I don't like but there's something different about it too.
The beaches are gorgeous and seeing all the money floating around makes me dream bigger. Plus it's very welcoming of a diverse range of people.
Can you Island Hop from Mykonos?
Absolutely! Mykonos is about the best-connected island and is a good launch pad for other islands. Tinos, Syros, Naxos, Paros, Milos and other Cycladic islands are easy to reach. There are also good connections to Heraklion port in Crete.
Other Helpful Posts About Mykonos
This page may contain affiliate links. Read through my privacy page for more information.
---
Suzie Young
Suzie writes informative posts for solo, nervous or first-time travellers to Greece, Turkey and other countries on her 50-before-50 bucket list. She became a Greek resident in 2020 and intends to visit every inhabited island (13 down!).