Athens To Mykonos: Here Are The Best Ways to Go
Greek Island Bucket List is an Amazon Associate and participant in other affiliate programmes. I earn from qualifying purchases. Please see my disclaimer for more information.
---
Mykonos is one of the most popular Greek islands to include in an island-hopping tour of Greece.
If you're starting your trip by travelling from Athens to Mykonos or heading to this popular destination after exploring the mainland you can get there by direct flight (helicopter and aeroplane) or one of the ferry boats that run from Athens.
What's The Best Way To Get From Athens To Mykonos?
Well, it depends. Mykonos is well connected to Athens in the peak season. But the best way for YOU to get from Athens to Mykonos will depend on which season you're travelling and whether you want:
the fastest way to Mykonos
the greenest choice from Athens
the cheapest mode of transport to get you to Mykonos
the most authentically Greek option or
the most VIP, private and luxe route
So let me take you through the different options and you can choose your best way to get from Athens to Mykonos.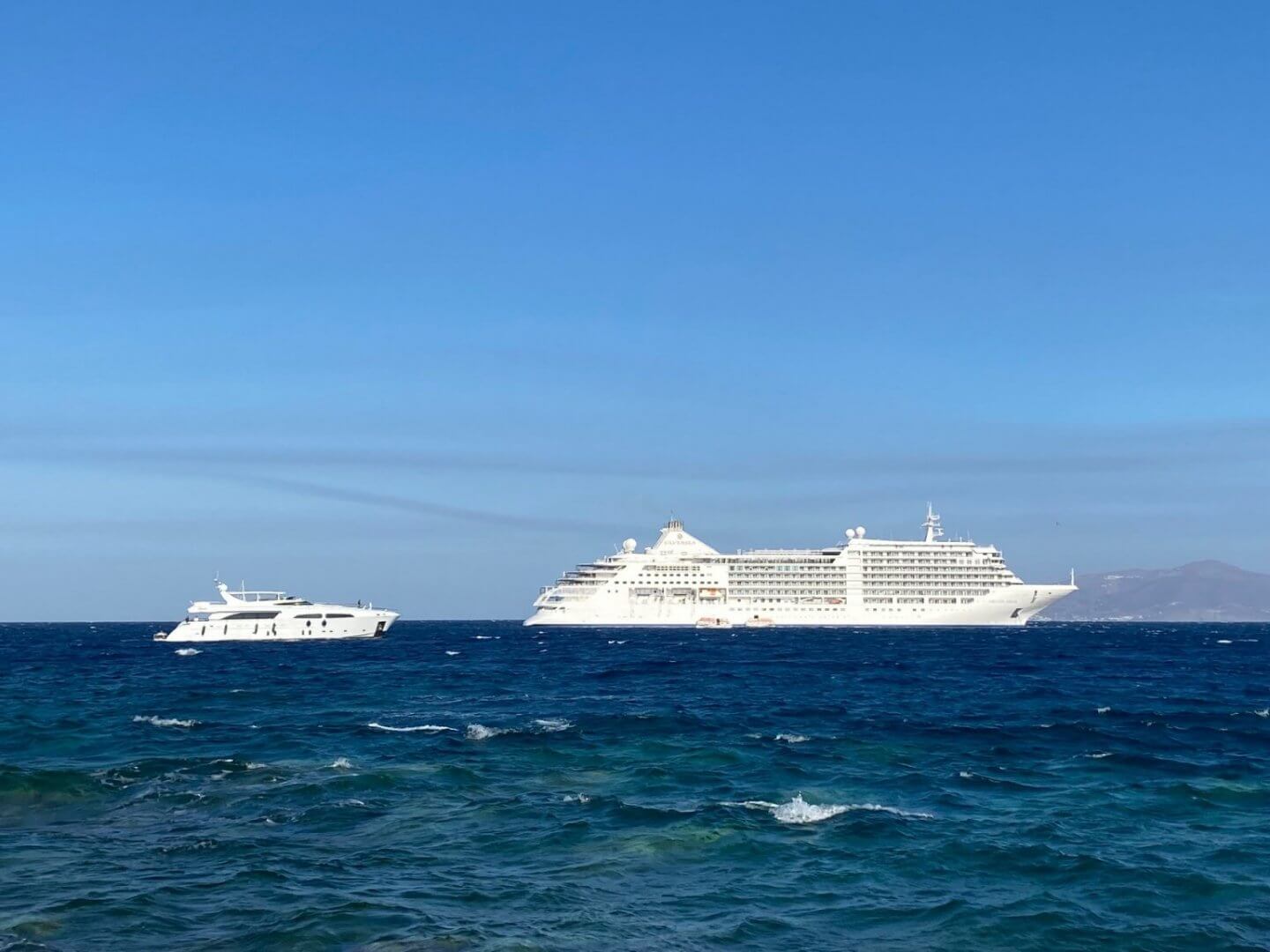 VIP Helicopter Transfer For A Luxe Transfer
Yes, I'm starting with flying from Athens on a helicopter with this because we ARE talking about Mykonos.
(And don't dismiss the option of flying Athens to Mykonos just yet, because there's a way it might feasibly be within your budget even if this isn't the norm for you!)
The most luxe and fuss-free way to arrive in Mykonos from Athens is by private helicopter transfer.
For this, you can expect to pay upwards of 3000 euros for a private journey (see below for cheaper options) with a flight time of approximately 35 – 45 minutes. You can book a helicopter transfer here.
Empty Legs / Empty Seats
Now, that's not in everyone's budget but a seat on an empty leg might be. What's an empty leg? It's when a helicopter is booked for a transfer from Mykonos to Athens. But the helicopter has to travel to Mykonos anyway.
So, in an attempt not to waste that leg flying from Athens and be a bit greener, the seats are sold at a reduced rate. A seat on an empty leg could be around 250 euros. It's not cheap, but it's considerably less than the first option.
If you're celebrating a special occasion, it might be an optionyou'd like to look into. Greek Airtaxi Network will show you details of any empty seats/empty legs they have available on upcoming transfers.
Of course, you can still book a full-price transfer for your specific needs, too.
Direct Flights From Athens International Airport
Ok, let's stick with the flying theme. The quickest way to get from Athens to Mykonos is to fly. You can fly direct from Athens Airport to Mykonos International Airport.
If time is of the essence, then forgo relaxing into your trip on a boat and head straight to the airport.
This could also be a good option if you have young or neurodivergent children where the chaos of the ferry might feel overwhelming (for everyone!).
It's normal for Greek families with young children to travel by ferry but your first time can take a bit of getting used to especially if you have your hands full.
In the summer season, there are a number of daily flights to Mykonos Airport from Athens. It's about a half-hour flight over the Aegean Sea and at first glance, it can also look like the cheapest option.
However, the cheapest flights / economy class fares for a flight to Mykonos from Athensgenerally only include a (very) small piece of hand luggage. Something like a normal-sized day backpack. And what you might think of as normal carry-on luggage will be oversized.
If you book an Olympic Air / Aegean Airlines flight or one withSky Express for your Athens to Mykonos leg, you'llprobably have checked baggage included in your ticket. You might like to read this post about which Greek airlines to choose for the islands too.
If your Mykonos flight is with Volotea, Hahn Air or another company check carefully the cost of adding your luggage.
To get truly cheap flights book well in advance.
Flight Tickets from Athens to Mykonos
I use Skyscanner to search for all my flights. You can put in the where you want to fly from and too, and it'll show all flights on a specific date. You can also view prices across the month.
Use the sorting and filtering tools to find the cheapest service, flights between particular times or those provided by a certain airline.
Mykonos Airport
The airport at Mykonos is fairly small even though it caters for international flights. When you arrive, you'll find taxis waiting outside the airport terminal.
There's also a bus that goes to Fabrica bus station in town via the Old and New Ports. You can see the bus routes and timetables here.
Connecting Through Athens To Mykonos
Be aware that if you're flying to Athens from elsewhere, you can't transfer straight through from Athens to Mykonos.
[Edit: see the link above about Greek airlines because this might be possible for you if you fly from the US with Delta.]
You'll need to collect your luggage at International Arrivals and then leave the airport. Then you have to come back in through the Departures door. To catch your connecting flight, you need to go through another security check.
Leave yourself plenty of time – at least three hours – between your scheduled arrival time into Athens and the departure time for your flight to Mykonos.
You might not need all that time. But it's better to be that way round than to start your trip to Mykonos stressing about making alternative arrangements.
Taking The Cost-Effective Ferry From Athens To Mykonos
The Greekest and greenest and cheapest way of starting your holiday/vacation to Mykonos from Athens is by taking a ferry.
Blue Star Ferries are amongst the ships that run regularly between Mykonos, Athens and other Greek islands
Having said it's the cheapest way to get there bear in mind that Mykonos is one of the most popular Greek islands for tourists.
As such, I've noticed that ferries to Mykonos (from pretty much anywhere not just the Athens Mykonos route) are always more expensive than most of the other islands.
The ferry from Rafina Port is a regular ferry connection to Mykonos throughout the year.
In the summer months, the Athens to Mykonos ferry timetables increase along this route. Daily services to and from the port of Piraeus are also added.
the first ferries from Athens to Mykonos depart around 7am
some days the last ferry leaves as late as 8pm and
around the 15th August holiday, you'll find the ferry schedules include extra services running even later.
The journey time of your ferry to Mykonos varies depending on the type of ship you get. The fast ferry to Mykonos is about two hours and twenty minutes.
The Piraeus to Mykonos route normally takes a little longer than from Rafina to Mykonos.
Cheapest Tickets From Athens To Mykonos
For the cheapest ticket prices, you'll need to get one of the ferries with the longest travel time. The slow ferry usually takes about four hours, and it's normally either an early ferry or the latest one.
The fastest ferry is normally the most expensive.
The ferry port you choose to leave from can also influence the price you pay for ferries from Athens. As a rule, the ferry ticket prices from Rafina port are a bit cheaper than the Piraeus to Mykonos departures.
But it's worth bearing in mind that Piraeus is closer to Athens city centre and Rafina is nearer to the airport. Factor in transfer costs to Rafina Port if you're coming from the centre and cost is a concern.
How To Book Mykonos Ferry Tickets
My favourite site to book ferry tickets around the Greek Islands is Ferryhopper.com. It's much more convenient than going to a travel agency to get them booked and printed out.
You choose your ferry routes, e.g. Athens to Mykonos or the particular port you want to leave from. Then, it shows all the ferries running on the specific date you select.
It clearly shows the ferry prices and the name of each vessel, so you can avoid the fast ferry options if you want to. (That's small F, not Fast Ferries the company which has both conventional and smaller ferries that go from Athens to Mykonos.)
Then just follow the booking process. Most ferries from the major ferry operators are bookable through the site, especially for this route. So you can book your tickets for trave bwith Blue Star, Golden Star Ferries, Seajets e.t.c.
When buying ferry tickets, you can choose to add trip insurance at an extra cost. It could be a good option, so check the details when you book.
Check You're Heading To The Right Port
Remember that Rafina is a lot closer to Athens airport, so it's much easier to get there than to Piraeus Port.
If you're spending a day or two in central Athens before heading to Mykonos by ferry then instead of looking at all the ferries between Athens and Mykonos you could specifically select Piraeus Port in Ferryhopper.
However you decide to do it, just double-check your ferry tickets the night before and make sure you're set to go to the right port!
If you've booked in advance and made set plans, there might not be any confusion. But if anything was booked on the hop or last minute, take the time to check.
Getting Your Ferry Tickets
Once you've booked your ferry to Mykonos you'll get all the details emailed to you.
Check-in opens 48 hours before you sail. From that time, you can check in online from your Ferryhopper email. The ferry company will give you the option of how to access your e-tickets.
Sometimes, the link to check in takes you directly to a PDF sheet of tickets. Keep this on your phone so that it can be scanned when you get on the ferry. (I usually take a photo of it so I can find it easily when I need it.)
Alternatively, you'll get the option to have the ticket sent to you by email or text. Then you get the link to a PDF, same as above.
If you use Apple Wallet, some tickets give you a link to add your ticket to your wallet. Blue Star Ferry tickets, for example, are good for that.
I find that way easier than having to go and collect paper tickets and there's no extra cost, either. If you end up booking a very last-minute ferry trip to Mykonos for any reason, you may need to collect paper tickets at the port.
Check when you book. Some ferry companies won't let you do an online check-in with less than 2 hours to go.
I'd go ahead and book your ferry as soon as you have your hotel booked (assuming the ferry schedules are out). If it's too early, then just keep checking back.
Ferry Companies And Ferry Types
Golden Star Ferries runs its Mykonos ferries out of Rafina and Minoan just from Piraeus. But the other ferry companies:
Seajets
Fast Ferries
Blue Star Ferries
operate from both. You'll find a mixture of different types of ferries from each port.
Smaller, High-Speed Ferries
But basically, the high-speed ferry will get you there faster than the more conventional-style ferries. Sounds good, right?
Yes, but be aware that on the smallest of them, you can't leave your seat and wander around the boat. You can get up to the loo or go to the bar, but the rest of the journey is in your set. That's not too bad if you're only going to be there for just over a couple of hours.
The main consideration people have around the fast ferries or the slower ones is how well they cope with motion sickness.
The fast hydrofoil ferries get to Mykonos faster because they bob along the surface of the water. If the sea's rough, then it can make the journey less pleasant than on the bigger ferries.
I'm aware I've done a horrendous job of using A.I to remove someone who was facing the camera in this picture. Please ignore and use this to get a general idea of the ship interior!
And yes, the water can be rough with bad weather, even in the summer. The Meltemi wind is a welcome, northerly wind that helps keep the islands at a bearable temperature in the summer. But it can affect the ferries in the peak months. (Certainly around the Cyclades.)
If that's a worry for you, then avoid the fast ferry and go for the conventional large ferries. (Or at least avoid the smallest hydrofoil/catamaran-style ferries that don't take vehicles.
High speed ferry names are things like:
Thunder
anything with Jet in the title
Santorini Palace
Flying cats
With these ones the seating is allocated and airline-style. They usually have a business class option and sometimes an additional VIP level.
I like to book the business class because often it's quieter (don't expect that in high season) with a little more legroom. But the steps up a level can be steep (more so than in the picture above) and any movement of the boat will be exacerbated up there.
Larger, Conventional Ferries
The bigger conventional ferries with less movement in the water are ones like:
Ekaterina. P
Theologos.P
Superferry
Superstar
All the Blue Star Ferry options to Mykonos except for the FlyingCats
With these ones, you can sit outside on the deck, inside in various seating areas including restaurant areas, numbered airline seats, the business lounge, and you can also book a cabin.
Arriving At Mykonos Port
Regardless of which port in Athens you departed from your ferry will arrive at Mykonos New Port.
This is also applicable if you arrive by cruise as the cruise ships dock right at the cruise port at the New Port too. (Or they dock further out and tender passengers ashore here.)
The new port is quite a way from Mykonos town so you'll need to organise some sort of transport.
Since taxis on the island are very limited, I'd recommend either:
taking up a transfer option with your hotel or
getting the bus or
sea bus to the Mykonos Old Port or Mykonos Town
If you're hiring a car while on Mykonos your rental company will come and meet you off the ferry.
The bus stop at Mykonos port is toward the right side of the port buildings as you stand with your back to the sea.
There's a timetable there, but the buses run about every thirty minutes. Check the destination on the front of the bus. Tickets are under 2 euro.
The Sea Bus runs from the little marina at the opposite end to the bus stop, on the way to the port exit.
With your back to the sea, walk left and as you get to the end of the port buildings you'll see the signs for the sea bus.
It takes about 20 minutes and costs 2 euro. The first stop is the marina, the second is the old port, and if you stay on until the end, you'll get to Mykonos Town.
Travelling Out Of Season Or In The Shoulder Seasons
There's really not a lot going on in Mykonos in the off-season. See this post about Mykonos in the off-season.
Some of the beaches aren't accessible (because they're part of a beach club which closes its gates when the weather changes), and you can't even do a day trip to Delos island.
So I wouldn't recommend it in winter. In the shoulder seasons, April and October, you'll find fewer flights, but there's a daily ferry from Athens (Rafina Port).
Leaving Mykonos
At the end of your stay on the island, you might want to travel back on the same mode of transport as your outbound trip from Athens to Mykonos.
However, don't forget that you can choose another way.
If you fly from Athens you might want to take the ferry back. Or commonly, on to another island like Santorini, Crete, Naxos or Paros.
FAQs About Getting From Athens To Mykonos
What Is The Best Way To Get From Athens To Mykonos?
It depends. The flight is about 30 minutes from Athens and perhaps more straightforward for families or if you're arriving at Athens Airport anyway.
Getting the ferry to Mykonos is greener and a very Greek way to travel. It's quite easy if you've been in staying in central Athens.
How Long Is A Ferry Ride From Athens To Mykonos?
To cross from Athens to Mykonos takes from around 2 hours 15 minutes to over five hours. Journey time is dependent on the ferry type, departure port, and the weather conditions.
Can You Do A Day Trip From Athens To Mykonos?
Yes, you can do a day trip to Mykonos from Athens. Flying both ways, you can arrive in Mykonos from as early as 7a.m. and leave after 11p.m.
You can do the trip by ferry in peak season too. But the last ferry back from Mykonos is much earlier in the evening.
(There are later services like with Blue Star Ferries, but they arrive into Athens in the early hours.)
Which Is Closer To Athens Mykonos Or Santorini?
Mykonos is closer to Athens than Santorini and much quicker on the ferry (around 2 h 15 mins versus 4h 45mins +). However, flight time to both is around 30 minutes.
Is it Better to go to Mykonos or Santorini First from Athens?
Most of the time it doesn't really matter which order you go in. Both destinations have lots of departures by plane and ferry in the summer.
If you travel in the off-season then you might want to consider things a bit more. See which is the most convenient departure time and place.
In the "winter" season, there's a direct ferry to Santorini from Piraeus. That might be more convenient if you're staying in Athens centre than traipsing over to Rafina to get the ferry to Mykonos.
Another thing to consider is the weather and the seasonal facilities. If you're going in May at the start of the season and want to enjoy the beaches in Mykonos, I'd go there after Santorini.
That way, the sea has a bit longer to heat up a tiny bit more.
If you're travelling at the end of the season, I'd do the opposite. Go to Mykonos first. Santorini has a longer summer season and you'll find more open later.
If you are considering the popular Athens, Mykonos, Santorini trio then see the best way to travel between Athens and Santorini as an alternative way round.
What's the Nearest Airport to Mykonos?
Mykonos has its own international airport on the island.
How Far Is Mykonos From Athens By Plane?
If you take a flight from Athens to Mykonos the journey time is usually shown as being 40 – 45 minutes. However, in my experience, it actually takes around 30 – 35 minutes.
Can You Take A Train From Athens To Mykonos?
No, you cannot go to Mykonos by train. The Cyclades are accessible by ferry or flying only. The ferry is either just for foot passengers or foot passengers and vehicles.
How Much Is A Ticket From Athens To Mykonos?
Prices vary depending on the season and how far in advance you book. You can get return flights from Athens from around 100 euro (day trip)in peak season if you book well in advance. But a one-way trip on another day could be over 150 euro.
A one-way ferry ticket is currently between 38 – 117 euro depending on which of the Mykonos ferries you chose, the port you leave from and the time of day. Prices and speeds vary from season to season based on things like fuel costs.
More Helpful Info for Visiting Mykonos
If you're looking for more information to help when you visit Mykonos, then read on. Here are things to do and ways to spend your time on the island. And the Delos trip is an absolute winner.
The Greek island of Tinos next door to Mykonos is a good island for hopping to. As is Andros, the next island up.
This is an intro to Tinos, a traditional place with beautiful sunsets and excellent food.
And here's an intro to Andros. It's a bigger island that's very lush with excellent beaches and hiking.
Getting to the Airport and Ferry Ports in Athens
Use this post for information about how to get to Athens airport from downtown Athens if you're taking a Mykonos flight. It includes information about buses, taxis, and using the Athens metro line.
Most Mykonos ferries depart from Rafina Port, which you can read about here.
If you're leaving from the main Athens ferry port at Piraeus, it's next to the cruise port. You can find out about getting to Piraeus here.
For transfers, I personally use and recommend Welcome Pickups. I also use the FREENOW app or taxis called by the hotels.
Suzie Young
Suzie writes informative posts for solo, nervous or first-time travellers to Greece, Turkey and other countries on her 50-before-50 bucket list. She became a Greek resident in 2020 and intends to visit every inhabited island (13 down!).