Here's the Best Way to Get from Athens to Santorini
Greek Island Bucket List is an Amazon Associate and participant in other affiliate programmes. I earn from qualifying purchases. Please see my disclaimer for more information.
---
The breathtaking Santorini island is one of the best places in the world to watch the sunset. Seeing the sun go down into the Aegean Sea from the height of the caldera is like nothing else. There's a lot to do and it's a popular Greek island on a trip to Greece for good reason.
What's the Best Way to Get from Athens to Santorini?
But if you've chosen to visit you may well be wondering the best way to actually get to Santorini. Your first time travelling to Santorini or any of the beautiful islands of Greece can be overwhelming and confusing so let's see if we can make everything a bit simpler.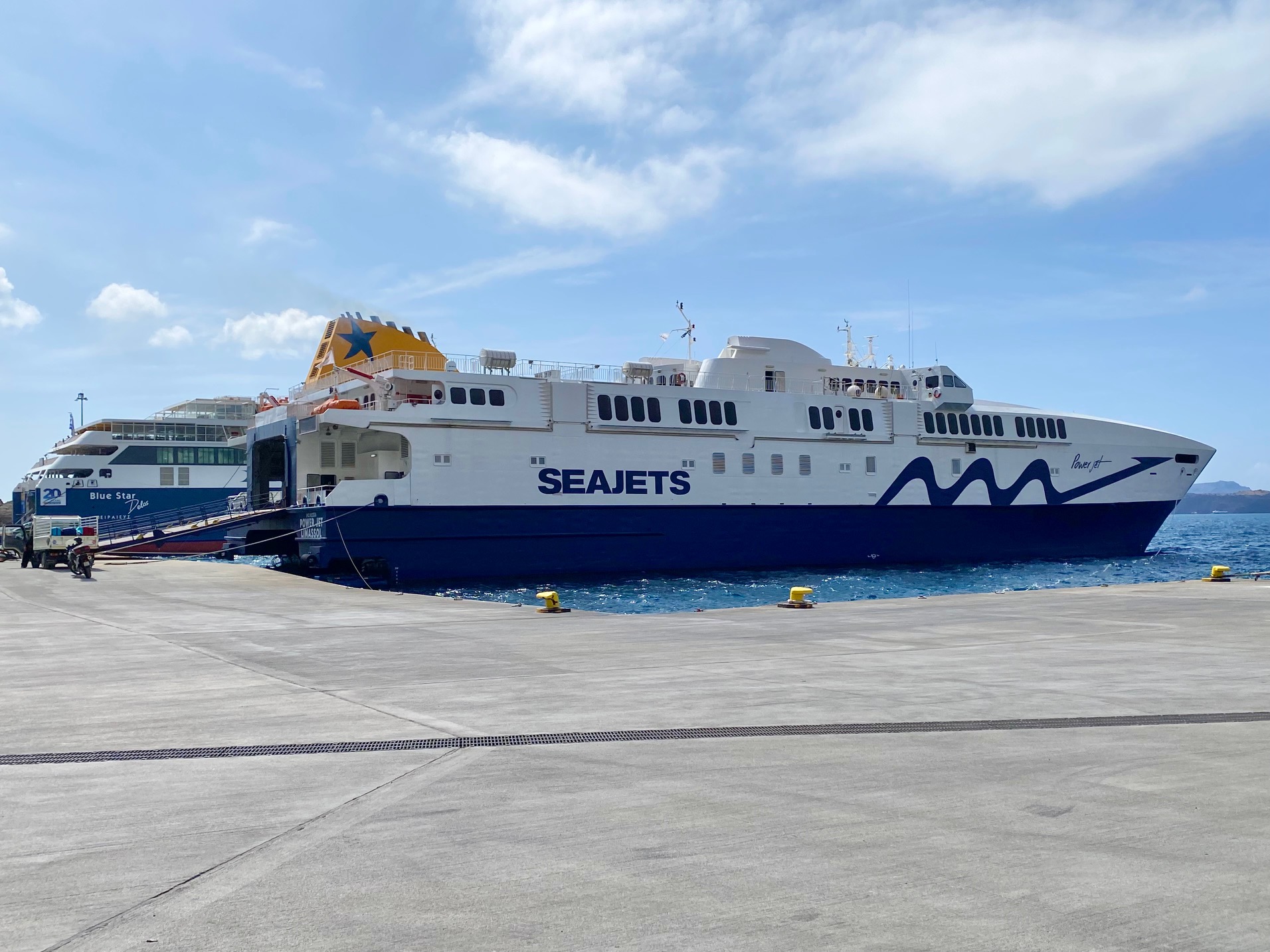 Lots of people fly into Athens and then head straight from Athens to Santorini. Others stop and spend a night or two in the capital first.
Either way, there are a few options to get from Athens to the iconic island. So let's have a look at them now.
Ways to Travel Between Athens and Santorini
By plane to Santorini International Airport (around 30mins from Athens)
By boat/ferry to Athinios Port (around 6 hours from Athens)
By helicopter to one of the helipads
How to Get From Athens to Santorini by Plane
The easiest way to get to Santorini is by plane (at least from Athens, anyway). People will try to put you off flying to the islands because it's not such an interesting experience as going by ferry.
However, if you or someone you're travelling with has sensory issues, gets badly seasick, or if you have children in tow, then taking one of the daily flights might be the best way for you.
If you get the ferry from Athens, regardless of which ferry port you leave from is likely to be chaotic. Especially in the summer months. If you're a foot passenger then waiting to get off the ferry can be stressful.
(That is, mainly the conventional ones like Blue Star Ferries, see below.)
It can be noisy – a combination of machinery, water, horns and alarms when the ramp is being lowered. And you can feel the vibrations strongly through the garage floors.
If flying sounds like it'd suit you better then know that there are direct flights to Santorini Airport from London, as well as from many other European cities. That way you don't need to fly via Athens to Santorini island.
If you're arriving in Greece on an international flight from further afield you'll probably arrive at Athens International Airport first. From there you can get a short domestic flight to the island.
As an example, the following airlines fly direct to Santorini from London in the summer of 2022:
British Airways
Jet2
Ryanair
easyJet
wizz
These only run from May to October so if you're coming in the off-season you'll need to go via Athens.
I've flown with all these airlines over the years and find all the budget ones (all except BA on the list above) much of a muchness. BA tickets are more expensive at the base rate but can end up cheaper once you add in bags and extras.
Do look carefully at the baggage allowances for each fare. A while ago Ryanair, amongst others, reduced the size of their cabin bag allowance so don't get caught out.
Also, check whether you can check-in online. If you're flying from the UK things have changed since the end of the Brexit withdrawal period on 31/12/20.
A number of airlines that you will have checked in online for previously now won't allow you to get digital tickets.
For domestic flights from Athens International Airport Eleftherios Venizelos:
Aegean Airlines / Olympic Air
Sky Express
Volotea
Hahn Air
Ryanair
I've flown with most of these airlines to and from the islands and found them much the same in terms of performance. Aegean and Sky Express tend to have larger baggage allowances included.
Flight time is normally shorter than what's displayed. So even if there are short delays in leaving your arrival time isn't necessarily affected.
Staying at Athens Aiport
If you arrive on a late flight there's a hotel a short walk from the airport building. You do pay for the convenience of being within walking distance.
But if you're arriving late and setting off again early in the morning it could be an option.
Buying Air Tickets
When you're ready to book tickets head to Skyscanner.com. It shows you all flights available and then gives you a list of buying options.
Normally I buy directly from the airline if it's just the internal flight I'm booking.
Travel Agent for Connecting Flights
However, it's worth considering one of the travel agent options that Skyscanner presents you with if you're not flying direct.
If you book the domestic flight with any international flights you're more likely to get support if anything with the first leg causes you to miss your connection.
You can find air tickets to Santorini at reasonable prices. Skyscanner will help you find cheap flights if you need them. One-way flights from Athens can be as little as around 15 euro, although that's only with a very small carry-on bag.
In the high season, and at the last minute, prices do go up so book when you know your plans.
How Much Time Should I Leave Between Flights?
When you arrive at Athens it's best to leave more time than less to catch a connecting flight.
I can't give you a definitive time that is the perfect window to get from an international flight to a domestic one. But 3 hours is probably a good amount of time.
When you arrive into Athens you have to go through arrivals, leave the airport building and then re-enter to go through the departure process for the flight to Athens.
You need to leave enough time for that plus any delays on your incoming flight.
If you're travelling to Santorini via an internal connection (from another island for example) you normally arrive at the same batch of gates that you'll travel out of. If you have hand luggage only then as soon as you arrive you'll be in the right place to leave.
You don't need to go through security again. Obviously, confirm that for your circumstances especially if your connection times are tight.
Arriving at Santorini Airport
Private Transfers
The quickest way to get from the airport to your hotel is by taxi or private transfer. Many Santorini hotels offer a free pickup service from the airport to make your arrival a really smooth experience.
If you're arriving by plane it's a good idea to check whether your hotel offers this service for free or for an extra cost.
If you're travelling with a group, you might want to consider booking a private transfer in advance, which can be arranged through your hotel or a number of online companies.
Taxis
There are taxis available outside the arrivals terminal. The average taxi fare from the airport to Fira is around €20 and to Oia around €40.
Taxi rates on Santorini are metered so the driver can only give you a guide price at the start.
Public Bus
Another option is the public bus, which costs 1.60 per person. It takes about 10 minutes to get to Fira and runs quite frequently throughout the day.
Whichever way you choose to go, make sure you have some cash on hand. Most taxis and buses don't accept credit cards.
Hire Car
Lastly, if you've chosen to hire a rental car for your Santorini trip then it's straightforward to collect from the airport. There are a few hire car places with offices within the terminal building and car parking spots directly outside.
Other car hire companies have offices elsewhere, but they can still meet you there and have private parking around the airport.
Getting to Santorini By Ferry
If you're looking for a more authentic Greek experience, then you can also take a ferry to Santorini. Ferries run daily from Athens and frequently from other popular islands nearby.
For example, Hellenic Seaways runs a weekly service from Kos and Minoan Lines runs between Crete and Santorini. If you're arriving from another island ferry is usually better than flying.
The ferry is a popular way to travel to and between the Greek islands, and Athens to Santorini is one of the most popular ferry routes in Greece.
There are two main ports that you can depart from:
Both ports have a variety of ferry companies. And you can buy your tickets either online or at the port before or on the day of travel.
The travel time of the crossing is approximately six hours, although it varies depending on which port you leave from and whether you're taking a conventional or high-speed ferry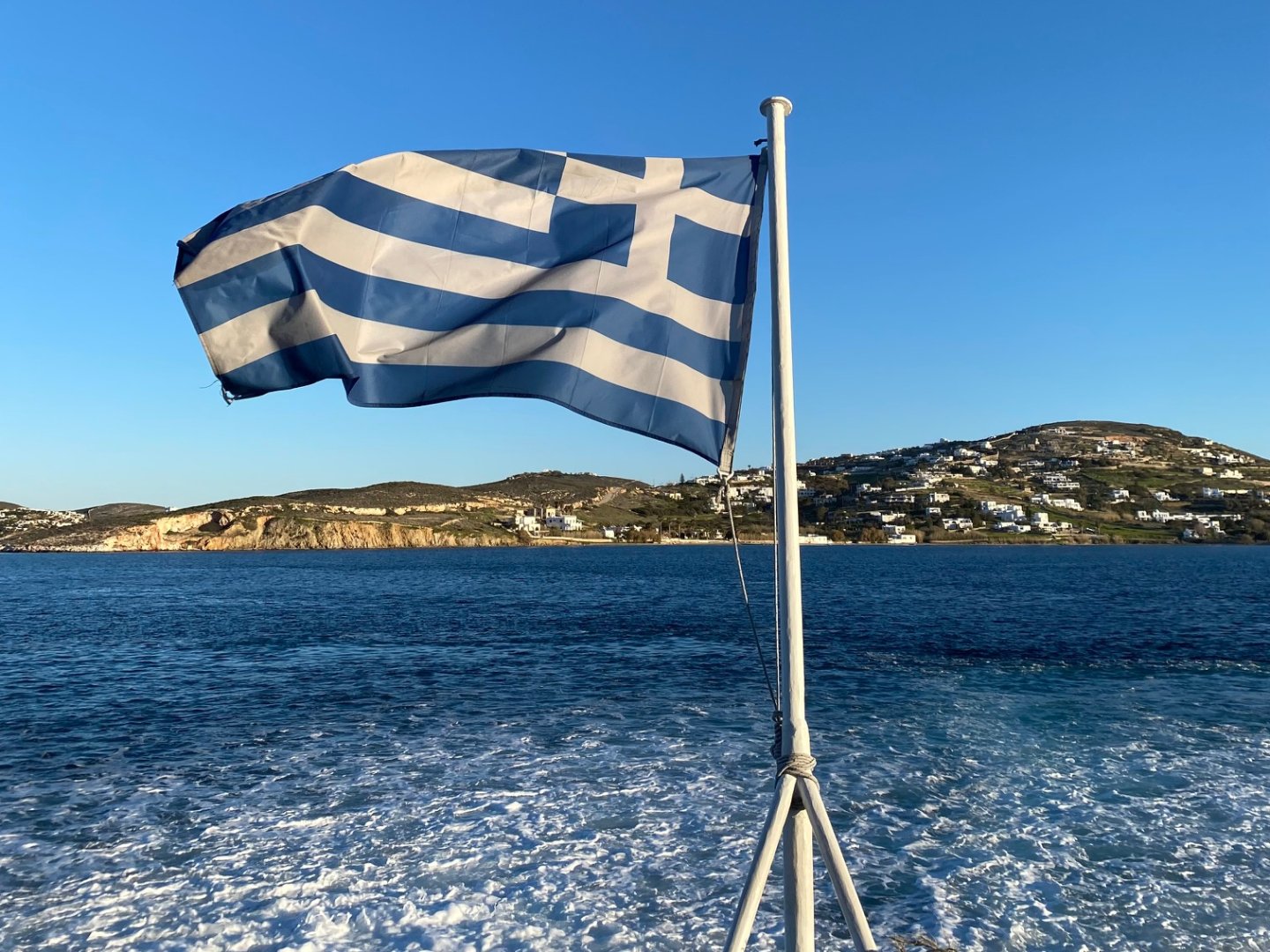 Although it might sound tedious, ferry travel is all part and parcel of your Greek island-hopping adventure. You can look at other islands you pass on your way down to Santorini, you can people watch, and you can really relax into your break.
Ferry Types
For more details on the different types of ferries see my Greek Ferry Guide. But in short, there are basically two different types of ferry to Santorini.
Slow Ferries Like Blue Star Ferries – Better if You're Seasick
The slow conventional ferries like Blue Star are much more stable and better if you get seasick. It's also nicer because during the ferry ride you can get up and walk around the boat including on the deck.
There are usually a few different restaurants and lounge areas including business. The conventional ferries also have cabins which you might prefer to book since it can be a long journey.
High-Speed Ferries Like Seajets – Better for Tight Schedules
With the high-speed ferry, you basically have to stay seated throughout. You can get up to go to the loo or get some food but you definitely can't go out onto the deck.
Because the high-speed ferries are a catamaran type of boat they jump about on the surface of the water so you feel the movement much more easily. If you're seasick it's probably best to only take these for short trips.
If you can't avoid a longer journey on one then try some of the travel-sick chewing gum that you can get at the chemist/pharmacy. I've heard it's really good.
On the high-speed ferries, the best areas to sit are the lower deck and/or towards the middle of the boat. Depending on the ship, the business class seating is sometimes upstairs so bear that in mind.
Ferry Schedules
The ferry schedules include a Blue Star Ferry from Piraeus throughout the year. If you're travelling in the shoulder season that's probably your best option and in the low season the only way really.
In the summer months, there are a lot more ferries running and there are also daily ferries from Rafina Port.
Although Piraeus is much closer to Athens, Rafina is nearer to Athens airport. It's worth bearing in mind whether your plans involve heading straight for the islands or a night or two in Athens first.
On a typical day's ferry schedule from Piraeus Port in summer 2023 you'll find Seajets and Blue Star Ferries running twice a day. Golden Star Ferries runs an early morning service from Rafina Port.
Buying Ferry Tickets
Travelling by ferry used to be the cheapest way of getting from Athens to Santorini. But ticket prices have risen a fair bit since 2022 due to rising fuel prices.
It's also affected journey times slightly as the ferry companies are slowing down the boats to make the journeys more economical.
There are a few ferry equivalents to Skyscanner and the one that I use is Ferryhopper. You can use it to see all the ferries running a particular route (like Athens to Santorini) on a particular day and their costs.
Then you can choose which is the best time for you to travel and/or which Athens port to leave from.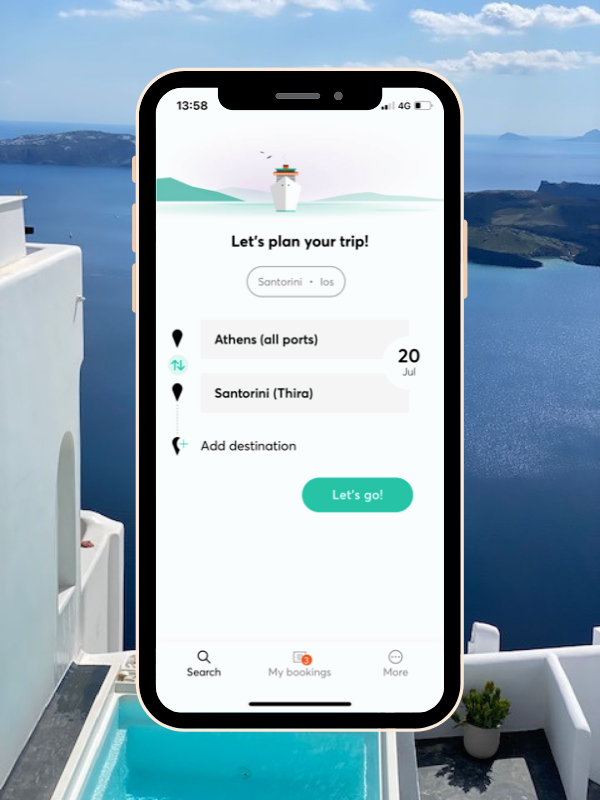 One of the best things about Ferryhopper is that you can buy your tickets and check-in online. Then you can show your digital ticket when boarding, no paper tickets to collect.
You can tell if you need to collect a ticket because the QR code symbol on Ferryhopper will be greyed out.
The last ferry doesn't have an online ticket option and you can tell because the QR code symbol is greyed out
Ferryhopper App
Another useful feature is that the app allows you to track your ferry. It's a great way to check whether your ferry departure time is accurate on the day.
You can see where the boat is and what the actual arrival time is expected to be. That way you can hold off travelling to the port if necessary and hang around somewhere more pleasant in the meantime.
In the peak season, it's more convenient to have your tickets in advance especially if queues are long and your connections are tight. But otherwise, the ferries aren't usually completely sold out.
The exception to that is at Greek Orthodox Easter around the end of April/ beginning of May and around the big religious holiday on 15th August.
Because there's a special occasion around each of those times I would book in advance if that's when you're planning to travel.
Ferry Strikes
From time to time there are transport/ferry strikes. Commonly there's one on May Day, 1st May. The benefit of booking in advance is that you'll see that there are no ferries running and can adjust your plans accordingly.
Or if a strike is announced after you've booked the booking company will update you so you know what's going on.
Travelling on from Santorini's Athinios Port
Once you arrive in Santorini the options for getting to your hotel are:
hotel pickup
private transfer prebooked/ book on arrival
public bus
taxi
rental car
Hotel Pickup / Private Transfer
A private transfer service is the quickest and easiest route from the port because obviously you'll be met at the boat and then taken directly to your hotel. I've heard a few horror stories (and experienced one myself) about the transfer services at Santorini port.
If your hotel doesn't offer a pickup service ask them for a recommendation or try Welcome Pickups.
Bus
If you're not hiring a car then the public bus is pretty straightforward. There will be one at the port when you arrive that will take you to the main bus station in Fira (even outside of the summer season). From there you can get a bus, taxi or walk to your final destination.
Taxi
There are fewer than 40 taxis on Santorini so there may or may not be one at the port when you arrive.
Car Rental
For the car rental option, I'd make sure to book in advance. There are some car hire places at the port but not loads.
If they're sold out, they don't have the automatic that you want (most will be manual), or the prices just aren't great, you'll need to contact someone elsewhere and wait until they're available to come down to the port to meet you.
Also, you're unlikely to find these open in the winter.
Arriving By Cruise from Athens
Cruise ships dock near Fira's old port. You'll be brought ashore on small boats to the old harbour. From there the best option is to get the cable car up to Fira.
If you've arranged a tour that's not connected to your cruise then usually your guide will meet you by the cable car exit in Fira and will take care of your Santorini itinerary for you.
How to Get to the Athens Ports and Airport
Here are the best ways of getting to
Athens airport
Piraeus Port and
Rafina Port
from Athens city centre or from each other.
Getting to Athens Airport from Athens City Centre
Metro – take the Blue Line 3 goes from Syntagma and Monastiraki to Athens Airport in around 40 minutes. You can see the timetable here.
Public Bus – you can get the 24-hour X95 (from Syntagma) to the Athens International Airport. For up-to-date timetable and prices see here.
Taxi or Private Transfer – use a company like Welcome Pick-Ups or ask your hotel to book you a taxi. It will take about 45 minutes depending on the traffic and costs around 44 euro.
Getting to Piraeus Port from Athens City Centre
Metro – take the Blue Line 3 from Athens city center all the way to the Metro station at Piraeus Ferry Port. It takes about 20 minutes from Syntagma and the trains run every 15 minutes. You can also take the Green Line 1 but the Blue Line track and station are newer and slightly faster.
The station is close to where the Blue Star Ferries depart for the Cyclades.
Bus – Athens public bus is a popular option for getting to the port because it's cheap but it takes about 90 minutes from Athens city centre. There are a few options from different parts of the city but you can get the number 40 from Syntagma or the number 49 from Omonoia.
Tourist Bus If you travel between May and October there's the much faster X80 bus. It runs between 7am and 9:30pm and takes about 30 minutes.
Taxi or transfer from your hotel – Your hotel can usually arrange a paid transfer or a taxi to the port of Pireaus for you. The journey is about 35 minutes without traffic.
Getting to Piraeus Port from Athens Airport
Taxi or Private Transfer – to get from Athens Airport to Piraeus Port it's around 58 euro and takes about an hour
Metro – you can now get the metro directly from Athens airport to Piraeus port. The journey to Piraeus 3 Metro station takes about 55 minutes.
Note that the metros that run all the way between the airport and port only run every 36 minutes so account for that time too.
Of course, you can get on any metro that comes along and then change in the city centre (Syntagma) for one going to the Port.
Bus -public bus service X96 has a journey time of around 90 minutes from the airport to the ferry port (gate E1).
Getting to Rafina Port
From Athens city centre you can:
take a taxi (it takes quite a long time by car, about 1 hour and costs about 55 – 65 euro)
KTEL bus leaves from Chalandri, outside Nomismatokopio metro station on line 3
From Athens Airport
taxi – it's about 20-40 minutes in a taxi from the airport to Rafina depending on the traffic. Fares are about 35 – 50 euro depending on traffic and time of day
bus – get the bus from outside the Sofitel hotel at the airport. They run approximately hourly and the journey to Rafina is about 30 minutes
From Piraeus Port
taxi – it's about 60 minutes in a taxi and costs around 73 euro
public transport – take the KTEL bus above to Athens city centre and then get the metro or bus from the centre
Suzie Young
Suzie writes informative posts for solo, nervous or first-time travellers to Greece, Turkey and other countries on her 50-before-50 bucket list. She became a Greek resident in 2020 and intends to visit every inhabited island (13 down!).