Pyrgos: The Santorini Village You Need to Know About
Greek Island Bucket List is an Amazon Associate and participant in other affiliate programmes. I earn from qualifying purchases. Please see my disclaimer for more information.
---
The village of Pyrgos, Santorini is a pretty, well-preserved traditional village with a lot going for it. It's the highest point of Santorini, with tremendous 360 views and a laid-back feel away from the most touristy parts of the island.
It's also a protected area meaning it will stay that way because it can never be overdeveloped to the extent that other parts of the island have.
Although it's often described as a hidden gem of Santorini, it's not so secret now. But it does get missed by visitors who purely focus on other famous villages like Oia and Fira. But I say it's worth visiting Pyrgos to discover pretty alleyways, excellent eateries, a wonderful spa and fantastic sunset views.
Thanks to its central location a few kilometres from Athinios port and just 10 minutes from Fira, it's a real contender as one of the best places to stay in Santorini. With its top-class accommodation options, I genuinely think people are missing a trick by overlooking Pyrgos as a base on Santorini.
Best Things To Do In Pyrgos, Santorini
Explore Pyrgos Castle, Medieval Streets and Views
There's not really anything left of Pyrgos castle, what was one of five Venetian castles on Santorini island. But it's what the village has been built on. The ancient streets and narrow alleyways that lead up from the leafy square were part of the castle.
Pick a path or the wide steps by the restaurants and follow your way up.
Follow your nose and explore what you want. Wear comfy shoes for the trek uphill and please don't ride the donkeys. (It's only the first bit that's steep it does get more manageable after that.)
When you get to the top there are a few ruined walls castle walls, but you're there for the view. You can pretty much see the entire island, and it's stunning.
Buy Some Gifts
I'm kind of used to Greek villages now. But I still get taken by surprise when I turn a corner that looks like nothing and there's a little boutique tucked into the wall. Turning to see small galleries and tourist shops like Theotokaki Art Gallery shop is a treat.
They've got some really lovely and unique things. like jewellery made from the island's volcanic rock and ceramic items like pretty bowls and replica Greek houses and hanging decorations. It's definitely worth finding for souvenirs as well as little gifts for yourself.
Visit The Churches
The village of Pyrgos is home to many churches (nearly 40 I'm told!) Prominent ones are Agia Theodosia, Holy Trinity and Theotokaki, one of Santorini's oldest churches.
Head To The Museums
Near the square, there's the Santorini of the Past museum, a cultural village museum with examples of Santorini of yesteryear. And the Museum of Icons and Relics is housed in Agia Triada at the top of the hill.
Visit Profit Elias Monastery
You can walk up to Profit Illias Monastery from Pyrgos, take a tour or drive up. You'll need to dress appropriately to enter the buildings, covering shoulders and knees. But don't miss the views from outside. It's another great sunset spot, and you can see the airport too.
Visit Santo Wines Pyrgos Kallistis Greece
Santo Wines is about 15 minutes walk from the centre of Pyrgos. It's a popular spot for wine tasting since you can see it has excellent sunset views.
Santo Wines, Santorini
Hatzidakis Winery is another good option in the village. And there are plenty of other wineries within a short distance of the village too. Places like Estate Argyros, Canava Roussos and Art Space.
Have A Spa Treatment
Alleys Boutique Hotel and Spa offers a really enjoyable spa experience. It's not big but it's friendly and the facilities are still quite shiny and new. I had a great massage there see: Best Spas In Santorini For Relaxation And Wellness
Watch The Sunset From Pyrgos
Pyrgos, Santorini's undercover sunset spot is a calm place to watch the sun go down. While there might be a few other people lined up on the street with you it's nothing like the hoards of people that gather in Oia.
Head up to Francos at the top of the hill for a drink while you enjoy the show or watch from your terrace if you're staying in the village.
Go Hiking
You can hike to Pyrgos from Emporeio village if you're starting there. If you hike to the monastery you can carry onto see Ancient Thera.
There are some other hikes that pass through Pyrgos. My favourite is quite a short one that goes under the monastery and passes a church built into the rock. You come out quite near Estate Argyros, one of the best wineries. All the details are in this post about hikes to discover Santorini.
Pyrgos Santorini Restaurants
There are some quality restaurants in Pyrgos, and plenty are open if you're visiting Santorini in winter.
Franco's Cafe
Franco's bar/cafe is a relaxed spot at the top of the hill with a great sunset view.
Penelope's Pyrgos
Penelope's Ouzari is another down-to-earth spot at the top of the village. Enjoy the view in the day or sunset while you eat some tasty traditional food.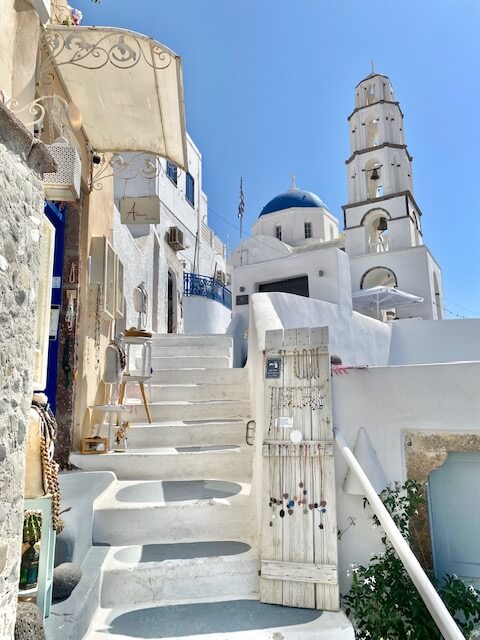 Rosemary
Rosemary Restaurant is another right eatery at the top of the village, slightly more formal than the other two. It also has excellent views and stunning sunsets and offers Mediterranean food made with local ingredients. The baklava is "chef's kiss".
Brusco
Brusco coffee bar is on the village square. They do snacks and small plates and the lightest, fluffiest brunch pancakes I've ever tasted.
Kantouni Pyrgos
Kantouni is next door to Brusco. It's a bit tricky to see which is which so luck carefully if you want to try one of their fab salads.
Cava Alta
This is close to Brusco and Kantouni, just up the wide steps. You can experience Mediterranean gastronomy from Cava Alta's sunset terrace. This beautiful traditional setting is open throughout the winter too.
Pyrgos Santorini Restaurant
Right at the entrance of the village is Pyrgos Restaurant. It's friendly and they have good views and food. The restaurant is easy to visit by car if you're staying further afield as there's loads of parking. You might even see a bride arrive in a helicopter when you go!
Agaze
Agaze is an unassuming place with excellent food and good service. Come here for traditional Greek dishes with a twist. There's a decent-sized public car park over the road if you're not staying in the village.
Staying in Pyrgos
If you're staying in Pyrgos for your Santorini trip then you might want to hire a car. But depending on when you come and how you want to spend your trip, you can absolutely manage without one.
There are plenty of amenities within Pyrgos that you can walk to. And if you're joining tours to various attractions on the island then they usually include hotel pick-up. Your hotel may well offer transfer services too (at additional cost) since taxis can be a bit hard to come by.
Having said that, if you visit in the shoulder or off-season then realistically, you will need a car.
Pyrgos Santorini on the hill seen from the path to the monastery
Pyrgos Santorini Hotels
You can still stay in one of the cave houses but enjoy more privacy in space than in other parts of the island.
Hotels within the castle area:
Santorini Sky, Pyrgos Village – privacy and hot tubs
Santorini Halcyon Days – privacy and a warm welcome
White & Co. La Torre Suites – lovely accommodation where you'll be well looked after
Zannos Melathron Hotel – set in an mansion the belonged to a wealthy Captain
Demeter Cave House – luxury cave house with jacuzzi and privacy
Close to the main road:
Sandy & Salty villas – secluded and beautiful close to Pyrgos restaurant
Alleys Boutique and Spa – on the village road with a few parking spaces
Alleys Boutique Hotel and Spa
On the hillside above the village (car needed):
Santorini Sky, Luxury Resort – true luxury, seclusion and views
Santorini Heights Luxury Suites – couples boutique that's the height of luxury
On the Outskirts
Ampelos Executive Houses Pyrgos – no frills accommodation with friendly hosts
You can still find blue-domed churches in Pyrgos
How to Get to Pyrgos
Most people visit Pyrgos village on a group or private tour. If you're staying in the seaside resort of Perissa, you can hire a Coco-Mat bike and cycle the 7km-ish to Pyrgos.
If you want to take a taxi there are only a few that cover the island, so be prepared to wait.
Otherwise you can arrive bar car or bus.
By Car
From the Port: Drive up the hairpin bends from the port, turn left onto the main road and then turn right into the village.
From around the island: Follow the road signs (in Greek and English) or use Google Maps.
Like the rest of the island, the parking lots get busy in peak season. There's one public car park at the village entrance as you come from Fira. It's on the left opposite Agaze restaurant.
If you keep driving past that, there are another couple of parking lots beyond the main square. There are spaces to your left and right. And if you drive up the slope through the first parking area on your left (from Fira) it takes you to another lot beyond.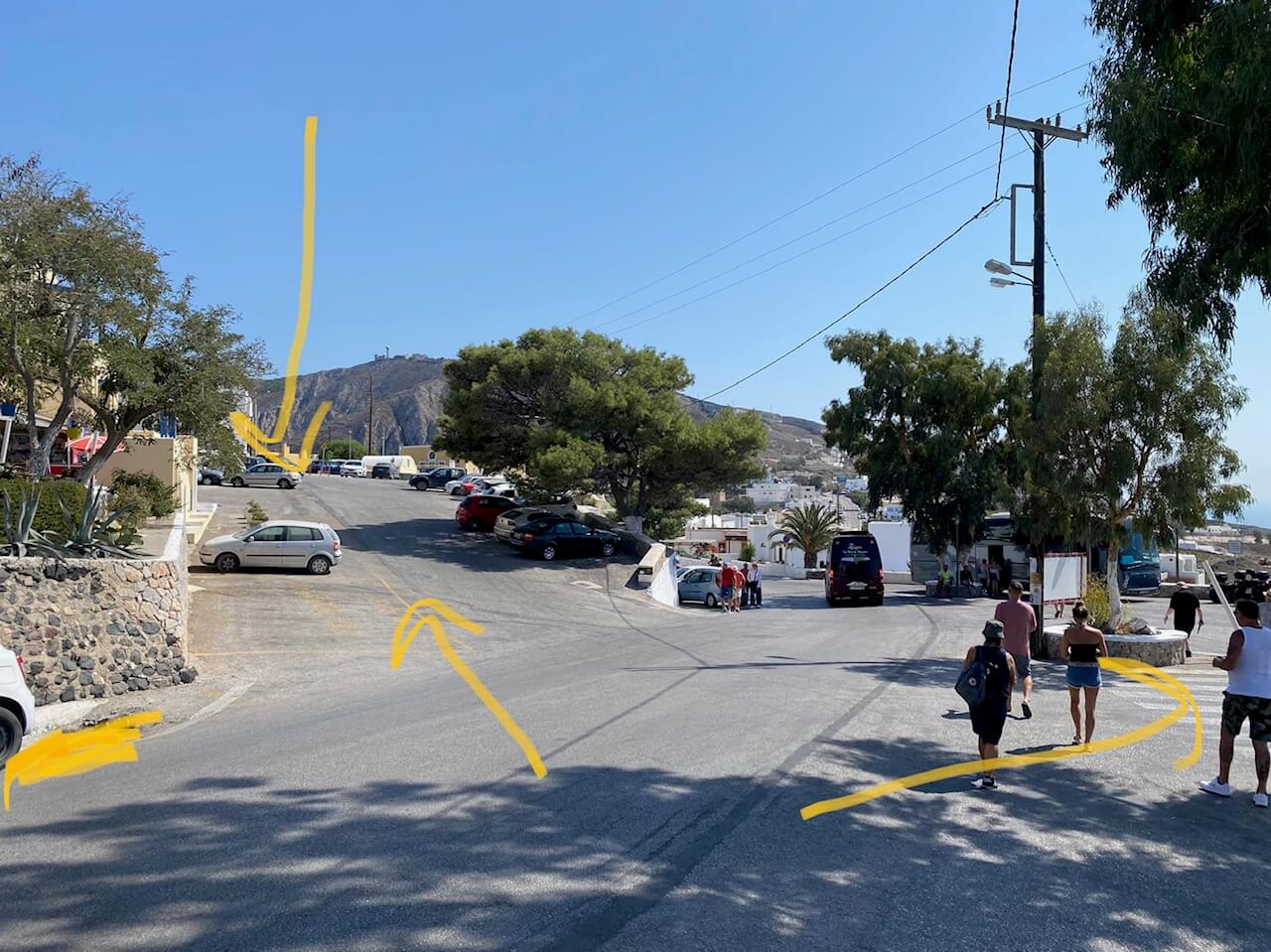 There are also some parking spaces on the side of the road past the bollards near the donkeys.
By K.T.E.L Public Bus
Fira to Pyrgos: To get the bus from Fira to Pyrgos get one going to Perissa. Some buses on that bus route stop right in Pyrgos village.
Check when you get on, though, because some are express buses with limited stops along the route.
If you get one that doesn't go right into Pyrgos, the buses to Perissa and Akrotiri usually do stop at Santo Wines. Get off there at the "Pyrgos Village Crossroad" stop and walk about 15 minutes into the village centre.
Oia to Pyrgos and from other parts of the island you'll need to go via Fira Bus Station and change.
To get the Pyrgos to Fira bus back, just wait at the bus stop on the pavement near the cafes and the donkeys.
Other Information About Santorini Greece
After you visit Pyrgos, you could go to Emborio, another village in Santorini with a Venetian tower or head to one of the beaches.
Here's a list of things to do in Oia, here are some suggestions about what to wear and here are some boat trips to choose from, including a kayaking tour.
Nearby Greek islands to hop to from Santorini are Thirassia and Anafi. Naxos, Paros and Ios and Mykonos are easy to get to as well.
Suzie Young
Suzie writes informative posts for solo, nervous or first-time travellers to Greece, Turkey and other countries on her 50-before-50 bucket list. She became a Greek resident in 2020 and intends to visit every inhabited island (13 down!).