31 Things to Do in Istanbul at Night (2023)
Greek Island Bucket List is an Amazon Associate and participant in other affiliate programmes. I earn from qualifying purchases. Please see my disclaimer for more information.
---
Istanbul is bustling at night and there are plenty of things to choose from whatever your interests are. To find the places I mention I'd recommend using Google Maps. Get a SIM card at the airport when you arrive so you can use the data for Maps and Whatsapp for booking correspondence.
To choose the best tour see whether your accommodation in the city has specific recommendations. Alternatively, check out the sites Get Your Guide, Viator and Airbnb Experiences. You can check reviews to find something that will suit you.
1. Visit Hagia Sophia
Visiting Hagia Sophia church turned museum turned mosque is widely recognised as one of the best things you can do while in Istanbul. But everyone always advises going early in the day to beat the crowds.
They're not wrong, but that's the advice for most of the historic places you might want to visit. And you can't be everywhere first thing, especially if you're only staying a couple of days.
So visit in the evening. Of course, it makes sense to go in the morning and see Hagia Sophia and the Blue Mosque in the same visit. (The Blue Mosque normally closes about an hour before sunset so generally a fair bit earlier than Hagia Sophia)
But in 2023 the mosque is being renovated and there's really not much to see. You're better off choosing an alternative mosque and then going to Hagia Sophia separately.
2. Go to Suleymaniye Mosque
This mosque is a bit quieter in terms of visitors than Sultanhamet Mosque/Blue Mosque. It's a little further from the core attractions around the area but it's an impressive building with fantastic views. And since it's open until 9pm it makes for a good Istanbul night mosque visit.
3. Relax at Turkish Bath / Hammam
A relaxing hammam is a great way to finish your evening. It's normal for Turkish baths to be open until 10pm or even midnight, so you can do this after all your other activities for the day.
Most places offer a variety of packages from a simple soap and steam combination to more luxurious packages. Usually with all sorts of different scrubs, face mask options, massages, hand and foot treatments and aromatic oils.
Choose a hyper-traditional hammam or one that's geared more for tourists with hotel pick-up and drop-off. Prices vary widely.
4. Have a Spa Treatment
Aside from the traditional hammams, there are plenty of excellent spas around Istanbul. You can find a lot of them in 5-star hotels. Try:
Usually, these spas still offer a hammam experience as well as other focuses and quality treatments.
5. Go on a Sunset Cruise
Depending on the time of year you visit Istanbul a sunset cruise will either be an early evening activity or night time. Either way, it's a fun option to see the sights along the banks of both the European side and the Asian side of the city.
It's generally quite a short cruise along the Bosphorus Strait. It usually takes a couple of hours to go down as far as Fatih Sultan Mehmet Bridge and then make your way back. Once you're in the Golden Horn area you'll see the sunset near Galata Bridge.
I think a sunset cruise is one of the best ways to see a lot of different historical sites and neighbourhoods quickly. And it gives you a good overview of the city's layout if it's your first time visiting. Both of these tours come highly recommended. This one on a luxury yacht and this one with a live guide.
6. Bosphorus Dinner Cruise
If you'd like an even more leisurely Bosphorus cruise then choose the dinner option. People have mixed opinions about these dinner cruises so decide for yourself whether it's something you might enjoy. Usually, you'll be seated at large tables with several other guests although some cruises do offer private tables.
Generally, the packages include a three-course dinner of Turkish cuisine with entertainment like traditional dances including belly dancing. This can be a fun and entertaining night but don't expect to find a table in a quiet corner for a romantic night out.
Other things to bear in mind is that although the boats travel along the Bosphorus, the main focus is the show, not necessarily being introduced to every famous landmark you pass.
Also, hotel pick-up is often included but bear in mind that traffic gets pretty horrendous in Istanbul. It might be best to make your own way or expect to walk to an accessible place for collection.
Alcoholic drinks may or may not be included in the ticket price so check before you book.
7. Eat a Giant Jacket Potato in Ortaköy
Kumpir is also a type of Turkish street food and you can get these jacket potatoes all over Istanbul. But Ortaköy is one of the best places to try them. They have a whole street of Kumpir sellers lined up like stalls at a Christmas market.
How it works is someone takes a chunk of butter and a load of grated cheddar and dumps them in the biggest baked potato you've ever seen in your life. Then they mush the butter and cheese up with the potato to make a smooth mash.
At that point, you can start pointing to the fillings you want. Don't worry if they pick up a potato that looks like it has nothing in it. The cheese and butter really do melt in so it just looks like potato. But it's there and it tastes good!
You pay one price for the potato (about 100TL) and you can choose unlimited fillings. There's all sorts on offer so don't worry too much about whether any of it actually goes together or not! I like sweetcorn, olives, bulgar wheat salad, pickled red cabbage and some creamy type of yoghurt sauce with herbs that they all seem to have.
Once it's filled you get it on a little tray with a spoon to eat it with!
8. See the Lights at Bosphorus Bridge
Once you're weighed down with spuds make your way to the water beside the mosque. The Bosphorus Bridge is all lit up and it is quite breathtaking. Before I went I wondered how exciting it could be to look at a bridge. But I did find it impressive. The little square is quite lively in the evening too.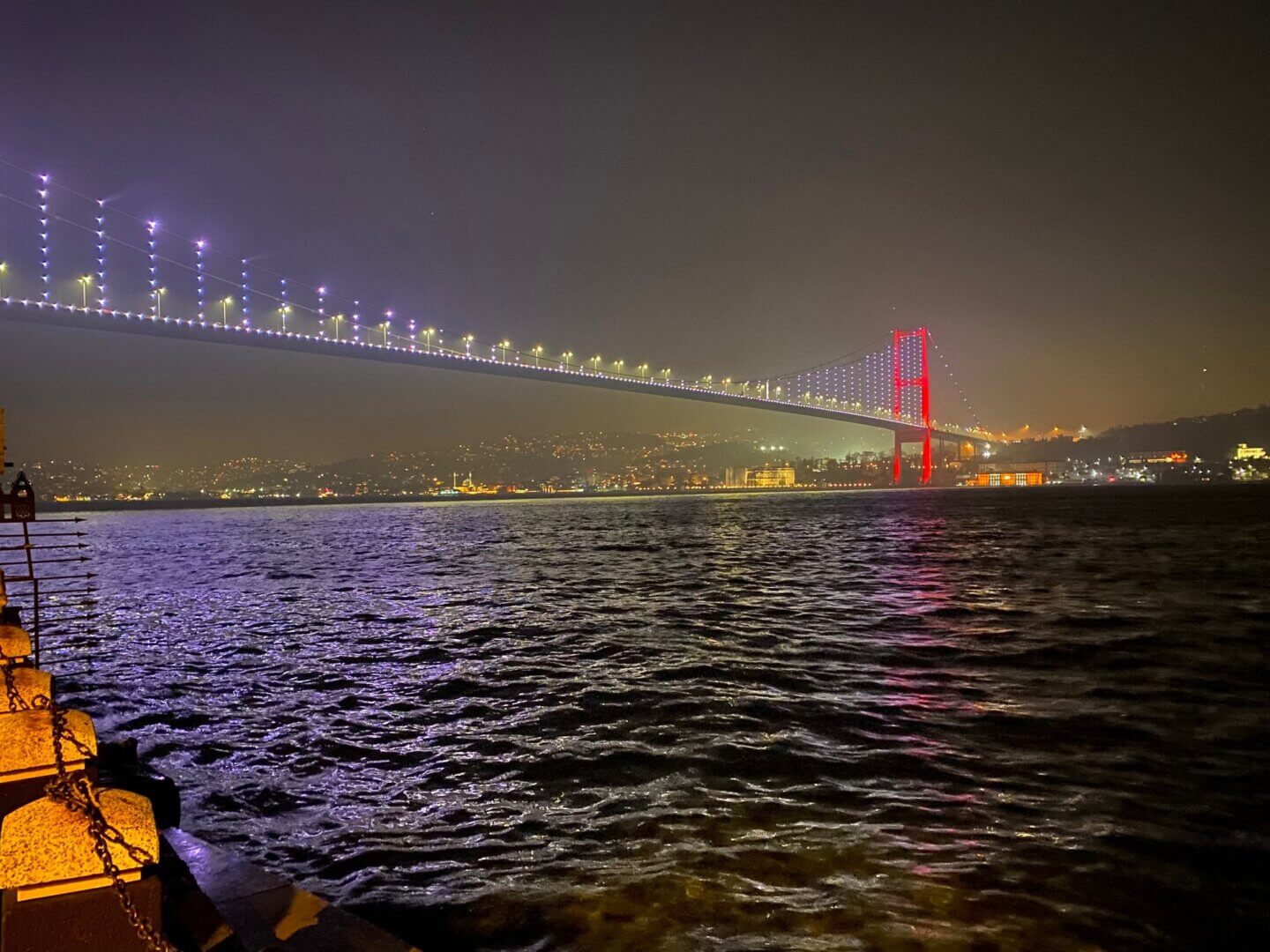 When I was there it wasn't packed. But there were several people milling about the souvenir stands, listening to a busker playing, taking photos in front of the bridge and just generally enjoying the evening.
It's the perfect place to find a bit of wall or bench to sit on and enjoy your kumpir. If you're not eating then there are plenty of bars and hooka places to enjoy the water and bridge view from.
From the old town take the T1 tram Sultanhamet to Fındıklı Mimar Sinan Üniversitesi. It takes about 15 minutes. And then you can get the bus to Ortaköy. There are a few that run along that way including 22, 25E, 30D and 40T.
If you're staying at one of the luxe hotels along the Bosphorus near Dolmabahçe Palace then it's quite a nice walk.
9. Eat Some More Street Food
You've already been introduced to kumpir but while you're out and about try some other street food. There are street vendors all over the place.
In the evening there might still be some simit floating about. But the carts with grilled and boiled sweetcorn and roast chestnuts will be fresher. Look out for the stuffed mussels or go for a simple ice cream.
10. Do an Evening Food Tour
Continuing the food theme, if you want an organised introduction to Istanbul's traditional cuisine then book a food tour. I can recommend Yummy Istanbul who offer a Taksim Evening Food Tour.
This tour runs from 6pm until 9:30pm and takes you on a culinary and culture tour from Taksim square to near Galata tower.
They also offer the Kadıköy Street Food Tour which is a night tour of Anatolian foods on the Asian side of the city.
11. Try Some Local Wines
Staying with local flavours why not do a Turkish wine tasting? Solera Winery is just off Istiklal Street and offers a good variety of wines from various regions. They're reasonably priced and you can pick and choose which you'd like. The team are friendly and there's good food to accompany your wines.
If you're around the Galata Tower area and/or are planning on a jazz night at Nardis (see below) try Sensa. It's literally a minute's walk from the jazz club and you can order a variety of red and white Turkish wines to sample.
12. Wander Along Istiklal Street and Taksim Square
The shops along Istiklal are open late, up until 11pm in some cases. There are museums along the way (see below) that are open in the evening. As is St Antuan Church which is worth a stop too.
If you want to stop for food there's no end of places. And if you start at the Taksim Square end you can head up Galata Tower when you get to the other end.
13. Visit the Museums
Given Istanbul's rich history, it's no wonder there are plenty of museums. Opening times vary quite a bit but here are some that open into the evening. Double check last entry times/box office closing times on the various websites to confirm times for the season you're visiting.
Istanbul Archaeological Museums – open until 8pm in summer / 6:30pm in winter
Museum of Illusions Istanbul – open until 8pm
Pera Museum – open until 7pm and 10pm on Fridays
Madame Tussauds – open until 9pm
14. Go up Galata Tower
Start your evening here and watch the sunset from the 360° viewing platform. Or walk here along Istiklal Street from Taksim Square and go after dark.
The tower is open until 11pm although the box office closes at 10pm. So be aware of that if you need to get a ticket. The queue for tickets is different to where you line up for tickets. So if you already have a Museum Pass you only need to queue once.
Afterwards, you can continue exploring the bars, shops and sights of Beyoglu District.
15. Watch the Sunset from Galata Bridge
An alternative spot to watch the sunset is at Galata Bridge. The view's gorgeous in every direction and you can people-watch as the fishermen drop their lines.
16. Navigate the Grand Bazaar
It's not open super late but if you're around the old city you can spend the early evening at the Grand Bazaar. It's advertised as closing at 6pm. But in my experience, it's more like 7pm. Buy any kind of souvenir you're looking for as well as plenty you weren't!
17. Pick Up Souvenirs at the Spice Market
After the Grand Bazaar head over to the Spice Market which is open until 7pm. It's a treasure trove of herbs spices, dried fruit nuts, and other natural products. For more authentic stalls head to the street outside the covered market.
18. Get Retail Therapy at a Shopping Mall
If you're ready for some serious shopping then head out to one of the city's shopping malls. Istanbul has plenty to choose from. My favourite is Istinye Park but Cevahir is the closest to the city centre. As a general rule, the malls are open until 10pm.
See: The Best Shopping Malls In Istanbul For Tourists
19. Watch a Turkish Night Show
There are loads of Turkish Night evenings across the city. You could choose a specific belly dancing show or something more general.
Most Turkish shows have a combination of delicious food and some kind of live performance. Usually, that means folk musicians with traditional music and/or belly dancers or other styles like Romany or Anatolian dances.
20. Observe a Whirling Dervish Show
Istanbul offers a few different Whirling Dervish performances. Some are more touristic and others are more authentic. Make sure you choose one that fits your perceptions for the best experience.
With the more authentic rituals, you're basically there as an observer of a meditative religious ceremony rather than being actively entertained.
21. Go on an Organised Istanbul Pub Crawl
If this is your scene then check out Istanbul Pub Crawl. They offer a very good pub crawl package that takes you to four clubs in the Taksim/Galata area.
22. Explore Istanbul's Nightlife on the Asian Side
If you want to make your own pub crawl you can also hop over and discover the nightlife on Istanbul's Asian side. Kadife Sokak (Kadife Street) is lined with bars.
Because it's not one of the most popular destinations for tourists it's a great option because it's a bit less crowded. There are also cafes/casual restaurants in the area that sell hearty hangover soup!
Even if a full-on pub crawl isn't your thing there is still plenty to explore. I found the Asian/Anatolian side of this historic city much calmer and less touristy. It's unlikely anyone will try and sell you something (like a carpet) and it feels a bit more multicultural. I'd take the time to visit if you can.
If you'd prefer to have a guide check Airbnb Experiences for food and other tours in the area.
23. Dance the Night Away at a Night Club
If you want to get right into the best Istanbul nightlife then join Istanbul Party Pub Crawl. It's a women-owned events company that organise tours to one pub and then onto 3 clubbing venues.
For an LGBTQ experience join Doğan through Airbnb Experiences.
24. Chill Out at Jazz Night
Nardis Jazz Club is the go-to place for jazz in Istanbul. As well as live music you can enjoy food and drink and a warm welcome.
I also saw that Georges Hotel in the same area hosts jazz nights at times.
25. Have a Home-Cooked Dinner with a Local Family
Join Hasan and his wife for a unique home-cooked dinner on the Asian side of Istanbul. You'll come away not only with a full tummy but recommendations of more of the best things to do and see.
26. Join a Cooking Class
If you'd prefer to join in with the food prep then this Turkish and Ottoman Cuisine Workshop runs from 6 – 9pm. It incorporates cooking, music and fun. Investigate for a lively, cultural evening.
27. Take an Evening Segway Tour
I haven't done this but I reckon it could be a pretty unforgettable experience. I did see a group of segway-ers out and about in the evening hours one day and it did look fun.
Istanbul Segways Tours run a 3-hour nighttime tour. It takes you round classics like the Sultanahmet area, Suleymaniye Mosque, Hippodrome Square, Sultanahmet Mosque/Blue Mosque, Topkapi Palace and Hagia Sophia as well as several other locations.
28. Experience a Football Match like a Local
Istanbul has several football teams with very passionate fans! The first time I was in Istanbul I went to Istiklal Street on match day. There were fans everywhere in the various strips and there was a really jovial atmosphere about town.
Actually getting into a foot match in Istanbul can be a bit of a logistical nightmare thanks to the security involved. (For which we should be grateful.) However, if you join this Airbnb Experience it'll all be taken care of so you can just relax and enjoy the match.
29. Drink at a Rooftop Bar
For the classiest nightlife of Istanbul head to the prestigious rooftop bars of the city's luxury hotels. Some of the best bars with amazing views are:
16ROOF at the Bosphorus hotel. DJ at the weekends means it can get busy
Süreyya Teras Lounge at the Four Seasons Sultanahmet
The Roof at the Ritz-Cartlon Istanbul
Solo travelers you could look at this Airbnb Experience if you prefer to join a group.
30. Have a Meal at a Rooftop Restaurant
Similarly, you can spend all evening at a restaurant with a beautiful view. Try:
Georges Hotel in Galata
Mikla Restaurant at The Marmara Pera Hotel
Vogue Restaurant at Beşiktaş
31. Watch the Sunset at Maiden's Tower
As I'm writing this the Maiden's Tower is closed and no boats are running to the island. So you can't get to the eateries or walk around the tower area. But at some point, post-COVID, it will open up again and you'll be able to go. Turks come to Maiden's Tower for a romantic evening and many a proposal has happened here.
Suzie Young
Suzie writes informative posts for solo, nervous or first-time travellers to Greece, Turkey and other countries on her 50-before-50 bucket list. She became a Greek resident in 2020 and intends to visit every inhabited island (13 down!).