The 6 Best Shopping Malls in Istanbul for Tourists
Greek Island Bucket List is an Amazon Associate and participant in other affiliate programmes. I earn from qualifying purchases. Please see my disclaimer for more information.
---
Istanbul has several modern shopping malls with all the international brands you'd expect along with a load of Turkish brands to discover. The best malls include various restaurants and some kind of entertainment areas whether it's a fitness centre, arts space or cinema halls.
Most of Istanbul's malls are based on the European side of Istanbul which is easier for tourists. And I have written this with you in mind, rather than for residents of Istanbul. Shopping malls in Istanbul are generally open from 10am – 10pm seven days per week.
Best Shopping Center Overall and for Prestigious Brands – Istinye Park Mall
The overall winner on my list of the best shopping malls is Istinye Park, not just for prestigious brands. It felt like the most pleasant to shop in, from the lighting to the non-confusing layout, the varying environments and the selections of both high-street and luxe brands.
Istinye Park is one of the most luxurious shopping malls I've ever been to. And as I've said it's also my favourite of the Istanbul shopping malls I visited. (Even though security was giving me the eye while I was there!)
The centre is intuitive to navigate and is laid out in such a way you can see a lot of the various shops in front of you. The lighting is warm and bright and the place feels very clean and inviting.
I liked the modern architecture of the elegant glass ceilings and the fact that the whole place was constructed with energy-saving and recycling in mind.
I feel like it's got every brand you could be looking for. From H&M to Hermes and Calzedonia to Chanel and Cartier. There are plenty of Turkish brands too. Plus they have a bazaar area that has a feeling of old city about it.
There's both an indoor and outdoor area and the eateries are plentiful. You're covered for food whether you want something classy or good old Burger King, McDonalds or KFC.
There's also a cinema at the mall. In Turkey, cinemas mostly show American/Hollywood films in English with Turkish subtitles. So you can definitely enjoy that without needing to speak Turkish.
Gettiing to Istinye Park
In terms of getting there, Istinye Park is about 30 minutes by car from Taksim and 40 minutes from Sultanhamet. Those times are very dependent on traffic which can get pretty horrendous in Istanbul.
By all accounts, there's a decent amount of parking at the mall but really I wouldn't recommend going by car. Taxis are cheap and the easiest way of arriving.
If you're ok with taking the metro and bus you can beat the traffic on public transportation. It's easy from the Sisli areas / Taksim Square. Take the Green Metro line 2 for 14 minutes to İtü-Ayazağa İstasyonu. (The metro stop is announced as Istanbul Technical University on the train).
There's a bus stop outside the metro station and you can get on buses 29S, 40B or 40C for 3 stops (4 minutes) to Istinye Park.
I actually got a Dolmus minibus because it was the first thing to pull up at the bus stop with a sign in the window saying it was going to the Park. I couldn't use my Istanbul card and just paid 10 TL (cash-only) instead.
Best Mall for Luxury Lifestyle – Zorlu Shopping Mall
Zorlu Shopping Center is an upmarket lifestyle centre with easy access for tourists. It's shiny and classy with a Raffles 5-star hotel and a large theatre/performing arts centre onsite.
Luxury brands like Bulgari, Louis Vuitton, Dolce and Gabbana and Dior are arranged around the outside of this mall. Inside, Zorlu is contemporary if a little confusing to navigate. Regardless, most of the usual brands like Zara, Mango, Sephora and Addidas, are there to make your way around.
The centre is also bursting at the seams with coffee shops and gourmet restaurants.
This is a good mall if you're looking to stay somewhere luxurious with fine dining and deluxe shopping options onsite or nearby. As well as the Raffles Hotel directly at the centre, Renaissance Istanbul Polat Bosphorus and the Movenpick Istanbul Bosphorus hotels are very close by.
Getting to Zorlu Centre
Get a taxi or bus from your hotel if you're close by. I walked from mine near Gayrettepe and it wasn't a great idea since Zorlu is basically to the side of spaghetti junction.
If you're coming from a more central location you can get the Green Metro Line 2. Gayrettepe is the closest stop and it's supposed to be a 5-minute walk from there. But it took me ages to find the right bridge and footpath to get across and it was all rather challenging.
I'd suggest going one more stop and getting off at Levent. It's a 15-minute walk from there on the same side of the road. Or you can get buses 27E, 29C, 29D, 62, 63 which take about 4 minutes.
Best for Last Minute Shopping Near SAW Airport – Viaport Outlet
As the name suggests, Viaport Asia is on the Asian side of Istanbul. It's only about 10 minutes from Sabiha Gokcen International Airport (SAW) so it's handy if you're over that way.
For transparency, I haven't made it to this mall yet. But I can see from their website that it has decent facilities if you have a long layover or a late flight after a hotel checkout earlier in the day.
Apparently, it's mostly an outdoor mall with lots of green spaces built to feel like a Mediterranean town. As well as global brands it has a lot of Turkish names. And the outlet aspect is supposed to make it more of an affordable shopping destination.
One of the things I thought sounded quite cool is that their covered bazaar is based on the Grand Bazaar in the city center. As well as the stores, there's a kid's theme park and the Crowne Plaza Istanbul – Asia hotel at the site.
How to Get to Viaport Asia from SAW Airport
Taxi is the easiest option. You might pay a premium from the airport but taxis are so cheap in Istanbul that it won't be a lot. You can also get the UM73 bus from the airport.
Get off at Ihlara Vadisi Sokak stop which takes about 15 minutes. Remember you can't pay cash on the bus, you'll need a paper ticket or Istanbul Card.
Other Malls in Istanbul
ÖzdilekPark Istanbul Shopping Mall
This is close to Zorlu Center and is one of the biggest shopping malls in the city. But doesn't feel quite as opulent as it mostly has high-street brands (both national and international).
Having said that it's home to a Wyndham Grand luxury hotel as well as a Cinetime cinema with 10 movie theaters, a fitness center and a children's entertainment center.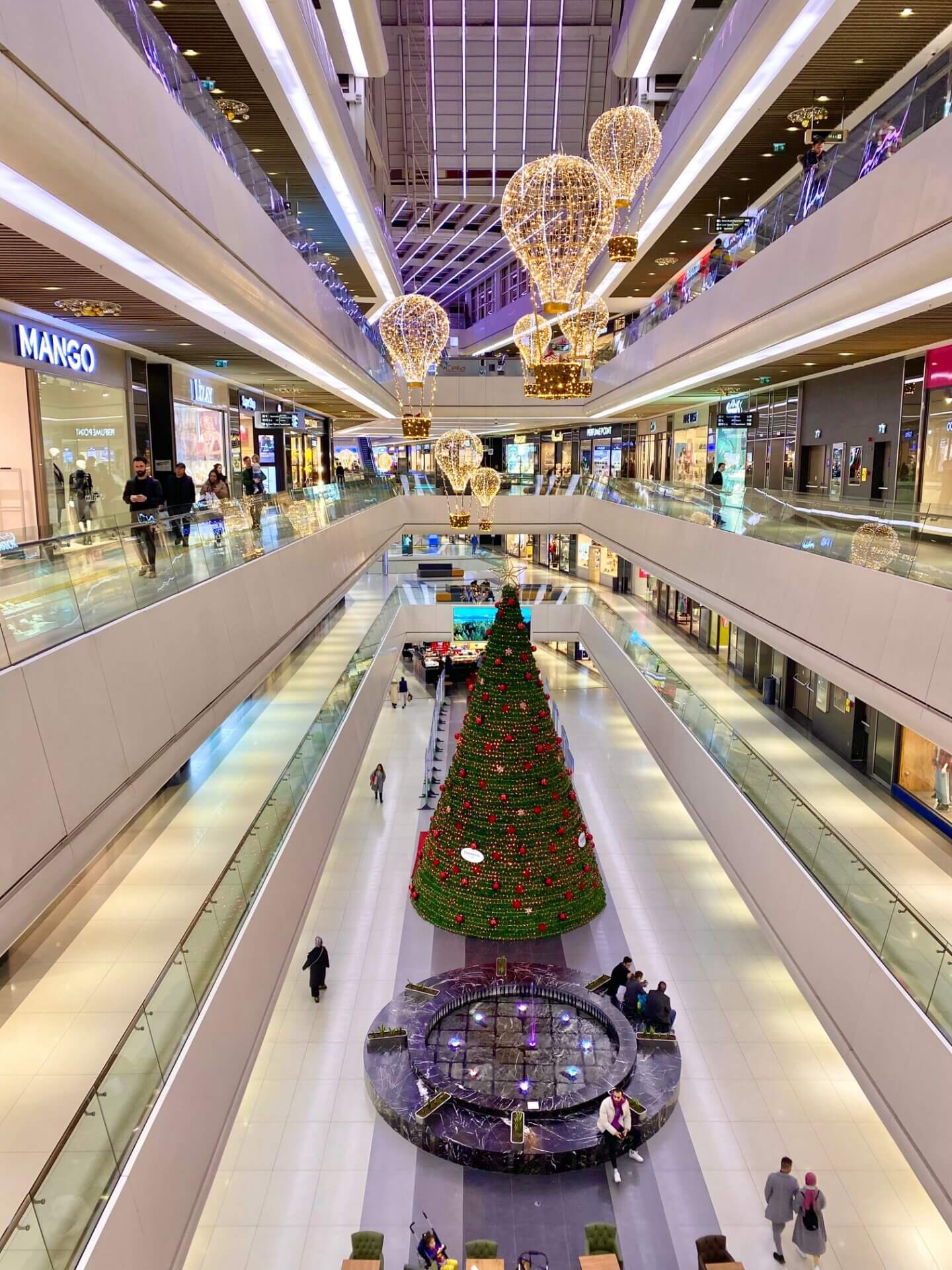 What I like about this place is that it has a massive Decathlon on the ground floor which was great when I forgot to pack a swimsuit for the hammams.
The Hypermarket at one end was also a good place to get slightly more gourmet foods as souvenirs. I was quite impressed that they even had a few chocolate advent calendars when I went in December!
The other good thing about ÖzdilekPark is that it's actually sandwiched between two other Istanbul malls. Metrocity Mall is on one side – right at Levent Metro – and Kanyon Shopping Mall is on the other. I don't particularly rate either but if you're going to ÖzdilekPark anyway it does extend the range of shops.
Kanyon isn't awful it's just laid out a bit oddly in a semi-circle. But it has more high-street brands like Marks and Spencer, Calzedonia, Mango and Massimo Duttiif you didn't get your fill at ÖzdilekPark.
Cevahir Shopping Mall
Istanbul Cevahir Mall came up a few times when I was looking into the best mall in Istanbul. It's probably the closest to the city centre – at Şişli metro station, one stop from Taksim Square – but I didn't love it.
It's high-street brands again with a food court filled with cheap international eateries like McDonalds, KFC, Arby's and Krispy Kreme.
If you're staying around Taksim Square or in the Sisli district then Istiklal Street is better in my opinion. It has the same type of brands plus you're passing local museums, restaurants and churches while you're out and about.
Unless the weather's terrible or you find shopping in a centre easier because you have young children or a disability I wouldn't bother trekking over. And even then, if these things apply I'd perhaps look at one of the other options above.
Mall of Istanbul
I heard that the Mall of Istanbul is the biggest mall in the country so I felt the need to include it here. But then I read claims that both Cevahir and Forum are the largest shopping mall so I have no definitive facts for you on that! Either way, it's a big mall with an indoor amusement park and a cinema.
It's quite a way from Istanbul city center so I wouldn't really recommend it if you're visiting and staying there. But if you have a stay nearer the airport and want to pop over before you fly you could do that.
Equally, the Hilton Istanbul Mall hosts various events and conferences. If you're travelling for those and want to fit in a bit of shopping as alongside some sightseeing you're perfectly placed to do so.
I didn't love the layout of the Mall of Istanbul. It seems to go off into lots of different sections and floors which I found confusing. And it was hard to see which shops or types of stores were in a particular section without walking all the way along it. Not a problem if you need to up your step count for the day I suppose!
What I can recommend is a massage from the physio/ Fizzy Point seated massage stations. The cost is really low and the standard very high (so tip well).
Anyway, one thing that it boasts is a massive indoor theme park for kids (the biggest indoor theme park in Europe at 12,000 square meters, apparently). There's a section for 4 – 10 years olds and another floor for 10+ years. The mall has a cinema too.
Getting to the Mall of Istanbul
The directions are a bit convoluted to get here so it's probably best to have a look at the directions of the mall's website. I got a taxi there from my hotel before the traffic got too bad.
But leaving, I used public transport as I was going to Sultanahmet afterwards. I got the 146T (very crowded) bus for 40 minutes to Aksaray Iski. From there I walked across the road to the Aksary T1 tram line and went four stops to Sultanahmet.
Other Shopping in Istanbul
Istiklal Street
If you don't necessarily need a shopping mall, you just want decent high street shopping, then Istiklal Street is the best place to go. It has pretty much all the same brands as the largest shopping centers and is right in the heart of the city.
The stores here open a bit later in the day. For example, Zara is open 11am – 11pm seven days a week and Mango is open 12 noon until 9pm every day. A good time to go is as soon as the shops open but Istiklal is basically always busy.
I do like going along in the evening because there's usually a good atmosphere. And once you've walked all the way to the end you can go to Patatos for Kumpir, a mahoosive jacket potato piled high with all the fillings.
Grand Bazaar
If it's souvenirs you're after then the Grand Bazaar is a great stop. You'll find tea and coffee sets, mosaic lamps, fake handbags, jewellery, evil eyes and many other items at the thousands of shops. It's busy though, so keep your wits about you.
Spice Market
For food item souvenirs head to the covered spice market. You'll find all sorts of spices, herbal teas, apple tea, natural products, Turkish Delight (lokum), baklava and dried fruit sealed up in packs you can travel back with.
More information to Help With Your Trip to Turkey
For more information about Istanbul, here's whether it's safe to travel, here's a list of things to do in Istanbul at night , here are the best Istanbul Museums to visit and here's how to do a day trip to Cappadocia from Istanbul.
Suzie Young
Suzie writes informative posts for solo, nervous or first-time travellers to Greece, Turkey and other countries on her 50-before-50 bucket list. She became a Greek resident in 2020 and intends to visit every inhabited island (13 down!).