Istanbul in November 2023: Turkey Weather & Things to Do
Visiting Istanbul in November is a great time to discover Turkey's largest city. You're heading into the cheapest time of the year, with fewer tourists and an average temperature of a pleasant 15 c.
I was in Istanbul in the first week of November 2022 and I saw sunny days (with foggy mornings) and daytime temperatures still in the 20s.
See more on Turkey:
Blue Lagoon Turkey: Best Beaches & Activities To Discover At Oludeniz
Best Gifts From Turkey
Turkey in October
The temperature tends to drop in the second week. And then of course it's getting much cooler by the end of November as you head towards the cold weather of winter.
Throughout the month you can expect a fair bit of rain and therefore cloud cover. But it's not the wettest month.
You can see in the image above from the 6th of November that the temperature takes a dip from the second week in November. There was a mix of sunny, cloudy and rainy days.
Overall the weather conditions are pleasant for exploring and there are enough daylight hours to visit Istanbul's many sights.
Is Istanbul Crowded in November?
As with neighbouring Greece, the peak season is over the summer. Coming in the fall/autumn shoulder season means that you can enjoy some of the most popular tourist attractions with smaller crowds.
Some would say it's the best time of the year for your Istanbul / Turkey travel plans.
Having said that the main attractions still get a fair bit of footfall. I found there were still quite long lines to get into Hagia Sofia. Although I think they were moving fairly quickly. I also noticed several guided tour groups everywhere I went.
So there will still be lots of other international visitors around but not like in the high season.
There are no public holiday dates in November so you don't need to worry too much about extra crowds on any particular days. Having said that beloved leader and first leader of the Turkish Republic, Mustafa Kemal Atatürk is commemorated on 10th November. (See below.)
What To Wear in Istanbul in November?
In November I'd recommend packing jeans or similar. Lightweight trousers might be useful at the beginning of the month but later on, you'll appreciate something thicker.
Layers
Layers will keep you right for sudden changes in temperatures. So bring long and short sleeve tops plus a jumper you can add on or strip off as necessary.
Jacket for Evening
Evenings are definitely cooler so if you're out and about doing a local food tour or sunset cruise you'll need a jacket.
The best option I've found for always being warm enough is a padded gilet. The one I have is super light and packs right down so it's easy to always have in my bag. I can wear it over a jumper or t-shirt and also under a jacket.
Waterproof Footwear
I live in trainers/ sneakers when walking miles around European locations. But for rainy days something waterproof will keep you happier. Soggy feet are no fun so some flat leather-type boots might be a good idea.
Light Waterproof
Another great idea is a light waterproof jacket. If the weather forecast predicts heavy rain one day then it might be best to stick with indoor attractions. But if there's just a little rain something water-resistant will keep you dry between locations.
Things to Do in Istanbul in November
Istanbul is rather spread out although there are clusters of attractions together. If you can make time, visit the Asian side of the city as well as the European side.
Visit Dolmabahçe Palace
Mustafa Kemal Atatürk, the first President of the Republic of Turkey resided at Dolmabahce Palace for a few years at the end of his life. He passed away in the palace on 10th November 1938 at 9:05.
While the date is not a national holiday Atatürk is remembered each year on the anniversary of his death. Throughout the country Turkish people stop for two minutes' silence at 9:05. Traffic stops, sirens wail and people descend onto the street.
The palace can be busy throughout the 10th as visitors flock in remembrance of Atatürk. So this particular area can be crowded on that date.
Aside from this special occasion, the palace is an interesting piece of history to visit. This lavish, opulent building is a large site with beautiful grounds so allow enough time there. To avoid the lines it's worth arriving early.
Check the official website for up-to-date opening times and ticket prices
Topkapi Palace Museum
Another popular place to indulge in history and Turkish culture is the Topkapi Palace Museum. Again, it's a popular place even in fall/autumn so an early start is ideal.
Like with Dolmabahçe, you'll do plenty of walking to discover all the rooms. (And the well-kept gardens.) Take time to see all the Islamic artefacts on display.
Istanbul Archaeology Museums
At the Topkapi Palace Museum, you're not far from the three museums that make up the Istanbul Arachealogy Museums compound.
If you happen to need some more rainy-day activities you could pop along to see the beautiful neo-classical building and its exhibits. (Including items from Hagia Sofia.)
The official website is the best place to get up-to-date opening and ticket information.
Hagia Sophia
Hagia Sophia mosque (originally a church) is another of Istanbul's most famous places. Visit to be awed by the magnificent building and the welcome for both Muslim and non-Muslim people.
While you're likely to be respectfully dressed in November (thanks to the weather) women will still need to cover their heads. Take a scarf or borrow one when you visit.
The Blue Dome
The Blue Dome, also known as Sultanahmet is just across from Hagia Sofia. It's been under renovation for a while so some areas are limited so you won't need as much time here. It's a current, functioning mosque so please be aware of that when you visit. Entrance is free.
Grand Bazaar and Spice Bazaar
Within walking distance (17-ish minutes) of Hagia Sophia and The Blue Dome is the Grand Bazaar. It's a labyrinthine, covered market with thousands of shops. Perfect for immersing yourself in souvenir shopping.
Less than 10 minutes away from that is the Spice Bazaar. This place is a sensory delight. You're immediately hit by a smell blend of incense and spice. Dried fruits and sweets and Turkish delight are all piled high in colourful mounds. Just yum!
Suleymaniye Mosque
This is another huge mosque with gardens to enjoy. If the Blue Mosque still has lots of scaffolding when you go this is a good alternative. Perhaps a good alternative anyway if you're looking for somewhere a bit less touristy.
As you can see it was very overcast the day I went in November. But if it's a bit clearer you can get a great view of the Bosphorus, Bridge and Tower. I've heard it's pretty amazing at sunset too.
Taksim Square
Taksim is a bustling square in another tourist area of the city. Notably, it's home to the Republic Monument which commemorates the formation of the Turkish Republic.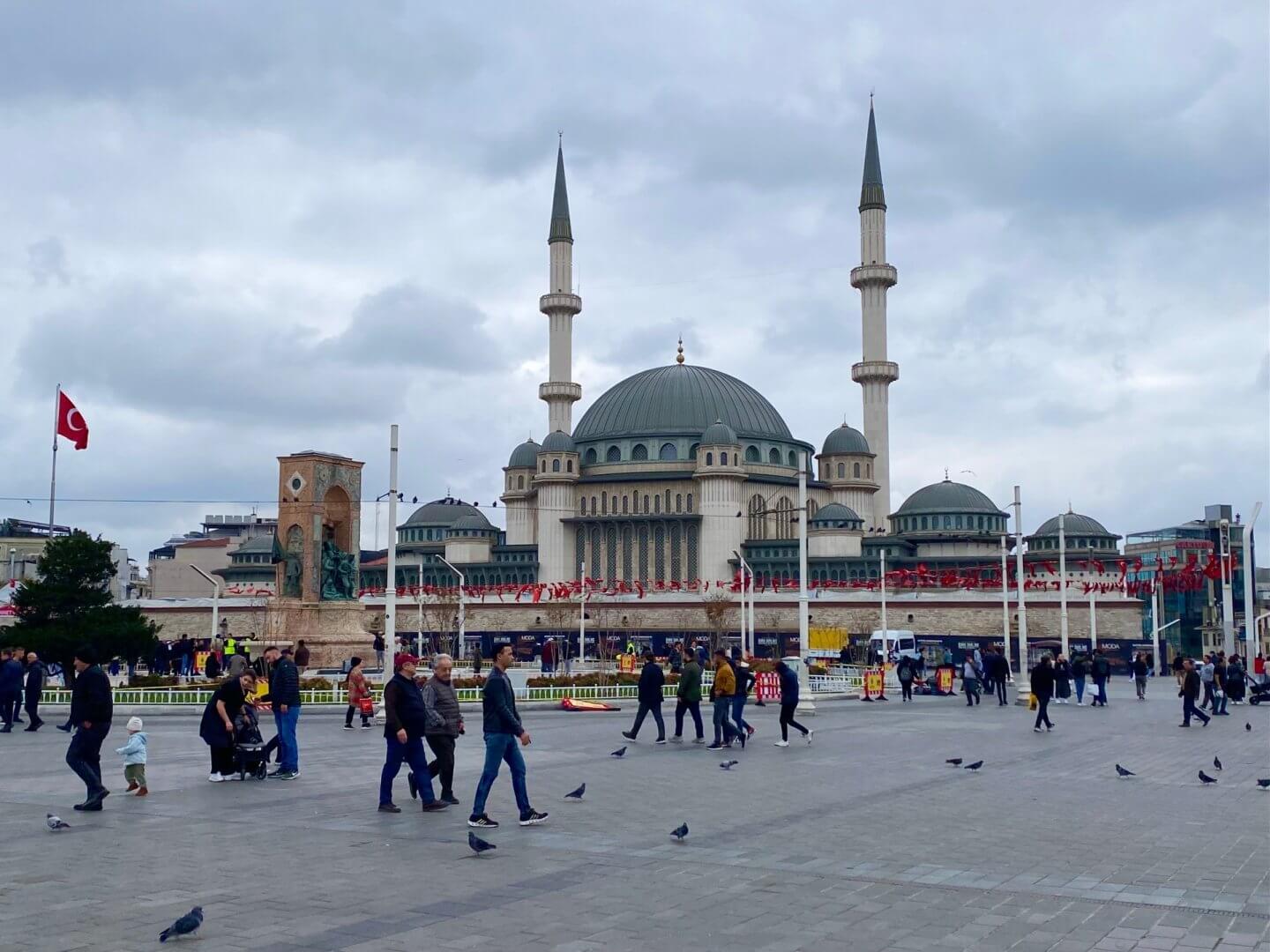 Like Dolmabahçe Palace, Taksim Square can be busier than usual on 10th November. Atatürk is one of the sculpture figures on the monument and commemoration ceremonies happen here on the day.
Shopping on Istiklal Street
Straight down from Taksim is the famous Istiklal shopping street with its vintage trams. If you're keeping up with world events you'll know there was a bombing on Istiklal Street in November 2022. I don't tell you that to scare you or put you off a trip. But it might change this tourist spot a little when you visit next.
For the moment, street performers, vendors and the like are not permitted. So some people feel that it's lost some of its cultural spark. It's an excellent street for shopping though, I actually prefer it to Ermou in Athens. I picked up loads of stuff I needed when I visited.
Bosphorus Cruise
River cruises along the Bosphorus Strait run throughout November (including sunset cruises). Wrap up against the breeze, especially in the evening and see a load of sights in one go. You'll be able to both the European and Asian sides of the city.
Cruises normally include sailing past Dolmabahçe Palace and Mosque, Bosphorus Bridge, Galata Bridge and Golden Horn.
Obviously, the cruises are weather dependent, but you should be fine in November. If you prefer to be more sheltered you could choose a dinner cruise with show.
Turkish Bath
I think that when the weather starts to turn a little bit cooler it's a really good time to indulge in a hammam. This is a great evening activity too.
Enjoy a classic Turkish tradition and get scrubbed and lathered. Most baths/spas will have packages for you to add on masks, massages and various other scrumptions pampering options.
Turkish Food Tour
Sampling the local cuisine is ideal at any time of year if you ask me! Food tours are available day and evening. You can choose one that's just a few hours or enjoy a full-day culinary experience.
The "A Taste of Two Continents" tours will give you the greatest variety of samples.
Is November a good time to visit Istanbul?
I think we've established by now that November can be the perfect time to visit Istanbul. If you're looking for the hottest month of the year and want to combine the country's largest city with a visit to the coast this is not the ideal time for you.
But if you want to avoid the biggest crowds and enjoy mild temperatures before the cold winter sets in then it's a good time. The clocks don't go back at the end of October either. Meaning that although the days are getting a bit shorter it's not as pronounced as if you were in Greece or Italy.
Which Other Months Are Good to Visit Istanbul?
Staying with the same season September is a good time of year for tourists to head to Istanbul.
October is another pleasant weather month you could consider for this city. As a rule, you'll get a bit more sun than in November. And although the temperatures aren't as high as in September it's still quite warm.
If you're happy to wrap up to explore then you could enjoy Christmas time/ December in Istanbul. I loved going to Cappadocia in December with the outdoor fires to keep us warm.
This page may contain affiliate links. Read through my privacy page for more information.
---
Suzie Young
Suzie writes informative posts for solo, nervous or first-time travellers to Greece, Turkey and other countries on her 50-before-50 bucket list. She became a Greek resident in 2020 and intends to visit every inhabited island (13 down!).