What & Where to Eat in Andros: Best Tavernas & Shops
Andros is a sizeable island in the east of the Cyclades. It's smaller only to Naxos, and even then just a little bit. As an island, Andros actually reminds me a lot of Naxos. It's a lush environment that's more similar to Evia above, than the rest of the Cyclades.
If you're staying on the island you might wonder about what and where to eat in Andros during your visit. While neighbouring Tinos is much more known for its wonderful food Andros still has plenty of local products worth exploring.
During my visit to Andros, I enjoyed sampling a number of products made on the island. Look out for some of these things when you visit as it's all part of experiencing the Greek culture.
Most of the best places to eat in Andros are in or near Chora. But there are one or two other restaurants worth mentioning so I'll do that below.
Ok so let's get into what to eat on Andros in terms of local products.
Cheese
Local cheese is made in a couple of places on the island but the best comes from Messaria. It's made by a lady in her home workshop in Messaria village and sold in various places across the island.
Amygdalota
Amygdalota is an Androtian sweet made from almond paste. They're basically made with three ingredients: almond paste, rosewater and lots of icing sugar.
I was given some as a gift by my Airbnb host when I stayed on the island. I guessed from the name they were almond (I did biology and the amygdala in the brain is named that because it's almond-shaped. Oh the random bits of knowledge we acquire!)
As such, I wasn't sure I'd like them when I first bit into one. I'm not a marzipan fan and although I like almonds themselves I don't tend to love almond products. Anyway, they're incredibly moreish (probably all that sugar…). And the rosewater was an interesting and pleasant surprise.
I grew rather fond of the amygdalota over my weeks on the Andros and suggest you give them a try when you go.
Froutalia
What can I say, this dish was described to me as a heart attack on a plate! I've heard it's a tasty one though. The Andros frutalia is a frittata-style omelette made with about a million eggs and cooked in pork fat. It also has potatoes and includes local speciality sausage.
You'll find this in tavernas all over the island although I'm told the best is in Chora (see below). If you're a meat-eater then try it if you dare!
Glyka Koutaliou – Spoon Sweets
It took me ages to work out what the spoon sweets were that I kept reading about. I had visions of people loading bowls up with the jelly sweets that I saw in the supermarket and eating them like cereal.
Luckily my imaginings were corrected in Andros. During a visit to someone's house, I was given some actual fig spoon sweets. I got about three tablespoons full on a plate. They're basically like a very sweet jellied fruit that comes in a jar of syrup.
Surprisingly for me, I found the treat a bit too sweet. I also didn't love the fig but I would try the spoon sweets again in another flavour. I think next time I'd have a smaller amount served with Greek yoghurt.
Fig Spoon Sweets | Hairy and Smooth Quince Fruits!
Quince Fruit
Quince fruit looks a bit like a misshapen pear and is available on Andros during the autumn months. Although these are talked about as being quite unique to Andros, I do think that a type of quince is available in the UK too.
When I hear of this fruit I think of Miss Marple making batches of quince jam. In Andros though, the quince preserve they make includes walnuts and geranium. Sounds a bit more exotic than the English variety!
When it's raw, the fruit is too solid and tart to enjoy. But cooked and made into a jam or a spoon sweet is very different.
Local Honey
Like many of the Cyclades, Andros produces honey from the local heather and thyme. The honey created from the heather in the north of the island is particularly revered.
Andros Lemonade
After noticing that some abandoned lemon trees were abundant with fruit that was just going to waste a collective was formed on the island. Together they started producing lemonade on Andros to make the most of the produce in front of them.
It's old-fashioned, non-fizzy lemonade that you buy in concentrate and dilute. I bought some while I was on the island and really liked it.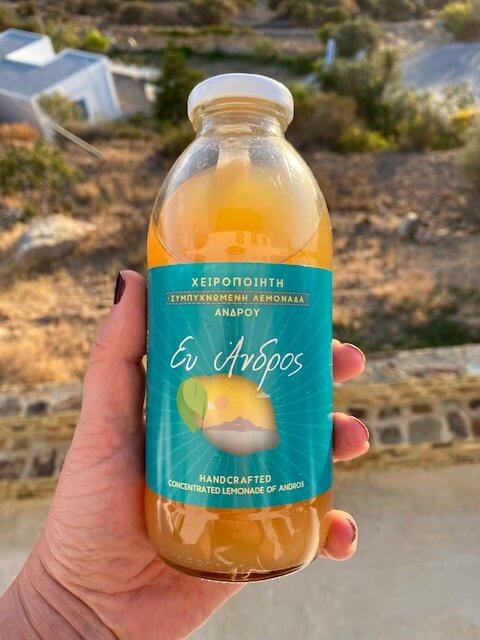 Androp
We're staying with the drinks theme but this time moving on to alcohol. You'll see bottles of Androp in the supermarkets and other local product shops on the island. Androp is a tsipouro, a type of brandy. The brand also has an ouzo product.
Androp is made locally on Andros. It's a "vertical production unit" which means they have privately owned vineyards growing indigenous varieties of grape. The company also aims to support and expand other local agricultural businesses by getting as much of their raw materials from the island as possible.
Sariza Spring Water
Another drink that Andros is famous for is the natural spring water from the Sariza spring. For decades people have flocked to Apoikia village to drink and bathe in the water from this particular spring.
The water is purportedly diuretic and it supposedly cures kidney disease and gastrointestinal issues. While it's possible to buy bottles of the Sariza spring water in the shops (look for the blue label) you can just visit and fill up your own water bottles/containers.
Where to Shop for Local Food Products in Andros
If you're mouth's watering from hearing about all these delicious things then let me tell you where you can actually buy them!
Zairis Bakery
Although you can get amygdalota sweets from probably any bakery on the island the ones my host gave me were from this lovely bakery. The sweets were gorgeous so I had to visit the shop for myself. It's full of stunning cakes and jars of preserves and spoon sweets.
What I also liked were the other sweets and chocolates they had. On the counter, they had "pasteli" sweets treats made with amazing ingredients.
One jar was filled with some made with quince paste. The other was a sesame bar made with walnut, pine and Andros thyme honey. Yum.
Honey and other local products in these sweets
Local Produce Shops in Chora
There are two shops in Chora that are packed with local products. There's Paradosiako Pantopoleio and then the tiny but mighty Rodozaxari Paradosiaka Proionta. The shops are on different sides of the main pedestrian street. You'll find them easily during a wander in the capital.
Women's Association in Batsi
In the fishing village of Batsi, there's a shop that sells products from the Women's Association. If you're staying there or having a day trip then take a look at what they have. You could come away with a jar of spoon sweets or something equally delectable.
Rodozaxari Paradosiaka Proionta Shop in Chora and Women's Association Shop in Batsi
Andriakon
Andriakon is an organic health food shop in Gavrio port. Clearly, not everything I've mentioned comes under the health food banner. But some relevant local products are stocked including fresh produce and herbs.
Supermarkets
The supermarkets also have local produce like the oranges in the photo. Plus they usually have a section with the various local drinks and food altogether in one place.
Local oranges and alcohol in the supermarket
Where to Eat in Andros
As I mentioned earlier, people I spoke with couldn't come up with much of a list of great places to eat in the north of the island. There are two exceptions listed here but the rest are in Chora or just outside.
So let's start with the best places to eat in Andros in the northern part of the island.
Gavrio
Karavostasi Tavern
While I was on Andros I did a few weeks' of volunteering with the Clean Green Andros project. On my first day the team took me to Karavostasi Tavern for lunch.
As is the Greek way, the table was laden with a variety of dishes to share. Everything was great and I tasted the best courgette balls I've had in Greece. They also served us some tomato balls which were similar but I hadn't come across them before.
The tomato balls were delicious and I liked them even more than the courgette. I highly recommend you pop in and try them and a few other dishes of your choice.
Ano Aprovato
Aegean Balcony
I did a couple of route-maintenance hikes with Andros Routes during my stay. After each of them, we went for dinner close to where the hike ended. One weekend we walked a circular route near where I was staying. When we made it back we headed to the Aegean Balcony restaurant.
It's named because of the stunning views over the sea and it was a beautiful spot to sit. All the food is sourced from the family's own produce. They even make the cheese themselves. For my meal there I had a huge and really tasty Greek salad with some fab courgette balls on the side.
View from the Aegean Balcony and my Greek salad
The only thing that took me by surprise was the homemade wine. I wanted white which they'd run out of so I gladly took the rose instead. However, when jugs were placed on the table with a honey-coloured liquid I didn't realise it was the wine they were bringing.
My friend who lives on the island referred to it as being "rough". Indeed it wasn't a fine wine. It was quite thick, actually more like the consistency of a cognac. It wasn't to my taste but to be fair, that is what homemade wine is like in Greece.
Korthi Bay
Lithodomi Restaurant
Korthi Bay is in the southeast of the island, under Chora. It's a quieter village with a lovely cove not far from the famous Tis Grias To Pidima beach. I've been told it has two fantastic restaurants. I'm telling you about one of them here. The other one I need to update you on when I go back to Andros and find out which it was!
I've heard from various people that everything at this restaurant is amazing. Since eating there after another group hike I can certainly agree that we had a great experience.
Get the Cheese Dish
Apparently, they do a fantastic dish that's cheese with a beautiful fruity sauce. We ordered some but they'd run out after a lot of others in our party got there before us and ordered it.
Anyway, they brought us some of the sauce with their cheese pie and it was amazing. I highly recommend the cheese pie, and on the basis of the sauce, the other cheese dish too!
Only managed to get pictures of the cat
Their salads are outstanding. The Lithodomi salad was my second choice but I went with the mushroom risotto as my first. It's made with a variety of local and porcini mushrooms and was excellent. I also had some rose wine. It was much more like I'm used to and I really enjoyed it
The service at Lithodomi was friendly and professional. There are some really lovely cats at the restaurant too. I loved it but be aware if you don't like cats (although good luck in finding somewhere without them around).
There was a beautiful semi-longhaired that sat up and begged when the food came. But I told her it was inappropriate behaviour at the table and she settled down beside my chair for the rest of the evening!
Chora, Andros
Walk down the main pedestrian street in Chora, Andros and you'll soon come to a corridor of restaurants that culminates in a big square with plane trees. Several of these restaurants and tavernas offer very tasty food. Enjoy eating there if you spend a bit of time in Chora.
Νοσταλγία 1950
As you walk through the square you'll see the big water fountain to your left, in front of the Archaeological Museum. In front of you, there's an archway and a tunnel that takes you into the medieval part of town.
To the left of the arch is Νοσταλγία 1950. I'm told they serve the best froutalia on the island so head here if you're looking to try it.
Lithi
From where you are above, turn to your right and just at the top of the stairs, you'll see Lithi. If you're looking for an outstanding brunch come here. The breakfast pancakes here came highly recommended from a Greek-American. So that's praise indeed.
Τα Σκαλάκια and Lithi
Τα Σκαλάκια
This restaurant's name means The Stairs because it's halfway up a flight of stairs off the main pedestrian walkway. Here you'll find large portions of homemade food as if made by your favourite Greek yiayia.
Livadia
Gevsis me Thea
Drive 10 minutes out of Chora and you'll get to this lovely little place with beautiful views. I was disappointed that when I visited in November it had shut for the season. It came highly recommended and I wanted to try it out.
I will next time I visit. But in the meantime, I can confirm the area is stunning and the views across the valley are gorgeous.
Enjoy Eating in Andros
So there you go, a round-up of what and where to eat in Andros. I hope you enjoy tasting some of the local specialities and a few good meals in the restaurants.
Check out this post for more information on things to do including a couple of foodie things.
This page may contain affiliate links. Read through my privacy page for more information.
---
Suzie Young
Suzie writes informative posts for solo, nervous or first-time travellers to Greece, Turkey and other countries on her 50-before-50 bucket list. She became a Greek resident in 2020 and intends to visit every inhabited island (13 down!).